Pumpkin Spice Granola will be your new favorite with the flavors of pumpkin, maple and spice woven into an easy homemade granola.  This Pumpkin Spice Granola is a delicious way to start the day or whenever you want a healthy snack
Disclosure: This post may contain affiliate links of products that I adore and trust in my kitchen. Thank you for supporting Cooking In Stilettos. This recipe originally appeared on Cooking In Stilettos in October of 2012. The recipe has been updated with new photos and any recipe changes that I have incorporated over the years.
While out shopping, I happened to stop by Barnes & Noble.  While I was perusing the cookbook section, I happened to notice a stack of books on the back counter and lo and behold, at the top of the book pile was Cook Yourself Sexy: Easy Delicious Recipes for the Hottest, Most Confident You
, from one of my fave stiletto gals, Candice Kumai. I have had the book pre-ordered for months but that wasn't slated to be delivered until release day.  Being the impatient stiletto wench that I am, it was a no-brainer.  I grabbed one of the copies and went straight to the register.  Recipes had to be made and no time like the present, right?
Her earlier cookbook, Pretty Delicious: Lean and Lovely Recipes for a Healthy, Happy New You
, is one of the ones I keep in the kitchen, on the iPad and have gifted to friends and family. After seeing the quality of the recipes in that book, I knew this book would be just as good, if not better. We're talking about recipes for Sun-Dried Tomato and Mushroom Frittata, Kabocha Squash Fries with Spicy Greek Yogurt Sriracha, her famous Skinny Jeans Sliders, Size Zero Cake and there's even a whole chapter for chocolate! C'mon – now tell me you wouldn't want a port soaked cherry and dark chocolate brownie!
One of the recipes I had to make was the Pumpkin Spice Granola. Now, I'm a pumpkin aficionado and I often keep homemade granola around the house.  Added bonus was that I had most of the ingredients already on hand, only having to pick up some unsweetened coconut as the one in my pantry – well, its age was rather suspect. I also used golden flaxseed as I already had that in my pantry.   I love using Grade B maple syrup in granola recipes because i has this rich amber flavor that just marries perfectly with oats and the pumpkin seeds. I can pretty much tell you that this granola won't make it to the weekend and another batch might have to be made. We're talking pure granola goodness here!
If you are looking for a cookbook that has more of a healthy twist but is not preachy and full of processed ingredients, this is perfect!  Candice has some sage advice and gives it to you straight. Plus – with all the holiday craziness just around the corner, she's got you covered with some great sides that the family will be asking for seconds and you don't even have to tell them how healthy it is. Just let them think they are eating decadent – it's our little secret!
This Pumpkin Spice Granola will become a favorite homemade granola recipe you will find yourself making all year long!
On to the recipe:
Gather the ingredients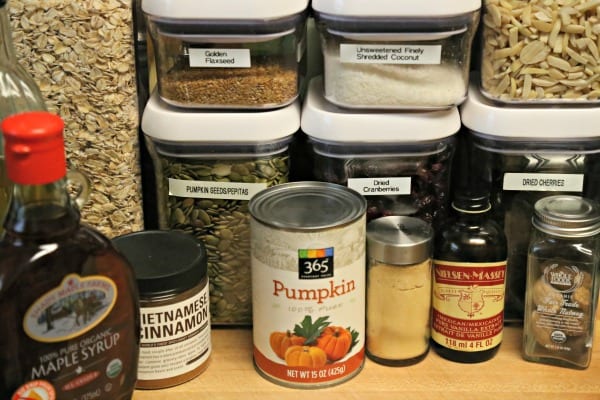 Time to mix the dry ingredients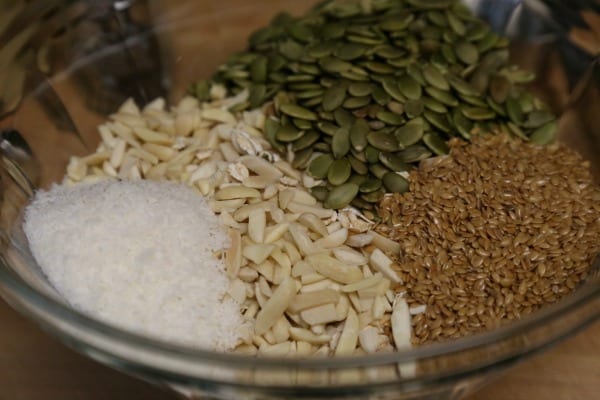 Adding the maple syrup, pumpkin and spices to the party.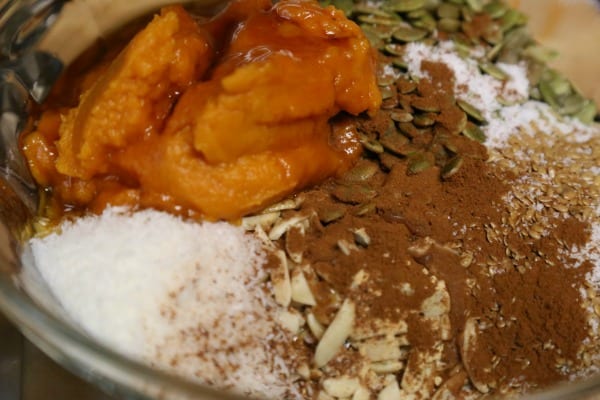 Nice and Golden Brown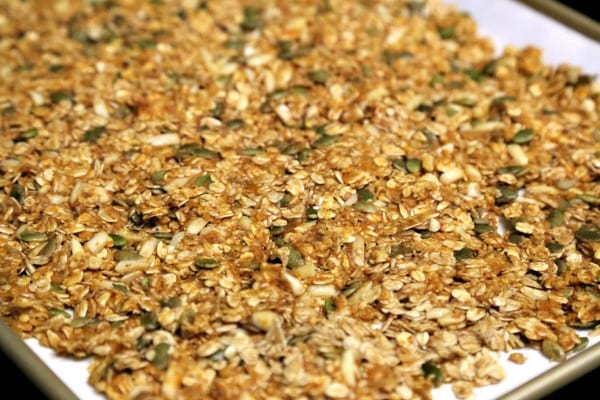 Adding the dried cherries and cranberries to the party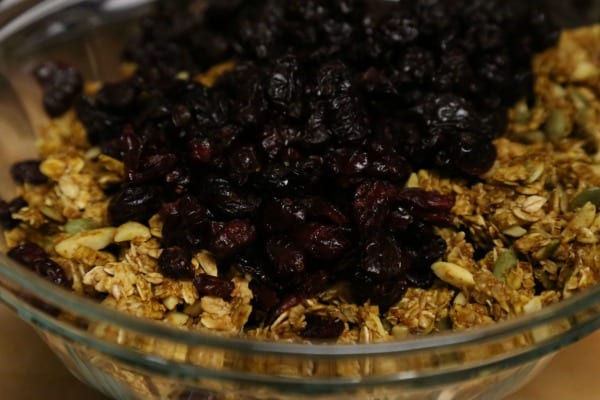 Now – wouldn't you want to start the day with this?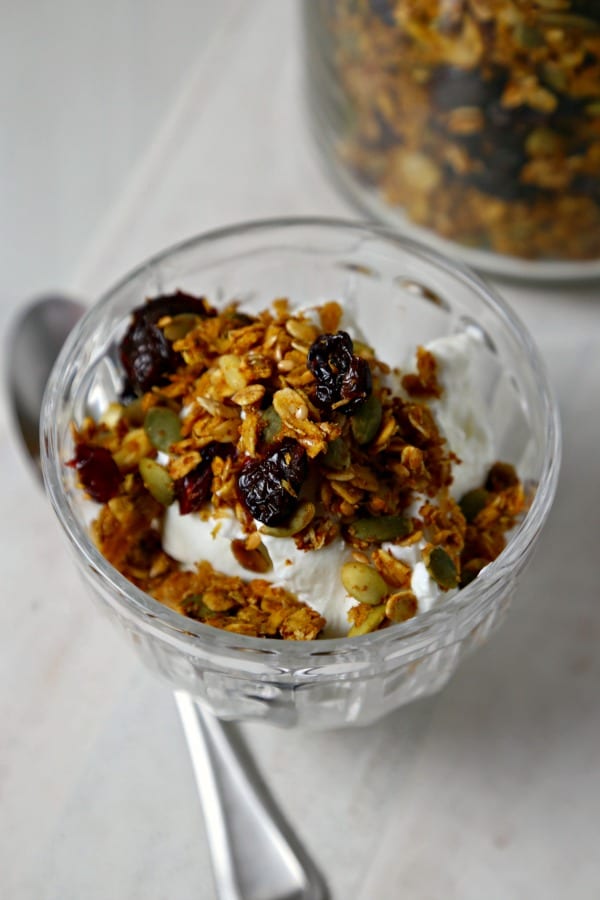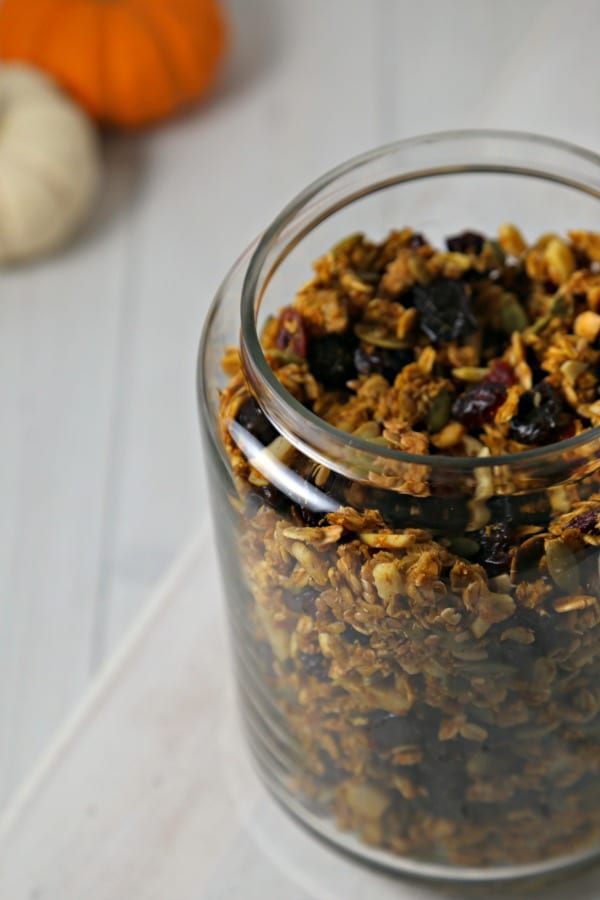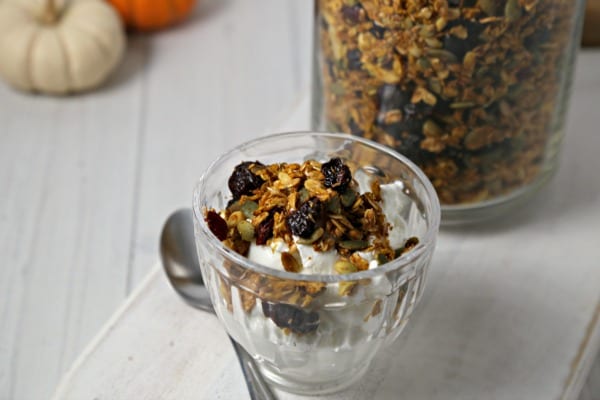 Aly M. Cleary | Slightly Adapted from Candice Kumai
Yields 3
Pumpkin Spice Granola
Pumpkin Spice Granola will be your new favorite with the flavors of pumpkin, maple and spice woven into an easy homemade granola. This Pumpkin Spice Granola is a delicious way to start the day or whenever you want a healthy snack!
30 minPrep Time
30 minCook Time
1 hrTotal Time
Ingredients
2 cups rolled oats
1/2 cup slivered almonds
1/3 cup pepitas / pumpkin seeds
1/4 cup golden flaxseeds
2 tablespoons unsweetened coconut
1/2 cup pure pumpkin puree
1/2 cup pure maple syrup, preferably Grade B
1 teaspoon vanilla extract
1 teaspoon cinnamon
1/2 teaspoon ground nutmeg
1/4 teaspoon ground ginger
1 tablespoon vegetable oil
1 teaspoon sea salt
1/3 cup dried cranberries
1/3 cup dried cherries
Instructions
Heat the oven to 325 degrees F.
Mix the oats, almonds, pepitas, flaxseed and coconut in a large bowl.
Add to that the pumpkin puree, maple syrup, vanilla extract, cinnamon, nutmeg, ginger, vegetable oil and sea salt until everything is combined.
Spread the mixture evenly onto a large baking sheet that is lined with a silpat (or, per Candice, you could line it with aluminum foil and coat it with cooking spray).
Bake for 30 minutes, making a point to stir everything at the 15-minute mark, remove when it is golden brown.
Cool for 15 minutes or so and, once it is cool, mix in the cranberries and cherries and store in an airtight container.
Enjoy!
Notes
Will keep in an airtight container for about a week or two – if it lasts that long.
7.8.1.2
83
https://cookinginstilettos.com/pumpkin-spice-granola/