This month's Blogger C.L.U.E. had me somewhat dealing with one of my baking nemesis – PIE.  Pie and are rarely get along, mostly because I butcher pie crust something horrid.  So – when I got my assignment, I was a bit apprehensive because here we go again – facing my culinary fears.

Thankfully, the culinary angels decided that they were going to allow me a license to improvise and I got paired with Kelli of Kelli's Kitchen. I adore Kelli – her recipes are always delicious, she's got a passion for canning that has me wanting to can all.the.things. this season, and she's the gal behind YumGoggle.  I perused her pie archives, trying to find something that would be fabulous for my Thanksgiving table and while I was tempted to throw caution to the wind with making either the Lemon Pecan Pie, White Christmas Pie or the Chess Pie, I decided that I'd merge two must have pies in my family – my grandmother's pecan pie and my Bampa's chocolate pie with this Chocolate Bourbon Pecan Pie.
I slightly adapted it adding a hint more vanilla because I have a thing for vanilla and I used brown sugar instead of white for a deeper amber hue.  I also went with dark chocolate instead of semisweet and that was the perfect flavor combo.  Finally, Kelli said in one of her blogposts that you could make your own pie crust or go with store-bought and, the minute I saw that, I was excited because store-bought crust and I are bff.
This pie is perfect for my holiday table – it's got just the right amount of sweetness and the bourbon adds a touch of smoky flavor.  If you are looking for a fabulous pie for the holiday season, this Chocolate Bourbon Pecan Pie will win rave reviews.
On to the recipe:
Gather your ingredients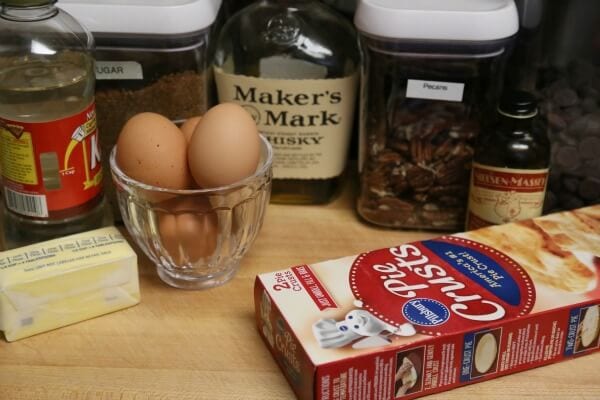 Let's make the caramel-esque mixture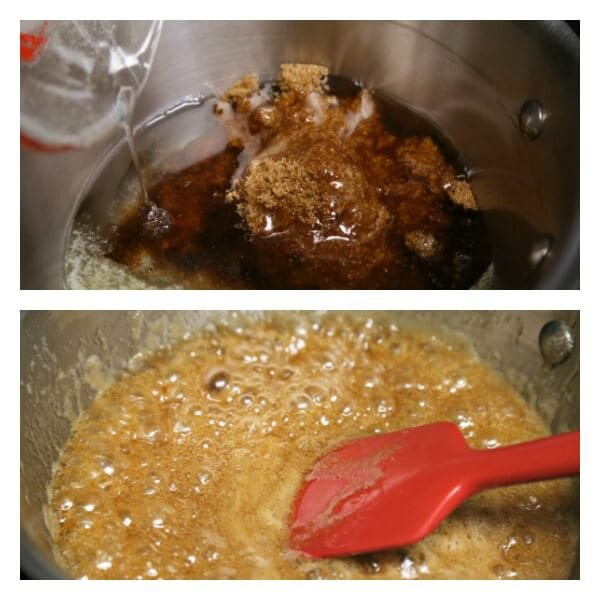 Just a hint of bourbon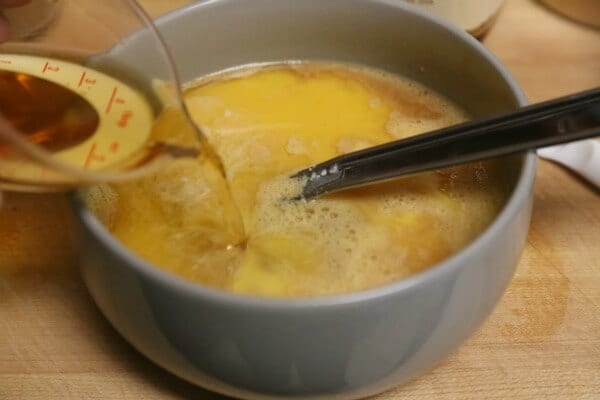 Thank heavens for store-bought pie crust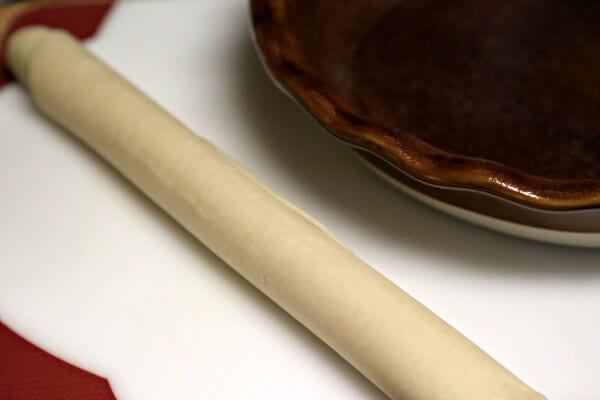 Adding the pecan pie filling to the crust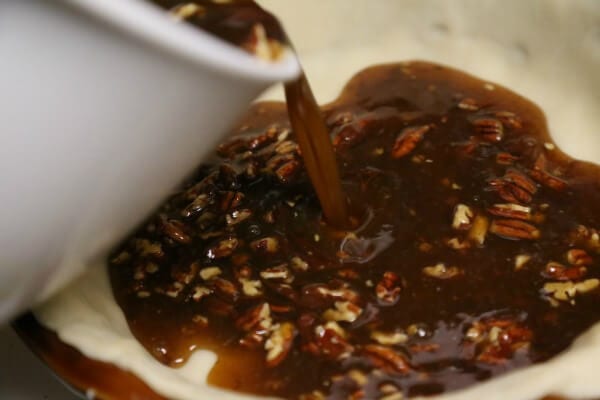 All pretty and ready for the oven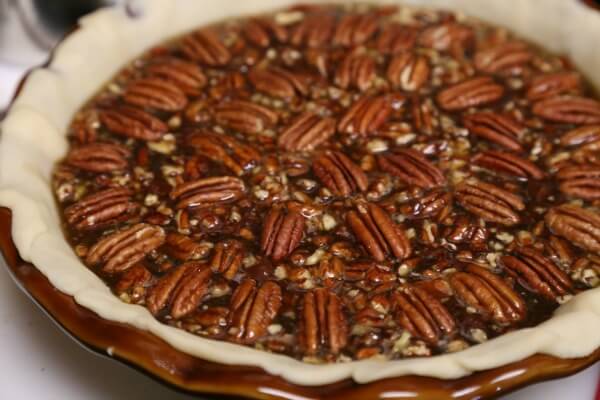 Look at this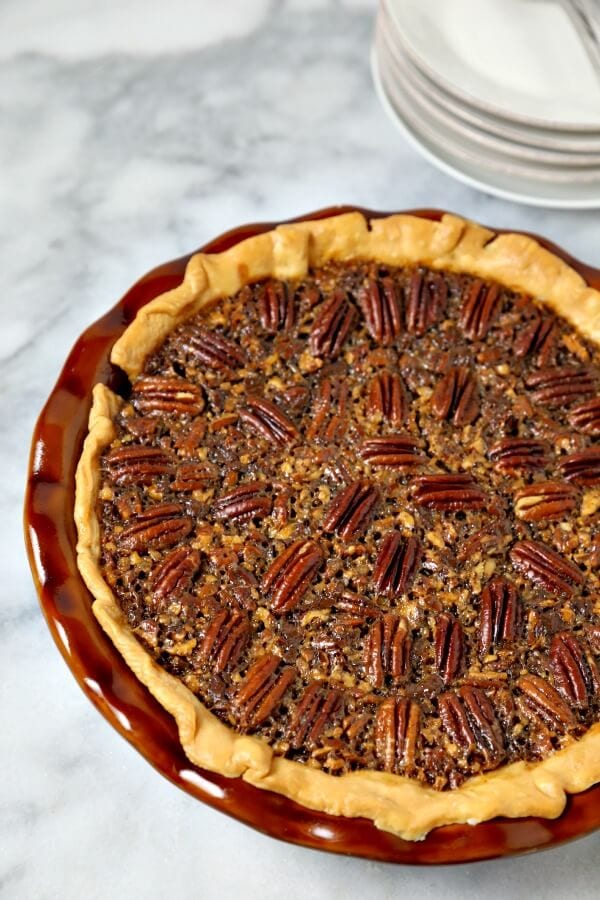 Shall I cut you a slice?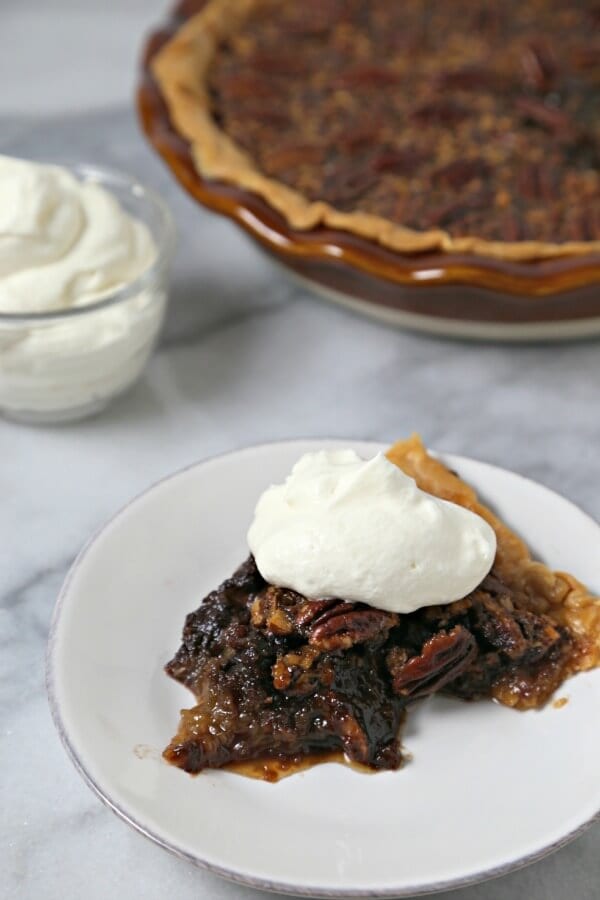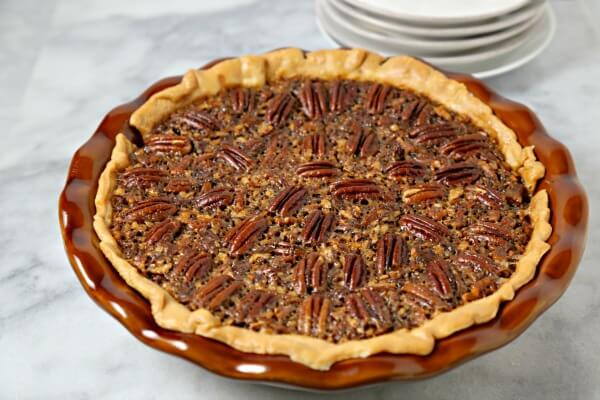 Adapted from Kelli's Kitchen
Yields 6
Chocolate Bourbon Pecan Pie
Chocolate Bourbon Pecan Pie is a delicious dessert for your holiday table. Layers of pecans, sugar and dark chocolate are mixed with a hint of bourbon and then baked to perfection!
40 minPrep Time
1 hr, 10 Cook Time
1 hr, 50 Total Time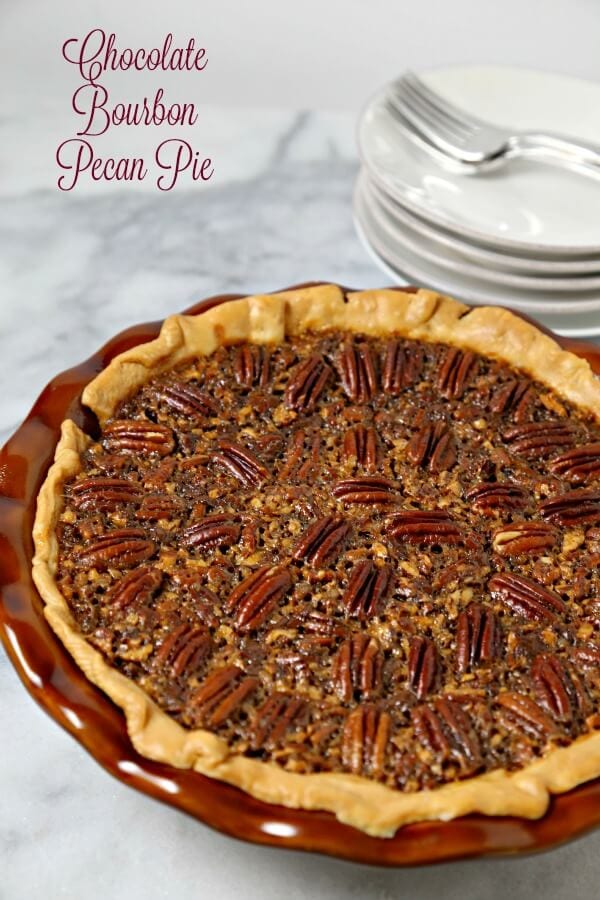 Ingredients
1 9" pie crust (I used store bought but you can make your own)
1 cup of brown sugar
1 cup of light corn syrup
1/2 cup of butter
4 eggs, beaten
3 tablespoons of bourbon
1 1/2 teaspoon of vanilla extract
1/4 teaspoon of kosher salt
1 cup of pecans, roughly chopped, plus extra whole pecans for the top of the pie
3/4 cup of bittersweet chocolate chips
Whipped cream for serving
Instructions
Heat your oven to 325 degrees F.
Lightly butter a 9" pie dish and roll the pie crust into the dish, taking care to make sure the crust goes up the sides of the dish. Set aside.
In a heavy bottomed saucepan, add the brown sugar, light corn syrup and butter.
Stir the mixture over medium heat while the mixture dissolves into a dark amber caramel and the butter is melted.
Take the mixture off of the heat and let it cool slightly.
In a medium sized bowl, whisk together the eggs, bourbon, vanilla extract and salt.
Take about a 1/4 cup of the sugar mixture and whisk that very slowly into the eggs to temper them.
Whisk the sugar mixture and slowly pour the egg mixture into it, making sure to whisk continuously.
Add the chopped pecans and dark chocolate chips to the mixture and stir.
Pour the entire pie filling mixture into the prepared pie crust.
Garnish the top of the pie with the reserved whole pecans.
Bake for about 50 – 55 minutes, until the mixture is a bit puffy and bubbling.
Let cool thoroughly before slicing.
Serve with a dollop of whipped cream and enjoy!
7.8.1.2
117
https://cookinginstilettos.com/chocolate-bourbon-pecan-pie-for-bloggerclue/
Let's see what the Blogger C.L.U.E. crew brought to the holiday table: