Wow – first of all, I need to thank all the fabulous people who visited yesterday on my SITS Day – I just was amazed at how many amazing people there were who took a minute to check out Cooking in Stilettos. Thank you thank you thank you!
Over the weekend, I checked out the new Wegmans that opened up in King of Prussia and they had a crazy insane sale going on and the berries beckoned from the produce department, whispering "Aly – buy me buy me". I couldn't say no and knew that I'd probably make a few recipes along with some of my favorite strawberry jam. Well, Sunday morning, as I broke out the blueberries for brunch, I got inspired and decided to do a mixed berry jam and, I'm so sorry Barefoot Contessa but I think this mixed berry jam will be one of my fave go-tos this summer. My neighbors are also due for a surprise this week – the SousPug is going to deliver a couple jars to some of his favorite pups (and their respective humans, of course).
Much like the strawberry jam, it's super simple – you tumble in the berries, add some apple, orange juice and sugar and cook down for a spell. Let cool a bit, and you have summer berry freshness for toast, biscuits, yogurt – the possibilities are endless.
Ingredients
2 pounds of strawberries
2 1/4 cups of sugar
3 tablespoons of fresh orange juice
2 pints of blueberries
2 pints of raspberries
1 pint of blackberries
1 small granny apple, diced small
Directions
Clean and hull the strawberries. Slice the strawberries into quarters and place into a large heavy bottomed Dutch oven.
Clean the blueberries, raspberries and blackberries and add to the strawberries.
Add the sugar and orange juice and let sit for a few minutes to macerate.
Over a medium-high heat, bring the berries to a boil and stir often.
When the mixture comes to a rolling boil, add the diced apple and stir.
Let the mixture continue at a rolling boil, making sure to skim the foam off of the top until the mixture reaches 220 degrees.
When the jam reaches 220 degrees, turn off the heat and let come to room temperature.
When the mixture is at room temperature, you can now place in jars or containers and place in the fridge. It should keep for a couple weeks.
Enjoy.
Notes
Inspired by Ina Garten, The Barefoot Contessa
7.6.8
794
https://cookinginstilettos.com/mixed-berry-jam/
All images and content are © Cooking In Stilettos. Please do not republish without contacting us first. Thank you.
Gather the ingredients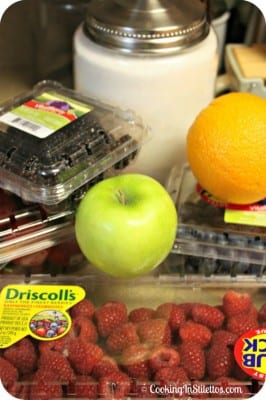 Washing the strawberries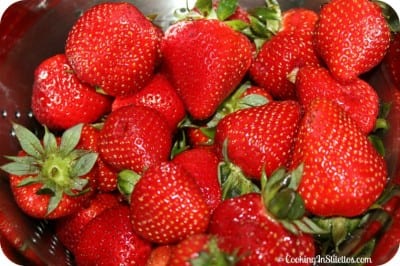 Strawberries are sliced and ready to go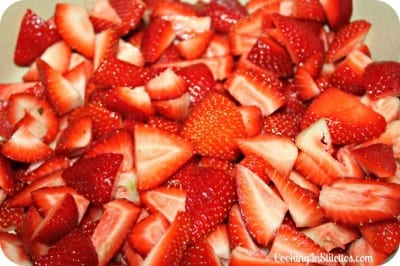 Tumble in the berries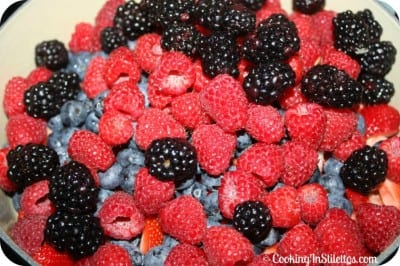 Boiling away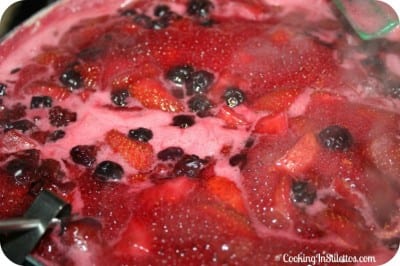 Mixed Berry Jam – so simple and full of summer flavor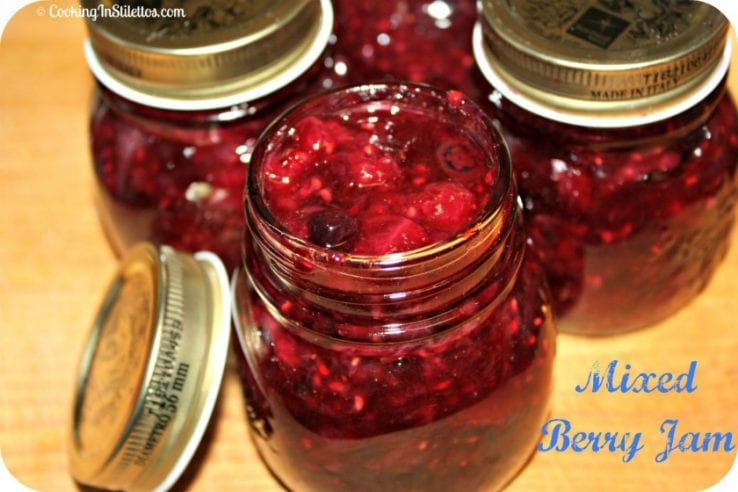 Did you enjoy this post?
| | |
| --- | --- |
| Share the love | Get free updates |