When one's had a crazy busy week, there's nothing better than getting together with friends and having a girl's night with some of your best girlfriends. You can chat, nosh on some delish dishes, enjoy some fabulous cocktails and always save room for a sweet treat!
One of my recent discoveries has been Sauza Sparkling Margaritas.  So when Sauza Sparkling Margaritas wanted me to share some ideas for the *perfect* Girl's Night In, I couldn't resist. After all – I love a fabulous soiree and it's been long overdue. For me, margaritas or prosecco are synonymous with girl's night and to have one that was a sparkling margarita is like having the best of both worlds. I knew that the signature cocktail would be flutes of Sauza Sparkling Margaritas with some fresh berries for the wow factor.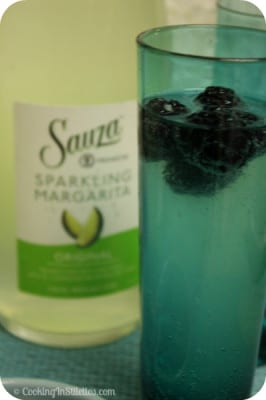 I don't go too crazy with decorations and such when it comes to soirees – simple, casual and easy is the best way to do it. However, when it comes to the menu, I tend to go a bit crazy. I'm all about planning and preparation ahead of time so that I can be a guest at my own soiree. However, I also have been known to change the menus on a whim so my friends never know what to expect.
For the evening's menu, I decided to go with a "MexiCali theme" with a spicy and cheesy Queso Fundido to start the evening followed by Baja Chicken Quesadillas with a delish corn salsa and my favorite Roasted Poblano Rice. I was going to attempt Tres Leches Cupcakes because every good gal's night should have cupcakes but, as I said to my friends, when inspiration strikes – one goes with it. I vaguely remembered Nigella Lawson serving prosecco over some sorbet on an early episode of one of her shows so I decided for dessert we'd have some zippy quick Sauza Sparkling Sorbets.  Let me tell you – they were a highlight of the evening. I went with the original flavor Sauza Sparkling Margarita and paired it with a raspberry sorbet and some fresh blackberries. Utter simplicity and decadence all in a spoonful.
On to the recipe:
Gather The Ingredients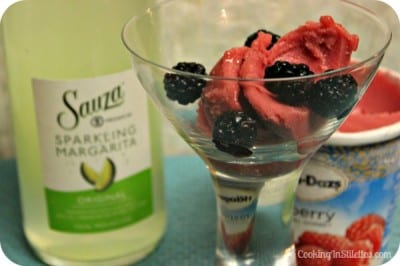 Pour Over the Sauza Sparkling Margaritas, and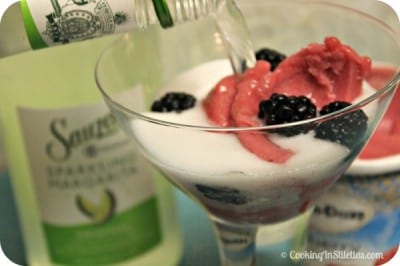 Voila – A Chic and Lightening Quick Dessert
A Glam Girl's Night In With Sauza Sparkling Margaritas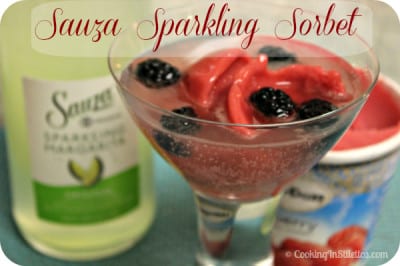 Ingredients
1 Pint of Raspberry Sorbet
1 bottle of Sauza Sparkling Margaritas
Fresh Berries for Garnish
Instructions
Place a scoop or two of Raspberry Sorbet into a martini glass.
Garnish with a few fresh berries
Pour a bit of the Sauza Sparkling Margaritas over the sorbet.
Enjoy!
7.8.1.2
336
https://cookinginstilettos.com/a-glam-girls-night-in-with-sauza-sparkling-margaritas/