I was going to grill yesterday on the 4th but, when I walked out on the deck – boom – there it was the wall of humidity. Rather than facing that I decided that I would break out my new toy, All Clad's Double Burner Grill Pan that I got for a steal at Williams Sonoma and grill AC style.
I made a divine Roasted Tomato, Corn and Black Bean Salad to go with a killer Grilled Ancho Tequila Chicken and the flavors on this salad just popped. Some pantry ingredients, some produce and a bit of spice turned this salad into a new summer staple.
What's your favorite summer salad?
Gather the Ingredients
I adore my new toy – my first All Clad
Roasting The Tomatoes
Mmmm… Grilled Corn
Adding a bit of sweetness to the smoky vinaigrette

So so simple!
Roasted Tomato Corn and Black Bean Salad – A Perfect Summer Side Dish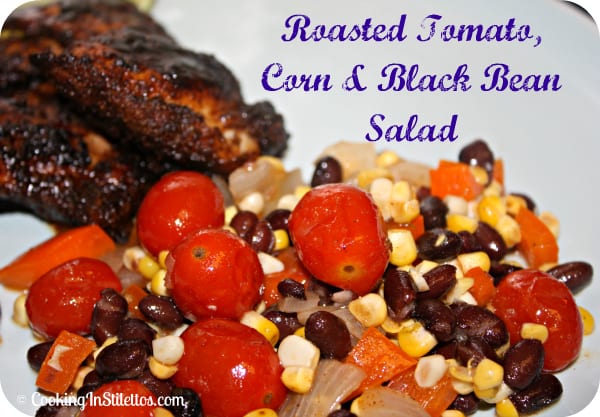 Ingredients
For the Salad

3-4 ears of fresh corn, husks and silks removed
2 pints of cherry tomatoes
2 small onions, thickly sliced
1 15 oz. can of black beans, drained and rinsed
1 red, yellow or orange bell pepper, seeds removed and diced
2 tablespoons olive oil
Salt and Pepper

For the Vinaigrette

Zest of one lime and juice of 1 1/2 – 2 limes (depending on how strong you like it)
1 tablespoon of honey
1/2 teaspoon of cumin
1/2 teaspoon of smoked paprika
1/2 teaspoon of kosher salt
1/4 teaspoon of black pepper
Small Pinch of Cayenne pepper
1/4 cup of Olive Oil (I used my favorite Mojo de Ajo)
Instructions
Preheat the oven to 425 degrees F.
On a large sheet pan, tumble the cherry tomatoes and the onion slices, drizzle with olive oil and season with salt and pepper. (Note – for easy cleanup, you can always line your sheet pan with foil).
Roast the tomatoes and onions for 20 minutes, making sure to stir after 10 minutes.
Preheat your grill (or grill pan) and lightly brush some olive oil. Place the cleaned ears of corn on there and allow them to char a bit.
While the corn is grilling and the tomatoes and onions are roasting, make the vinaigrette. In a medium bowl, combine the zest and lime juice with the honey, cumin, smoked paprika, salt, pepper and whisk in the olive oil. Set aside.
In a large bowl (with a small bowl turned upside down for stability), cut the corn kernels off of the cob with a sharp knife.
Add the black beans and roasted tomatoes to the corn kernels.
Dice up the roasted onion wedges and add that to bowl along with the diced bell pepper.
Thoroughly mix the vegetables with the vinaigrette and let the mixture chill in the fridge for an hour or so. During that time, there will be some additional juices from the roasted tomatoes.
Stir again before serving and enjoy!
7.8.1.2
373
https://cookinginstilettos.com/roasted-tomato-corn-and-black-bean-salad/