Berries are one of the highlights of summer and, for me, there's nothing like fresh berries for breakfast, dessert or, quite frankly, anytime. However, I've learned a couple tips and tricks that have kept my berries fresh!
If you are buying them in the store – seriously do a thorough look through. Most of the containers that I see at Whole Paychex are clear so you know I'm the gal who is eyeballing anything for the slightest hint of "fuzz." Once one starts to spoil, the rest follow suit quickly.
Do not wash them when you get home – only wash them before you need to use them. Any water in the fridge hastens the spoiling process.
I tend to buy them as close to possible to when I need to use them. If time gets away from me and I know they are nearing the end of their "shelf life", I will spread them out on a sheetpan and freeze them for later or to make berry jam. I've learned that blueberries last about a week to 10 days, strawberries last for about 4 – 5 days and blackberries and raspberries last about 3 – 4 days.
I have found myself watching The Chew more for recipe inspiration.  The talent on that show is amazing – you have two Iron Chefs – Mario Batali and Michael Symon, Clinton Kelly, a fashion & entertaining guru, Carla Hall of  Top Chef and Daphne Oz rounds out the panel with her take on making things a bit more healthy.  After a crazy day at the 9to9, I know that when I get home, an episode of The Chew is always ready for me.
Recently, Carla Hall did a Summer Berry Pudding recipe that I just had to try and let me tell you – this is one of my favorite summer desserts to date!  Adding a bit of "spirit" to the recipe was a must but you can leave it out if you wish.
Gather the Ingredients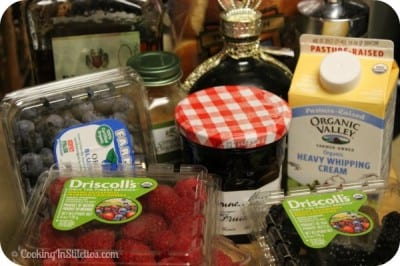 Time to add a little sugar to the lemon and berries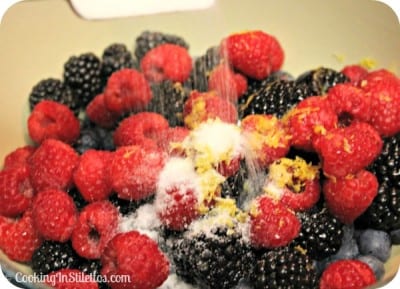 And a bit of Chambord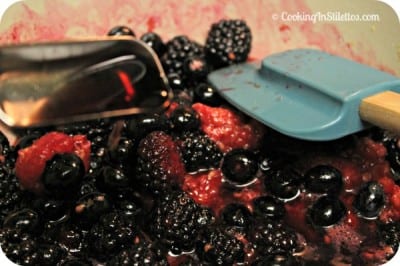 Prepping the Challah Slices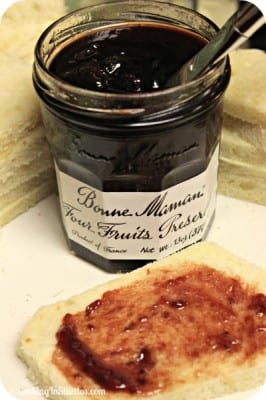 Before the Big Chill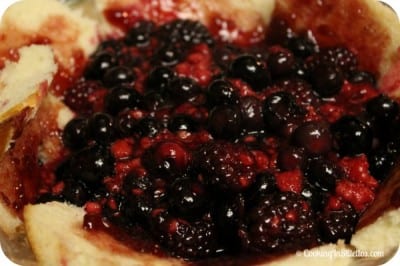 Viola – a bit "tie dye" but we'll just call it rustic.  Dollop with a bit of the Amaretto Cinnamon Whipped Cream and enjoy!
Summer Berry Pudding Recipe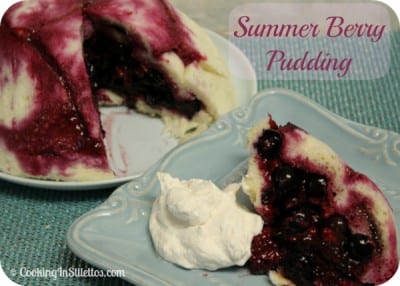 Ingredients
For the Pudding

A loaf of Challah Bread
1/2 – 3/4 of your favorite berry jam
1 pint of blueberries
1/2 pint (or 6 oz.) of raspberries
1/2 pint (or 6 oz.) of blackberries
Zest and juice of one large lemon
2 tablespoons of sugar
1 tablespoon of Chambord

For the Amaretto Cinnamon Whipped Cream

1 cup of heavy whipping cream
1 tablespoon of powdered sugar
1/2 teaspoon of cinnamon
1 teaspoon of Amaretto
Instructions
Line a medium glass bowl with plastic wrap, leaving some overlapping the sides.
Slice the challah into somewhat thin slices and remove the crusts.
Spread some of the berry jam onto the challah slices.
Line the glass bowl with the challah slices, jam side in.
Reserve a few slices to use later to line the top. Set aside.
In a medium heavy bottom saucepan, tumble in the berries.
Add the lemon zest and juice and the sugar.
Over medium heat, cook for a bit until the berries start to burst.
Add the Chambord, let cook for another minute then set aside to cool for a minute.
Ladle the berry mixture into the challah lined bowl and cover the mixture with the remaining challah slices.
Cover the top with the overlapping plastic wrap and weigh the mixture down with a plate and some heavy cans, bricks or books.
Set into the fridge to chill overnight or for at least 8 hours.

For the Whipped Cream

To a chilled bowl, add the heavy cream and beat for a couple minutes until soft peaks form.
Add the powdered sugar and beat for a couple more minutes.
Fold in the cinnamon and Amaretto.
Slice the chilled pudding into slices and dollop with a bit of whipped cream and enjoy!
7.8.1.2
334
https://cookinginstilettos.com/summer-berry-pudding/