This sweet and savory Kona Coffee Spice Rub is the ultimate coffee rub for your favorite steaks, burgers or grilling recipes
Disclosure: This post may contain affiliate links of products that I adore. Thank you for supporting Cooking In Stilettos.
Happy July y'all!  Have you finalized your weekend cookout menu yet?  I have a last minute addition that will deliver on flavor and have your guests raving about your culinary genius – a Kona Coffee Spice Rub that will take your favorite steak, burger or chicken to new flavorful heights!
The 4th of July is always a fun time here in one of the cities that was home to our country's Founding Fathers.  I have been a history buff since my college days and the Revolutionary War and Colonial times is fascinating to me.  Philly has a huge 4th of July Celebration and I'm looking forward to seeing some amazing shows including Philly's own Leslie Odom, Jr. (aka Aaron Burr) from the Broadway smash Hamilton performing.  I don't know about you but I have had the Hamilton soundtrack on repeat and if you haven't listened to it – give it a shot.  I find the wordplay brilliant and the vocals are on point!  Check out one of my favorite songs from the soundtrack – "Wait For It"
Enough of me waxing poetic about Hamilton or I'll wind up writing my own version of the Federalist Papers or something. Let's get to what I know you are really hear for – this delicious coffee rub recipe.
Way way way back when I started my cooking journey, I remember buying a similar pricey spice rub from one of my favorite culinary stores and, sadly, it wound up being discontinued. It was sweet, spicy and with a pronounced coffee kick and boy did I love slathering that on a petite filet and tossing that on the grill. My heavens it was fabulous. I've seen similar versions in the store but lately I tend to make my own spice mixes and rubs where I can control the spice level and quality of ingredients. Plus – it's a bit more economical I think.
Last summer, I was all about the burger and this Kona Coffee Spice Rub that I used on one of my favorite burgers was a huge hit with family and friends. With grilling season here, I decided that I'd make another batch of my favorite coffee spice rub and I wanted to share it with y'all. I fell in love with Kona coffee during my Orlando days – there's nothing like it and good Kona coffee can be a bit pricey but it is so worth it. I tend to grind the coffee myself by using a Coffee Grinder For French Press, that way I maintain control of the texture. With this coffee rub, it's all about the crust and the fine yet somewhat coarse grind on this adds another level of flavor.
Dionne of Try Anything Once is a coffee aficionado and when chatting with her about things to consider when buying Kona coffee, she recommends buying from a quality coffee company. She says that Kona coffee is to be savored and enjoyed – just pinky promise her that you won't guzzle it "on the go." Take a moment to savor the flavors. When it comes to preparing Kona coffee, Dionne says, "I recommend French pressing if anyone wants to taste the flavor profile. It makes the characteristics stand out!"
This spice rub recipe couldn't be easier to put together – grind your favorite coffee with Kona coffee beans, mix with a bit of sweetness, salt and spice and *boom* it's ready to go. Make a double batch of this Kona Coffee Spice Rub and give small jars to friends and family – they will love you forever!
Even better – you can make these Kona Coffee Crusted Burgers with Spicy Pineapple Relish for the holiday and watch the "world turn upside down."
Happy 4th of July Everyone!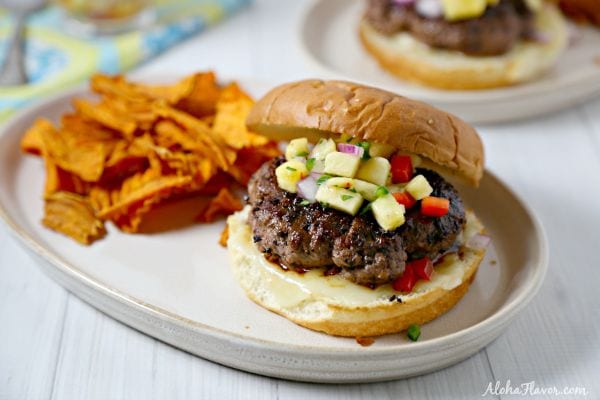 On to the recipe:
Gather the ingredients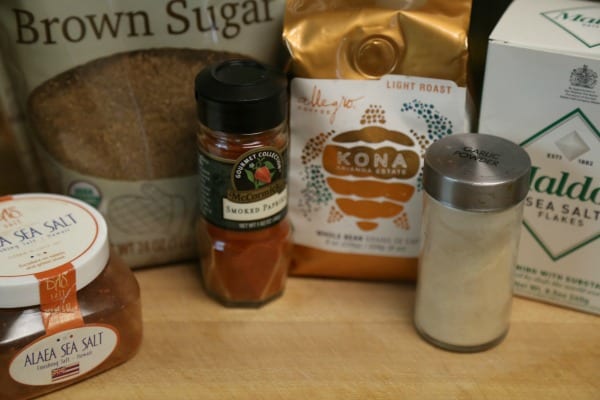 The essential ingredient – Kona Coffee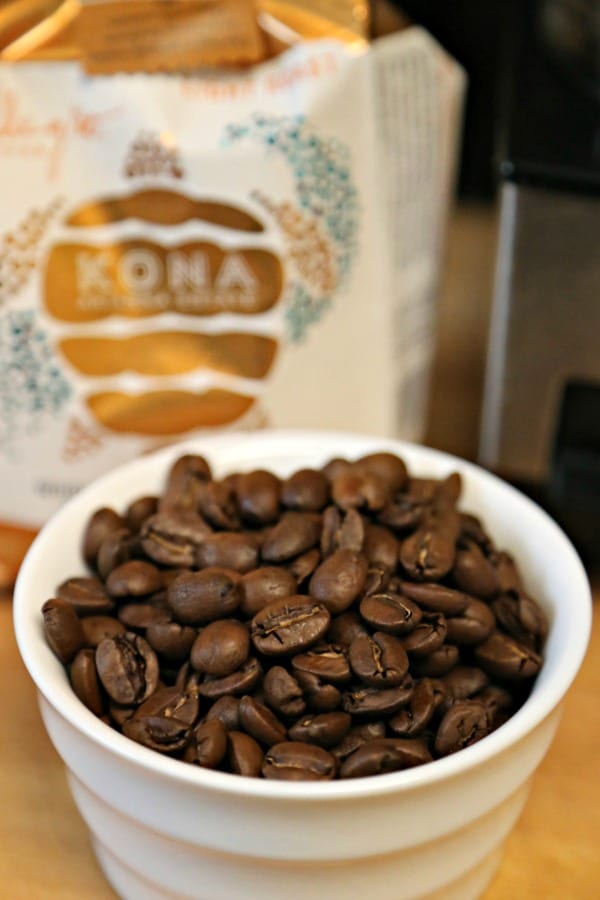 Not only is it a great rub for your favorite steak, burger or chicken – but it's an awesome gift too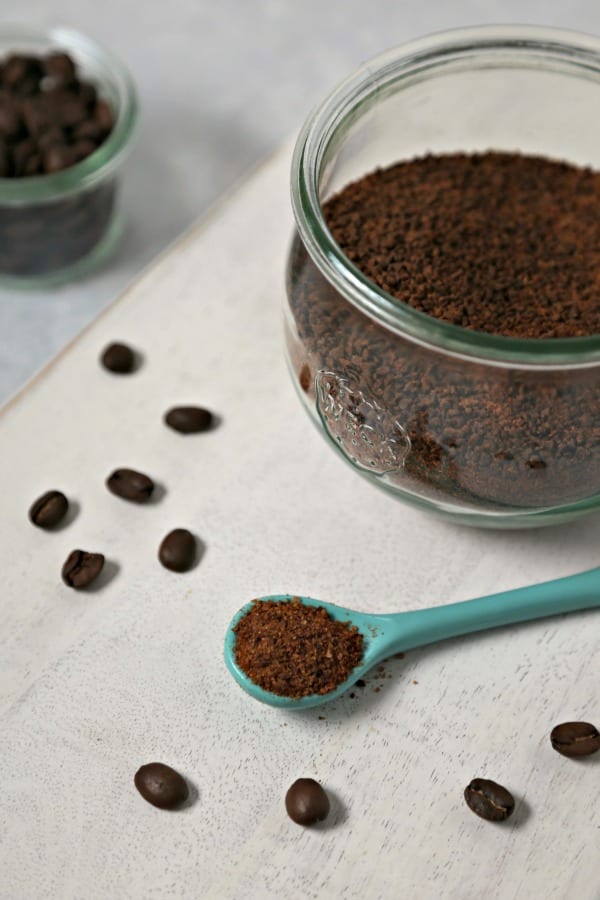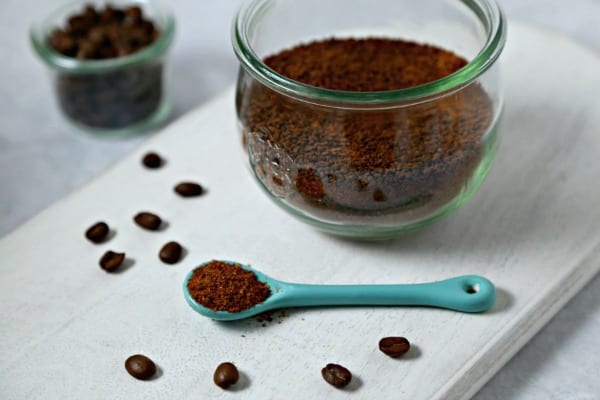 Aly M. Cleary
Yields 1
Tried and True: Kona Coffee Spice Rub
This Kona Coffee Spice Rub is sweet, smoky and spicy and packed with coffee flavor. This will be your favorite spice rub for steaks, chicken and burgers!
10 minPrep Time
10 minTotal Time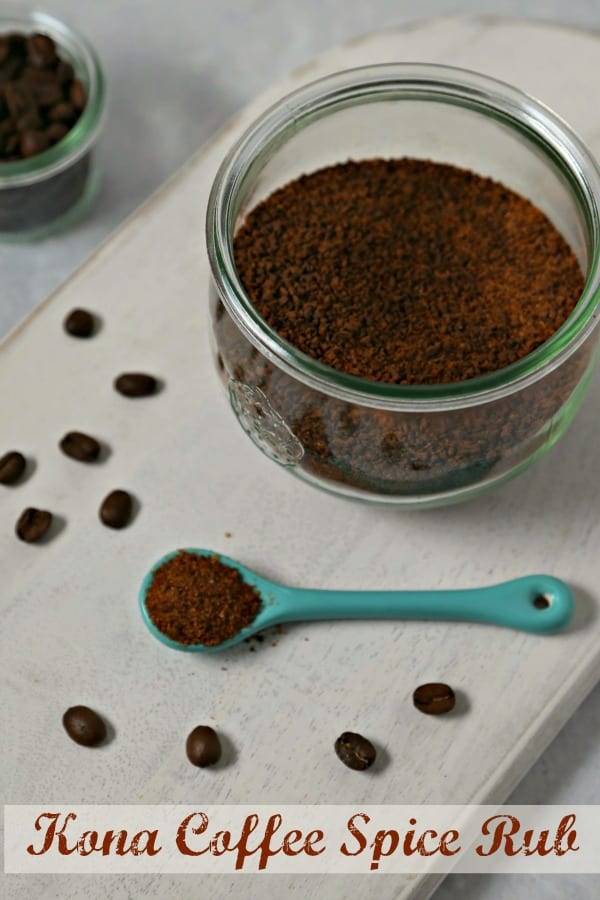 Ingredients
1/2 cup of kona coffee beans
1/3 cup of light brown sugar
1 teaspoon of Hawaiian salt
2 teaspoons of flaky sea salt
2 teaspoons of smoked paprika
1 teaspoon of freshly ground black pepper
1 teaspoon of garlic powder
1/4 - 1/2 teaspoon of cayenne pepper (depending on how spicy you like it)
Instructions
Using a coffee grinder that you mostly use for spices, grind the kona coffee beans into a slightly still coarse grind - not super fine.
Add the brown sugar, Hawaiian salt, sea salt, smoked paprika, ground black pepper, garlic powder and cayenne pepper.
Pulse a few times to combine.
Store in an airtight container.
Enjoy!
7.8.1.2
84
https://cookinginstilettos.com/kona-coffee-spice-rub-recipe/