Holiday time always meant that when I visited my Bampa's house, there was a strong likelihood that in addition to the typical stuffing you might find, overflowing with celery, onions, raisins, etc., there would be a small dish of chestnut stuffing for those that might enjoy it. Now, I was a snotty little kid who liked all things processed – Cool Whip, Stove Top and god knows what else and, if I had a time machine, I would go back in time and tell my Bampa I was sorry for not appreciating his culinary wisdom. I'm sure he must have shaken his head a few times at my turned up nose and exclamations along the line of "Chestnut stuffing – YUCK!" Like I said – I was a brat.
I attempted to give Chestnut stuffing a try over the holiday and, guess what, I saw a great recipe for Ciabatta Chestnut Stuffing that rocked! It's a stuffing that even my Bampa would thoroughly enjoy.
On to the recipe:
Gather your ingredients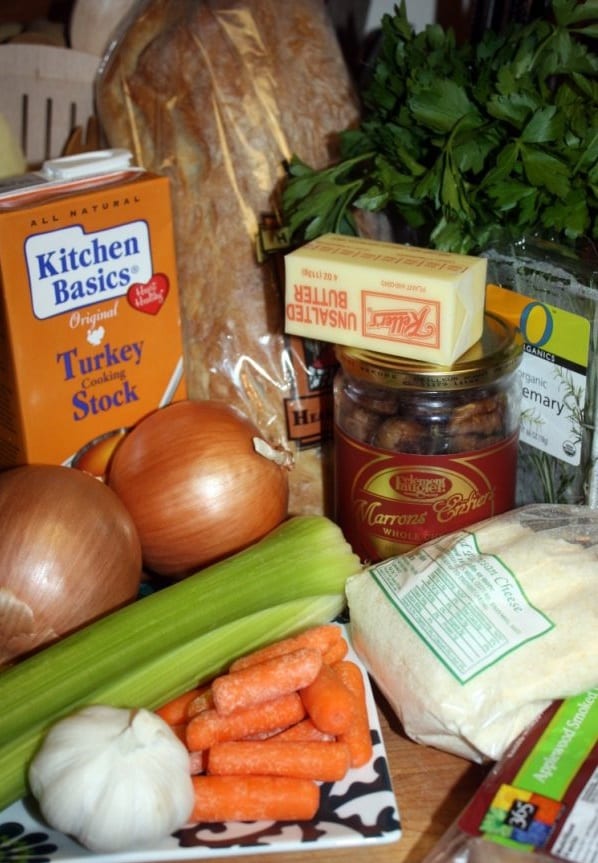 Everything is better with bacon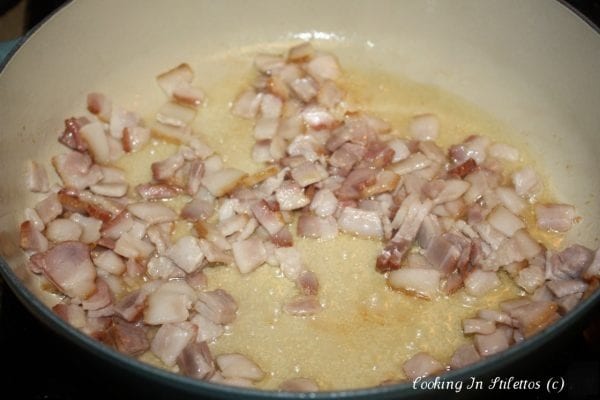 Its All About The Chestnuts
Mix Mix Mix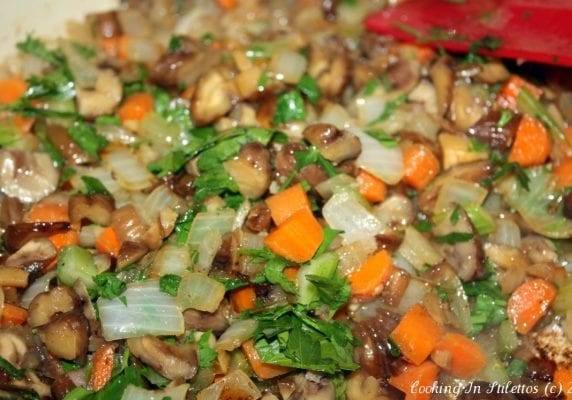 The mixture before… and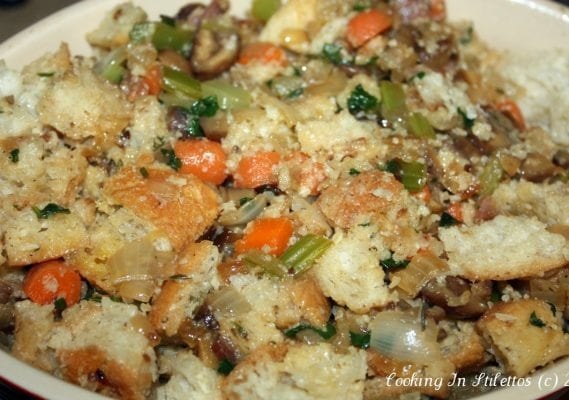 After – The perfect holiday stuffing/dressing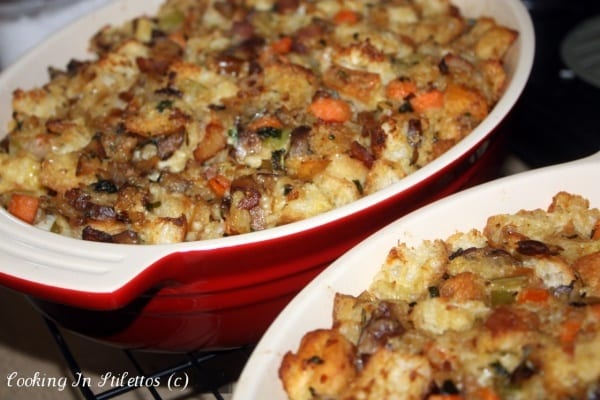 It's All About The Stuffing – Ciabatta Chestnut Stuffing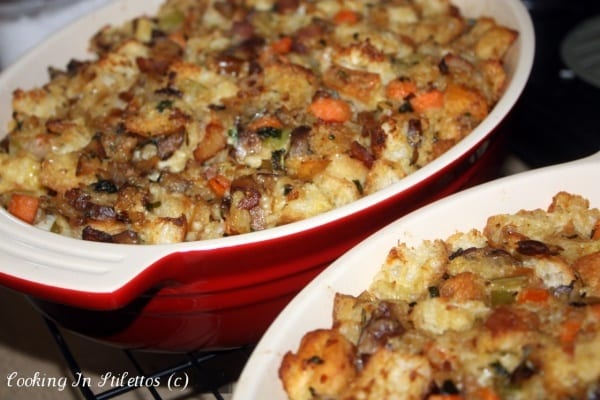 Ingredients
4 tablespoons butter
8 ounces bacon, cut into 1/4-inch dice
2 large onions, finely chopped
2 carrots, peeled and finely chopped
3 celery stalks, finely chopped
2 tablespoons chopped fresh rosemary leaves
3 garlic cloves, chopped
1 (15 ounce) jar roasted peeled whole chestnuts, coarsely broken
1/4 cup chopped fresh Italian parsley leaves
1 pound day-old ciabatta bread, cut into 3/4-inch cubes
2/3 cup grated Parmesan
1 cup (or more) low-sodium turkey stock
Salt and freshly ground black pepper
2 large eggs, beaten to blend
Instructions
Preheat oven to 350 degrees F.
Butter a large baking dish and set aside.
Over medium heat, melt 1 tablespoon of butter in a large heavy skillet.
Add the bacon and sauté until crisp, about 10 minutes.
Using a slotted spoon, transfer the bacon to a large bowl.
Add 2 tablespoons of butter in the same skillet with the bacon fat , and, over medium high heat, add the onions, carrots, celery, rosemary, and garlic.
Sauté until the onions are tender, about 12 minutes.
Gently stir in the chestnuts and parsley.
Transfer the sautéed mixture to the large bowl with the bacon.
Add the bread and Parmesan and toss to coat.
Add just enough turkey stock to the stuffing mixture to moisten.
Season with salt and pepper to taste.
Mix in the eggs, making sure everything is incorporated and transfer the stuffing mixture to the prepared baking dish.
Cover the baking dish with foil and bake about 30 minutes.
Uncover and continue baking for another 15 minutes or so until the top is crisp.
Serve and enjoy!
7.8.1.2
404
https://cookinginstilettos.com/ciabatta-chestnut-stuffing/