This Three Cheese Baked Mushroom Pasta is chic and comforting, perfect for the holidays or a chilly evening dinner.
Created with De Cecco
This post has been sponsored by De Cecco Authentic Italian Pasta. My love for the brand is all my own. Thank you for supporting the brands that make Cooking In Stilettos possible.
On a chilly evening, there is nothing better than a pan of baked pasta hot out of the oven. The browned cheesy pasta with crisp edges on the top peels away to uncover a creamy sauce laden pasta for the ultimate comforting bite. In my house, it takes some skilled negotiation for those crisp edges. Of course, when you are the chef, you might be able to claim seniority but that's an argument for another day.
Today I'm thrilled to share a delicious vegetarian pasta dish that is fabulous for the holiday menu or days when you want a meat-free dish – a Three Cheese Baked Mushroom Pasta that is made a little lighter but tastes oh so decadent.
If you open my pantry, you will see that I have a thing for cavatappi pasta – specifically De Cecco cavatappi pasta. It's one of the first dried pastas I reach for whenever I'm in the mood to make pasta. De Cecco is a premium Italian pasta brand that is delicious on its own or complimented with a sauce. It never gets mushy or falls apart– even if you cook it a minute or two over because you were browsing Snapchat at the stove (not that I've ever done that *cough*). De Cecco pasta is a durum semolina pasta that always comes out perfectly al dente and stands up well in baked pasta dishes. While I keep a number of different types of De Cecco pasta in the pantry, there is something about the curly q-esque shape of the cavatappi pasta that has me enamored – it's fun yet chic and my guests always seem to love it.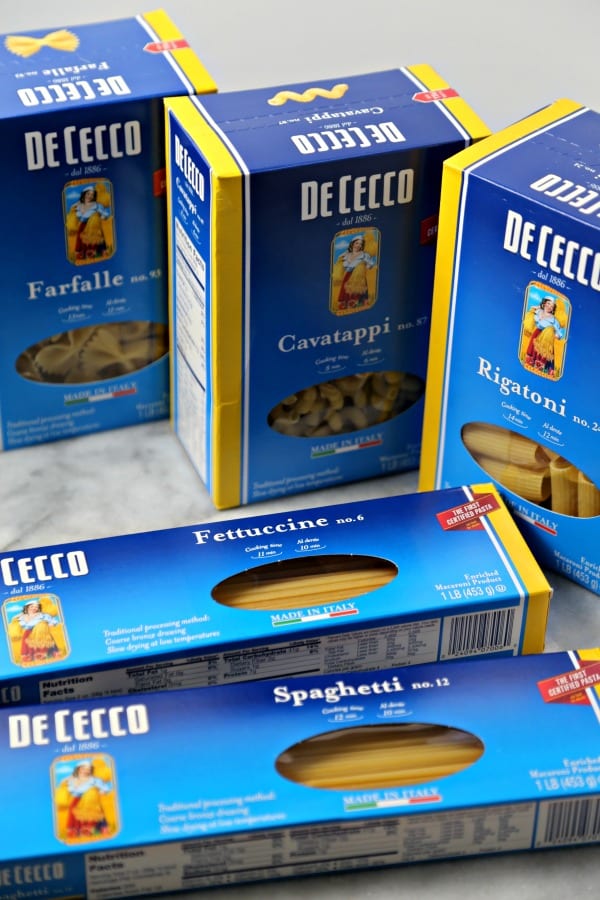 One of the things I love about De Cecco cavatappi pasta – these ridges. Seriously – look at these ridges. Now picture them holding on to this creamy cheese laden sauce. That's what those ridges are meant for – well, besides providing a bit of texture of course. It is one of the most used dried pastas in my house. Now, that doesn't mean I love the other types any less – I just find it fun. Plus – you all know how I am about using quality ingredients and De Cecco is one of those brands that I know delivers a stellar dish every single time.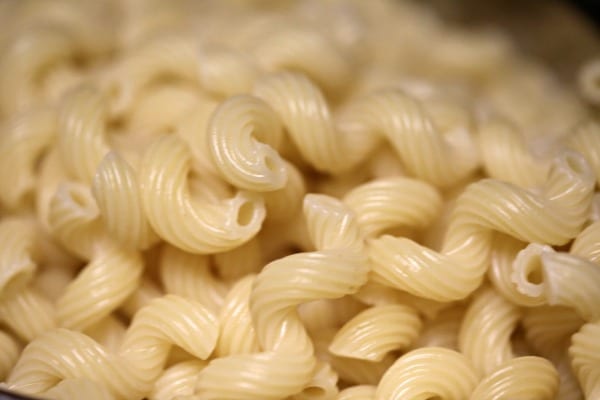 This Three Cheese Baked Mushroom Pasta recipe is so easy but tastes like you worked on it for hours. It's the perfect multi-tasking recipe. While the pasta is bubbling away, you can make the herbed mushrooms that are peppered throughout the dish. I went with two different types of mushrooms – baby bella and shitake – for the perfect balance of earthy and meaty. To add more dimension to the dish, I combined a buttery fontina cheese with a smoky mozzarella and then a salty parmesan. The sauce tastes like it is packed with cheese but the amounts are much smaller than if you were doing a standard mac 'n cheese which, of course, cuts the calories. The three cheese combination works in harmony with each other and the freshly grated nutmeg in the sauce is a must. Then just bake everything in the oven and bring the pan steaming hot to the table. Your guests will go wild.
This Three Cheese Baked Mushroom Pasta will be one of those baked pasta dishes that you will find yourself making often. It's chic enough for the holidays, perfect for a potluck or comforting for a chilly winter's evening. This pasta bake will be a family favorite for years to come!
On to the recipe:
Gather your ingredients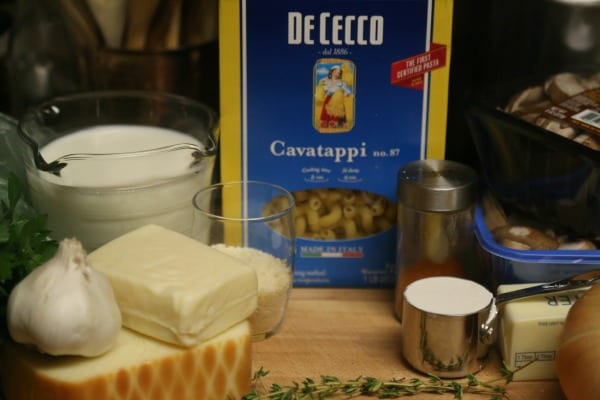 Browning the mushrooms – love this combination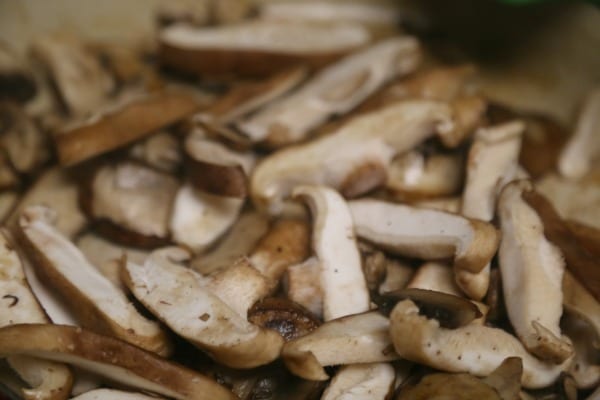 Whisking the cheese into the silky sauce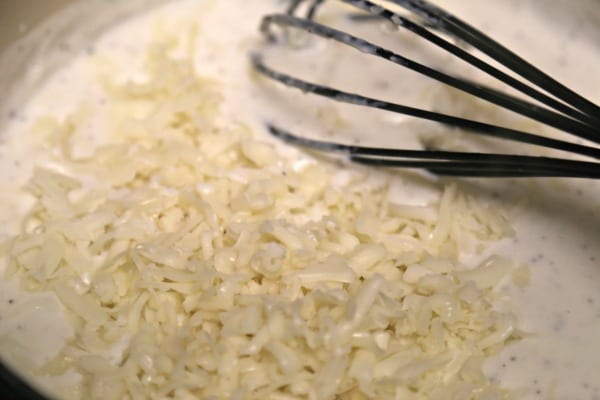 Look at this lovely hot out of the oven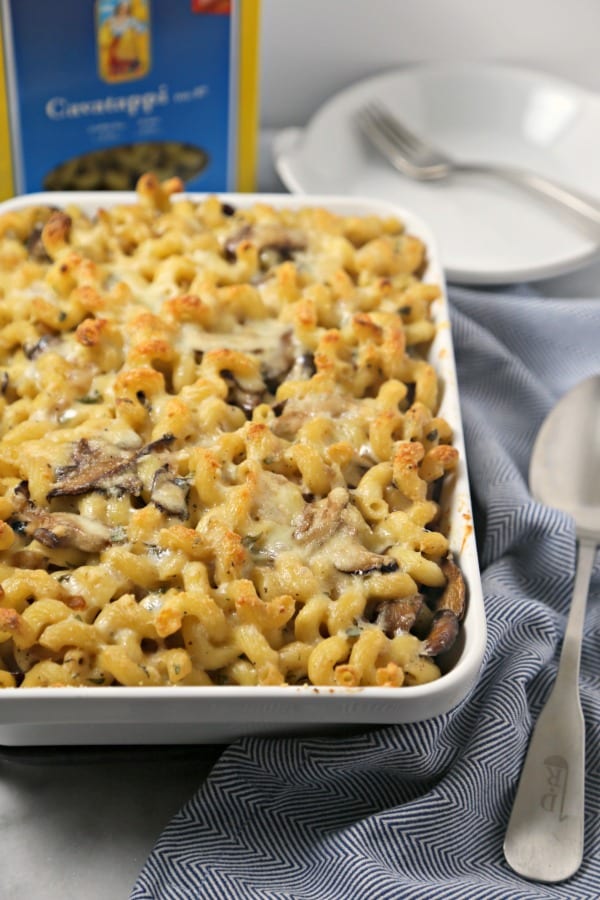 My heavens this is gorgeous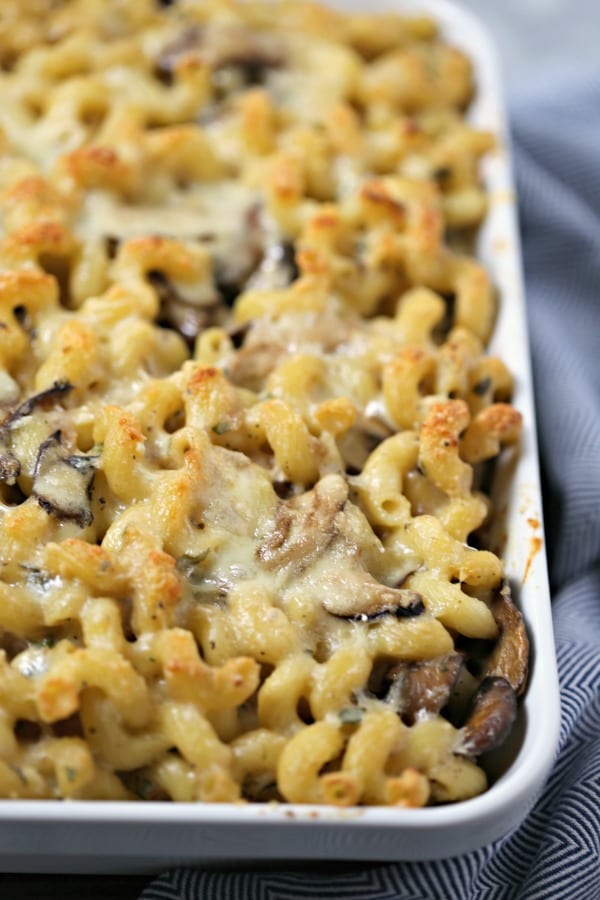 Look at the layers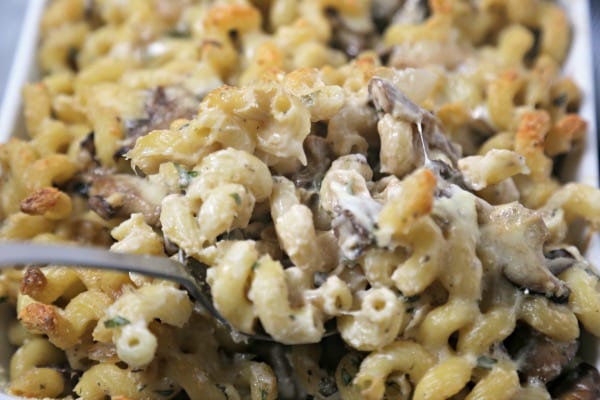 Shall I make you a plate?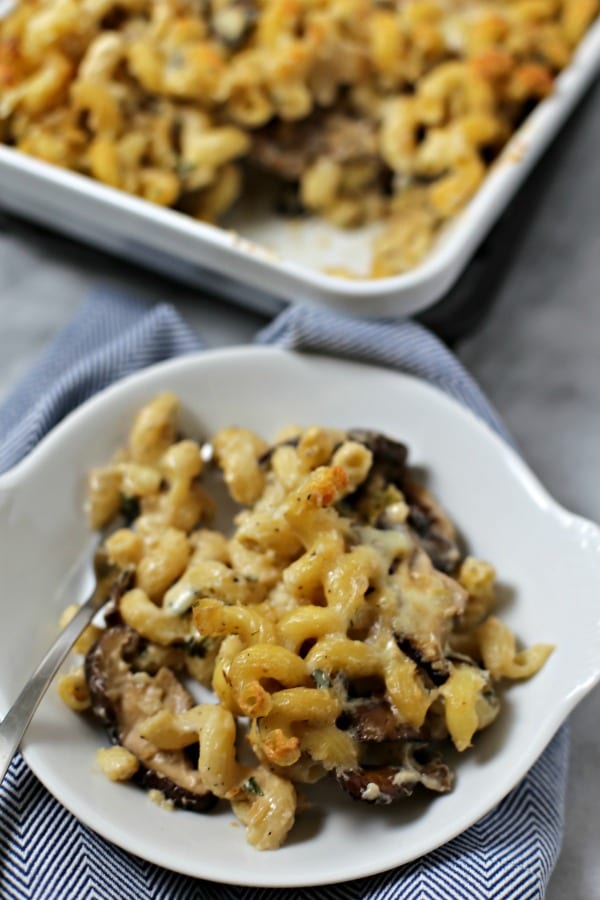 Aly M. Cleary
Yields 6-8
Three Cheese Baked Mushroom Pasta – An Easy Vegetarian Pasta Bake
This Three Cheese Baked Mushroom Pasta is chic and comforting, perfect for the holidays or a chilly evening dinner.
10 minPrep Time
55 minCook Time
1 hr, 5 Total Time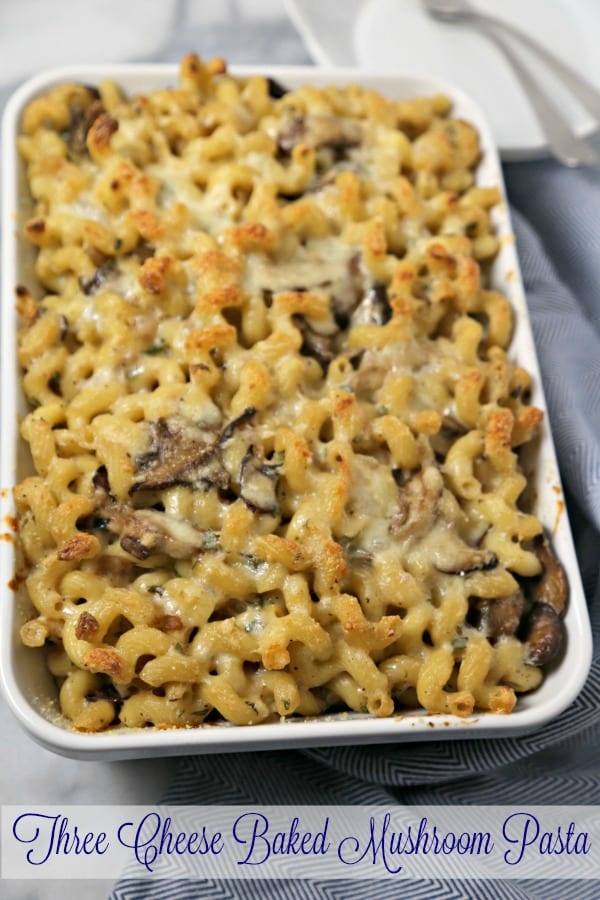 Ingredients
••••••For the Pasta:
1 box of De Cecco Cavatappi Pasta
8 - 10 cups of water
1 teaspoon of kosher salt
•••••For the Herbed Mushrooms:
1 tablespoon of unsalted butter
8 ounces of sliced baby bella mushrooms
4 ounces of sliced shitake mushrooms
1 small onion, diced
3 cloves of garlic, minced
2 teaspoons of fresh thyme, minced
1 tablespoon of fresh parsley, minced
••••••••For the Cheese Sauce:
1 tablespoon of butter
1/3 cup of all-purpose flour
2 1/4 cup of milk
1/8 teaspoon of freshly grated nutmeg
1/2 teaspoon of salt
1/4 teaspoon of freshly cracked black pepper
1/3 cup of shredded fontina cheese
1/3 cup of shredded smoked mozzarella
3 tablespoons of freshly grated Parmesan cheese
Instructions
Bring the water to a boil over medium high heat. Add the salt.
Add the De Cecco Cavatappi Pasta to the salted water, stirring for a second to prevent sticking.
Cook for 6 minutes – you want it a little underdone as it will continue to cook in the oven.
Drain the pasta and set aside. Reserve a cup of the starchy pasta water for the sauce if needed.
For the Herbed Mushrooms:
In a nonstick pan, melt the butter over medium heat. Add the sliced baby bella mushrooms and shitake mushrooms in batches so as to not crowd the pan too much. My suggestion – brown some of the baby bella mushrooms first and then add more. They will reduce in size – trust me on this.
Add the diced onions to the browned mushrooms and sauté for about 5 minutes or so until they are translucent.
Add the minced garlic, thyme and fresh parsley. Sauté for a minute more and then set aside.
To make the Cheese Sauce:
To a nonstick saucepan, add the butter to the pan and melt over medium heat.
Add the flour to the butter mixture and, using a whisk, combine the butter and flour. It's going to look lumpy at first but you'll whisk that out in a minute. You want to cook the flour for a minute or two first.
Slowly pour in the milk, whisking as you go so that the lumps will be worked out in the sauce. You want a smooth and silky sauce.
Combine 1/4 cup of the shredded fontina cheese, 1/4 cup of the shredded smoked mozzarella and 1 tablespoon of the Parmesan cheese. Set the remainder aside for later.
Whisk the nutmeg, salt and pepper into the sauce, followed by cheese.
Whisk vigorously until the cheese is fully incorporated into the sauce.
If the sauce appears too thick, whisk in the reserved pasta water, about a 1/4 cup at a time.
To assemble:
Heat the oven to 375 degrees F.
Spray a 9x13 pan with nonstick spray and set aside.
In a large bowl, tumble in the drained pasta, herbed mushroom mixture and then pour the sauce over the mixture.
Using a spatula, combine the pasta with the sauce and mushrooms until everything is distributed throughout.
Pour the pasta mixture into the prepared baking pan.
Top the pasta with the remaining cheese mixture and bake uncovered for 30 minutes or so until the cheese is bubbling and brown.
Serve while hot and enjoy!
7.8.1.2
31
https://cookinginstilettos.com/three-cheese-baked-mushroom-pasta/