When it comes to chocolate chip cookies in my repertoire, normally it's all about the Rum Soaked Chocolate Chip Cookies or these Oatmeal Cranberry Chocolate Chip Cookies.  However, I think these Sweet and Salty Oatmeal Cherry Chocolate Chunk Cookies might steal their their tried and true title and run all the way to the finish line because they are THAT good.  The flavor of an oatmeal cookie studded with dried cherries, rich dark chocolate chunks (no chips here) and sprinkled with a touch of vanilla salt to finish.  Don't you want to bake up a batch just from reading that?
I played with a recipe from The Barefoot Contessa's latest cookbook, Make It Ahead, because, quite frankly, whenever it comes to tried and true cookie recipes, I know she always has recipes that are foolproof.  She also gives some sage advice on whether or not to chill the dough.  As I love these cookies thin and crisp, I baked them right away.  However, if you like them chewy in the center but also with crisp edges, you might want to chill them for a little bit before baking.   While I don't necessarily prefer turning on the oven in the summertime, for these cookies I cranked up the AC and baked my little heart out.  In lieu of using fleur de sel, I went with my trusty fave,vanilla salt, which I feel added that extra note of salty and sweet.  Kim from Cravings of a Lunatic has a fab recipe for vanilla salt that she swears by.  I can say that since I have been using vanilla salt in my baking, it's definitely amped up my baking game.
Paired with a tall frosty glass of milk (or horchata), these Sweet and Salty Oatmeal Cherry Chocolate Chunk Cookies are the perfect way to end the day.  Make a dozen or two of these and watch them disappear like magic!
On to the recipe:
Gather your ingredients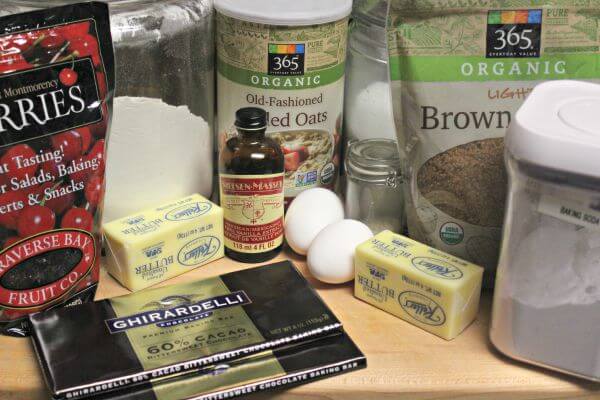 Resist the urge to start nibbling all of the chocolate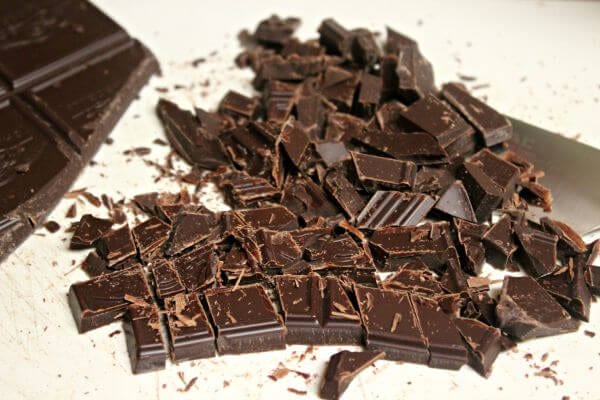 The key to this cookie – the salt – vanilla salt is even better!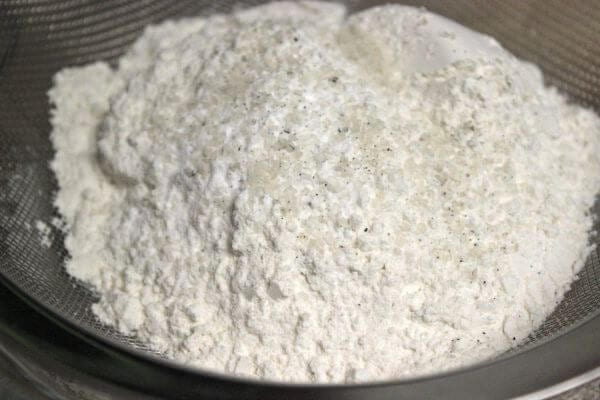 Time to cool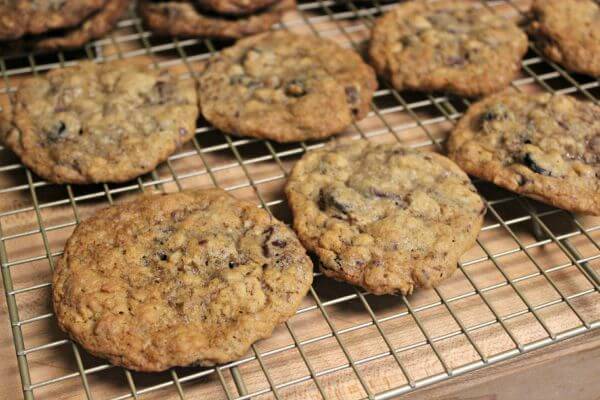 Now – don't you want one (or two)?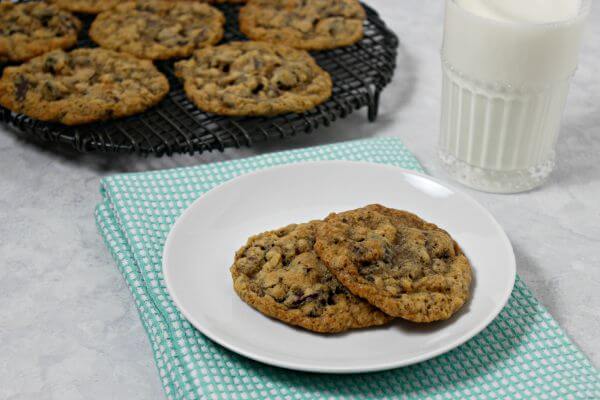 Adopted from the Barefoot Contessa
Yields 2
Sweet and Salty Oatmeal Cherry Chocolate Chunk Cookies
These Sweet and Salty Oatmeal Cherry Chocolate Chunk Cookies are like two cookies merged into one - luscious dark chocolate chunks and sweet dried cherries are woven throughout a sweet and salty oatmeal cookie. How bad can that be?
30 minPrep Time
25 minCook Time
55 minTotal Time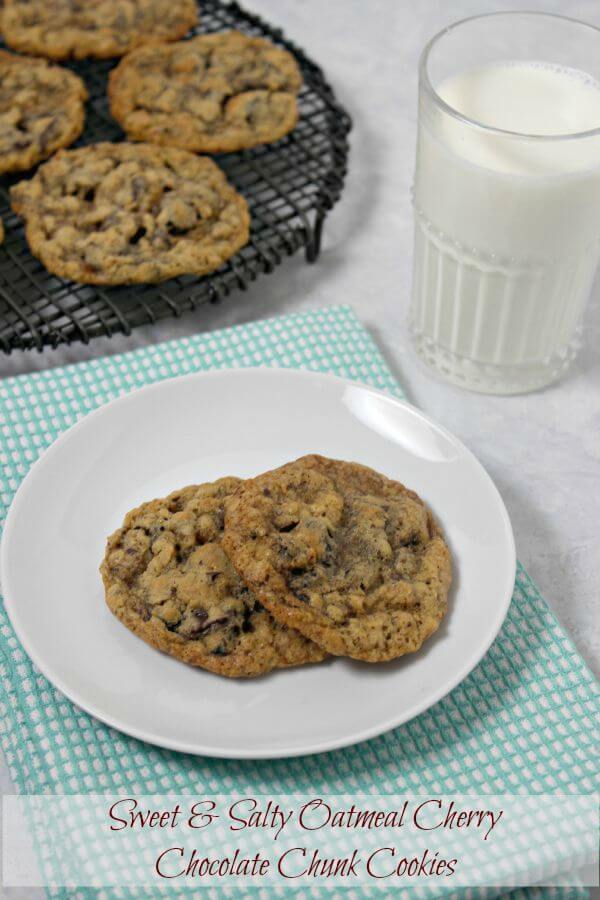 Ingredients
2 sticks of unsalted butter, room temperature
1 cup of light brown sugar
1/2 cup of granulated sugar
2 large eggs, room temperature
2 teaspoons of vanilla extract (I adore using Mexican vanilla in this)
1 1/2 cups of all purpose flour
1 teaspoon of baking soda
1 teaspoon of kosher salt (I used vanilla salt)
1 1/2 cup of old fashioned oats
8 ounces of bittersweet chocolate chopped into chunks
1 cup of dried cherries
Fleur de sel or Vanilla Salt for finishing
Instructions
Preheat the oven to 375 degrees.
Line your baking sheets with silpats or parchment paper and set aside.
In the bowl of a stand mixer, add the butter, brown sugar and granulated sugar. Cream together on medium high speed until light and fluffy, about 5 minutes. Scrape down the sides with a spatula.
Add the eggs, one at a time, until they are incorporated into the batter thoroughly.
Add the vanilla extract and mix again.
In a large bowl, sift together the flour, baking soda and salt.
Add the old fashioned oats and stir until the mixture is fully combined.
Turn the mixer on low and slowly add the oat mixture to the dough until everything just comes together. Do not overmix.
Remove from the stand mixer, stir with a spatula and fold in the chocolate chunks and dried cherries.
Using a small cookie scoop, scoop out the dough mixture onto the prepared baking sheets.
Sprinkle with the fleur de sel or vanilla salt and bake for about 10 to 12 minutes, until golden brown.
Enjoy!
7.8.1.2
153
https://cookinginstilettos.com/sweet-and-salty-oatmeal-cherry-chocolate-chunk-cookies/