I adore making clafoutis – especially with cherries. However, I had never tried it with plums. To be honest – and I have a bit of a confession here – I never cooked with plums that I can think of. I tend to eat them as is, if that makes sense. So, this recipe was a huge eye opener for me. I decided to add a little warmth to the batter with some cinnamon and nutmeg and, well, since we're at full on confession mode, I added a bit more amaretto to the batter as well. I don't know what I was thinking but I was rather happy with the outcome. Sadly, it was humid as all heck in Philly when I made this and, while it was set when the clafoutis came out of the oven, it was like a bit of a bread pudding when I went to serve it. No worries – a scoop of vanilla ice cream served alongside made it all better.
Gather the Ingredients
Nothing like a little fruit maceration, right?
Pouring in the batter.
Puffed and golden – straight from the oven.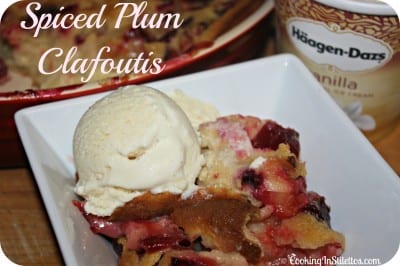 Ingredients
1 1/2 lbs. plums, pitted cut into large dice (about 5 plums)
Zest and juice of 1/2 a lemon
1/3 cup of brown sugar
4 large eggs
1/2 cup of sugar
1 cup milk
1/2 cup flour
1/4 teaspoon salt
1/2 teaspoon of cinnamon
Pinch of nutmeg
3 tablespoons of melted butter (cooled)
3 tablespoons of Amaretto (I used DiSarrano – I say don't cook with it unless you'd drink it ?)
1/2 teaspoon vanilla
Instructions
Preheat oven to 400 degrees.
In a large bowl, add the plums, lemon juice and zest and brown sugar. Toss well to coat and set aside.
In a blender, add the eggs, sugar, milk, flour, salt, cinnamon, nutmeg, cooled melted butter, Amaretto and vanilla. Blend until smooth.
Tumble the macerated plums into a shallow baking dish that has been buttered or sprayed with a non-stick spray.
Pour the batter over the plums.
Bake in the oven for 35 – 45 minutes, until fully set.
Serve warm with a bit of ice cream or whipped cream and enjoy!
7.8.1.2
362
https://cookinginstilettos.com/spiced-plum-clafoutis/