This easy Turkey Chili recipe is a tried and true family favorite.  Lean ground turkey breast is simmered with spices and white beans along with some fire roasted corn for a delicious white turkey chili, perfect for chilly evenings.
Disclosure:  This post was originally published in December of 2011.  This recipe has been updated with new photos and recipe tweaks that I have used over the years.  This post may also contain affiliate links to products I adore and trust in my kitchen.  Than you for supporting Cooking In Stilettos.
There is nothing more comforting than a big bowl of chili – especially in the winter.  Chili is often a favorite go-to recipe and depending on your mood, you can whip up a Baja Chicken Chili, my favorite Cornbread Topped Chili or even an easy Italian Sausage chili.  But the one I often make is this delicious and easy Turkey Chili recipe.
I remember the first time I made this chili recipe.  I had some extra ground turkey that I bought for the Sous Pug to make him some turkey meatballs.  However, the  night before Thanksgiving, the little one had a pancreatitis flare-up that cursed him through the weekend and I didn't want to waste the turkey. I was still in the beginning stages of my culinary journey and I wound up finding a turkey chili recipe in the Betty Crocker Cookbook that needed to be made.  A few ingredients from my pantry and I had a bowl of comfort that was so needed that evening.
Over the years, I have played with spices, ingredients and the must have chili fixins and this turkey chili recipe has been my go-to when I want to whip up something comforting that takes no time to just toss in a pot.  A bit of browning and the stovetop takes care of the rest.  If you want to make it thicker, you can always blitz some of the white beans to thicken up the broth and stir that into the pot about 10 minutes before serving.  You can also change it up with ground chicken or even leftover cooked chicken or turkey – especially around the holidays.  Just dice or shred it up and fold it into the chili mixture about 10 minutes before you are ready to serve. You can even make a double batch and freeze some of those busy nights.
When you are looking for the perfect white turkey chili recipe, give this easy Turkey Chili a try.  I promise you won't have any leftovers!
On to the recipe:
Gather the Ingredients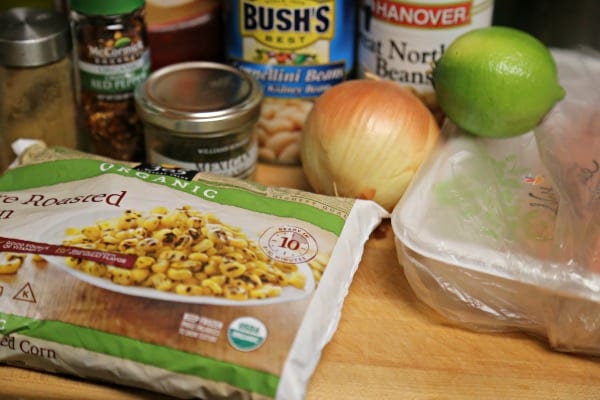 I love using this little OXO meat chopper whenever I need to break up ground meat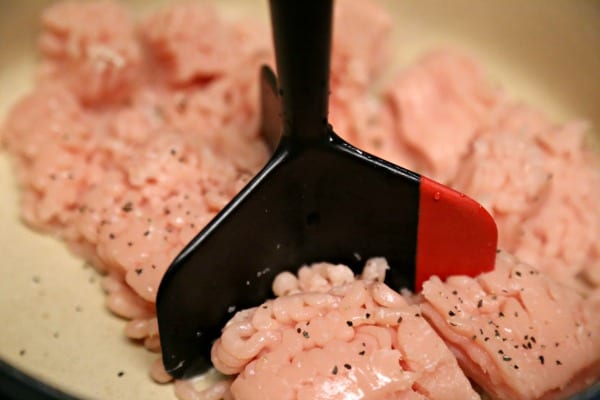 Key is to bloom the spices – toast them with the meat to bring out the flavor
Adding the Fire Roasted Corn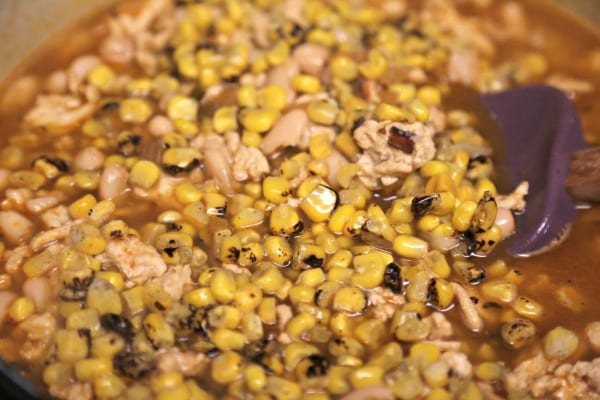 Should I make you a bowl?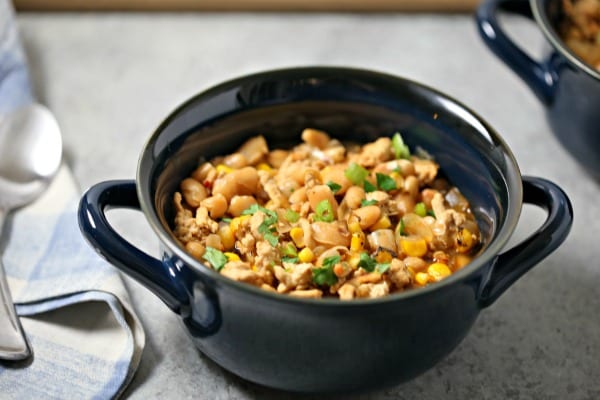 Let's add a bit of Greek yogurt and some cheddar cheese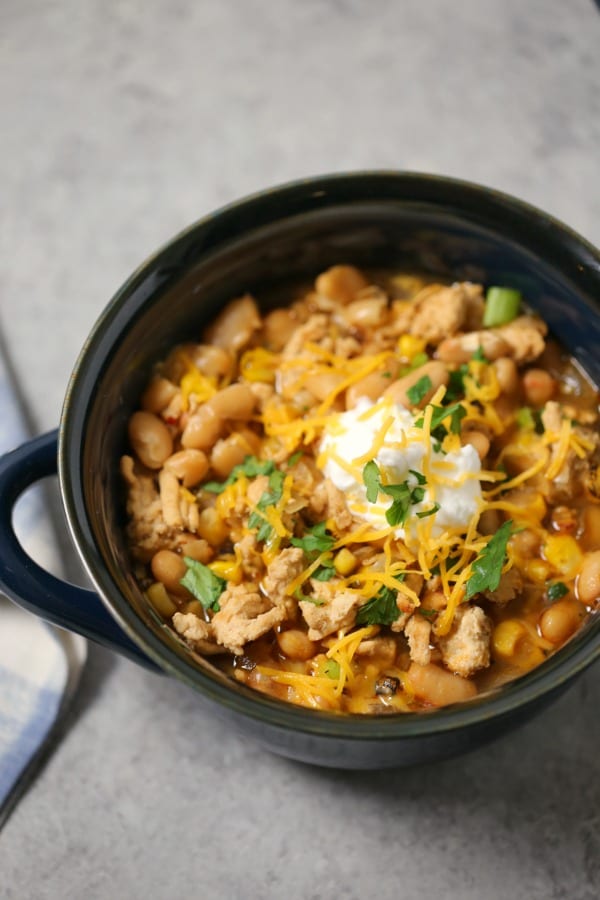 : Aly M. Cleary | Adapted from the Betty Crocker Cookbook
Yields 4-6
Easy Turkey Chili Recipe
This Easy Turkey Chili recipe is a tried and true favorite. Lean ground turkey is simmered with spices, fire roasted corn and white beans for the perfect easy dinner that tastes like it has been simmering for hours.
7 minPrep Time
45 minCook Time
52 minTotal Time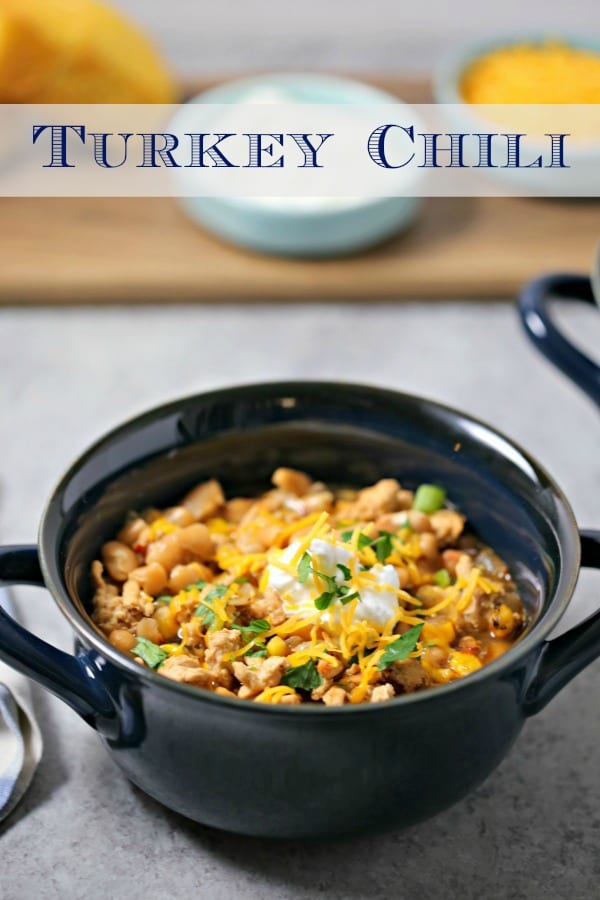 Ingredients
2 tablespoons of olive oil, divided
1 pound of ground turkey breast
1 large onion, chopped
2 cloves of garlic, chopped
1 teaspoon of ground cumin
1 teaspoon dried oregano (preferably Mexican)
1/2 teaspoon of smoked paprika
1/4 teaspoon of red pepper flakes
1/4 teaspoon salt
1/4 teaspoon of freshly cracked black pepper
3 cups of chicken (or turkey) stock
1 cup of frozen fire roasted corn
1 can of great northern beans, drained and rinsed
1 can of butter beans, drained and rinsed
2 tablespoons of lime juice
----For serving:
Sour Cream or Yogurt
Shredded Cheese
Sliced Green Onions
Minced cilantro or flat leaf Italian parsley
Instructions
In a heavy bottomed saucepan or dutch oven, heat one tablespoon of the olive oil over medium heat.
Lightly brown the turkey breast and set aside.
Add another tablespoon of olive oil; add the chopped onion and garlic. Cook for 4 to 6 minutes until onion is tender. Return the browned turkey to the pan.
Add the cumin, oregano, smoked paprika and red pepper flakes and allow to toast for a minute.
Add some of the chicken (turkey) stock to deglaze the pan, scraping up any brown bits with a wooden spoon.
Add the corn, beans, lime juice and the remaining stock.
Heat to boiling, reduce heat and simmer for 30 minutes.
Serve a steaming bowl of this Turkey Chili dolloped with some sour cream or Greek yogurt, shredded cheese, a bit of sliced green onion and/or minced parsley or cilantro.
Enjoy!
7.8.1.2
5
https://cookinginstilettos.com/turkey-chili/