Summer has unofficially arrived so break out the grill tongs!
When it comes to burgers, there are a number of components that make a great burger – the meat, the cheese (if using), the toppings and, of course, the bun. I feel that sometimes the burger bun is often overlooked and, personally, I don't believe that every burger bun is the same.  I look for buns that are packed with flavors that will compliment the burger.
 It's great for your favorite burger, but why not go a little bold and add some toppings like thick sliced bacon, caramelized onions or a creamy dreamy cheese.  These buns can handle it.  There will be no bun collapse from topping overload – I promise you that.  The buns are soft and pillowy and, if you want them lightly toasted – oh my heavens!
The Hearty White Buns are studded with sesame seeds and fit a thick burger patty perfectly.  The Stone Ground Wheat Buns would be fantastic with a turkey burger piled high with arugula, cheddar cheese and tomato.  One of my favorites are the Rustic Potato Buns.  I love using potato bread for some of my favorite recipes so when I was creating these Huli Huli Chicken Burgers, I thought they might be the perfect fit – lightly toasty, soft in the center and fantastic flavor.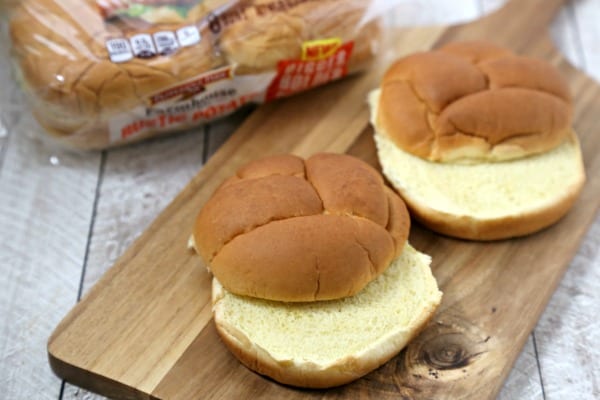 These Huli Huli Chicken Burgers are packed with flavor from the top of the Rustic Potato Bun to its toasty bottom.  Huli Huli Chicken is a must during the summer months but in burger form – how did I not think of that?  Like with any huli huli chicken recipe – the sauce is crucial.  It's sweet, spicy and beyond flavorful with the flavors of ginger, soy and brown sugar simmered to perfection.  I layered the sauce in the burger mixture along with some grated sweet onion which keeps the chicken burger moist and prevents it from drying out and then, after letting the burgers cook for a bit on the grill, they were brushed with even more huli huli sauce and that sauce caramelizes and gets all sweet and smoky.  If you have any leftover sauce, keep it in a jar in the fridge and it will be fine for a few weeks (if it lasts that long).
To assemble this scrumptious burger, I took a page from one of my favorite Polynesian dishes, chicken lu pulu, and used baby spinach for a fresh, crisp foundation.  Adding some lightly grilled sweet onion and pineapple along with a bit more of the huli huli sauce took this chicken burger from ordinary to extraordinary.  This, my friends is a burger that will be a family favorite.  The Rustic Potato Buns added to the flavor and there was no burger spillage as it held everything in perfectly.   No messy burger here.
For your next cookout, make these Huli Huli Chicken Burgers.
On to the recipe

:
Aly M. Cleary
Yields 4
Huli Huli Chicken Burgers
For an island twist, make these delicious Huli Huli Chicken Burgers for your next cookout. Ground chicken is grilled with a sweetly spicy glaze and then nestled in Pepperidge Farm Farmhouse Hearty Rustic Potato Buns with fresh baby spinach, grilled sweet onion and pineapple
45 minPrep Time
35 minCook Time
1 hr, 20 Total Time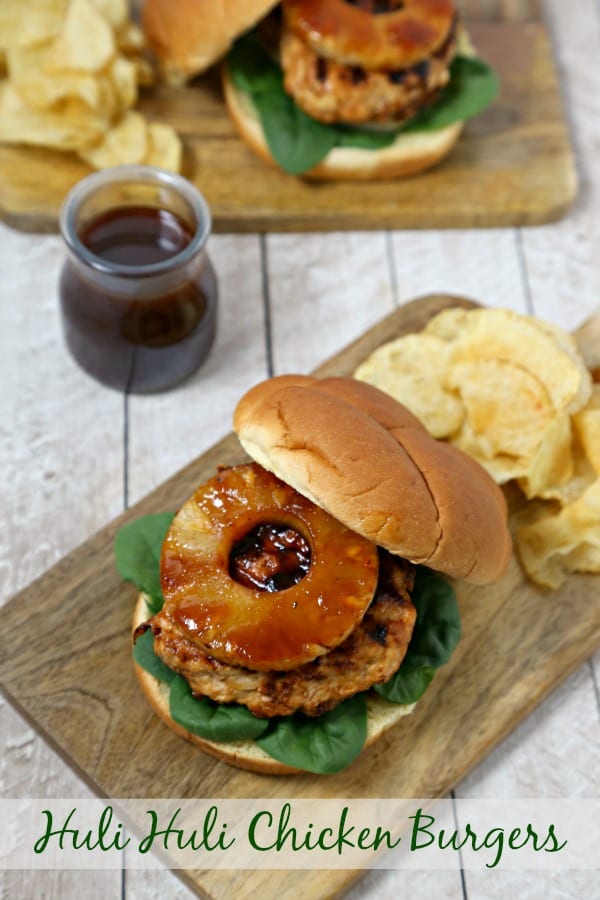 Ingredients
For the Huli Huli Sauce:

1/2 cup of soy sauce (preferably reduced sodium)
1/2 cup of ketchup
1/2 cup of light brown sugar, packed
1/3 cup of chicken broth (preferably low sodium)
1 teaspoon of Worcestershire sauce
1 teaspoon of grated fresh ginger
2 cloves of garlic, grated
1/8 teaspoon of cayenne pepper
1/2 teaspoon of rice vinegar
1/4 teaspoon of fresh ground black pepper

For the Chicken Burgers:

1 pound of ground chicken breast
1/4 teaspoon of kosher salt
1/4 teaspoon of fresh ground black pepper
3 tablespoons of grated sweet onion (such as Vidalia or Maui onion)
2 teaspoons of canola oil
1/3 cup of Huli Huli Sauce, divided

For Serving:

Fresh baby spinach
1/2 of a sweet onion (such as Vidalia or Maui), sliced into rings
4 pineapple rings, drained
4 Pepperidge Farm Hearty Buns Rustic Potato Buns
Instructions
To make the Huli Huli Sauce:

In a saucepan, add the soy sauce, ketchup, light brown sugar, chicken broth, Worcestershire sauce, grated fresh ginger, grated garlic, cayenne pepper, rice vinegar and black pepper.
Turn the heat to medium and whisk the mixture until the brown sugar is dissolved.
Bring the mixture to a slight boil and then reduce the heat to simmer and let the sauce simmer for about 10 minutes, until it has thickened up slightly and reduced.
Transfer the sauce to a bowl and let cool for about 15 minutes.

To make the burgers:

In a large bowl, add the ground chicken breast, kosher salt, black pepper, grated sweet onion and 2 tablespoons of the cooled Huli Huli sauce.
Form the mixture into patties (it will be a bit of a wet mixture) and let firm up in the fridge for about 15 minutes.
Heat the grill or a grill pan to medium high and lightly grease the grill with the canola oil.
Add the chicken burger patties and grill on each side for about 5 – 7 minutes.
When the chicken burger is flipped, brush the burgers with some of the reserved Huli Huli sauce.
Flip the burger for another minute and let the sauce caramelize while you brush the other side.
While the burgers are grilling, also grill the onion rings and pineapple slices.
Remove the grilled onions and pineapple to a plate.
When the burgers are cooked through, remove them from the grill and let them rest, tented with a bit of foil for about 10 minutes.

To serve:

Lightly toast the Pepperidge Farm Hearty Buns Rustic Potato Buns until they are light golden brown.
Lightly spread a bit of the Huli Huli sauce to the bottom of the potato bun and add some fresh baby spinach.
Add some of the grilled sweet onion rings and then nestle a chicken burger on top.
Add a grilled pineapple ring and more Huli Huli sauce if you would like.
Top with the toasted potato bun and serve.
Enjoy!
Notes
Pepperidge Farm Farmhouse Hearty Buns are available in the Northeast only.
7.8.1.2
91
https://cookinginstilettos.com/huli-huli-chicken-burgers/