Do I have a sweet treat for you today – a rich and luscious tiramisu that is so simple to put together and full of sweet cream flavor. Confession: when I hear "Tiramisu" I always thought it was so laborious to put together that I never attempted it. When I discovered an easy peasy tiramisu recipe from Ms. Martha – well, it didn't look that difficult so I decided to play around a bit.
International Delight has a host of flavors based on the Cold Stone Creamery ice creams and one of my faves is Sweet Cream. When I had an opportunity to create something with their line of Coldstone Creamery flavors, I knew I had to play with the sweet cream and what better to feature this luscious flavor but in a decadent tiramisu.
Let me tell you – the most effort was brewing the strong coffee and whipping the cream (but the mixer did the heavy whipping on that). I did have an overwhelming urge to dive into the fluffy marscarpone mixture but I was a good gal – I behaved. I decided to take it one step further and layer the top with an additional layer of vanilla whipped cream and topped with cocoa and dark chocolate shavings – well let's just say it's quite the dessert.
On to the recipe:
Gather your ingredients
The "Secret" Ingredient – Sweet Cream International Delight
Whipped Marscarpone, Sweet Cream and whipped cream heaven
Layer Layer Layer
Time to take a chill
Don't you want a bite?
Sweet Cream Tiramisu
Tried and True: Sweet Cream Tiramisu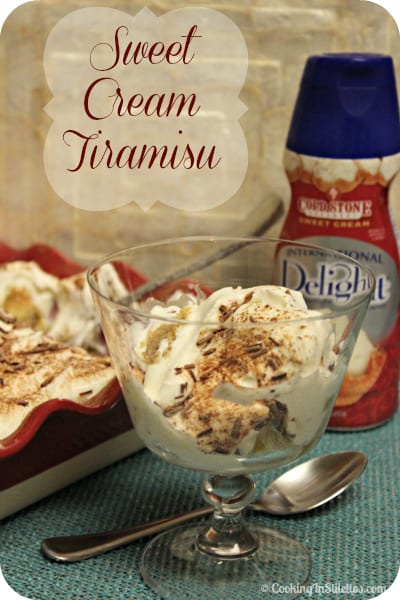 Ingredients
For the Tiramisu

1 8 ounce container of marscarpone cheese, softened
1/3 cup of sugar
3/4 cup of heavy cream
1/3 cup of International Delight Sweet Cream flavor creamer
1/2 teaspoon of vanilla
33 ounce packages of lady finger cookies
11/2 cups of strong coffee

For the Whipped Cream Topping:

1 cup of heavy cream
1 tablespoon of powdered sugar
1/4 teaspoon of vanilla
1 tablespoon of International Delight Sweet Cream flavor creamer
Unsweetened Cocoa and Bittersweet Chocolate for garnishing
Instructions
To a mixing bowl, add the marscarpone cheese, sugar and Sweet Cream International Delight Creamer. Whip unti light and fluffy.
Mix in the vanilla.
To an 8×8 dish, spread a small bit of the whipped marscarpone mixture in the bottom of the dish.
In a bowl, pour the strong coffee and quickly dip the ladyfinger in the coffee and then layer in the dish. Repeat until the bottom of the dish is covered.
Spread a thin layer of the marscarpone topping over the ladyfinger layer.
Follow with another layer of coffee dipped ladyfingers and another layer of whipped marscarpone and a final layer of marscarpone topping.
Whip the remaining heavy cream with the powdered sugar, vanilla and International Delight Sweet Cream creamer.
Spread the whipped cream over the marscarpone layer.
Garnish with a sprinkling of unsweetened cocoa (about 1/2 teaspoon – 1 teaspoon) and some grated bittersweet chocolate and enjoy!
7.8.1.2
325
https://cookinginstilettos.com/sweet-cream-tiramisu/