This Epic Bacon Croque Madame Pizza is the ultimate brunch pizza with layers of bacon, ham and cheese baked to perfection.  To amp up the croque factor, let's  take it over the top and bake a sunny side up egg (or a few) on it!





We are nearing the end of BaconMonth and that calls for a recipe that delivers big on bacon and this Epic Bacon Croque Madame Pizza definitely delivers!
Yes, you heard that right – a Bacon Packed Croque Madame Pizza.  I could have gone the traditional route and added a slice (or four) of bacon into a traditional croque madame (or even croque monsieur) but I figured, why not take it into pizza form and have it be the perfect brunch pizza or when you want breakfast for dinner.
Croque Madame is one of my favorite fall-back recipes when I'm in the kitchen and thinking "What the heck do I make".  As a food blogger, I have to confess that there are days when my mind draws a complete blank.  So, when I'm not working on developing recipes, I tend to have some favorite recipes that I fall back on and can make from essentially memory and a Croque Madame is one of those.  I always have most if not all of the ingredients on hand and it takes me no time at all to whip it up.  I've even gone a bit croque crazy and turned these flavors into a Croque Madame Bread Pudding and Croque Madame Muffins – but never a pizza.
Until now.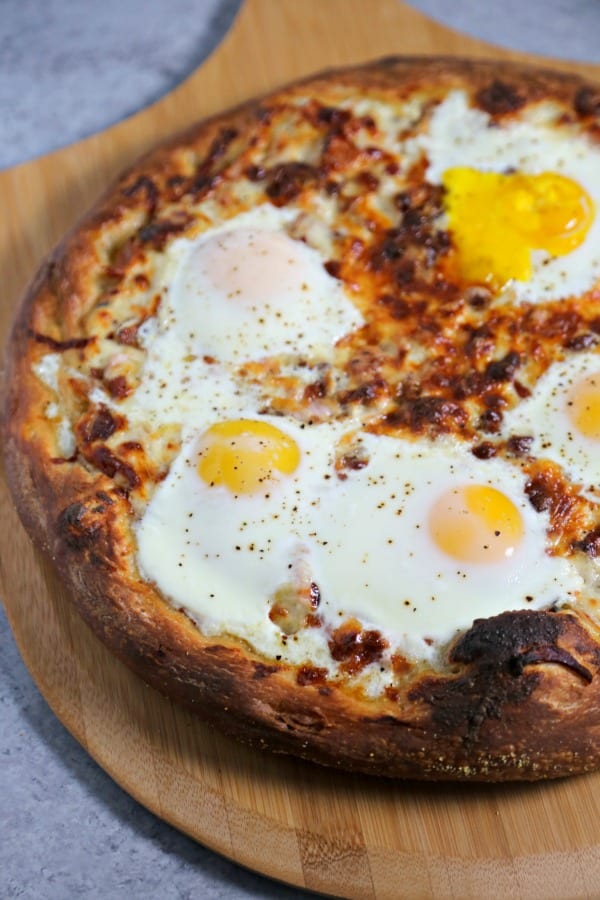 Julie – our fearless BaconMonth leader always encourages us to think out of the box.  I had a number of recipes to play with but I kept thinking – could bacon go in a croque madame?  I threw caution to the wind when I decided to make a croque madame pizza and went with three types of bacon to scatter on the pizza along with the traditional ham and cheese flavors.
Yes, you read that right – three kinds of bacon are in this pizza – specifically, crispy thick cut bacon, crispy pancetta and Canadian bacon.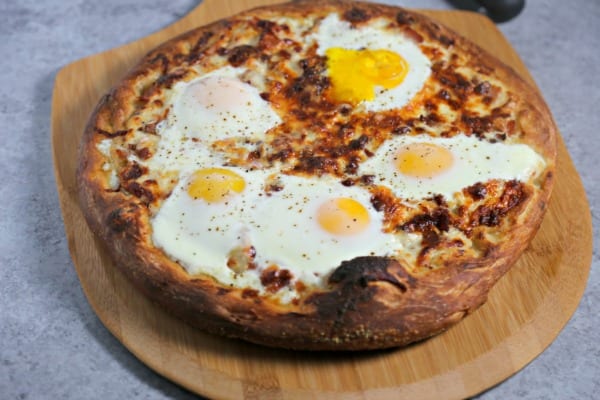 Much like the sammie, this is a knife and fork pizza because the layers of bacon, ham, cheese and that gooey cheesy bechamel sauce gets a bit messy.  As most Croque Madames are, this Epic Bacon Croque Madame Pizza is a bit rich so it's perfectly complimented by some lightly dressed leafy greens like arugula for a peppery bite for the perfect meal.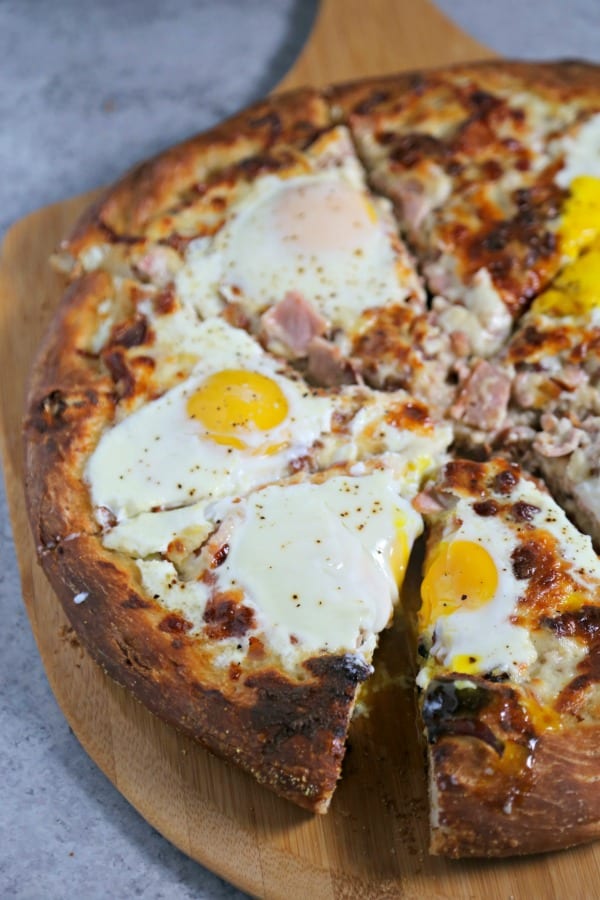 This Epic Bacon Croque Madame Pizza will be a brunch or dinner favorite and perfect for bacon lovers!  Just don't plan on leftovers, okay?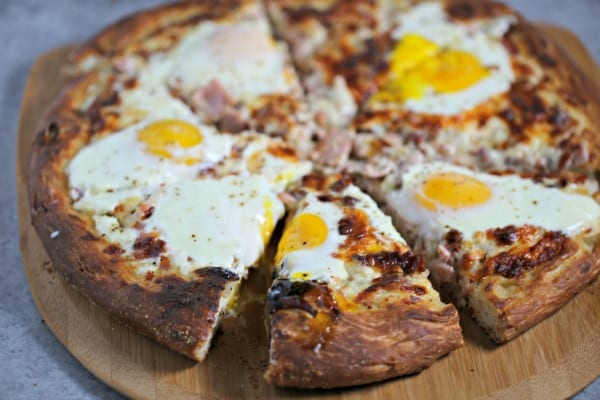 Author: Aly M. Cleary
Yields 8
Epic Bacon Croque Madame Pizza
Three kinds of bacon take this Epic Bacon Croque Madame Pizza over the top. Pizza crust is topped with homemade cheesy béchamel along with loads of bacon, ham and cheese and baked to perfection and then topped with eggs for the perfect brunch pizza!
30 minPrep Time
40 minCook Time
1 hr, 10 Total Time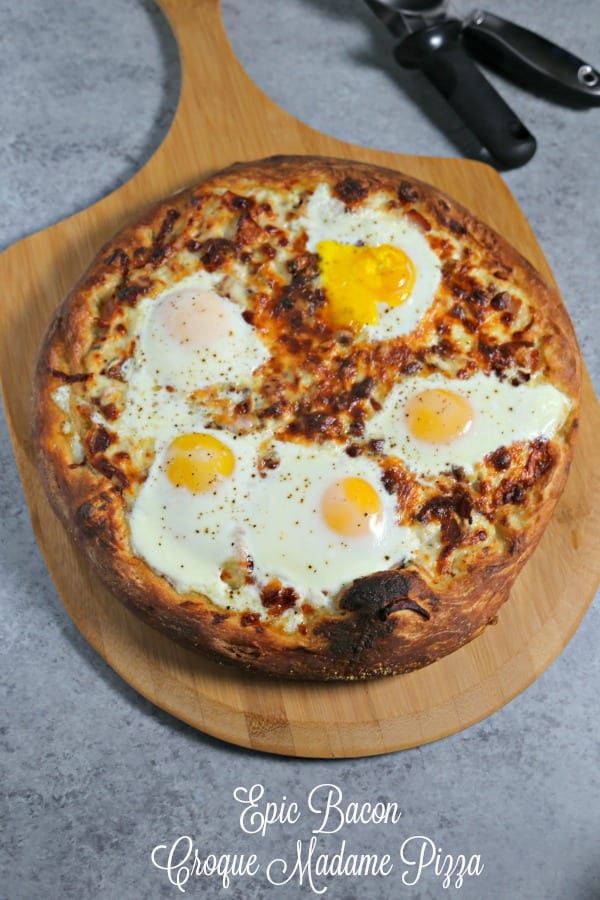 Ingredients
Store-bought pizza crust
Olive oil
1 tablespoon of Cornmeal (for dusting pizza pan)
2 tablespoons of butter
2 tablespoons of all-purpose flour
1 1/4 cup of milk
1/2 teaspoon of dry mustard
1/8 teaspoon of nutmeg
1/8 teaspoon of cayenne pepper (optional)
1/4 teaspoon of freshly cracked black pepper
3/4 cup of grated fontina cheese, divided
2/3 cup of grated gruyere cheese
4 – 5 slices of thin deli ham, cut into strips
6 ounces of cooked pancetta
5 slices of cooked bacon, crumbled
3 slices of browned Canadian bacon, diced
1/3 cup of shredded mozzarella cheese
5 large eggs
Instructions
Lightly roll the pizza crust out to the size of your pizza pan. Using a pastry brush, lightly brush the pizza pan with a bit of olive oil and dust the pan with some of the cornmeal.
Stretch the pizza crust out to the size of the pan and lightly brush the crust with a bit of olive oil. Set aside.
Heat the oven to 450 degrees F.
In a heavy-bottomed saucepan, add the butter.
When the butter is just melted, add the flour and whisk for a minute or two to cook the flour.
Slowly whisk in the milk taking care to whisk out any lumps.
Whisk in the dry mustard, nutmeg, cayenne pepper and black pepper.
Slowly add 1/2 cup of the fontina cheese and the gruyere cheese and whisk until melted.
Keep warm.
Ladle a bit of the béchamel sauce on the pizza crust and spread a thin layer over the crust.
Add the slivers of the deli ham all over the crust and then drizzle a bit more of the béchamel over the ham.
Sprinkle half of the diced bacon, pancetta and Canadian bacon, and drizzle more of the béchamel sauce over the bacon along with the remaining fontina cheese.
Sprinkle the remaining pancetta, bacon and Canadian bacon over the pizza and drizzle just a bit more of the sauce and top with the remaining mozzarella cheese.
Bake for about 15 minutes, until the pizza is slightly golden brown.
Nestle the eggs into some of the pizza and return to the oven to bake for another 5 – 7 minutes, until the egg is set.
Cut into slices and serve.
7.8.1.2
9
https://cookinginstilettos.com/epic-bacon-croque-madame-pizza/
Check out these delicious BaconMonth recipes!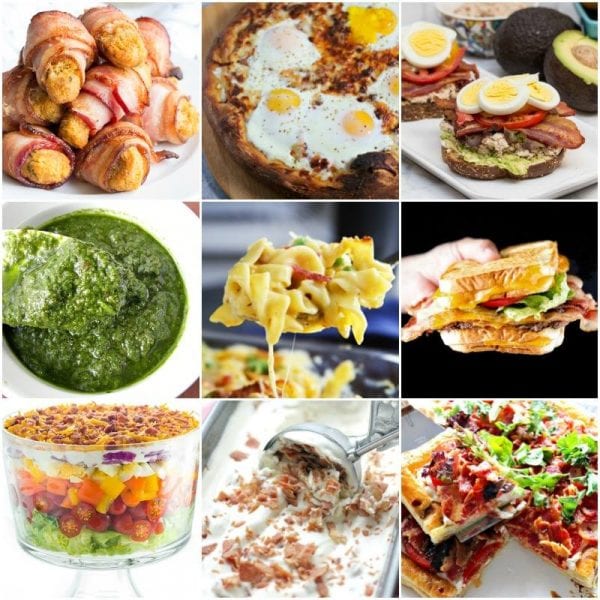 Epic Bacon Croque Madame Pizza
Bacon Chicken Noodle Casserole