Since moving to Philly, I have this obsession with caramelized onions – whether it's on a 'steak, a burger or even French Onion Soup – I can't get enough. Don't get me wrong, I still love the raw red onion on a burger but a caramelized onion has so much flavor.
Now – to caramelize them myself, well, that takes time and time is something I'm in short supply of lately with the SousPug and the 9to9. The last thing I want to do when I come home late is to stand over a hot stove in the August heat and caramelize onions for what I might deem eternity. Little did I know that I could use my trusty slow cooker to do the trick.
I happened across a crockpot caramelized onions recipe  and thought I'd play with it a bit. See – I had plans for those onions in a dish I was playing with and thought that I could make a huge batch and I'd have onions for days. This recipe is perfection – an essential fix it and forget it. The slow cooker does all the heavy lifting. One warning – you may think you are putting oodles of onions in and will wind up with something MUCH less. You can do this with your favorite onions – I just happened to have a huge plethora of Vidalia onions that were calling to me in the middle of Whole Foods.
The must have ingredient that really gives it some zing – thyme. Thanks to my favorite French onion soup recipe, I learned about the wonderful marriage of thyme and onion. You could even freeze these to use in future meals for some zippy quick flavor. Give this recipe a whirl on a weekend and the flavor payoff will reward you for days!
Gather the ingredients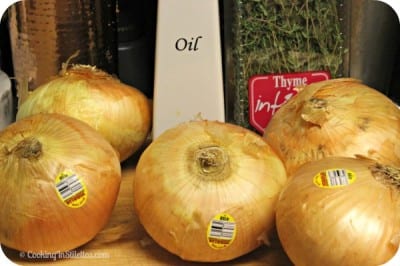 Before and….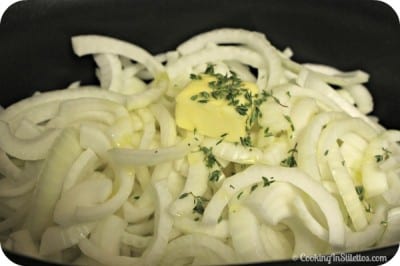 After – see the difference?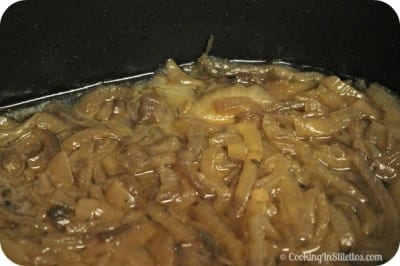 Getting ready for a quick jaunt in the fridge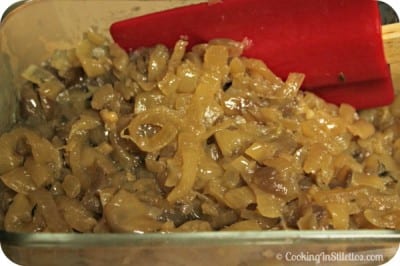 My favorite way to prepare caramelized onions
Tried and True: Slow Cooker Caramelized Onions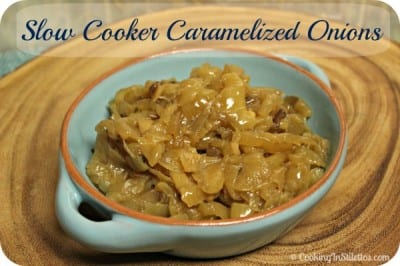 Ingredients
4 – 5 large onions
1 tablespoon of chopped thyme
3 tablespoons of butter
1 tablespoon of olive oil
Instructions
Slice the onions into half moons, separate and toss into the slow cooker. If you want to avoid the tears – what I do is either put the onions in the freezer for 15 minutes or run under hot water for a few minutes and it's a tried and true no more tears trick!
Add the thyme, butter and olive oil to the slow cooker.
Cover and set the slow cooker to cook on low for 6 – 7 hours.
The onions will cook down significantly. Remove from the slow cooker and it should keep for a few days in the refrigerator or you can freeze them in small batches for future use.
Enjoy!
7.8.1.2
318
https://cookinginstilettos.com/slow-cooker-caramelized-onions/