Who doesn't love brownies and to meld those brownies with these Oreo-esque cookies – even better.  I decided to make the brownies from scratch and it was so simple and I adapted Lorraine Pascale's recipe a bit.  The cookies are scattered throughout the batter and with the extra chocolate deliciousness that I may or may not have snuck in there – oh my heavens!  These brownies will bring a smile to your face!
On to the recipe:
Gather your ingredients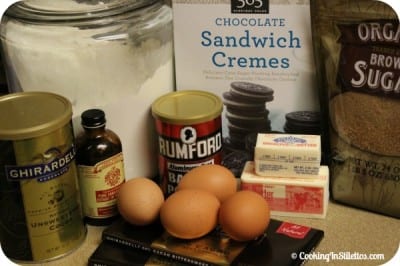 Resist the urge to lick the spatula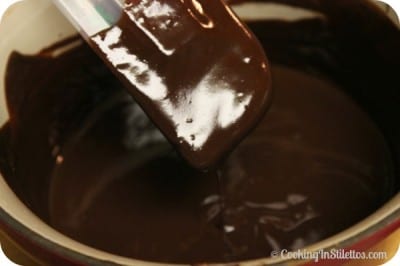 Don't forget the cookies – they are vital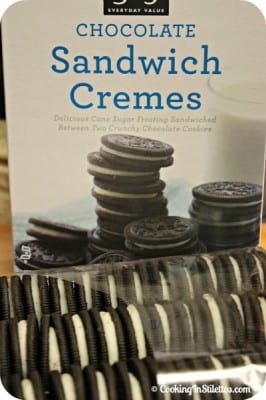 Off to the oven – don't worry they will puff up.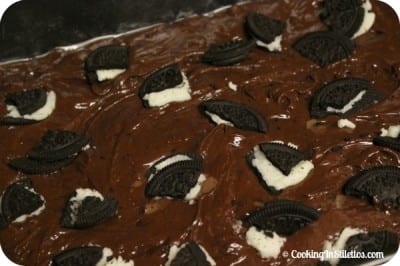 Hot out of the oven – let them cool.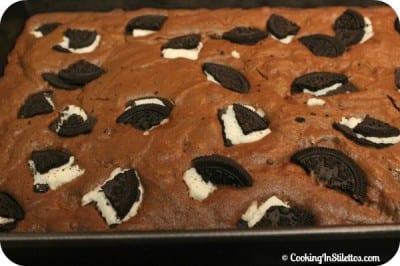 Grab a glass of milk and cozy up with one or two of these – I promise – no judgement.
Tried and True: Cookies and Cream Brownies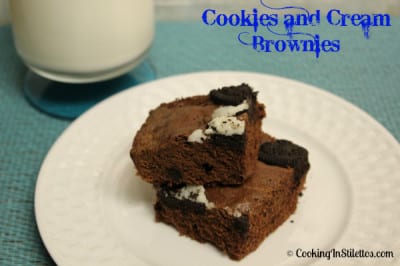 Ingredients
1 1/2 sticks of butter
8 oz of dark chocolate, finely chopped
4 eggs
3/4 cup of light brown sugar
2 teaspoons of vanilla extract
1 cup of flour
1/2 teaspoon of baking powder
1/8 teaspoon of salt
2 tablespoons of unsweetened cocoa
12 - 16 chocolate sandwich cookies, broken into quarters
Instructions
Preheat the oven to 350 F.
Grease a 9 x 13 pan with butter or baking spray and set aside.
Over a low flame, melt the butter. When the butter is melted, remove from the heat, add the chocolate and stir until melted. Set aside.
In the bowl of a stand mixer, whip the eggs until they are starting to get light and fluffy.
Add the vanilla extract and continue to mix.
Slowly add the brown sugar so as not to lose the air and continue to mix.
Slowly drizzle in the melted chocolate until fully incorporated.
In a separate bowl, sift the flour, baking powder, cocoa powder and salt.
To the chocolate mixture, add the flour mixture slowly.
Mix in 1/2 of the broken cookies.
Pour the brownie batter into the prepared pan and spread evenly.
Add the remaining cookies to the top of the batter, pressing them in slightly.
Bake for about 25 - 30 minutes.
Let cool for a bit and enjoy!
7.8.1.2
337
https://cookinginstilettos.com/cookies-and-cream-brownies/