Thank you San Pellegrino for sponsoring an incredible evening of fantastic food and cultural discovery.
Imagine this – gorgeous Italian markets, amazing appetizers, chic Italian cocktails and dining al fresco on the rooftop of New York City but you could swear you are in Italy dining with friends among the stars and lush greenery. Add to that dinner cooked by a Top Chef, Michael Voltaggio, and you have a magical evening. That, my friends, is what I experienced when I attended S. Pellegrino's "Off The Menu" event in New York City last week.   The theme of the evening was to "Live In Italian" which is S. Pellegrino's recipe for appreciating the best life has to offer with six key ingredients – beauty, passion, togetherness, craftsmanship, authenticity and natural style.  Off The Menu hit all of those points beautifully!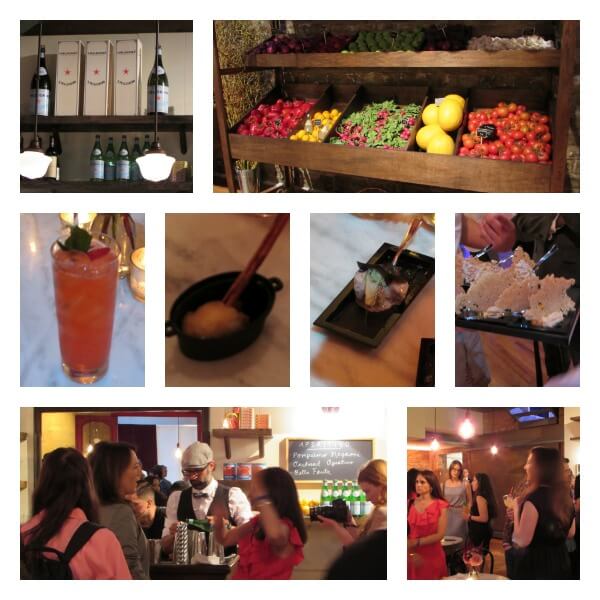 Walking in off the streets of New York, we were whisked to what could only be described as a chic Italian market surrounding us as we mingled and sipped on some classic Italian cocktails while trying some appetizers that were out of this world. Just to give you an idea of how genius Chef Voltaggio is, we enjoyed petite langoustines in a lemony tempura batter skewered on scorched cinnamon sticks (my favorite), beef tongue with a horseradish cream, eggplant mousse with Parmesan crisps, and octopus on kelp sheets with a fennel salad. There were mixologists making craft cocktails such as the Pompeimo Negroni, the Orchard Apertivo, and, my absolute favorite, the Bella Fruta. Everything was fresh, full of flavor and had a bit of sparkle – I'm sure from the S. Pellegrino. When the bell sounded, we made our way upstairs to a rooftop deck.  As we arrived upstairs, we saw Chef Voltaggio begin plating the first course and already we knew we were in for a delicious meal.  Kelli captured that moment perfectly.  First – let's enjoy a glass of S. Pellegrino as we start the evening and toast our host and the chef with their signature sparkling water.
Before each course, Chef Voltaggio would come out from the open kitchen and share his thoughts on the dish we were about to enjoy. It was interesting to see how a chef goes through the thought process and how inspired one could be by a bite. Each course was layers of flavor, plated beautifully and delicious.  Starting the evening was a creamy burrata with zucchini noodles and accented with a touch of caviar and puffed anchovy.  Following that was a perfectly done branzino topped with the most divine pickled cauliflower that I'm still over the moon about.  The third course was an mushroom espresso rubbed short rib with banana polenta and porchini mushrooms that had everyone swooning.  Finally, dessert was a show – with Chef Voltaggio and his team preparing a frozen strawberry yogurt before our eyes which was accented with caramelized white chocolate, a rosemary ash pizelle and gianduja ganache. Look at how stunning everything was.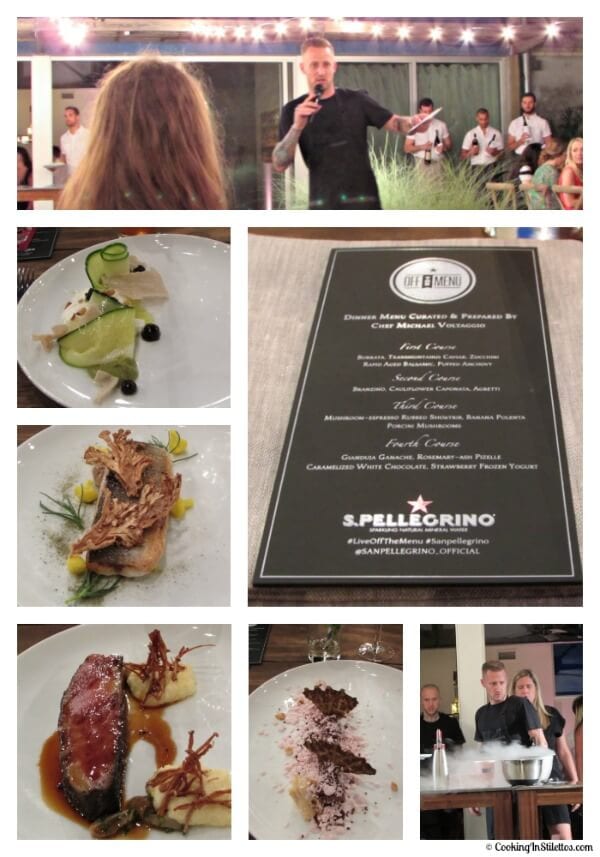 It was a magical evening but, sadly, my stilettos turned into a pumpkin before the night was over as I had to catch the last train back to Philly. However, I was so inspired by the evening that I have made a promise to myself to "live in Italian" or "in the moment" more, will visit Chef Voltaggio's restaurant in Los Angeles for his divine Branzino, enjoy more sparkle with S. Pellegrino,  and to eventually dine, al fresco, in Italy. I was so inspired by the stories of Italy from some of my tablemates, like Susan, Joanne, and Ashley, that traveling to Italy is high on the bucket list. After all – shouldn't we all Live In Italian? You can check out a video from our evening here – it was a night to remember. S. Pellegrino is hosting a "Off The Menu" Pinterest Sweepstakes and you can win not only a year of S. Pellegrino but also an unforgettable dinner at one of your favorite chef's restaurants. Take a peek at my "Off The Menu" Pinterest Board:
Follow Cooking In Stilettos's board Off The Menu With S. Pellegrino on Pinterest.
Now – remember that Bella Fruta cocktail I told you about – well – this cocktail is a must make for summer – fresh strawberries, basil and lemon juice shaken with a bit of gin and topped with S. Pellegrino Limonata to carry that lemon flavor throughout. Seriously – how bad can that be, right?
On to the recipe:
Gather your ingredients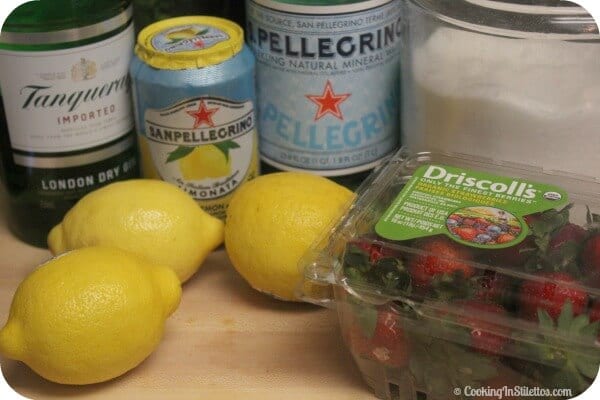 The key – the S. Pellegrino Limonata Sparkling Water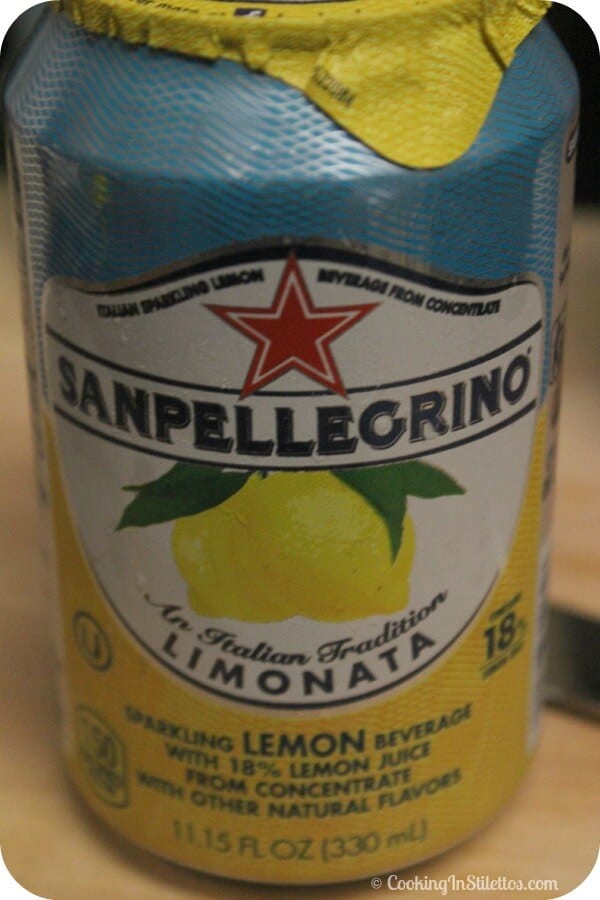 Don't you want a sip?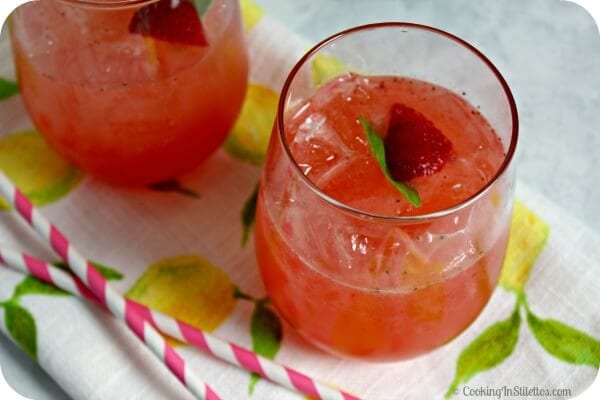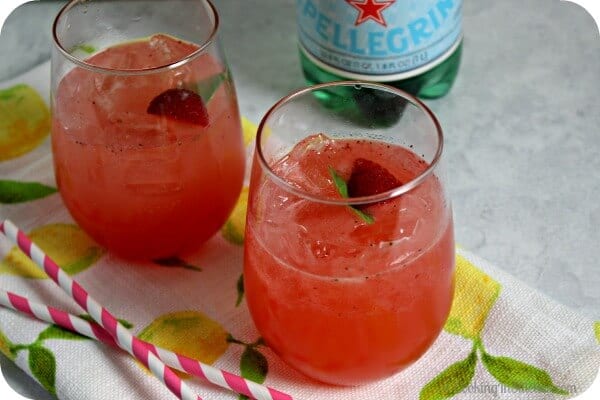 Slightly adpated from S. Pellegrino
Yields 2
Bella Fruta Cocktail
This Bella Fruta Cocktail is like a warm summer evening in Italy in a glass. Fresh strawberries and basil are melded with gin, citrus and a dahs of sparkle!
5 minPrep Time
5 minTotal Time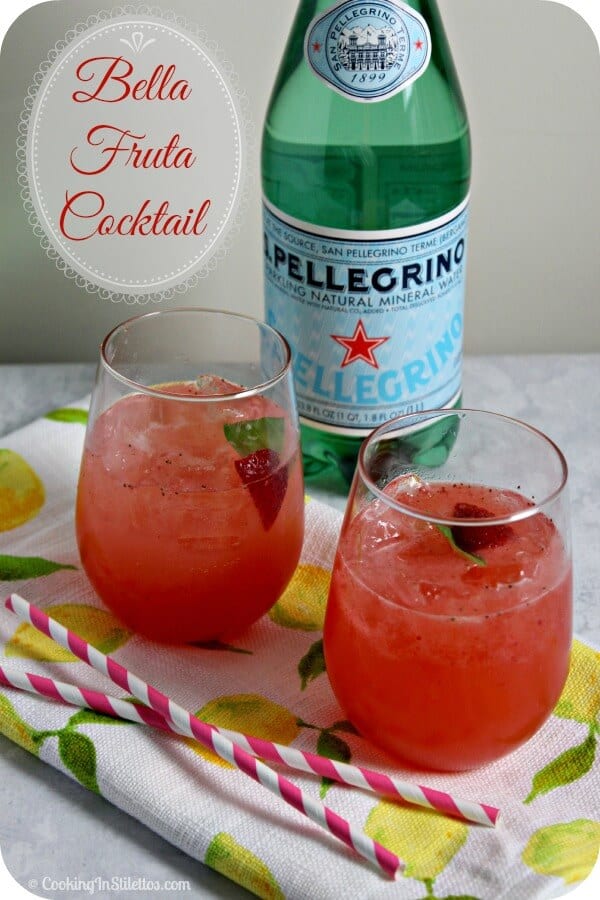 Ingredients
4 ounces of gin
2 ounces of fresh lemon juice
2 ounces of strawberry puree
2 ounces of simple syrup
2 ounces of S. Pellegrino Limonata Sparkling Water
1 teaspoon of minced basil
S. Pellegrino sparkling water
Fresh sliced strawberries and a couple basil leaves to garnish
Instructions
Into a cocktail shaker, pour the gin, lemon juice, strawberry puree, simple syrup, S. Pellegrino Limonata and basil. Shake together and pour over ice.
Add a little more "sparkle' with some S. Pellegrino and garnish with basil leaf and a sliced strawberry.
Enjoy!
Notes
This recipe makes two cocktails. Recipe inspired by S. Pellegrino and adapted from The Mason Jar.
7.8.1.2
226
https://cookinginstilettos.com/bella-fruta-cocktail-live-off-the-menu-with-s-pellegrino/
Many thanks to S. Pellegrino, Chef Voltaggio and the amazing team who put on such a memorable event. You have inspired me in so many ways!
I was selected for this opportunity as a member of Clever Girls Collective and the content and opinions expressed here are all my own.