This Stuffed Pepper Soup will be your go-to winter favorite with the flavors of a classic stuffed pepper in a warm, comforting bowl of soup!
I have a recipe that you are going to love for busy weeknights – a Stuffed Pepper Soup.
Growing up, stuffed peppers were always one of those recipes that was a favorite in my family.  This Stuffed Pepper Soup has the flavors of a classic stuffed pepper packed with spices, tomatoes, ground turkey and rice but in a simmering pot of soup.  Serve with a fresh arugula salad and some crusty bread and dinner is served.  If there are any leftovers, it's even better the next day for lunch or curl up with a cup of this soup while watching some Real Housewives of Beverly Hills or Ladies of London (which – did you see the season premieres – my heavens – but that's a post for another day)
This year, I have become quite the fan of easy recipes that are reminiscent of classics but with the flavor amped up.  This recipe does just that as you can adjust the spices to your liking and if you only have green peppers or red peppers, that's fine.  This recipe allows you to customize it and those recipes are often my favorites.  If you don't want ground turkey, you can use ground beef or lamb.  I went with turkey because I always have it on the grocery list for various recipes and it was perfect for this soup to cut down a bit on the calories.  It is ridiculously easy to make but those at the dinner table will have no clue how non-stressful this recipe is and will think you are a culinary genius!
When you are looking for a twist on a classic, make this Stuffed Pepper Soup for dinner.  Just make sure to squirrel away a small bowl for lunch the next day before it all disappears.
On to the recipe:
Gather your ingredients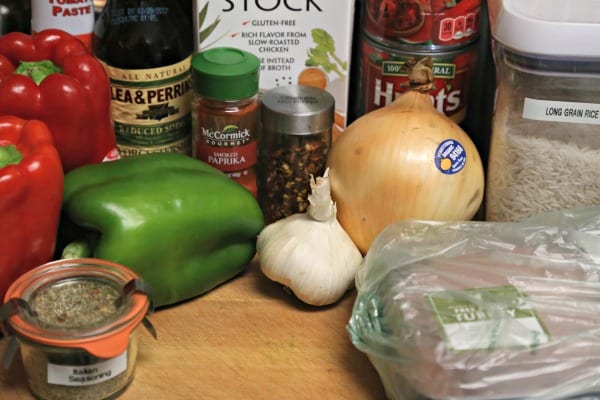 A tale of two peppers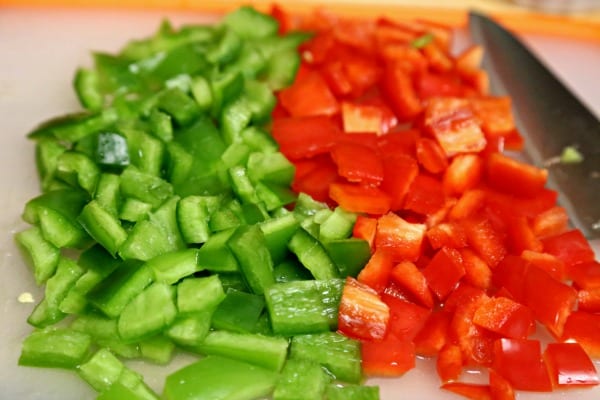 Time to bloom the tomato paste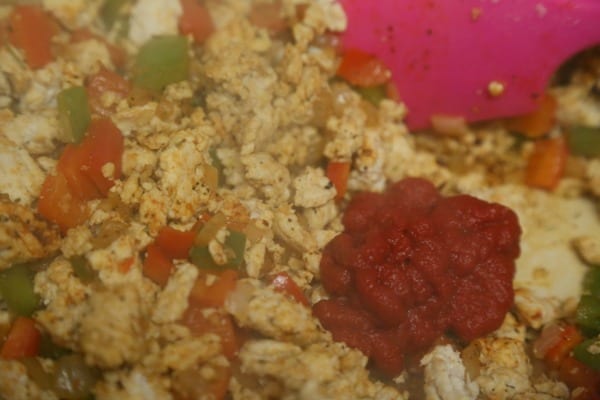 Fire roasted tomatoes add so much flavor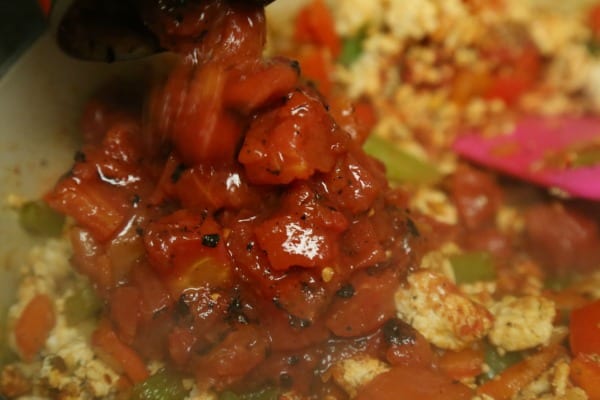 And every stuffed pepper needs rice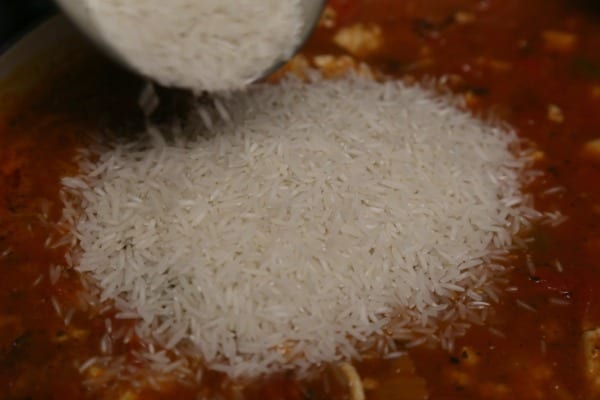 Serve with crusty bread and dinner is ready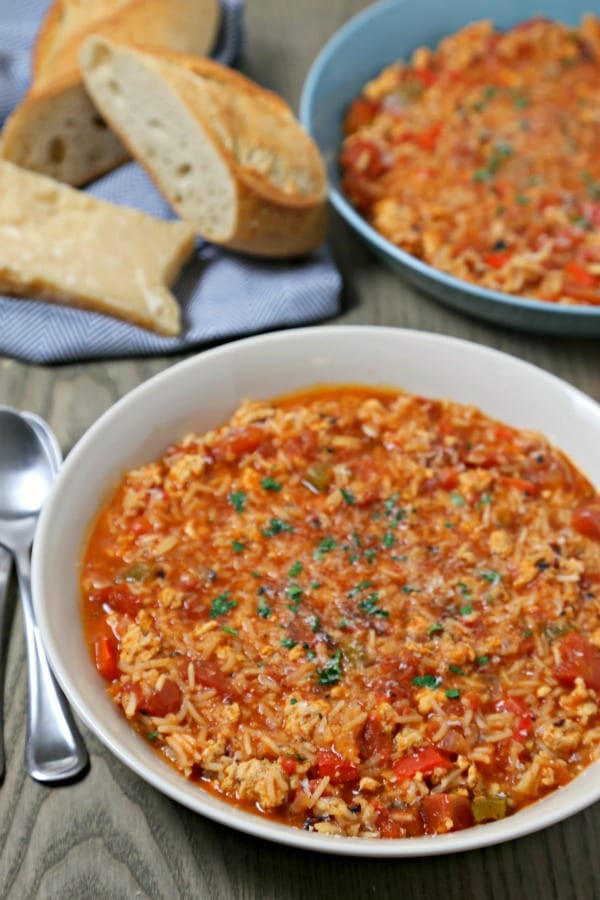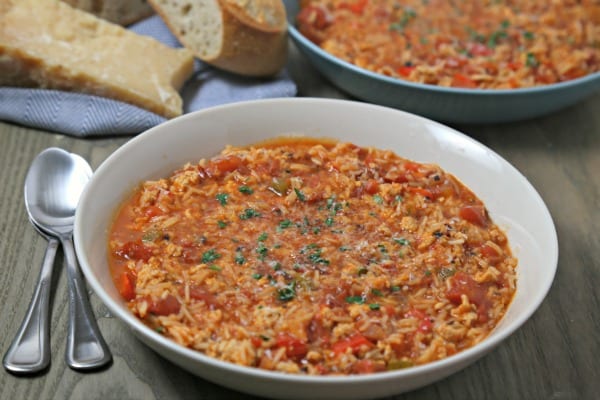 Aly M. Cleary
Yields 8
Stuffed Pepper Soup
This Stuffed Pepper Soup will be your go-to winter soup recipe with the flavors of a classic stuffed pepper in a warm, comforting bowl of soup.
5 minPrep Time
45 minCook Time
50 minTotal Time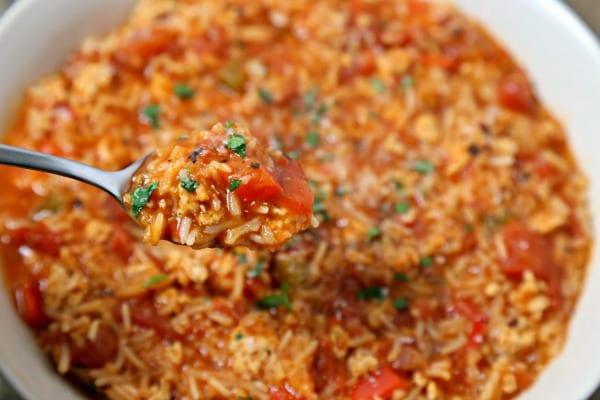 Ingredients
2 teaspoons of olive oil
1 pound of ground turkey
1 tablespoon of Worcestershire sauce
1 teaspoon of smoked paprika
1/2 teaspoon of Italian seasoning
1/4 teaspoon of crushed red pepper flakes
3/4 teaspoon of kosher salt
1/2 teaspoon of freshly cracked black pepper
1 large sweet onion, diced
3 bell peppers, chopped (I used a mixture of green and red bell peppers)
2 cloves of garlic, minced
1/4 cup of tomato paste
2 15-ounce cans of fire roasted tomatoes
3 cups of low-sodium chicken stock
1 cup of long grain basmati rice
1/4 cup of flat leaf parsley, minced, plus a bit more for garnish
1/4 cup of freshly grated Parmesan cheese, plus additional for garnish
Instructions
In a heavy bottom dutch oven, heat the olive oil over medium high heat and brown the ground turkey, about 7 - 8 minutes.
Add the Worcestershire sauce, smoked paprika, Italian seasoning, crushed red pepper flakes, salt and pepper and saute so that the spices are bloomed.
Add the diced onion and red pepper and saute until the veggies are translucent - about 5 minutes or so.
Add the garlic and saute for another minute.
Add the tomato paste to the mixture and saute for a minute or two until the tomato paste turns to a brick red color.
Add the fire roasted tomatoes and fold the tomatoes into the turkey and veggie mixture and some of the chicken stock, taking care to scrape up any brown bits from the bottom of the pan.
Add the remaining chicken stock and bring the mixture to a simmer.
Add the rice and bring the mixture to a boil.
Reduce the heat to a simmer and cover, simmering for about 30 minutes until the rice is cooked and the peppers are tender.
Stir in the flat leaf parsley and grated Parmesan cheese.
Serve garnished with a bit more minced parsley and freshly grated Parmesan and enjoy!
Notes
If the soup thickens up, you can always thin it out with a bit more chicken stock or some water.
7.8.1.2
30
https://cookinginstilettos.com/stuffed-pepper-soup-recipe/