If you follow me on Instagram, you might have already heard the news.  It's been so hard to keep this on the quiet – mostly because I didn't want to jinx anything – but I've adopted a rescue pug.  They say everything happens for a reason and if something keeps crossing your path, you pay attention.
When the Sous Pug passed, I wasn't sure what I was going to do.  I kept busy – I tried not to think about it but when I would see Wiggs' beds, I knew he would want me to open my home to another pug in trouble and give them a forever home.  Shadow aka the Evil Minx (or Sous Kitty – depends on her mood), took a spot by the stove but she made it clear that she supervises and missed her partner in crime.  After much thought, prayer and discussion, I finally decided that the time was right – it was time to see what pugs needed a forever home.  I knew I wanted a pug – especially after my "Pug 101/202" training that I learned during Wiggs' med issues and would be prepared for almost any emergency.  I wanted a younger pug and I wanted a rescue – no pug from a breeder and definitely not a puppy store purchase.  I knew that the right pug would come along at the right time.   I knew that with such a great experience that I had with Wiggs' foster mom, Mary, I knew that working with her rescue was a must.  One perusal through Pug Rescue of Florida's pugs, and I was smitten with one particular pug mug – put in my application and hoped for the best.
Well the best happened this weekend and I wanted to intro you all to my new partner in crime, Jeffie the Junior Sous Pug.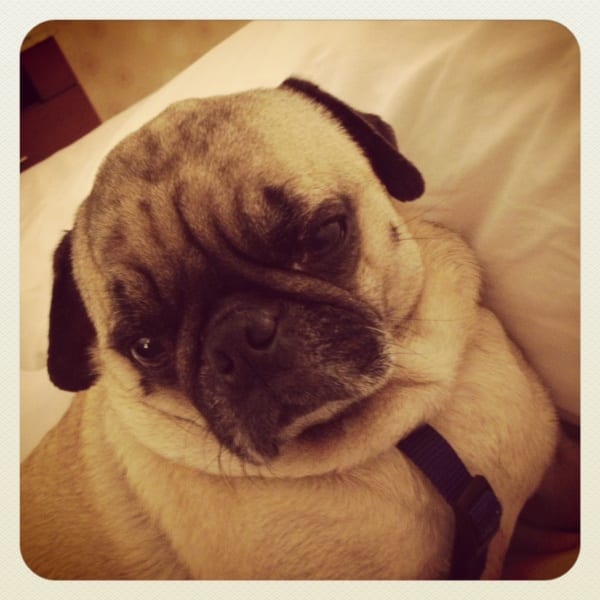 …