I saw something the other day that shook me a bit …  the leaves on the trees are starting to turn.  Last I checked it was August – not October.  Now – y'all know Fall is my favorite season – the apples, the pumpkins, the boots and the wardrobe – just a few of my favorite fall things.  However, it's August – would it be wrong to break out some early harvest festivity?
Williams-Sonoma, one of my homes away from home, challenged me to whip up a sangria recipe that had a bit of a juicer twist and, after marinating on the idea for a while, I thought why not try to replicate one of my absolute favorite sangrias I ever had – the Harvest Sangria from Amada restaurant here in Philly.  The key to any good sangria (besides the wine, of course) is fresh fruit and fresh fruit juices.  Now – while there is no cranberry action happening just yet around here, I figured I'd go with more of an apple spin with some of my favorite warm spices, my favorite wine from a local winery and a bit of a home-style twist – some homemade apple cider.  Now – if you want to use store bought – that's fine – but there's something about freshly made apple cider that makes you want to break out the boots, the cozy sweaters and curl up in front of a fire.
My kitchen is a gadget haven but one of my favorite kitchen tools is my Vitamix.  Homemade apple cider couldn't be easier to make – a few apples, some water, a bit of cinnamon and you let it whirl for a bit.  Strain the puree through a cheesecloth and store it in the fridge until you need it.  It's not hard – but I think the most effort was peeling the apples.  I think this fall I'll be finally investing in that apple peeler that I saw – after seeing it on a tool takedown on The Kitchen – think of how handy it will come in around holiday time.  The other thing I love is my hand juicer which came in handy for the lemon juice that I used in the water to keep the apples and pears from turning brown while I kept peeling and peeling, the orange juice to go with the macerating fruit.  All in all – it was all about the juice here in the Stilettos household.  You can also make apple cider using a juicer – Williams-Sonoma has a great recipe for a hot mulled apple cider that is a must make.
I have to say, this Roasted Harvest Fruit Sangria is one of my absolute favorites.  The apple flavor is front and center and with the warm spices, it's fall perfection.  This will be perfect for your next fall soiree!
On to the recipe:
Gather your ingredients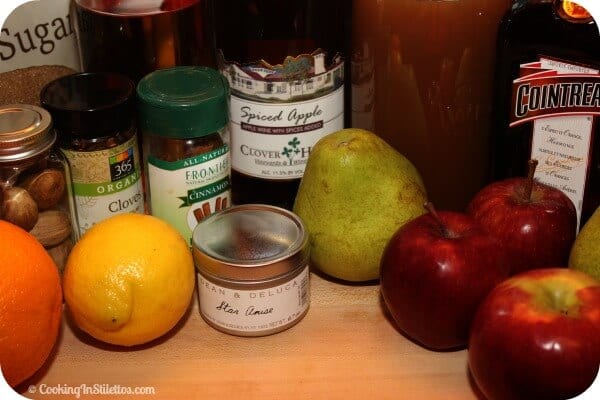 First up – let's make some easy apple cider from scratch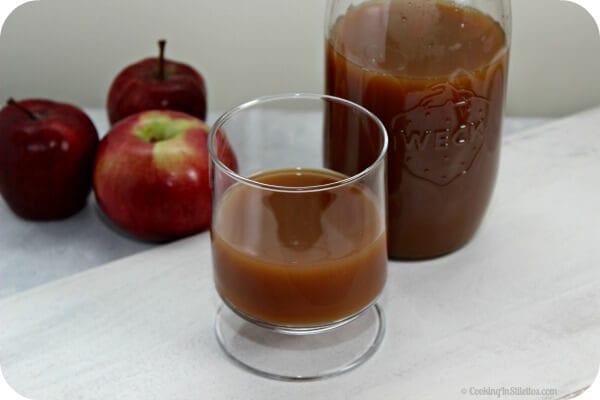 Time to roast the fruit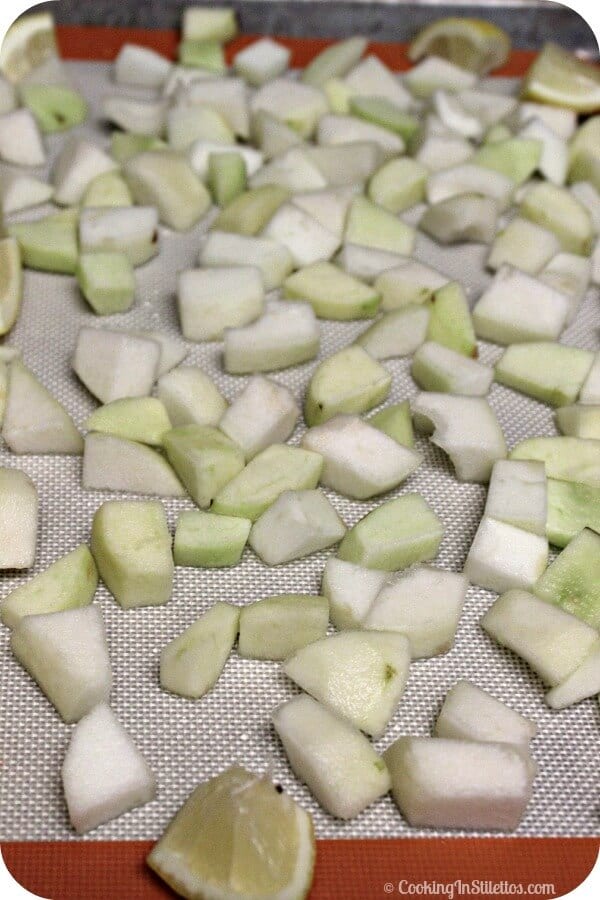 Making the Spiced Syrup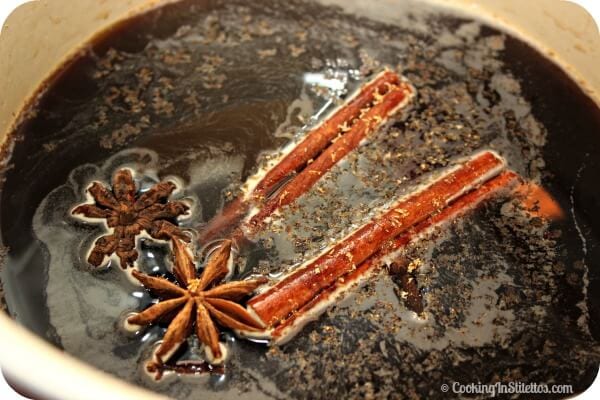 My Favorite Apple Wine – a Crisp Pinot Grigio is Perfect as well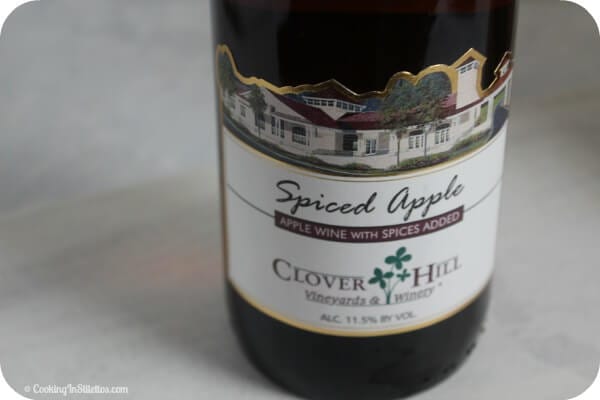 Now – don't you want a glass?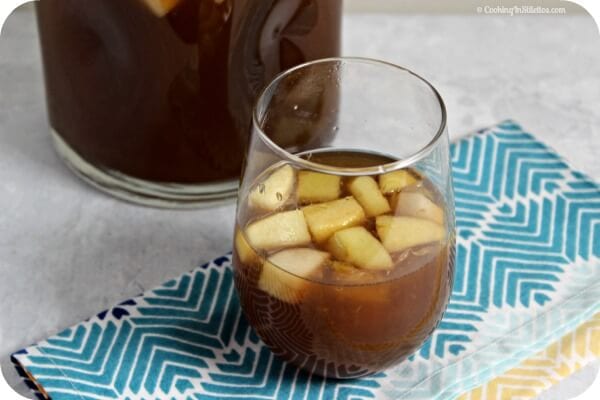 Aly M. Cleary
Yields 6-8
Roasted Harvest Fruit Sangria
This Roasted Harvest Fruit Sangria is like fall in a glass - fresh apple cider melded with roasted fruit, wine and a touch of spirit. This Roasted Harvest Fruit Sangria will be a fall favorite!
30 minPrep Time
2 minCook Time
32 minTotal Time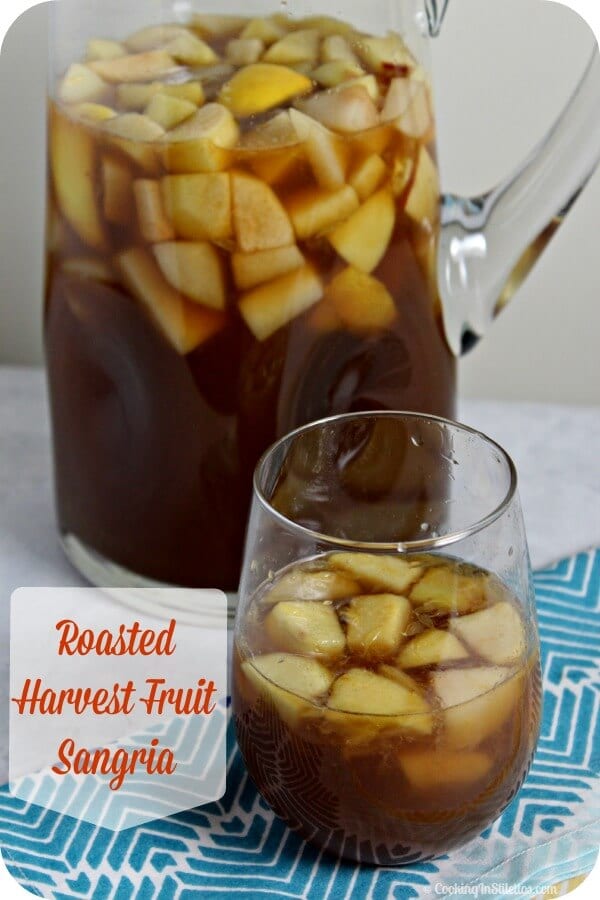 Ingredients
1 750 ML bottle of your favorite White Wine (I used an apple wine from a local winery here)
4 apples (I used 2 red delicious and 2 Macon), peeled and large diced
2 pears, peeled and large diced
2 lemons
1 large navel orange, peeled and surpremed. Reserve the peel for the spiced syrup
1/2 cup of Cointreau or other orange liquor
1/2 - 3/4 cup of spiced rum
1 cup of apple cider
1/2 - 3/4 cup of spiced syrup (depending on how sweet you want it), plus more for the fruit to macerate.

For the Spiced Syrup:

1 cup of brown sugar
1 cup of water
2 cinnamon sticks
2 star anise
2 whole cloves
2 large pieces of orange peel
Instructions
Preheat the oven to 425 degrees F.
To a large roasting pan, add the apples, pears and lemons.
Let roast for about 15 - 20 minutes or so and let cool.
While the fruit is roasting, make the spiced syrup.
In a heavy saucepan, add the brown sugar, water, cinnamon sticks, star anise, cloves and orange peel.
Bring to a boil and let simmer for 5 minutes or so.
Let cool.
In a large bowl, add the roasted fruit along w and toss with 1/4 cup of the spiced syrup, the cointreau and let macerate in the fridge for half an hour or so.
In a large pitcher, add the macerated fruit, the rum, apple cider, 1/2 cup of the spiced syrup and the wine.
Stir and taste for sweetness. If it needs additional syrup, add it.
Let chill in the fridge for at least an hour.
Serve in glasses with a bit of fruit and the wine mixture, over ice if desired.
Enjoy!
Notes
Inspired by the Harvest Sangria at Amada Restaurant in Philadelphia
7.8.1.2
224
https://cookinginstilettos.com/roasted-harvest-fruit-sangria/