I made a delicious meal with Campbell's® Sauces as part of a sponsored post for Socialstars. #CampbellsSauces
I love meals that allow you to play with leftovers. Even better – when you can get two dishes from one fabulous slow cooked meal so it doesn't feel like you are having dinner on repeat.
I love keeping a stash of Campbell's® Slow Cooker Sauces in the pantry. Two of my favorites are the Shredded Beef Taco and Tavern Style Pot Roast which make weeknight dinners a breeze. A long sauna in the slow cooker with couple fresh ingredients and dinner is ready when you get home!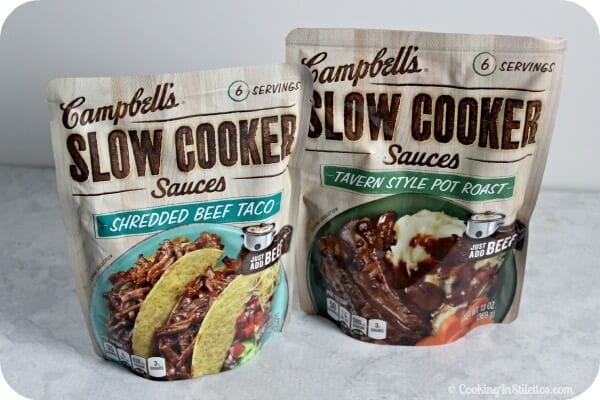 This week I had a craving for all things spicy so tacos were on the menu. I love adding a bit of onions to the sauce as they get sweet and spicy and are a perfect "warm salsa" to top the tacos with. As I always seem to have leftovers, I decided that a shredded beef torta would be on the menu but I would add a bit of a fajita spin with a bit of caramelized onions and peppers and cheese. Both were hits in my house!
So – when you want a delicious flavorful dinner on the table with minimal effort, either one of these dishes would get rave reviews from family and friends.
First, let's make the Easy Shredded Beef Tacos
Gathering the ingredients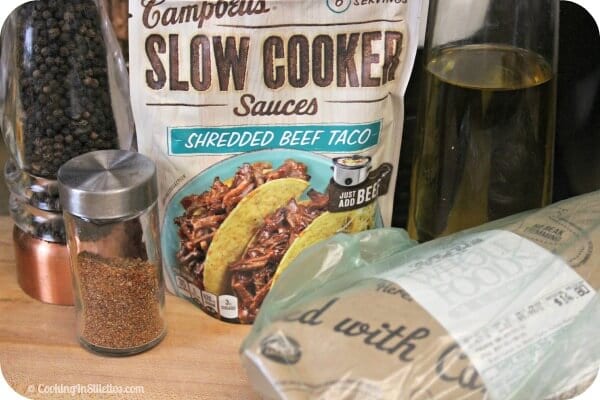 Let's brown the beef for a bit of extra flavor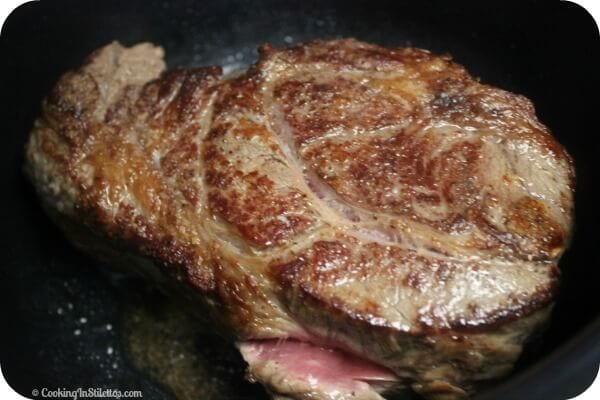 Adding the Campbell's® Slow Cooker sauce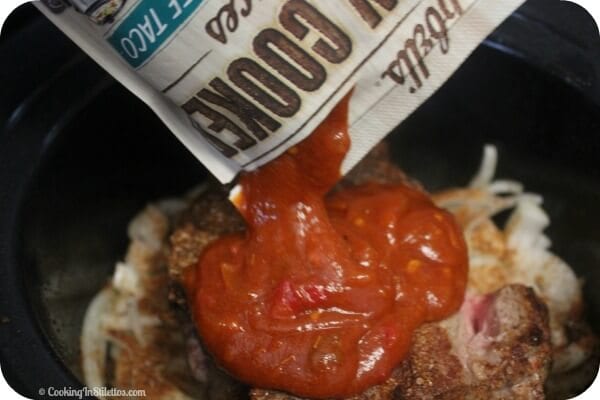 Now – this is a taco spread!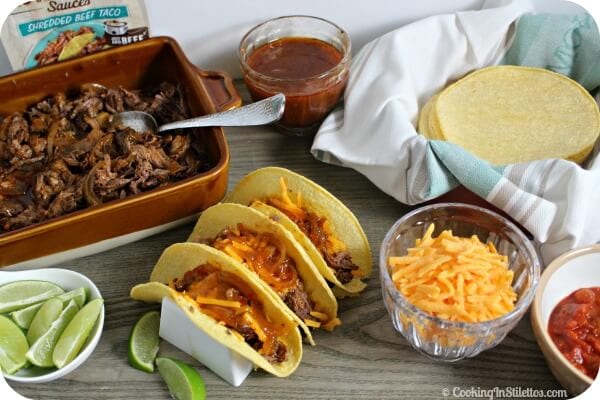 Have leftovers, let's make the Shredded Beef Fajita Torta:
Gather the ingredients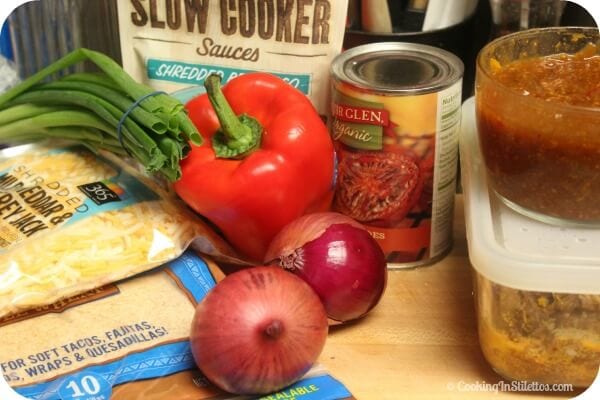 Let's sauté some onions and red peppers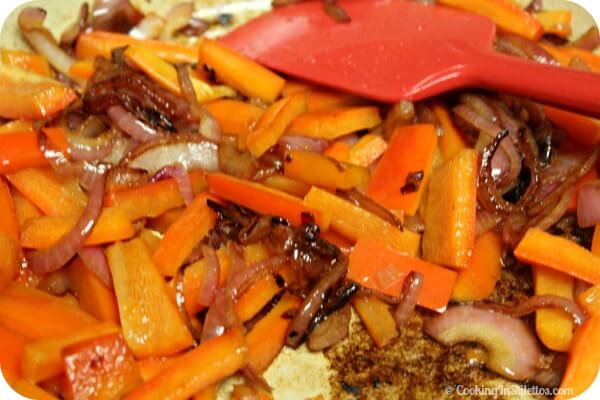 Time to layer the shredded beef taco mixture, a bit of cheese and some whole wheat tortillas and, for an added bonus – a little extra cheese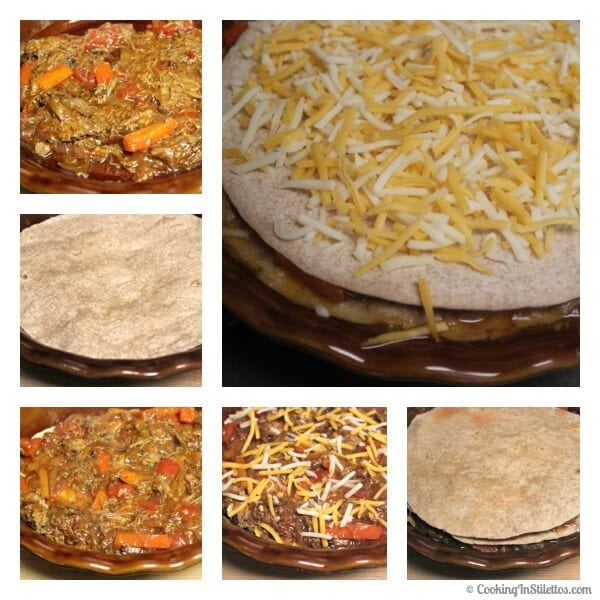 Look at this – hot and bubbly out of the oven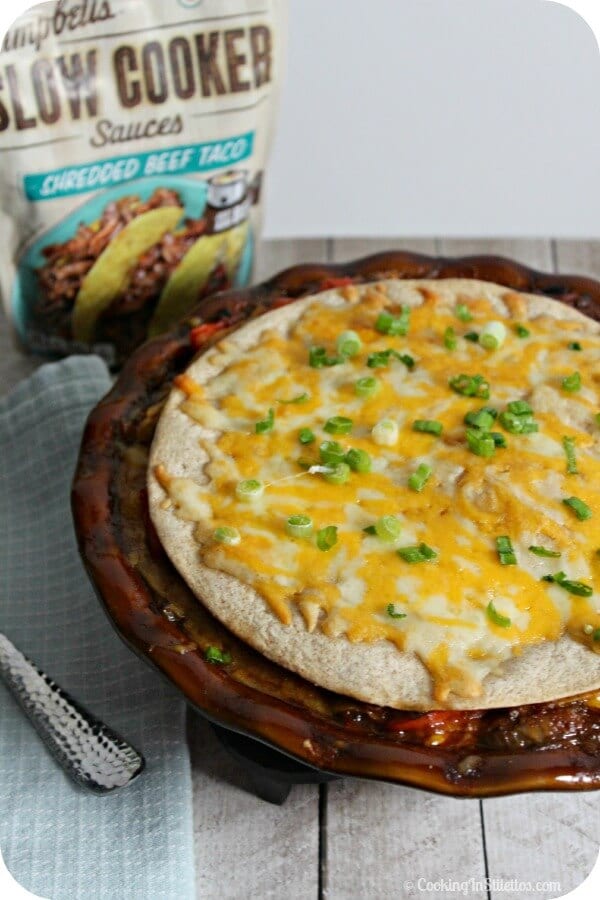 Let me cut you a slice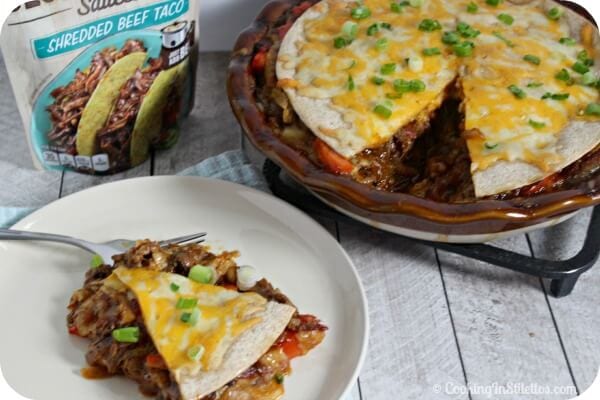 Aly M. Cleary
Yields 4-6
Taco Transformation – Easy Shredded Beef Tacos to Shredded Beef Fajita Torta #CampbellsSauces #Client
This Shredded Beef Fajita Torta takes leftovers to new levels of flavor. Slow cooked shredded beef simmered with taco seasonings and layered with cheese, veggies and tomatoes.
1 hrPrep Time
8 hrCook Time
9 hrTotal Time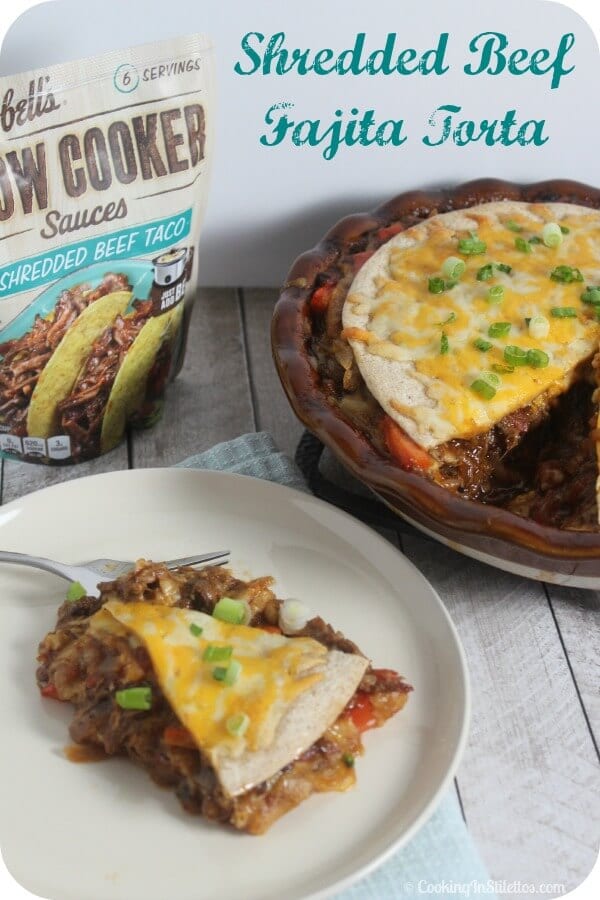 Ingredients
For the Shredded Beef Tacos:
1 pouch of Campbell's® Slow Cooker Sauce in the Shredded Beef Taco flavor
1 tablespoon of olive oil
3 pounds of boneless chuck roast
1 tablespoon of taco seasoning
1 small to medium onion, thinly sliced
Salt and Pepper
• For serving: tortillas, cheese, and other fresh garnishes
For the Beef Fajita Torta:
3 cups of shredded beef taco mixture
2 small onions, thinly sliced
2 red peppers, cut into strips
1 15 ounce can of fire roasted tomatoes, drained (sauce reserved)
4 while wheat tortillas
1 1/4– 1 1/2 cups of shredded Cheddar and Monterey Jack Cheese
• Green Onions for Garnish.
Instructions
To make the Shredded Beef Tacos:
Season the chuck roast with a bit of salt and pepper.
In a large sauté pan or if you have a slow cooker with a removable insert that allows you to brown it on the stove, add the olive oil over medium high heat.
Add the chuck roast and sear on all sides.
Remove from the heat and let rest.
To the slow cooker insert, add the sliced onions and nestle the chuck roast on top of the onions. Add the taco seasoning and the contents of the Campbell's® Slow Cooker Shredded Beef Taco Sauce and cover.
Set to low for 7 – 8 hours or to high for 4 – 5 hours.
Remove the meat to a plate and shred.
Remove the fat from the sauce and add a bit of sauce to the shredded beef and mix thoroughly.
Serve the tacos nestled in your favorite tortillas for serving garnished with a bit of the oniony taco sauce, cheese and your favorite garnishes!
1Reserve a cup of the sauce and 3 cups of the shredded beef for the torta (if making).
To make the Torta:
Preheat the oven to 350 degrees F.
In a large skillet, sauté the onions and peppers until the onions are caramelized and the peppers are starting to soften.
Add the reserved beef and sauce to the pan, along with the fire roasted tomatoes.
Sauté until everything is bubbling.
In a large pie pan, add a bit of the beef mixture to the bottom.
Nestle a tortilla over the mixture and layer some more beef fajita filling over it.
Sprinkle with 1/4 cup of cheese and continue two more times.
For the final layer, add the tortilla, brush with a bit of the reserved tomato juice.
Spray a bit of foil with non-stick spray and cover the torta
Place on a baking sheet (you do not want to clean any spills off the oven floor) and bake for 20 minutes or so.
After 20 minutes, remove the foil, sprinkle with the remaining cheese and bake for another 20 minutes until the cheese is melted and bubbly.
Remove from the oven and let cool for 10 minutes to set up.
Garnish with some sliced green onions, slice and enjoy!
7.8.1.2
51
https://cookinginstilettos.com/taco-transformation-easy-shredded-beef-tacos-to-shredded-beef-fajita-torta/