Over the holiday, I decided to confront my baking fears and head into the kitchen to make some goodies to bring to my mother's house.  I've always used the Rachael Ray mantra "I'm a cook – not a baker!" as a defense mechanism to rationalize my fear of baking.  When it comes to cooking I excel, however but baking?  Let's just say that more often than not I have fallen short.
In this month's issue of Cooking Light they spotlighted some cookies that were just begging to be made.  "Hmmmm.. Mexican Chocolate Cookies – how bad can THAT be?"  Sure enough – the cookies were  the standouts – the delicious heat of the cayenne mixed with the richness of the chocolate and the warmth of the cinnamon – divine.  You might want to make these Mexican Chocolate Cookies for your next cookie exchange or to leave for Santa for a little somethin' extra in your holiday stocking…
On to the recipe:
Gather Your Ingredients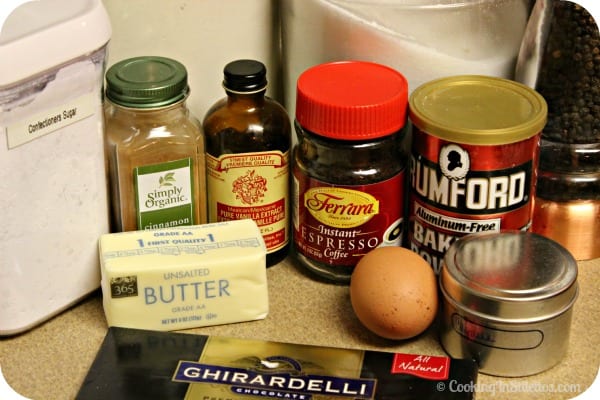 The spices and the flour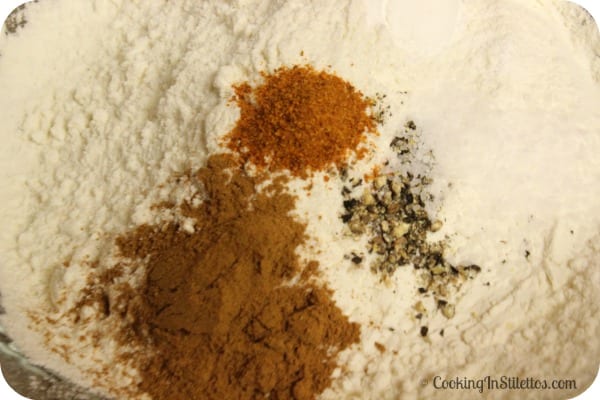 Time to bake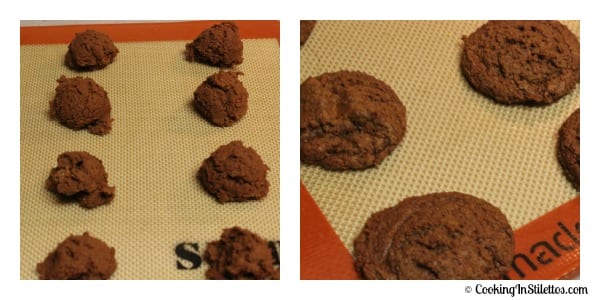 Letting them cool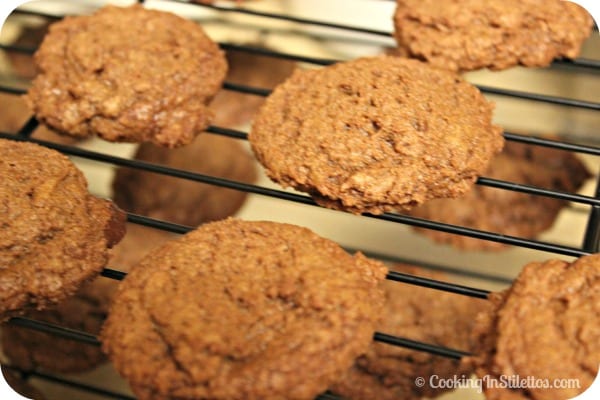 Now, don't you want one?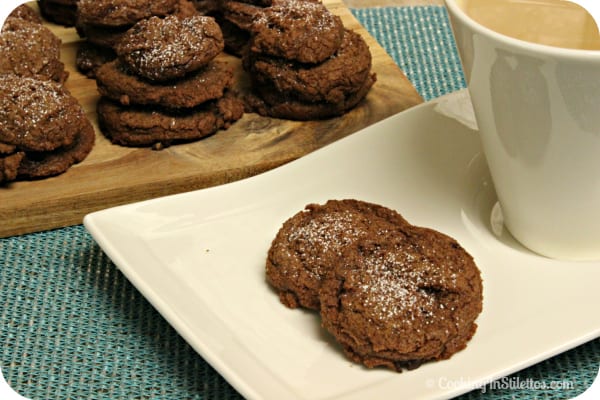 Yields 36
Mexican Chocolate Cookies
These Mexican Chocolate Cookies are a favorite - chocolate sweetness mixed with a bit of cinnamon and spice - I dare you to have just one!
20 minPrep Time
15 minCook Time
35 minTotal Time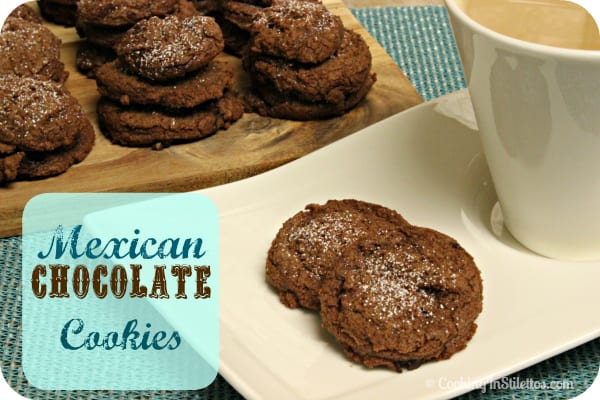 Ingredients
5 oz. bittersweet (70% cacao) chocolate, coarsely chopped
1 teaspoon of cooled espresso or strong coffee
1 1/4 cups sugar
1/4 cup butter, softened
1 large egg
1 teaspoon of Mexican vanilla
3/4 cup of all purpose flour
1/2 teaspoon of ground cinnamon
1/4 teaspoon of baking powder
1/4 teaspoon of kosher salt
1/8 teaspoon of black pepper
1/8 teaspoon of cayenne pepper
1 teaspoon of Powdered Sugar
Instructions
Preheat oven to 350 degrees F.
In a small glass bowl, melt the chocolate in the microwave on high for 1 minute until almost melted. Stir until smooth.
Add cooled espresso/coffee to the chocolate and cool to room temperature.
In a mixer, cream the butter and sugar together on medium speed until light and fluffy.
Add the egg and mix until blended.
Add the cooled chocolate and vanilla and mix until fully blended.Scrape down the sides of the bowl with a spatula.
In a separate bowl, combine the flour, cinnamon, baking powder, salt, black pepper & cayenne pepper. Whisk well.
Gradually add the flour mixture to the chocolate mixture and beat until just blended.
Using a small cookie scoop or tablespoons, drop the dough on baking sheets lined with parchment paper or a silpat.
Bake for 10 minutes or until almost set.
Let cool on the baking sheets for two minutes, then remove to cooling racks.
Let cool fully.
Dust with powdered sugar and enjoy!
7.8.1.2
328
https://cookinginstilettos.com/mexican-chocolate-cookies/