The holidays are right around the corner! I'm sure many of you have your shopping completed, the presents wrapped and under the tree and everything for your holiday dinner planned. However, have you thought about what you are going to whip up for your family for breakfast?
I know – you are ready to whap me with a stiletto because I'm adding another thing to the massive to-do list but trust me when I say what I'm about to share is going to make things so easy, you'll be sipping on a mimosa while wrapping paper is flying and these cheesy scrambled eggs are baking away in the oven. Yes – you read that right – scrambled eggs that are baked in an oven.
Scrambled eggs and I have had issues for years – they either come out like rubber or are too squishy and are never "just right". However, when I discovered this recipe, it was like the heavens parted, the culinary angels sang and I sat there wondering why have I never tried this before. I already love doing baked eggs for brunch but this cheesy scrambled egg bake is perfect for a crowd!
I'm willing to bet that you have many of these ingredients already in your pantry and fridge. If you have more people for breakfast, double the recipe and bake it in a 9×13 pan. Add onions, add peppers, change your cheeses – the options are endless. Bake a batch of sweetly spiced bacon, toast up a few slices of sourdough spread with a bit of mixed berry jam that you can make a few days before and your holiday breakfast couldn't be easier.
On to the recipe:
Gather your ingredients
Is there anything better than cheese – I think not
Time to sauté the onions and peppers
Pour into the baking dish
Now this is the perfect way to make easy scrambled eggs
Adapted from Cuisine at Home
Cheesy Scrambled Egg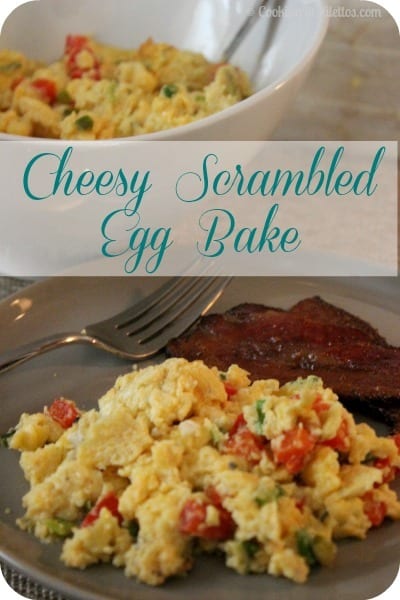 Ingredients
2 tablespoons of unsalted butter
1 red pepper, diced
2 scallions, diced
8 eggs
1/2 cup of heavy cream
3/4 teaspoon of kosher salt
1/2 teaspoon of black pepper
3/4 to 1 cup of shredded cheddar cheese
1/4 teaspoon of smoked paprika
Pinch of cayenne pepper
Instructions
Preheat the oven to 350 degrees F.
Coat an 8×8 baking dish with a bit of non-stick baking spray.
In a nonstick skillet, over medium heat, melt the butter. Sauté the red peppers and scallions until soft – about5 minutes.
Let mixture cool while you prepare the eggs.
In a bowl, whisk together the eggs, cream, salt, black pepper, smoked paprika and cayenne pepper.
Stir in the cooled pepper mixture and the cheddar cheese.
Pour mixture in the prepared pan.
Bake the egg mixture for about 10 minutes or so. Stir to "scramble" the eggs and bake for about 10 – 15 minutes more or until the eggs are set to how you like them.
Enjoy!
7.8.1.2
277
https://cookinginstilettos.com/cheesy-scrambled-egg-bake/