This is a sponsored post written on behalf of Brooklyn Creamery. All opinions are my own.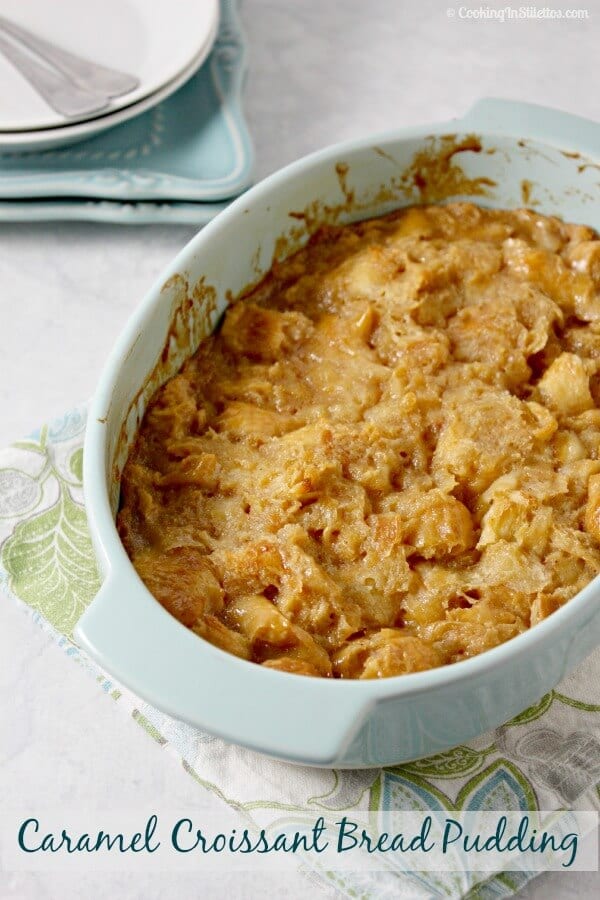 Remember that foodie find I told you about – Brooklyn Creamery and their luscious Single and Double Creams? My heavens it's been recipe magic around my house as I've been playing with Brooklyn Creamery's products – swirling dollups of the single cream into my favorite soups, whisking double cream into salted caramel and this today I have a recipe to share with you that is going to make you swoon with every spoonful. It's so rich it's utterly sinful but you know what – it's Monday – you deserve a sweet treat!
Inspired by a croissant pudding I saw once on Nigella Lawson's cooking show, I decided to make my own version but with a bit of a stiletto spin. I adore bourbon but felt that this bread pudding needed a little rum action. The Brooklyn Creamery Double Cream made the caramel rich and luscious – utterly decadent. I added a touch of nutmeg and vanilla to the mix and this Caramel Croissant Bread Pudding was the perfect way to end the day.
My best advice when making this dish – have everything at the ready. The caramel sauce comes together so quick so I had everything measured out and ready to go. Every bite was rich and creamy and you could serve it on its own, or with a dollop of rum laced whipped cream or, perhaps even some ice cream.
This Caramel Croissant Bread Pudding is a tried and true. When I want something sweet, luscious and perfect for the end of a meal – this is my go-to dessert – so easy and will win you rave reviews every time!
On to the recipe:
Gather the ingredients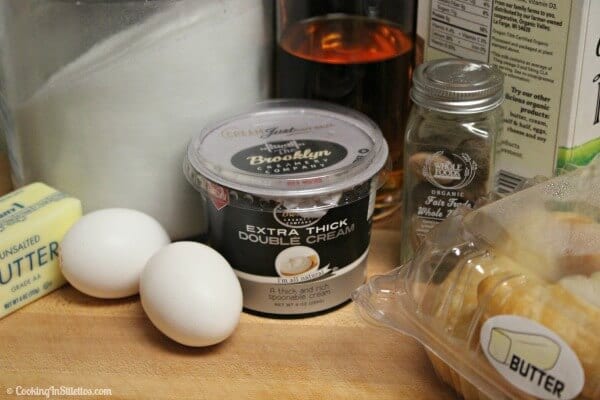 Look at how thick this luscious Extra Thick Double Cream from Brooklyn Creamery is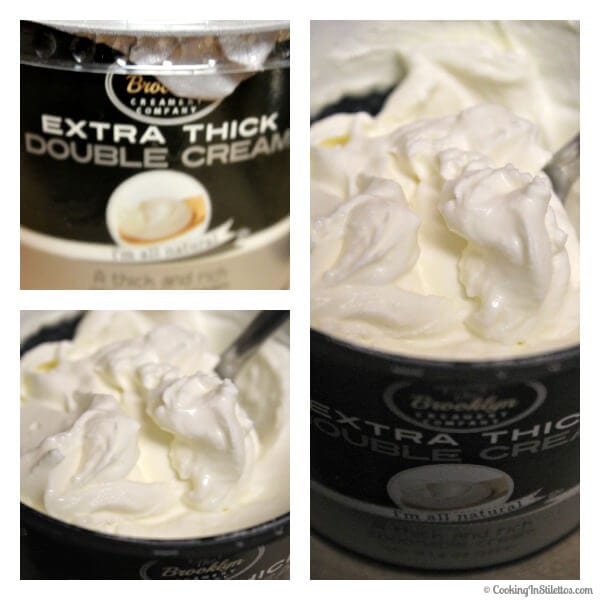 Let's make the caramel – keep your eye on it because burnt caramel – no bueno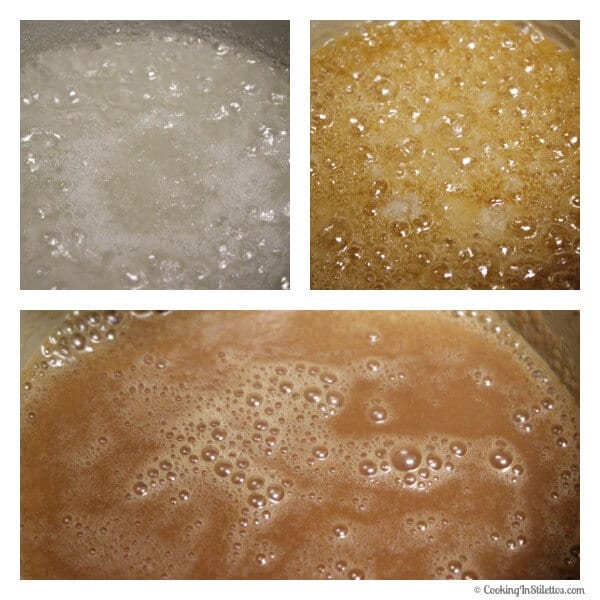 Pouring the luscious caramel sauce over the croissants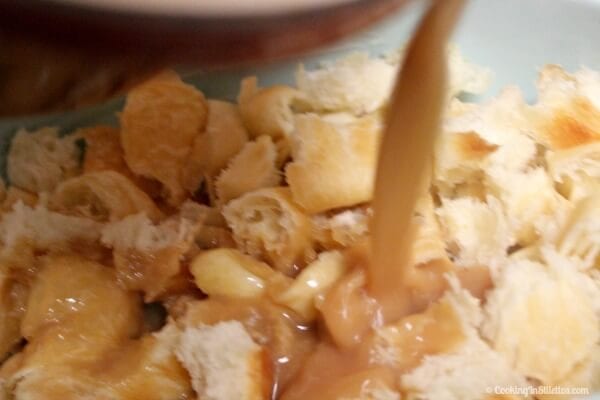 Look at this lovely –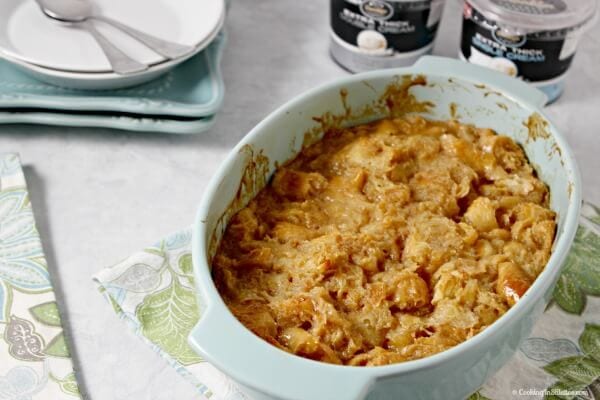 Grab a spoon – this is the dessert to end all desserts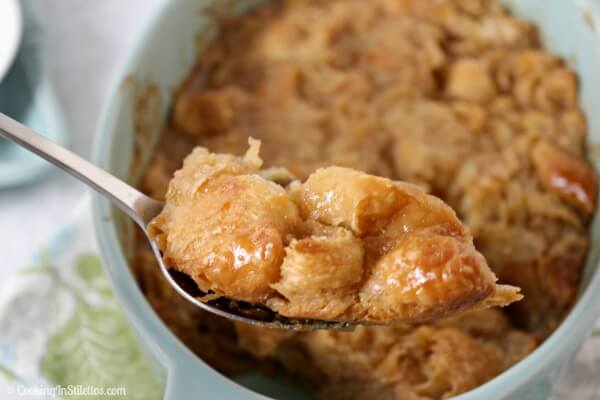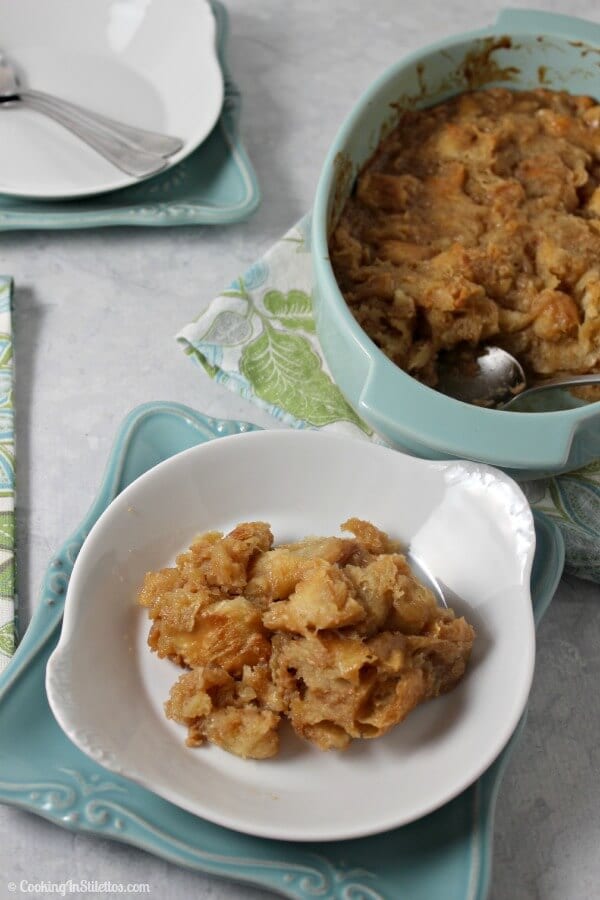 Caramel Croissant Bread Pudding
---
Aly M. Cleary | Inspired by Nigella Lawson
Yields 4
This Caramel Croissant Bread Pudding is so sinfully rich and perfect for a quick dessert. A few ingredients and you have this decadent bread pudding that will have your friends and family swooning with every bite.
10 minPrep Time
30 minCook Time
40 minTotal Time
Ingredients
1 tablespoon of softened butter
6 petite croissants (or 3 croissants)
1 cup of sugar
3 tablespoons of water
1/2 cup of Brooklyn Creamery Extra Thick Double Cream
1/2 cup of milk
2 tablespoons of spiced rum
2 eggs, beaten
1 teaspoon of vanilla
1/8 teaspoon of freshly grated nutmeg
Pinch of salt
Directions
Preheat your oven to 350 degrees F.
Butter a 2 or 3 quart baking dish and tear the croissants into small pieces and add to the dish. Set aside.
In a heavy bottomed sauce pan, add the sugar and water. Swirl to dissolve.
Turn the heat on medium high and watch as the sugar melts and bubbles into an amber caramel. Do not stir. Just swirl the pan if needed. The last thing you want is for the sugar to crystallize. It should take about 5 minutes or so.
When the sugar is a rich amber color, add the Brooklyn Creamery Extra Thick Double Cream and whisk furiously. Remember - it's going to bubble like mad so be prepared. When the double cream is fully incorporated, whisk in the milk, followed by the rum.
When everything is fully mixed, take the pan off of the heat and slowly drizzle in the beaten eggs into the mixture, taking care to not scramble them.
Add the vanilla, grated nutmeg and salt and whisk again.
Drizzle the rich caramel sauce over the croissant pieces. You can let the croissants soak for 10 minutes if you wish but personally, I baked mine right away. I'm impatient like that.
Bake for about 20 minutes or so until it is puffed and glorious.
Enjoy!
7.6.8
1016
https://cookinginstilettos.com/caramel-croissant-bread-pudding/
All images and content are © Cooking In Stilettos. Please do not republish without contacting us first. Thank you.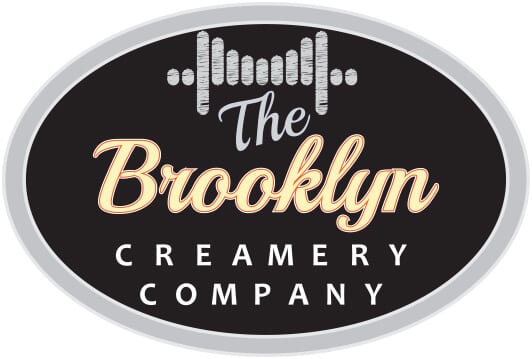 For more info on Brooklyn Creamery, including some recipe inspiration, check out their website. You can also get social with them on Twitter, Facebook, Pinterest and Instagram.
This post is part of a Sverve campaign for BK Creamery. I am receiving compensation for posting but the opinions expressed in this post are my own. I am in no way affiliated with BK Creamery and do not earn a commission or percent of sales.
This post is linked up with various link parties including Munching Mondays, Two Cup Tuesdays, Lou Lou Girls and Weekend Potluck.
Did you enjoy this post?
| | |
| --- | --- |
| Share the love | Get free updates |