Y'all know that not only do I love creating cocktail recipes, but I love cooking and baking with some of my favorite spirits.
Whenever I think of rum cakes, I always flash back to this rum cake I had on vacay many many moons ago.  That cake was moist and buttery and packed with rum goodness.  I have yet to recreate those cakes on my own, but when I was brainstorming and testing dessert ideas to go with this spirit, I kept thinking back to those rum cakes.  After much testing, I'm happy to say that these mini Bundt cakes are a tried and true.
With outdoor entertaining, I love the idea of mini cakes for friends and family as not only does everyone have their own mini cake, but there's no need to tote a big cake outside.  They look chic and personally, I love the fun mini pans that are out there.  As you know, when I create my favorite boozy bites, I love for the flavor of the liquor to be prominent so when I tested this recipe, i really went to town.
One of my tips for baking foolproof cakes is to make sure you really butter and flour the pan.  While I often use a baking spray when it comes to the perfect nonstick pan, with the detail in some of these mini Bundt pans, you really need to use butter and flour.  In one of my recipe fail versions of this recipe, let's just say they stuck like glue and I never want you to have to go through that.
On to the recipe

:

Gather your ingredients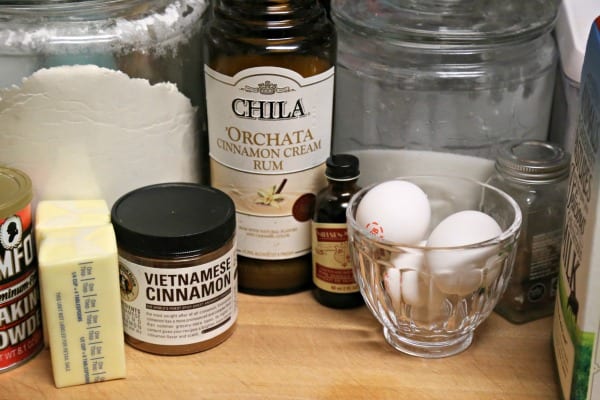 Sifting the dry ingredients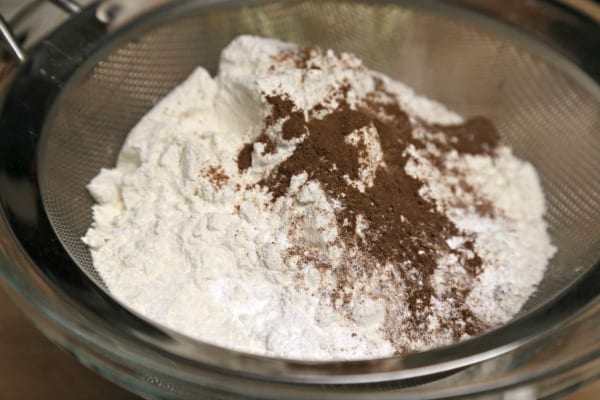 Brushing the cakes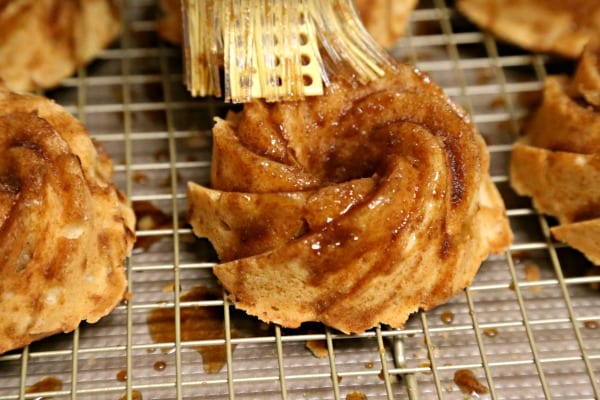 Whisking up the glaze laced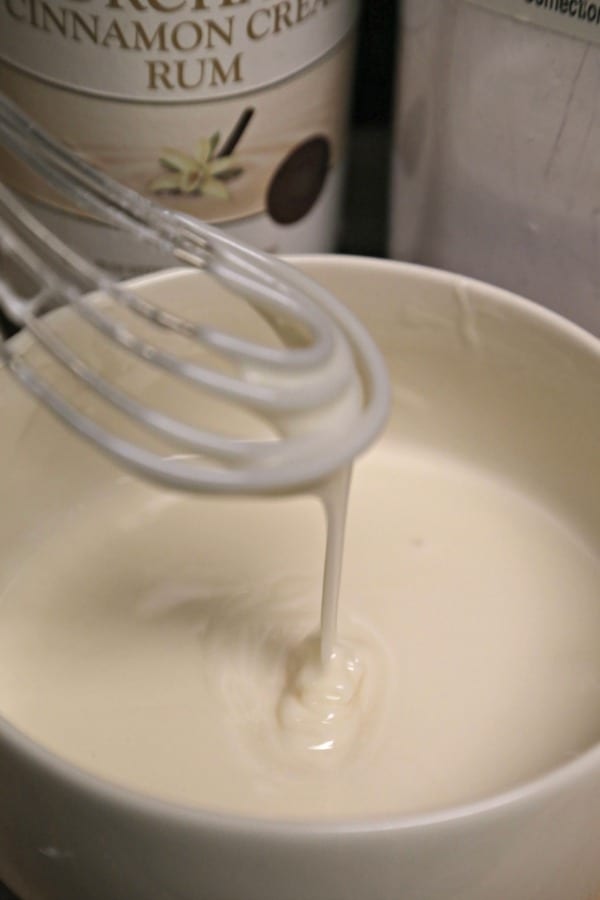 Glazing these lovelies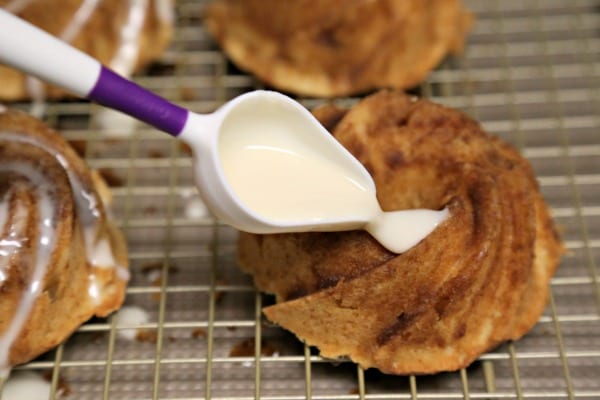 Look at how adorable these are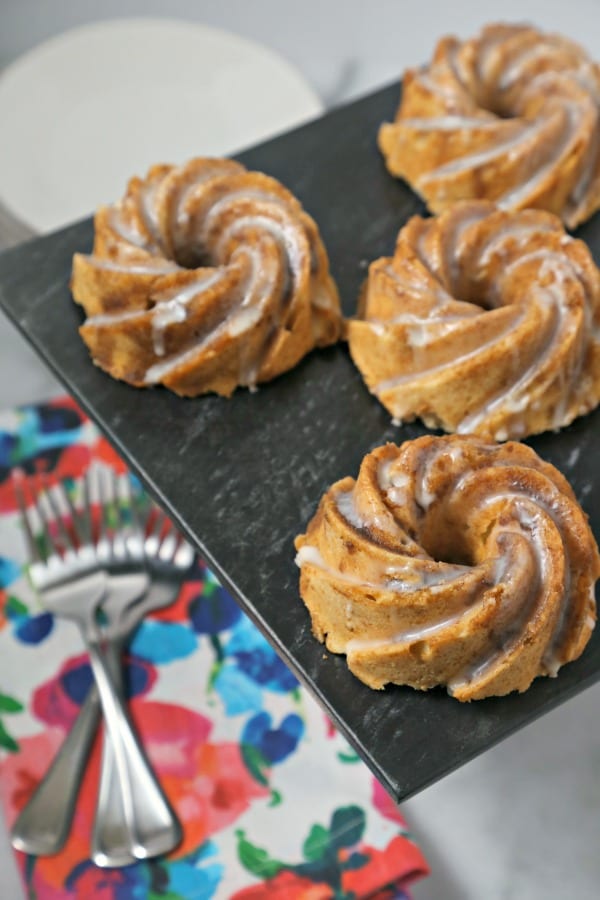 Let me get you a plate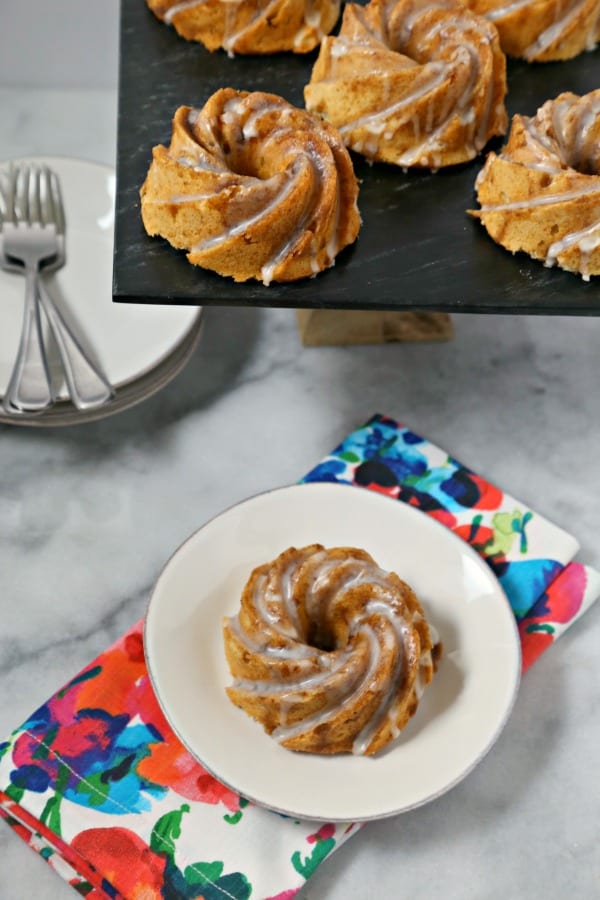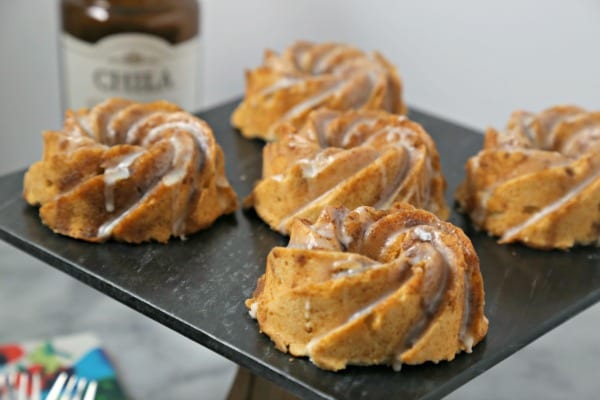 Aly M. Cleary | Inspired by Williams Sonoma's Bundt Cake Recipe
Yields 6
Chila 'Orchata Mini Bundt Cakes
These Chila 'Orchata Mini Bundt Cakes are laced with the flavors of Chila 'Orchata - a cinnamon rum cream - in each bite. These easy chic desserts are a showstopper!
1 hr, 15 Prep Time
40 minCook Time
1 hr, 55 Total Time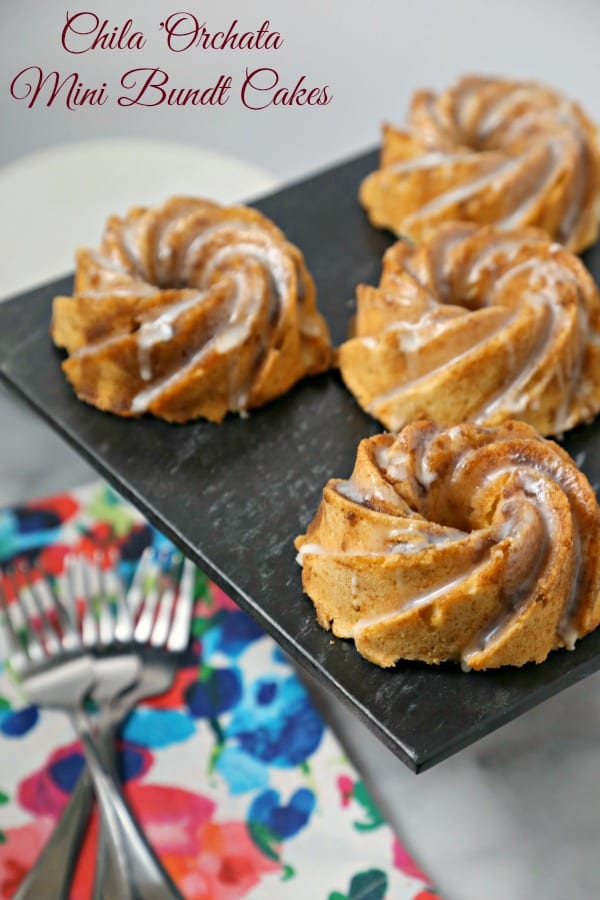 Ingredients
2 cups of all-purpose flour, plus more for the pan
1 teaspoon of baking powder
1 teaspoon of cinnamon
1/4 teaspoon of freshly grated nutmeg
1/2 teaspoon of kosher salt
10 tablespoons of unsalted butter, room temperature plus more for the pan
1 cup of granulated sugar
3 eggs, room temperature
1 teaspoon of vanilla extract (I used Mexican vanilla)
1/2 cup of milk
3 tablespoons of Chila 'Orchata Cinnamon Cream Rum Liquor

For the Chila 'Orchata Syrup:

1/3 cup of brown sugar
1/3 cup of water
1/2 teaspoon of cinnamon
1 teaspoon of butter
3 tablespoons of Chila 'Orchata liquor

For the Chila 'Orchata Glaze:

1 cup of confectioners' sugar
3 – 4 tablespoons of Chila 'Orchata
Instructions
Lightly grease the mini Bundt pan with a bit of softened butter and dust with flour, making sure to discard any excess flour and set aside.
Heat the oven to 375 degrees F.
In a large bowl, sift together the flour, baking powder, cinnamon, nutmeg and salt.
To the bowl of an electric mixer fitted with a paddle attachment, whip the butter until it is light and fluffy – about 30 seconds to a minute.
Add the sugar and mix for about 5 minutes until he mixture is fully incorporated the mixture is light and fluffy.
Add the eggs, one at a time to the mixture, making sure to beat well after each addition.
Make sure to scrape down the sides with a rubber spatula.
Add the vanilla extract to the butter mixture and beat well.
Combine the milk and Chila "Orchata in a measuring cup and whisk well.
Add a third of the flour mixture to the bowl, followed by half of the milk and Chila 'Orchata mixture.
Continue with the flour, followed again by the milk and finishing with the final third of the flour mixture.
Remove the bowl from the mixer and mix with a spatula until it all comes together.
Add about 3/4 cup of the batter mixture to each well of the mini Bundt pan, taking care to spread the mixture evenly.
Bake in the heated oven for about 25 minutes, until a cake tester or toothpick inserted in the center comes out clean.
Let cool in the pan for 15 minutes while you make the syrup.

To make the Chila 'Orchata Syrup:

In a small saucepan, add the brown sugar and water. Whisk together until the sugar is dissolved and bring to a boil over medium high heat.
Add the cinnamon and butter, whisking together and bring the mixture to a boil for about 4 – 5 minutes.
Remove from the heat, add the Chila 'Orchata liquor and whisk until combined.
Let cool for about 5 minutes.

To Soak the Cakes:

Remove any overhang of the cake that rose over the base of the pan with a serrated knife.
Using a pastry brush, brush a bit of the Chila 'Orchata syrup over the base of the cakes.
Let soak for about 10 more minutes.
Using a cooling rack fitted over a sheet pan, invert the cake pan and lift off the pan, revealing the perfectly chic little Bundt cakes.
Using the pastry brush, brush more of that Chila 'Orchata syrup over the warm cakes and let cool for another 15 minutes while you make the glaze.

To make the Chila 'Orchata glaze:

In a small bowl, whisk together the confectioners' sugar and 2 tablespoons of Chila 'Orchata liquor.
Add more liquor, about a tablespoon at a time until you get the perfect runny consistency.
Drizzle over the mini Bundt cakes and let harden for about 10 minutes.
Enjoy (preferably with a little after dinner coffee with a shot of Chila 'Orchata liquor)
7.8.1.2
93
https://cookinginstilettos.com/chila-orchata-mini-bundt-cakes/