This is a sponsored post. My opinions are my own.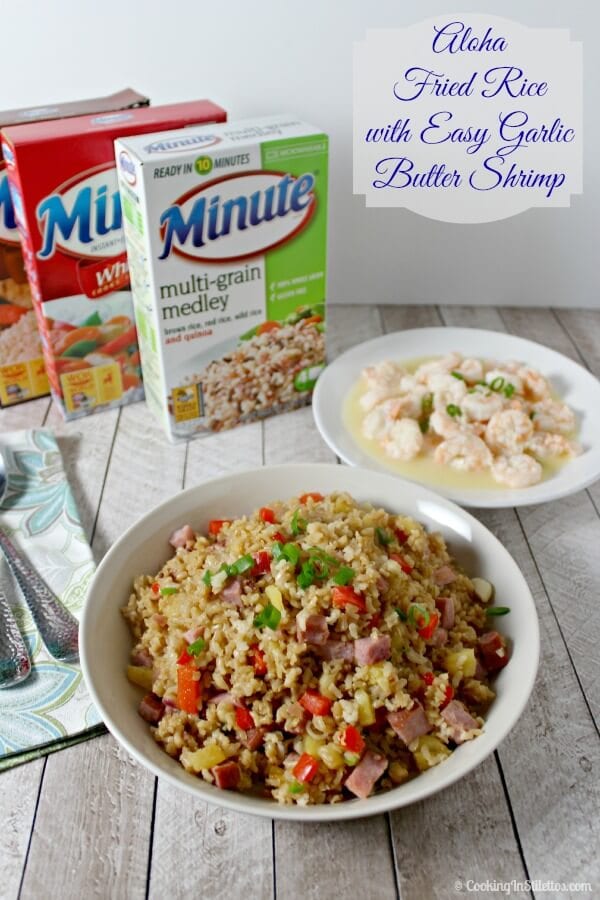 This year, one of my goals has been a strong focus on balance – both work-life balance and nutritional balance. I have been making healthier menu choices, using fresh ingredients with room for an indulgence or two (I'm sorry coffee shop – I just can't quit you). This summer I am determined to think out of the box more when it comes to flavors and ingredients and challenge myself in the kitchen.
Rice and I have had a tumultuous relationship. I cannot tell you how many times my arroz con pollo has come out a bit "toasty" or has the texture of risotto on a busy weeknight. My pans could tell tales of my burnt, I mean "toasty", rice adventures. There are times I do not want to break out the rice cooker if I want perfectly cooked rice in 30 min. or so. However, when I want something that I know always comes out perfect, is ready in a flash and is foolproof where even I can't screw it up, I have a secret weapon in my pantry – Minute® Rice.
Recently, Minute® Rice had a fabulous soiree where we were able to try some new dishes and sample some recipes, all made with Minute® Rice. Of course their pantry staple, the Minute® White Rice was on hand as well as their nutty 100% Whole Grain Brown Rice and, my new favorite, the Minute® Multi-Grain Medley which is a blend of four gluten-free, 100% whole grains, including long grain brown rice, Thai red rice, wild rice and quinoa. Added bonus, it conveniently cooks in 10 minutes. Minute® Rice is a timesaver for busy weeknights.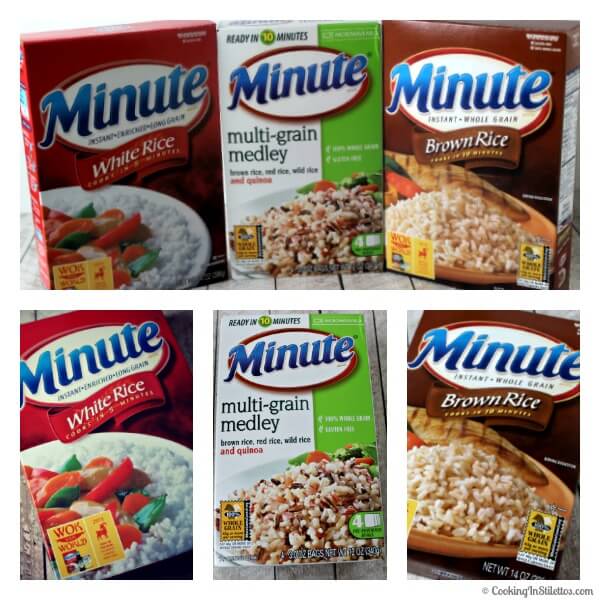 The menu was divine. We were greeted with a super refreshing Horchata – it's like sipping a divine cinnamon rice pudding – as well as nibbled on dishes like a Blueberry Basil Salad (which I must make), Brown Rice, Kale, Roasted Tomato and Feta Salad, Arancini and a Summer Vegetable and Rotisserie Chicken Bake. Seriously sooo good. We talked about summer plans, including things on our summer bucket list and had an Iron Chef Style challenge to end the evening. The gals and I came up with this Aloha Fried Rice and, while we didn't win (we were close – seriously, a coin toss close), it was a fun evening and I had so many ideas for how to incorporate Minute® Rice into my menus this summer.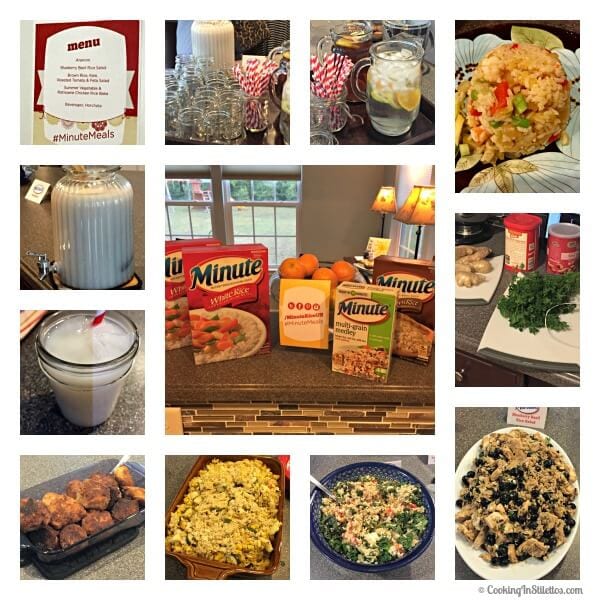 With a focus on the tropical, I made this divine Aloha Fried Rice with the flavors of Polynesia woven throughout. I made a batch of Minute® Brown Rice and let it cool on the stovetop while I prepped the other ingredients. The fabulous thing about the rice is that it was ready in 10 minutes – that is a quarter of the time of the standard brown rice and no rice cooker needed. It came out fluffy and the perfect texture. With fried rice, it is normally prepared with cold leftover rice, but I found that by letting the brown rice cool while I prepped the other ingredients, it came out perfectly – not a mushy rice grain in sight. The main tip I have for you with any fried rice recipe, prep your ingredients beforehand because it moves quick. No sooner were the onions and peppers ready, then it was time for the pineapple and ginger to jump into the mix. Everything was ready in a flash.
While I could serve the rice on its own as an entrée (and I did with the leftovers, with a bit of egg scrambled in), I decided to channel my inner Hawaii 5-0, Kamekona style, and made this ridiculously easy garlic butter shrimp, ready in just minutes!
When you are looking for something a little different but quick to toss together for dinner on a busy weeknight – make this Aloha Fried Rice with Easy Garlic Butter Shrimp!
On to the recipe:
First – let's gather the ingredients.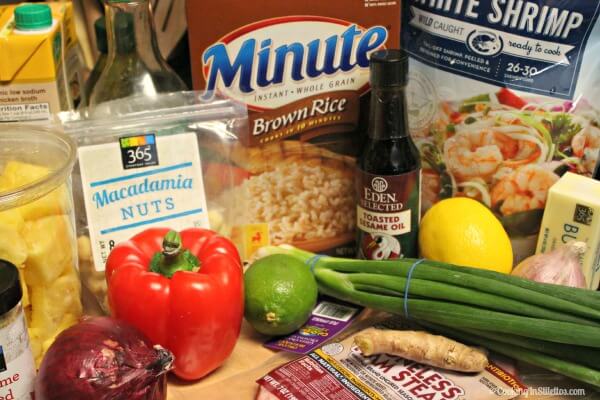 Let's make the Brown Rice – look at how fluffy it is – and in 10 minutes?!?!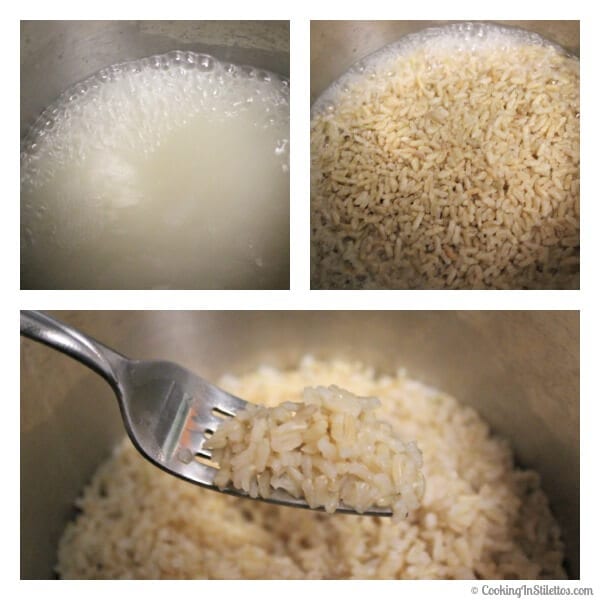 Sauteing the onions, peppers and pineapple with a bit of ginger and lime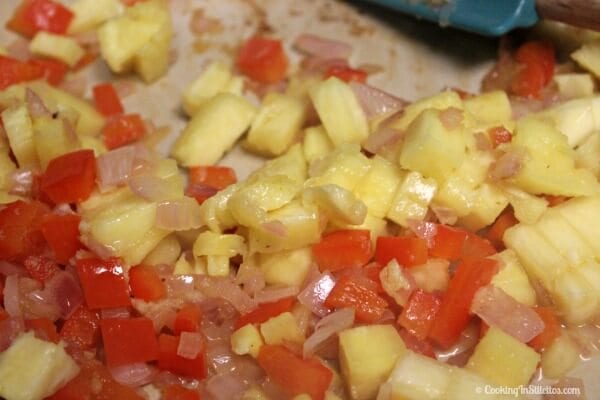 Adding the brown rice with a drizzle of soy and toasted sesame oil.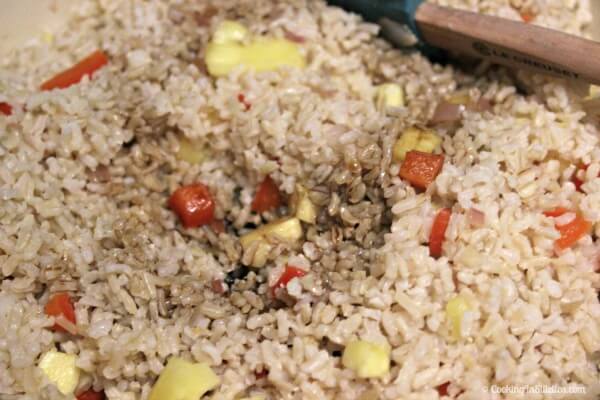 Making the Garlic Butter Shrimp – SOOO Easy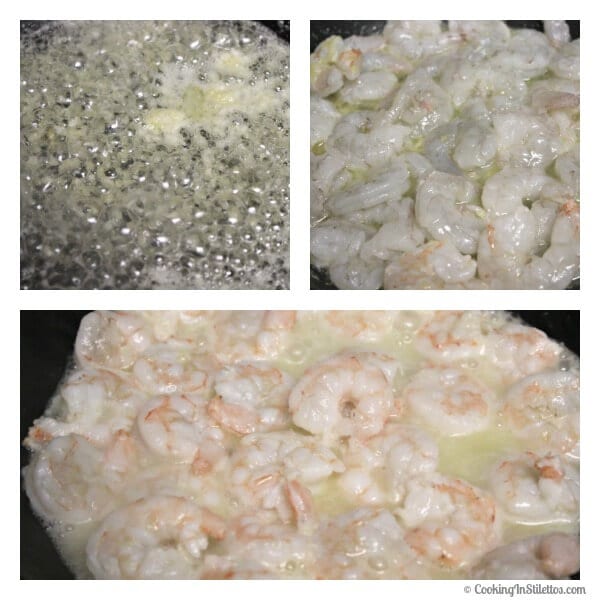 Now – doesn't this look amazing?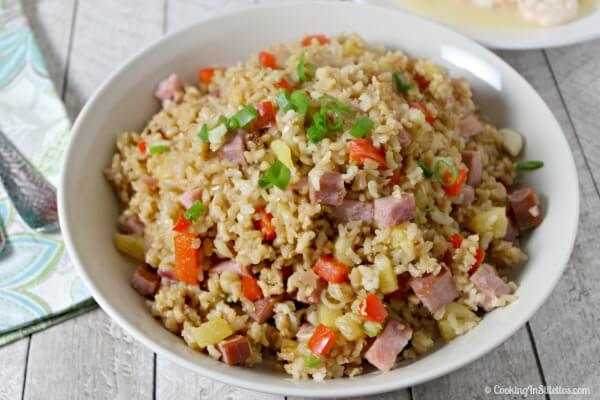 Best. Fried. Rice. EVER and the shrimp – let's just say, North Shore, watch out!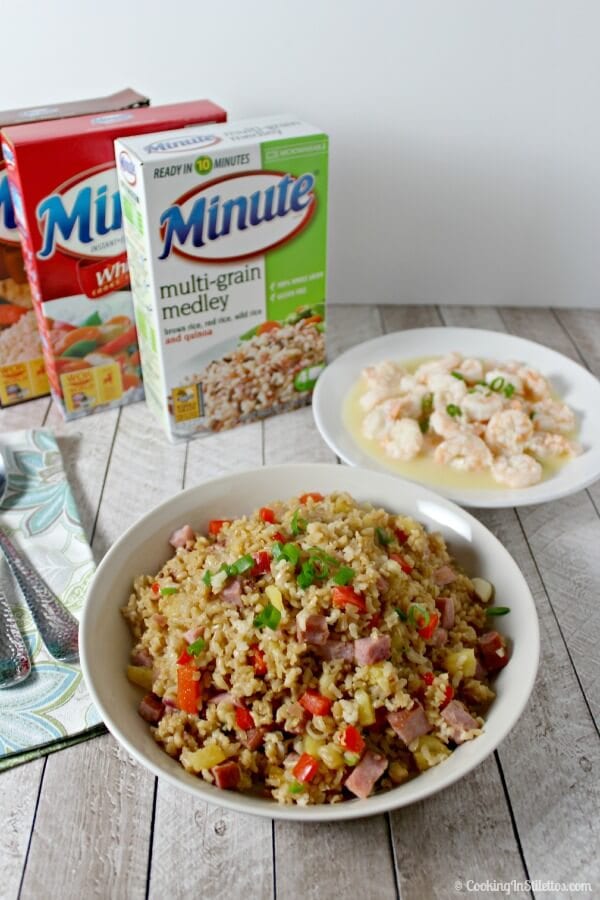 Aloha Fried Rice with Easy Garlic Butter Shrimp
---
Aly M. Cleary
Yields 4
This Aloha Fried Rice with Easy Garlic Butter Shrimp will have you dreaming of the tropics and is so easy to prepare that it's perfect for busy weeknights.
15 minPrep Time
30 minCook Time
45 minTotal Time
Ingredients
For the Aloha Fried Rice:

2 cups of Minute® Brown Rice
1 3/4 cups of chicken stock
1 tablespoon of vegetable oil
1/2 of a red onion, diced
1 large red pepper, seeded and diced
1 cup of pineapple chunks, diced
1 tablespoon of fresh ginger, grated
Zest and juice of half a lime
1 clove of garlic, grated
1/4 cup of soy sauce (I used reduced sodium)
1/2 teaspoon of toasted sesame oil
1 cup of diced ham
1 green onion/scallion, minced (white and green parts)
1/3 cup of macadamia nuts, minced

For the Garlic Butter Shrimp:

1 pound of large shrimp, peeled, deveined and tails removed
1/4 cup of unsalted butter
5 cloves of garlic, minced
Zest and juice of half a lemon
Salt and pepper to taste (I used Hawaiian Alaea Sea Salt)
Sliced green onions for garnish
Directions
In a saucepan, add the chicken stock and bring to a boil.
Add the Minute® Brown Rice when it is boiling and stir. Bring to a boil and then cover, reduce heat to a simmer and let cook for 5 minutes.
Remove the rice from the heat and let sit, covered for another 5 minutes. Fluff with a fork and set aside to cool.
In a large nonstick skillet over medium high heat, add the vegetable oil.
Add the onions and peppers and saute until the onions are translucent.
Add the diced pineapple, ginger, lime zest and juice, and garlic. Saute for a couple minutes more.
Add the cooled brown rice, stir to combine.
Add the soy sauce and the toasted sesame sauce, stir again.
When everything is combined, add the ham and toast until the ham is warmed through.
Finish with the minced scallions and macadamia nuts, stir to combine and serve.

To make the Garlic Butter Shrimp:

In a non-stick skillet, over medium heat, add the butter and allow it to get foamy.
Add the minced garlic and stir until fragrant
Add the lemon juice and zest; stir.
Add the shrimp and saute until pink, about 5 - 7 minutes.
When the shrimp is cooked through, remove from heat, garnish with some sliced green onions and serve immediately.
7.6.7
1014
https://cookinginstilettos.com/aloha-fried-rice-recipe-with-easy-garlic-butter-shrimp/
All images and content are © Cooking In Stilettos. Please do not republish without contacting us first. Thank you.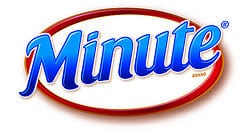 For recipe ideas, newsletters and special offers from Minute® Rice straight sent to your inbox, join The Riceipe Club® by signing up HERE. For over 400 recipe ideas, from breakfast to dessert, and for more information on Minute® Rice products, visit MinuteRice.com
This is a sponsored post written by me on behalf of Minute® Rice.
Did you enjoy this post?
| | |
| --- | --- |
| Share the love | Get free updates |