This scrumptious Spinach Artichoke and Asparagus Strata is the perfect brunch casserole, perfect for Mother's Day or weekend brunch. Packed with layers of fresh veggies, cheese and bread in a flavorful egg custard, this breakfast strata will be a hit with your friends and family.
There reall is no better dish for a spring brunch.  The fresh veggies with a hint of spice and fresh sourdough bread with layers upon layers of cheese – all baked in a rich egg custard – seriously, it's flavor overload.  Don't be surprised if your guests ask you for seconds and pester you for the recipe.  I used a fresh sourdough bread that I got at my local bakery and that added a ton of flavor.  The spinach wilted down so quick so what looks like a lot really is not.  The best thing is you can always adapt the recipe to your liking.
This Spinach Artichoke and Asparagus Strata is the perfect make ahead breakfast dish.  Just make everything the night before, slide it into the fridge and let it chill overnight.  The next morning, heat the oven, remove the strata from the fridge and sprinkle with a bit of Parmesan and bake it for 45 minutes.  Your guests will think you worked on this for hours.
For your next brunch, make this Spinach Artichoke and Asparagus Strata and watch how quickly it disappears!
On to the recipe:
Gather your ingredients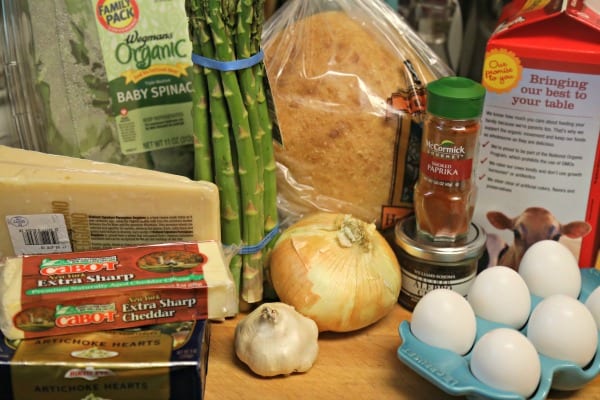 Look at this gorgeous spring asparagus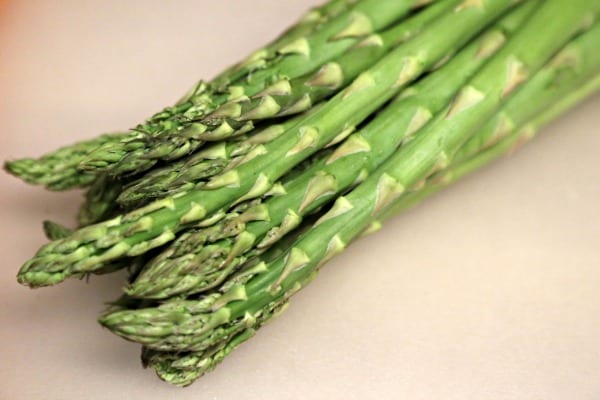 It's all about the layers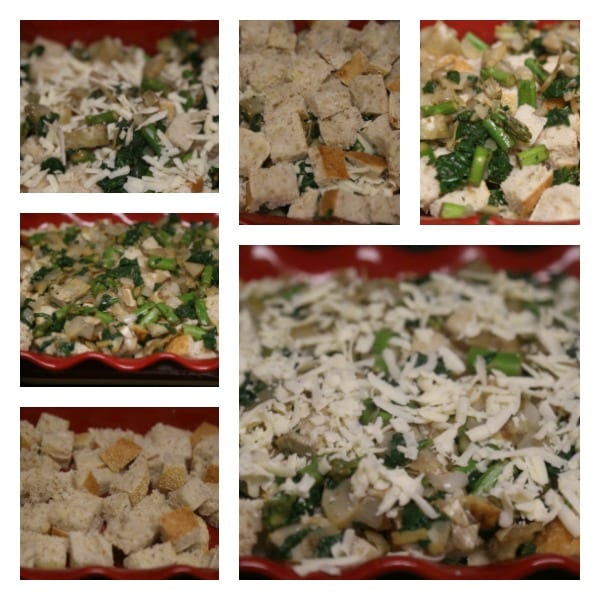 Drenching the layers of cheese, veggies and sourdough in a rich custard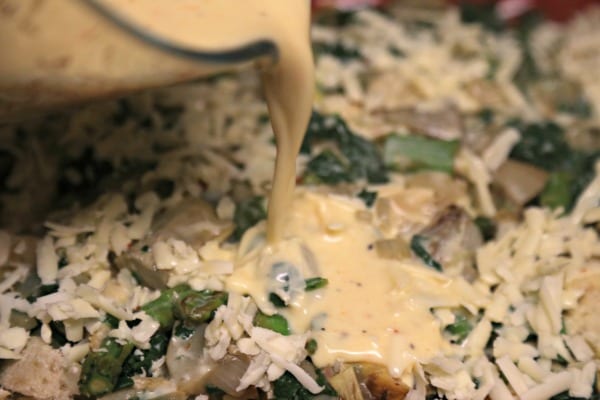 Look at this lovely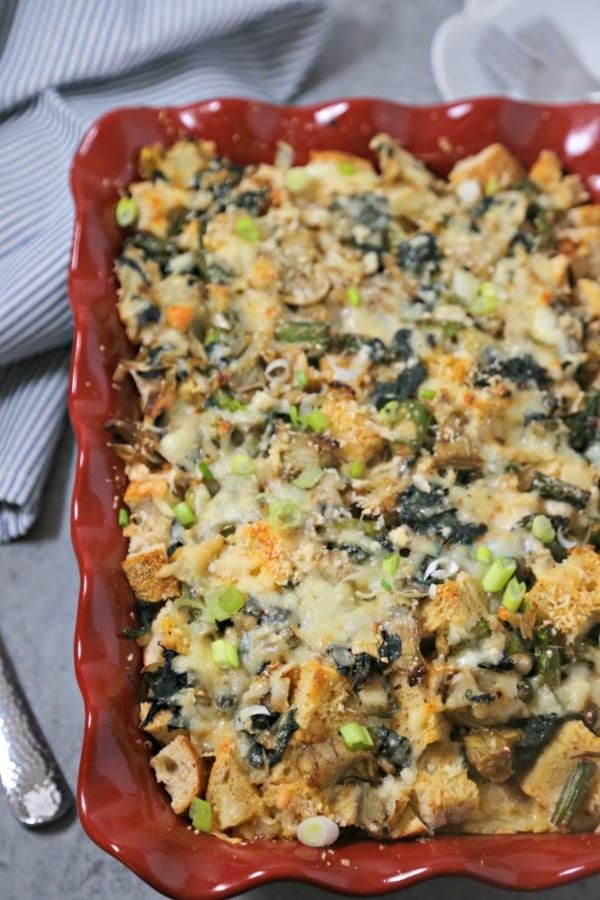 Shall I make you a plate?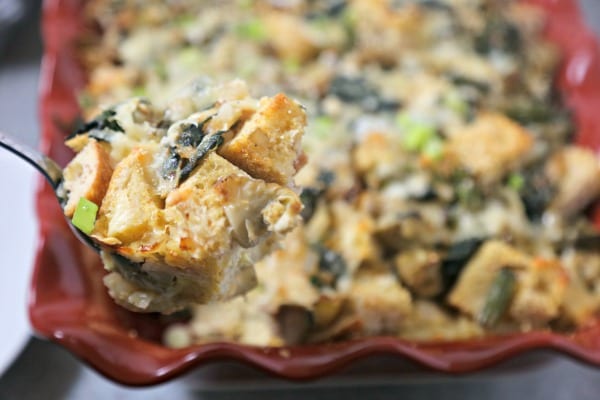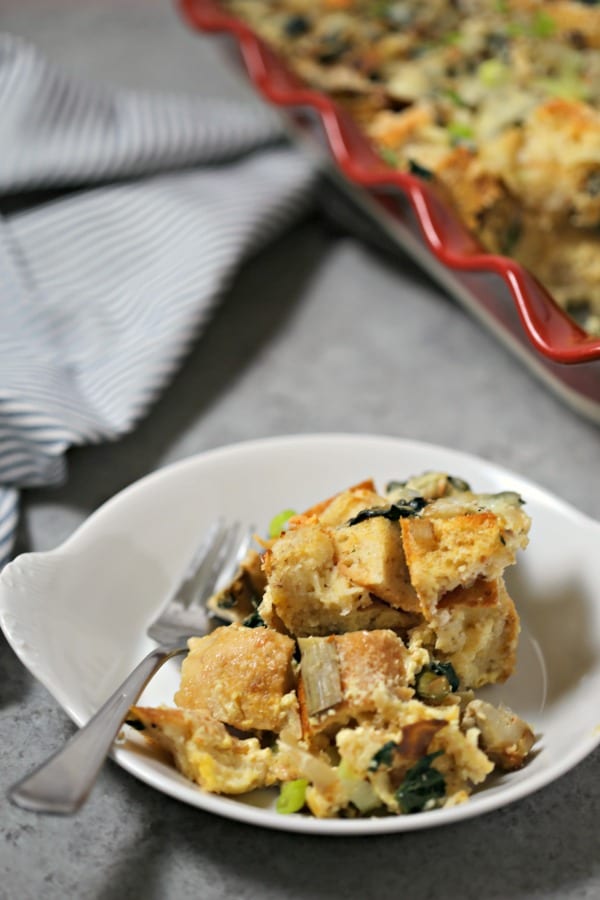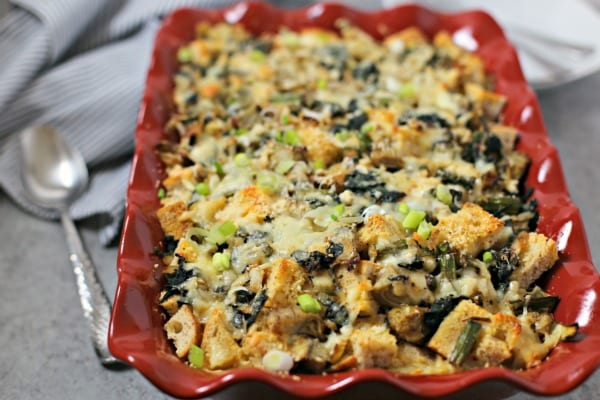 Aly M. Cleary | Inspired by Cooking Light
Yields 8-10
Spinach Artichoke and Asparagus Strata #BrunchWeek
This Spinach Artichoke and Asparagus Strata will be the star of your weekend brunch. Fresh veggies are sauteed with a hint of spice and then layered with sourdough bread and cheese and baked in a rich egg custard. Hungry yet?
45 minPrep Time
60 minCook Time
1 hr, 45 Total Time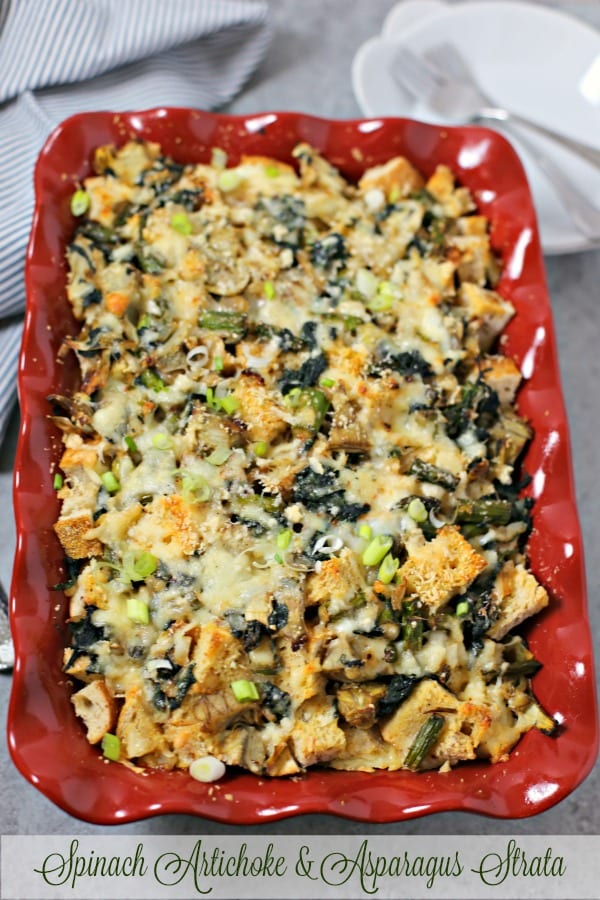 Ingredients
2 tablespoons of olive oil, divided
1 (9-ounce) package of frozen artichoke hearts, thawed and chopped
1 small Vidalia onion, diced
2 garlic cloves, minced
1 pound of fresh asparagus, chopped (tough woody stems removed)
10 ounces of fresh baby spinach
2 ½ cups of milk
1/2 teaspoon of kosher salt
1/4 teaspoon of freshly cracked black pepper
1/2 teaspoon of smoked paprika
1/4 teaspoon of Aleppo pepper (optional)
6 large eggs
1 loaf of sourdough bread, cut into 1" cubes
I cup of cheddar cheese, shredded (I used Cabot Extra Sharp Cheddar Cheese)
1/4 cup of freshly grated Parmesan cheese
Instructions
Heat 1 1/2 teaspoons of olive oil in a dutch oven over medium high heat.
Add the artichoke hearts, onion and garlic cloves and sauté for about 4 minutes. Remove to a large bowl to cool.
Add another 1/2 tablespoon of olive oil to the dutch oven if needed, add the chopped asparagus and sauté for another 4 minutes or so. Remove the sautéed asparagus to cool with the artichoke onion mixture.
Add another 1/2 tablespoon of olive oil to the pan and add half of the baby spinach until it starts to wilt, stirring often. As the first batch of spinach starts to wilt, gradually add the remaining baby spinach to the pan, stirring often until all of the spinach is wilted, about 4 minutes.
Remove the spinach to a strainer over a bowl so that any water would drain. The last thing you want is watery veggies in a strata. When it cools, squeeze the sautéed spinach to remove any excess moisture, chop roughly and add that to the vegetable mixture.
Stir them all together to mix.
In another bowl or large measuring cup, whisk together the milk, salt, pepper, smoked paprika, Aleppo pepper (if using), and eggs until everything is mixed. I love doing this in a large measuring cup like a 4-cup measuring cup for easy pouring.
Layer half of the cubed sourdough bread into a 9 x 13 baking pan sprayed well with cooking spray
Nestle half of the veggie mixture over the cubed bread followed by half of the cheddar cheese over the bread and veggies.
Repeat the layers again.
Press down on the bread mixture with a spatula and pour the custard mixture over everything.
Press down on the bread for a bit so that everything is covered in the egg mixture, cover and let the mixture soak for at least a half hour or even better, overnight, in the refrigerator.
Heat the oven to 350 degrees F.
Uncover and let the strata come to room temperature for about half an hour.
Sprinkle with the Parmesan cheese and bake for about 45 minutes, until it is cooked through and the edges are browned slightly. Let stand for about 15 minutes before serving.
Enjoy!
Notes
While you can let the mixture sit for a half hour, you can easily prepare this the night before and let it soak in the fridge, baking if off in the morning for easy entertaining.
7.8.1.2
19
https://cookinginstilettos.com/spinach-artichoke-and-asparagus-strata/