I remember seeing "Amish Macaroni Salad" in the deli cases and, while I wasn't sure WHAT it was, I took a chance and I haven't looked back since. I probably will order some of the Amish Macaroni Salad to go with a rotisserie chicken or sandwiches.  Kinda predictable, huh?
Over the weekend, to go with the Bourbon Molasses Mustard Baked Chicken, I decided to finally make my own version of the Pennsylvania classic and, can you keep a secret, it's so much better than the deli standard.  I don't know if it was the dressing, the veggies or what, but I can see this being a staple recipe that will be made throughout the spring and summer.
On to the recipe:
Gather the Ingredients
Is it wrong that I wished I chopped more bell pepper (for quality control purposes of course – so good!)
Time to Mix The Dressing
My "Not So Amish" Macaroni Salad
Yields 6
Tried and True: "Not So Amish" Macaroni Salad
This Pennsylvania classic is a slightly sweet and tangy version of a classic macaroni salad - it will be a hit at your next cookout.
1 hr, 30 Prep Time
10 minCook Time
1 hr, 40 Total Time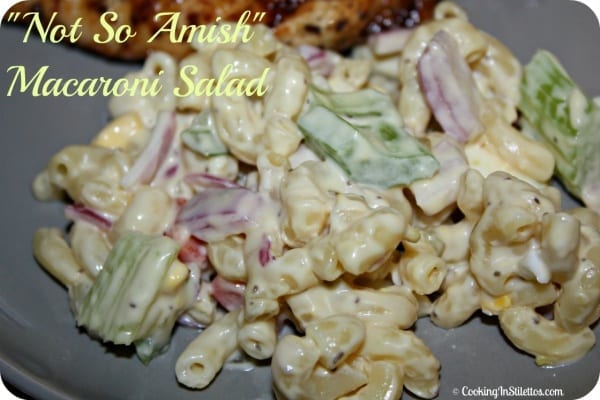 Ingredients
2 cups uncooked elbow macaroni
3 hard-boiled eggs, chopped
1/2 red onion, chopped
4 stalks of celery, chopped
1 red bell pepper, seeded and chopped
2 cups of light mayonnaise
3 tablespoons of dijon mustard
2 tablespoons of dill pickle relish (I swear by Wickles)
1/2 cup of sugar
1 3/4 teaspoons of apple cider vinegar
1/4 teaspoon of salt
3/4 teaspoon of celery seed
Instructions
Bring a large pot of water to a boil. Salt the water and add the macaroni, cooking until the pasta is al dente - about 8 minutes. Drain the pasta, run under cold water for a minute and then set aside.

To make the dressing:

In a medium bowl, stir together the mayonnaise, dijon mustard, dill pickle relish, sugar, apple cider vinegar, salt and celery seed until well blended.
In a large bowl, add the celery, diced red bell pepper, onion and eggs.
Add the pasta and mix well.
To the pasta and vegetable mixture, add half of the dressing mixture. Mix well. If your pasta salad needs more dressing, add the remaining dressing mixture in gradually until it reaches the desired consistency.
Cover and chill the pasta salad for at least an hour before serving.
Enjoy!
7.8.1.2
392
https://cookinginstilettos.com/not-so-amish-macaroni-salad/