Biscotti are one of those cookies that I love with a good cup of coffee. Heck, I think when the blizzard season finally comes, part of my "blizzard prep" will be baking a batch of these so I can cozy up on the couch and enjoy while Mother Nature wrecks havoc outside. (Yes – I know – I'm cursing us for a whiteout soon but this gal wants snow for Christmas, okay?). I'm even making some of these for holiday gifts – they are that good.
One of my staple pantry ingredients is dried cherries and I always have bottles of rum at the ready, whether it's Cruzan or Morgan. I decided to play with a basic vanilla biscotti recipe from Taste of Homeand what goes better with vanilla but cherries – especially if they are rum soaked. If you are making this for the kiddos, feel free to leave out the rum. These treats were perfect for my Deck The Halls Biscotti because, as we all know, chocolate pairs VERY well with cherries.
Forget store bought biscotti – these Cherry Vanilla Biscotti are perfect for the holidays and then some.
On to the recipe:
Gather the ingredients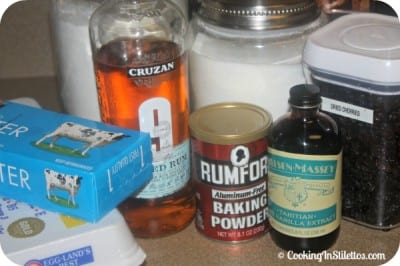 Soak the cherries in a bit of Cruzan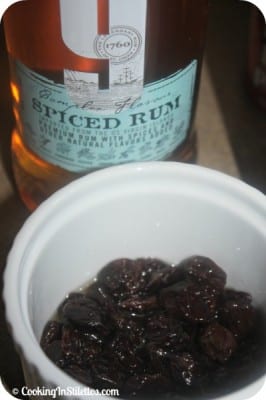 Yes – the dough was sticky – thank heavens for the silpat. We'll just call the log "rustic"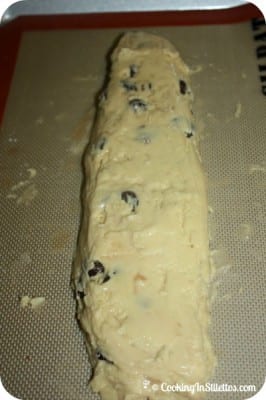 Freshly baked and ready to be sliced.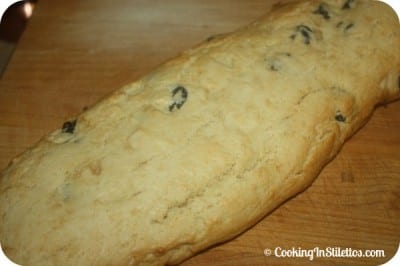 Back in the oven and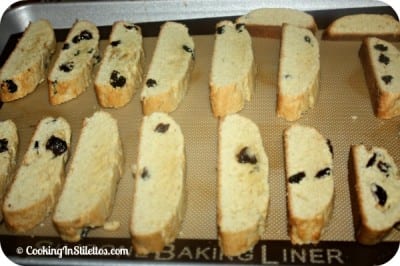 Viola – Biscotti Perfection
Tried and True: Cherry Vanilla Biscotti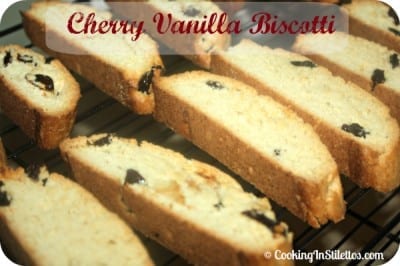 Ingredients
6 tablespoons butter
2/3 cup sugar
1/4 teaspoon salt
2 teaspoons vanilla extract
1 1/2 teaspoons baking powder
2 eggs
2 cups all purpose flour
2/3 cups of dried cherries
2 – 3 tablespoons of your favorite spiced rum (I used Cruzan)
Additional flour as needed for shaping the dough
Instructions
Preheat your oven to 350 degrees F.
In a small bowl, combine the dried cherries and rum. Let steep for about 10 minutes or so.
Using a mixer, cream together the butter and sugar for a few minutes until light and fluffy.
Add the salt, vanilla and baking powder and mix again.
Slowly add the eggs to the mixture. If it looks curdled or funky, that's okay – it will come together.
On low speed, add the flour and mix until everything is incorporated.
Strain the cherry mixture, taking care to save the rum.
Fold in the cherries to the biscotti dough and add a teaspoon or two of the rum to the dough.
Tumble the dough mixture onto a baking sheet fitted with parchment paper or a silpat. The dough will be sticky so feel free to lightly flour your hands.
Shape the dough into a log shape about 12 – 14" long, and 2 – 4" wide.
If you really want to amp up the rum flavor, brush the log with a bit of the remaining rum mixture.
Bake for about 25 - 30 minutes.
Cool the log for about 15 minutes and transfer to a cutting board.
Reduce the oven to 325 degrees F.
Using a serrated knife, on an angle, cut into even 1/2 inch to 3/4 inch slices.
Place the biscotti on its side on the baking sheet and silpat (or parchment paper) and bake for 25 – 30 minutes or until the biscotti begin to turn golden brown.
Cool on wire rack and enjoy!
7.8.1.2
351
https://cookinginstilettos.com/cherry-vanilla-biscotti/