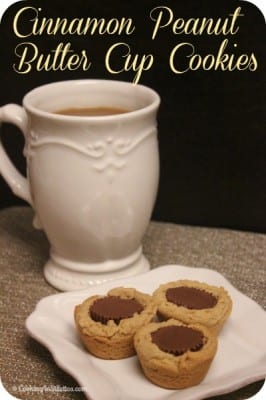 Cookies for Kids Cancer is a cause near and dear to me.   One of my childhood friends passed from a rare and deadly childhood cancer, Neuroblastoma, many years ago so whenever the opportunity arises to participate in the fight against childhood cancer, you know I'm in.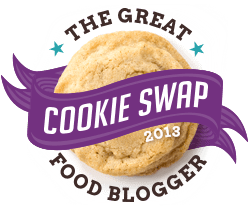 I know you must have heard about The Great Food Blogger Cookie Swap, right?  It's hosted by two amazing bloggers with hearts of gold – Lindsay of Love & Olive Oil and Julie of The Little Kitchen and they rally food bloggers to bake for a cause.  Boxes of goodies are shipped to fellow bloggers and those participating get sweet treats on our door step.  Thanks to their efforts, along with generous contributions from OXO, Dixie Crystals, Gold Medal Flour and Grandma's Molasses, over $13,000 was raised!  How awesome is that.
This year, I was thrilled to get some fabu treats on my doorstep – check them out: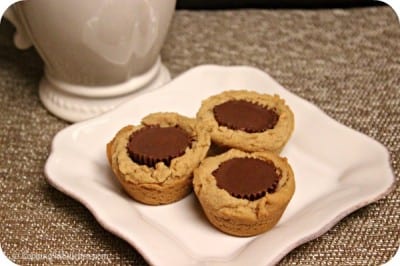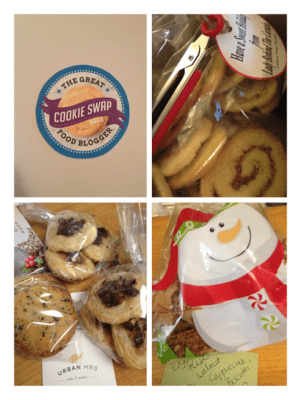 Hazelnut Toffee Palmiers from The Urban Mrs.
When I was thinking of what recipe I would whip up, I thought – why not make something that was comforting with a bit of sass and these Cinnamon Peanut Butter Cup Cookies were a must.  The key to these – a good cookie scoop, mini-muffin tins (because if you put them on a cookie sheet they will spread like the wind) and patience to unwrap all the mini Peanut Butter Cups (and willpower to not eat them all!)
I did have to valiently fight to keep them away from family and friends – finally saying "OK – I need 3 dozen and after that, they are YOURS!".  Well, sure enough – I had just enough to ship and the UPS man whisked them off to their new destinations.  I was stoked to see that I had Lauren from Healthy Delicious, Aubrey of The Real Housemoms and Meghan of Cake 'n Knife to send them too.  Their blogs are nothing short of fabulous and I have a bunch of new food blogs to add to my must read list 🙂
Need to bake up some fab cookies for a cookie swap of your own?  Bake these and I promise that your cookies will be the hands down fave.  Need to bake them for family and friends – prepare for accolades.
On to the recipe:
Gather the ingredients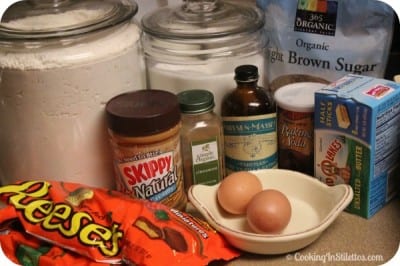 Resist the urge to taste test the batter – remember, you are on a mission!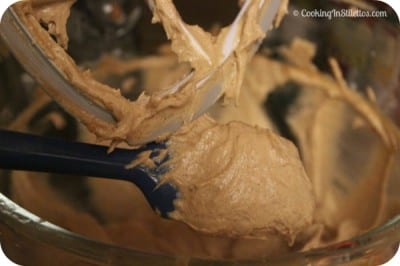 Scoop the batter into mini muffin tins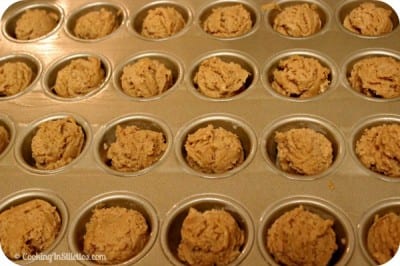 Nestle the Peanut Butter Cups into the warm dough.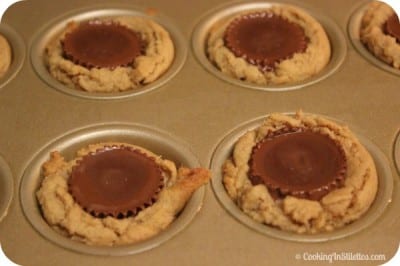 Enjoy!
Cinnamon Peanut Butter Cup Cookies
---
Slightly adapted from AllRecipes magazine
Ingredients
1 3/4 cups of all purpose flour
1/2 teaspoon of salt
1 teaspoon of baking soda
1/2 teaspoon of ground cinnamon
1/2 cup of butter, softened
3/4 cup of brown sugar
1/4 cup of granulated sugar
1/2 cup of creamy peanut butter
1 egg
1 teaspoon of vanilla extract
2 tablespoons of milk
35-40 unwrapped miniature chocolate peanut butter cups.
Directions
Preheat the oven to 375 degrees F.
In a bowl, whisk together the flour, salt, baking soda and cinnamon. Set aside.
In the bowl of a large mixer, cream together the butter and sugars until light and fluffy.
Add the peanut butter, egg, vanilla and milk until everything is well combined.
Scrape down the sides and add the flour mixture in thirds.
When all is mixed well, using a small cookie scoop, scoop the mixture into mini-muffin tins. The dough should be about a tablespoon or so.
Bake for about 9 minutes, remove from the oven and press in a mini peanut butter cup into the center of each.
Cool and remove from the pan.
Enjoy!
7.6.8
839
https://cookinginstilettos.com/cinnamon-peanut-butter-cup-cookies/
All images and content are © Cooking In Stilettos. Please do not republish without contacting us first. Thank you.
Many thanks to Lindsay and Julie for all that you do.  I'm honored to participate with such a group of amazing kind hearted people!
Did you enjoy this post?
| | |
| --- | --- |
| Share the love | Get free updates |