When I saw a more healthy take on a "Starhell" iced coffee concoction, an Iced Frappe Mocha, I couldn't resist. My friends, family and coworkers know that when it comes to coffee, I like mine iced, preferably, and can't make a decent cup to save my life.  I rarely order the frozen confections at Starhell, preferring an iced coffee, but my bank will testify to my adoration of that place.  When I do have days where I'm on the warpath, I reach for a mocha and add a touch of cinnamon.  I love the warmth of the cinnamon mixed with the chocolate and this iced cinnamon mocha frappe was perfect for a crazed morning where I needed 5 minutes of "me" time.  I changed it a bit with using instant espresso, which I always keep in the pantry for chocolate recipes, used reduced fat milk and added a bit more ice.  This was so simple to whip up in the Vitamix – just make sure that your blender can handle some serious ice crushing action.  I have to say – I really enjoyed this recipe and will be making it again – perhaps with a hint of Cruzan or Tequila for those evenings when a bit of spirit is warranted.
Gather the ingredients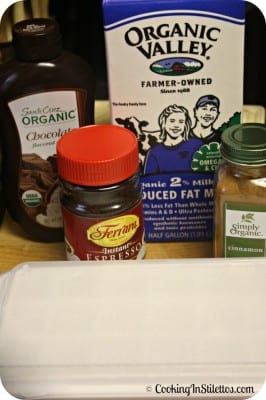 Instant Espresso – Even I couldn't muck this up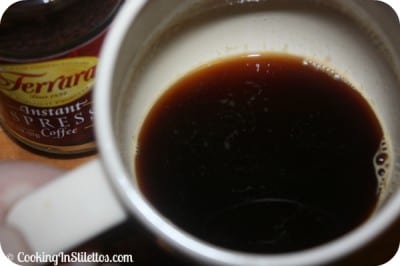 The path to blending

Iced Cinnamon Mocha Frappe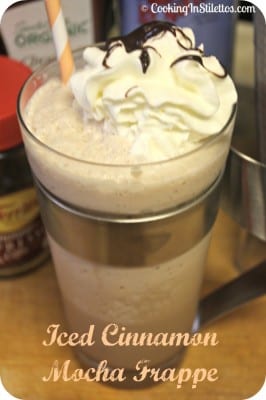 Ingredients
1 teaspoon instant espresso
1/3 cup boiling water
1 cup of milk (I used reduced fat)
1 1/2 cups of ice cubes
5 to 6 teaspoons chocolate syrup, depending on how chocolatey you like it
1/8 teaspoon cinnamon
Whipped Cream and additional Syrup for topping
Instructions
Combine the instant espresso and boiling water in a bowl. Set in the fridge (or even freezer) to chill for a bit.
In a blender, add the ice cubes, milk, chocolate syrup, cinnamon and chilled espresso mixture.
Mix for about 5 minutes or until all the ingredients are fully incorporated and it resembles a thick milkshake.
Top with a bit of whipped cream and a drizzle of chocolate syrup, add a straw and take 5 minutes for yourself to enjoy this frothy coffee concoction.
7.8.1.2
357
https://cookinginstilettos.com/iced-cinnamon-mocha-frappe/