I have a confession – I have never – ever – made Jambalaya from scratch.
Now – y'all know I'm a spice wuss but the only Jambalaya I would make came out of a box and that Jambalaya brought the heat but it was so good, you'd keep eating, even if you did have steam coming out of your ears.

When this month's Pass the Cookbook Club assignment came around spotlighting recipes from Cooking Up A Storm, a cookbook that spotlighted family recipes, I knew that my time to make Jambalaya from scratch was here.  Now – this cookbook itself is pretty amazing.  It was meant to connect people who lost their favorite family recipes when Hurricane Katrina hit in 2005.
For those new to the Pass The Cookbook Club – it's a group of amazing bloggers who select a few recipes from one cookbook every month, play with recipe and talk about it.  We find some new cookbooks we might not have looked at before (like with this one for moi) or dust off one that hasn't gotten enough love from us and is sitting on the bookshelf.  It's a great group of people.  If you are interested in learning more, check out the FB Group and join!
This dish was so easy to prepare.  A few fresh ingredients, some spice, a simmer and a bit of rice and you have a New Orleans classic that will be on your table in no time.  I always keep Creole Seasoning in the pantry (my boy SL taught me well and I learned to not have a pantry without it) and bloomed the spice as I was browning the chicken.  I used chicken thighs to add a bit more flavor and chicken stock instead of water.  What resulted was a rich and flavorful one pot wonder that had me vowing, as God as my witness, to never use box mix again.  [Sorry – slight Scarlet O'Hara moment there].
Make this for dinner this week and tell your family it was no effort at all.  Add a bit of cornbread spread with a bit of my favorite Creole butter and you have a winning dinner!
On to the recipe:
Gather your ingredients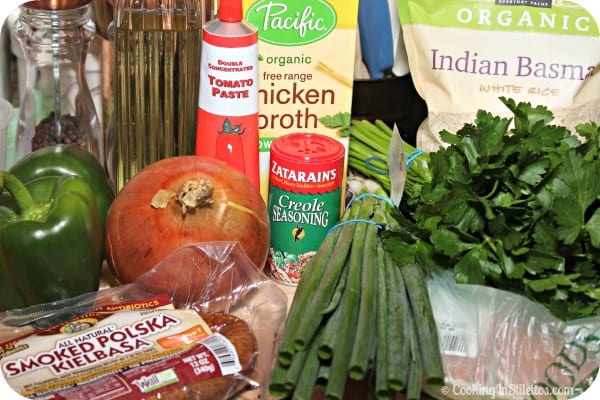 Bloom the spices in a bit of oil with the chicken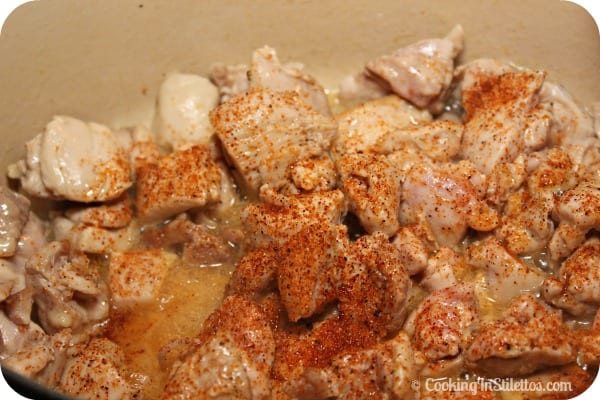 A vibrant tomato paste adds so much flavor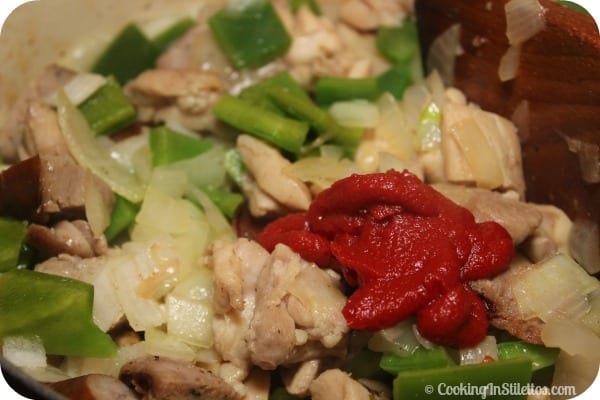 Time to add the rice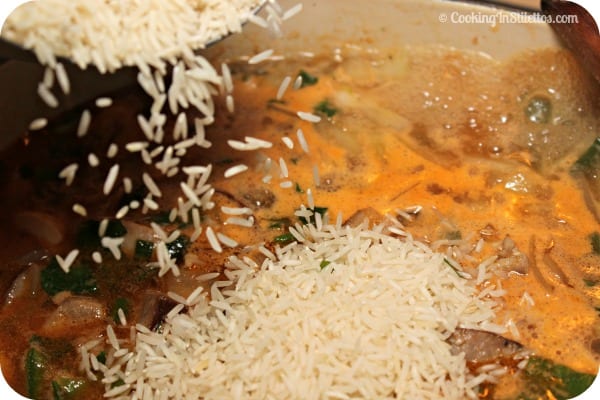 Time for dinner!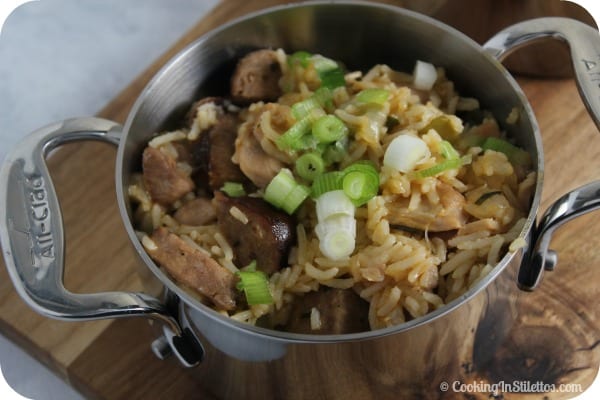 Slightly adapted from Cooking Up A Storm
Yields 4
Chicken and Sausage Jambalaya
This easy Chicken and Sausage Jambalaya is packed with flavor and so easy to make for a weeknight!
20 minPrep Time
40 minCook Time
1 hrTotal Time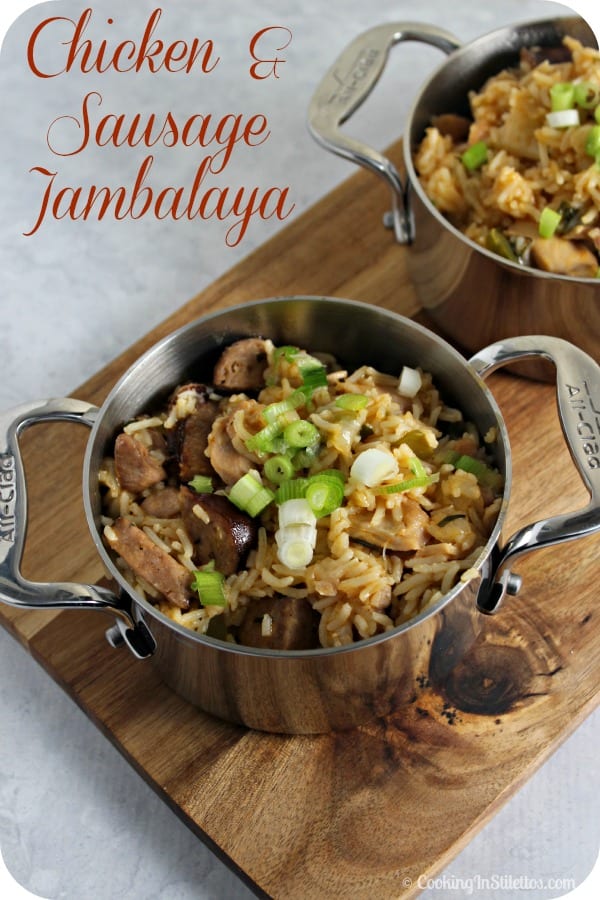 Ingredients
2 teaspoons of vegetable oil
1 pound of boneless skinless chicken thighs, cut into 1" pieces
2 - 3 teaspoons of Creole/Cajun seasoning
1/2 pound of smoked sausage or kielbasa, sliced 1/4" thick
1 large yellow onion, diced
2 medium green peppers, diced
1 tablespoon of tomato paste
3 cups of chicken stock
2 tablespoons of Italian parsley, chopped
2 tablespoons of green onions, chopped (greens only)
1 1/2 cups of long grain white rice
1 teaspoon of green onions, chopped (whites) for garnish
Salt and Freshly cracked black pepper
Instructions
Over medium heat, heat the oil in a large dutch oven.
Add the chicken to the pot and allow to brown for a few minutes.
Season with a bit of salt and pepper.
Add the Creole/Cajun seasoning and allow to bloom in the oil for a moment as it coats the chicken.
Cook for about 5 minutes or so and add the sausage.
Cook for a couple minutes more before adding the onions and peppers.
Saute for a few minutes, until the vegetables are soft - about 6 minutes.
Add the tomato paste and stir so that it mixes throughout.
Add the chicken stock, parsley and greens of the green onions and stir.
Bring to a boil and let boil for a couple minutes.
Pour in the rice, stir and cover the pot.
Reduce the heat to a simmer (medium-low). Cook until the rice has absorbed most of the water and is tender - about 20 - 25 minutes.
Fluff with a fork and serve, garnishing with a bit of the whites from the green onions.
Enjoy!
7.8.1.2
264
https://cookinginstilettos.com/chicken-and-sausage-jambalaya/
Want to see what the other members of Pass the Cookbook Club whipped up? Check out their dishes below!