When some of my fave bloggers suggested that a celebration for National Cheesecake Day was in order, I knew I had to join in on the celebration.
My first cheesecake memory is the Blueberry Cheesecake at Sage Allen in Westfarms Mall in Connecticut. Sage Allen was essentially the Macy's of the day and they had this swanky restaurant that was lined with old movie star B&W portraits and had a chic feel (at least it appeared so to my 8 year old self). I remember ordering the blueberry cheesecake and that's where my love affair with cheesecake began.
Over the years – I've had my share of good and bad cheesecakes and, to date, blueberry is one of my absolute favorites (besides my buddy Bec's to. die. for. Pumpkin Cheesecake but I digress). When deciding what recipe to share for National Cheesecake Day, I knew it would have to be these divine Lemon Blueberry Cheesecake Bars – full of citrus & vanilla flavors studded with fresh Jersey blueberries and an almond cookie crust.  Tyler Florence had a fantastic cheesecake bar recipe that I played with and the result was a winner!
This recipe couldn't be easier to make – pulse some almond biscotti-esque cookies and bake into a rich crust while you whip up a luscious cream cheese vanilla cheesecake filling flavored with lots of lemon juice and lemon zest. Pour over some blueberries, stud with a bit more, a sauna in the oven followed by a bit of a chill and *viola* you will have Lemon Blueberry Cheesecake Bars that will be a new dessert favorite.  They are very rich in flavor so I opted for a bit of a smaller bar and it was the perfect nibble.  These would even be perfect in mini-bite size form.
On to the recipe:
Gather your ingredients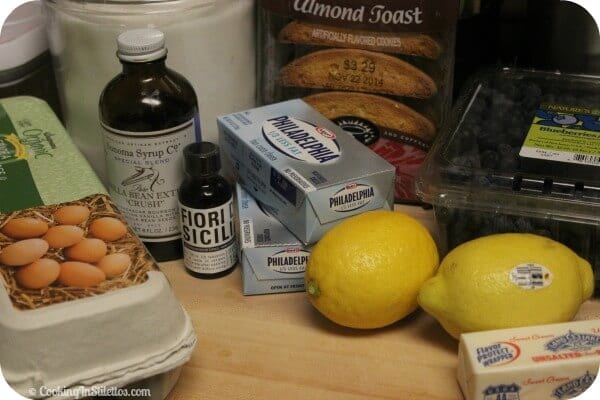 Two of my favorite extracts – Vanilla Bean "Crush" and Fiori di Sicilia – perfect for citrus pairings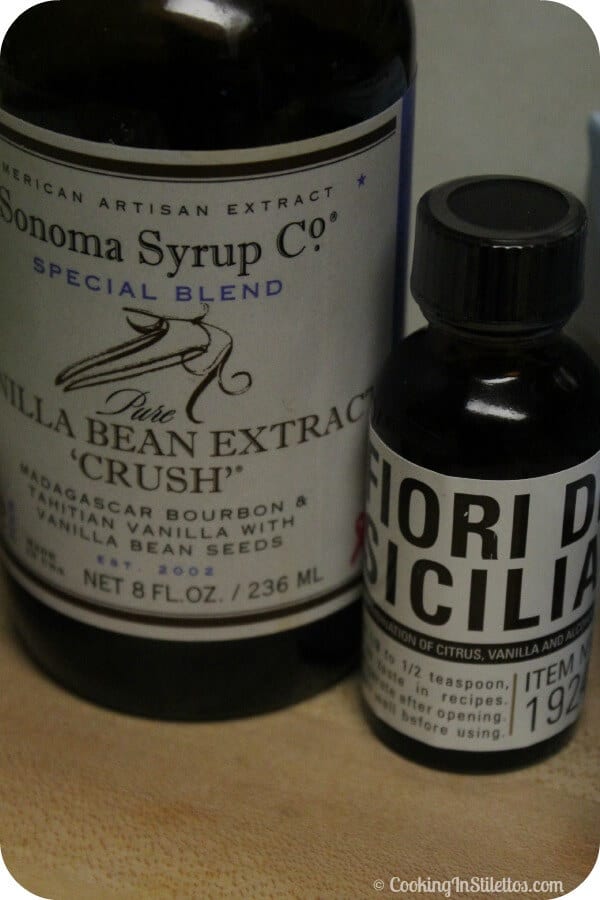 Time to pulse the almond toast biscotti-esque cookies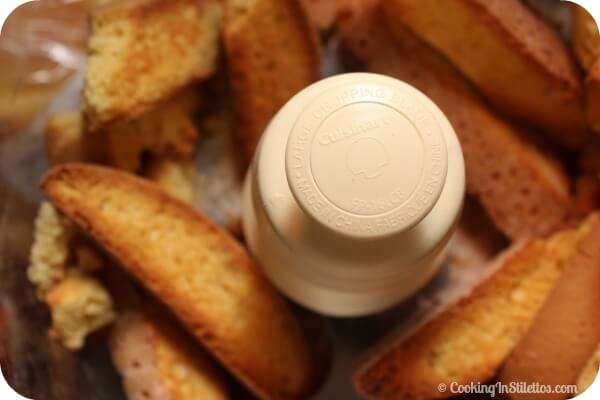 Followed by whipping the batter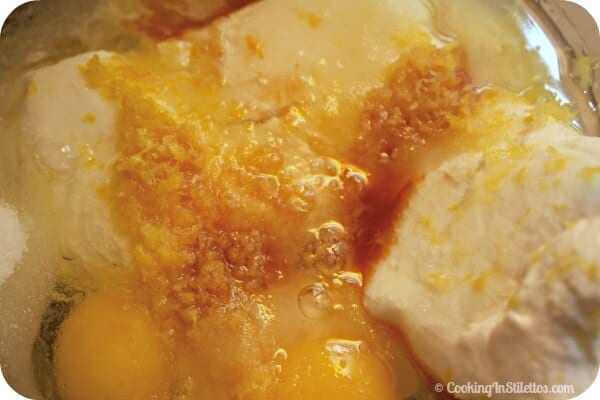 Pouring over the blueberries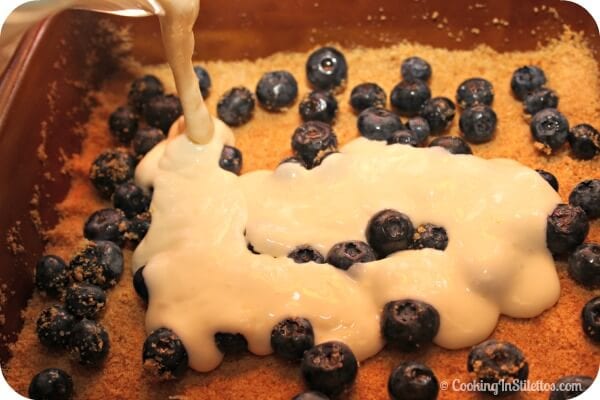 Jiggly out of the oven and ready to cool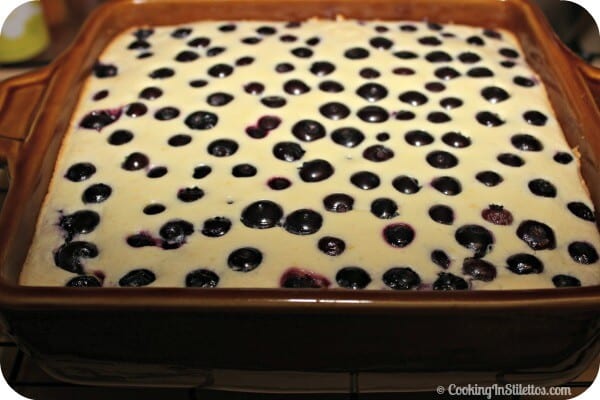 Now – I dare you to have just one bar – g'head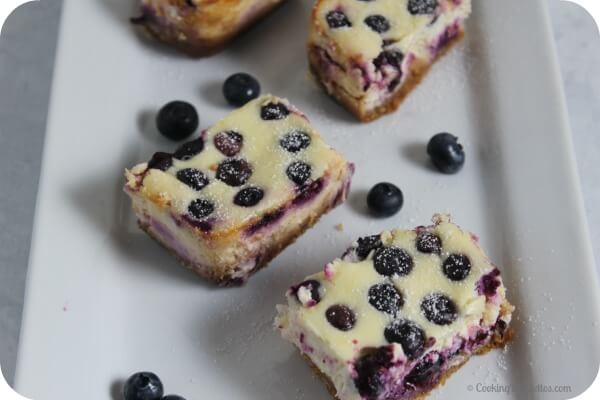 Adapted from Tyler Florence
Yields 12
Lemon Blueberry Cheesecake Bars
These Lemon Blueberry Cheesecake Bars are creamy, rich and delicious. Packed with fresh ripe blueberries and accented with a touch of lemon, vanilla and almond, these Lemon Blueberry Cheesecake Bars will be a favorite sweet treat!
1 hrPrep Time
1 hrCook Time
2 hrTotal Time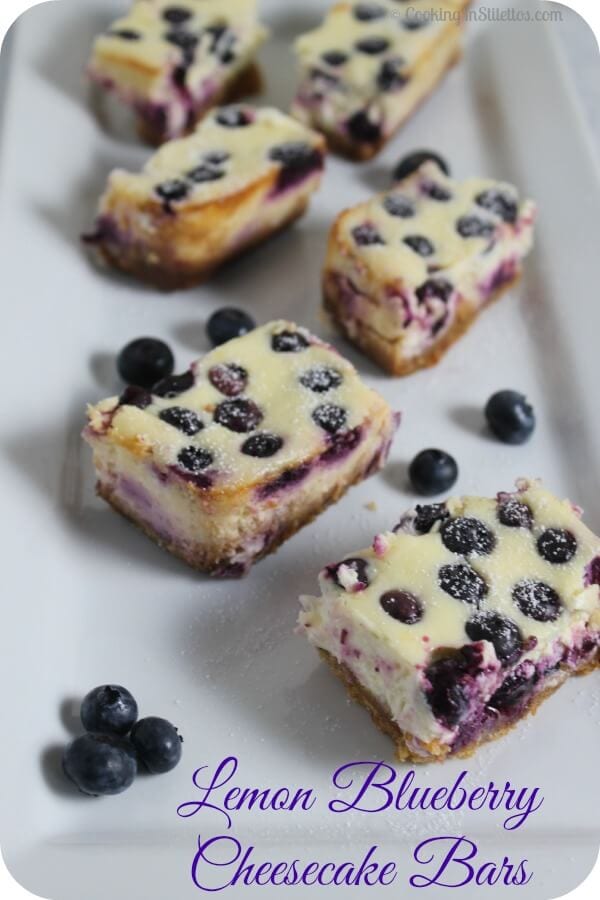 Ingredients
For the Crust:

10 - 12 Almond Toast Biscotti type cookies
2 tablespoons of sugar
4 tablespoons of melted butter

For the Cheesecake Filling:

2 8 ounce packages of low-fat cream cheese, room temperature
2 large eggs
1/2 cup of sugar
Zest and juice of 2 large lemons
1 1/2 teaspoons of vanilla extract
1/4 teaspoon of Fiori de Sicilia (optional)
1/8 teaspoon of kosher salt
1 3/4 cup of fresh blueberries, divided
Powdered Sugar for garnish
Instructions
To make the crust:

Preheat the oven to 325 degrees F.
Butter and/or spray an 8x8 pan well. If desired, line the baking pan with foil or parchment paper. Set aside.
In a food processor, pulse together the cookies and the sugar until it is a finely ground.
While the food processor was running, slowly pour in the melted butter.
Press the crumb mixture into the bottom of the pan and bake for about 12 - 15 minutes.
Let cool.

To make the filling:

In the bowl of an electric mixer, beat together the cream cheese, eggs, sugar, lemon zest, lemon juice, vanilla extra, fiori de sicilia extract (if using) and salt on medium high speed until everything is fully combined and smooth.
Into the cooled crust, scatter 1/2 cup of blueberries and pour the cheesecake mixture over it.
Add the remaining blueberries to the top so that they sink somewhat but are still visible.
Bake for 35 -45 minutes, until the cheesecake doesn't jiggle except for a slight jiggle in the center of the pan.
Remove to a cooling rack and let cool for 45 minutes.
Chill in a fridge for about 4 hours.
Remove from pan and cut into bars.
Dust lightly with powdered sugar.
Enjoy!
7.8.1.2
233
https://cookinginstilettos.com/lemon-blueberry-cheesecake-bars/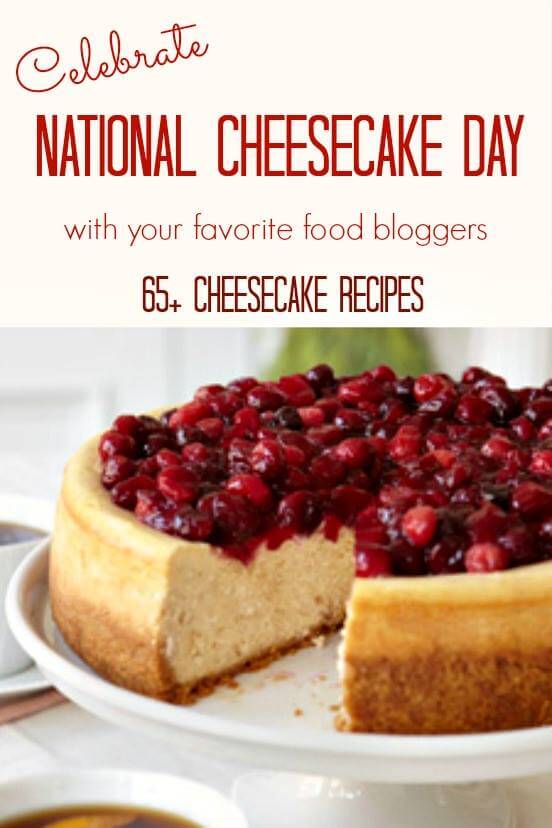 Here are some other fantastic cheeesecake recipes from some absolutely amazing bloggers:
Baked Cheesecakes
No Bake Cheesecakes:
Cheesecake Beverages:
Cheesecake Cookies and Bars:
Chocolate Peanut Butter Cheesecake Bars from Chez CateyLou
Cheesecake Desserts and Treats:
Triple Brigadeiro Cheesecake Tart from From Brazil To You
Frozen Cheesecakes and Treats: