Huli Huli Chicken is one of my favorite Hawaiian recipes. Tender chicken is marinated in a homemade huli huli sauce and then grilled to perfection for a delicious chicken dinner that only needs a scoop of rice and mac salad to go with.
Disclosure: OXO provided the above referenced grill tools for me to play with. Opinions are 100% my own – and you know I would never recommend something I didn't love. There are also affiliate links contained within this post.
What a grill wants
What a grill needs
Whatever makes me happy sets you free
And I'm thanking you for knowing exactly
What a grill wants…
C'mon – you know you were singing right along with me to that 90s track, right?
Whenever I think of the perfect grilled chicken – it's marinated, basted, tender and juicy -full of fresh flavors with a bit of heat and that, my friends, is what I'm here to share with you today. It's what my grill wanted and needed to welcome itself to its new home – my balcony.
My apartment complex has a strict no gas grill, no charcoal grill policy so, it's either an electric grill outdoors or or I'm stove-top grilling it on a gas stove.  I had one of those outdoor Foreman type grills that worked well for a few years but as I really started to get into grilling, I knew I had to upgrade to something that would put a bit of char on.  After doing some research and "grilling" of friends (ha!) I found a lovely Char-Broil electric grill that "made me happy" so I set the Foreman grill free.  (I know – I'll cut it with the song references)
Anywhoo – long and short of it is that about the time I was in grill research mode, OXO wanted to gather some bloggers together to spotlight #WhatAGrillWants.  They sent us a lovely box full of their top-notch grilling tools knowing that when you grill with great tools, you get a great end result.
Look at what they surprised us with: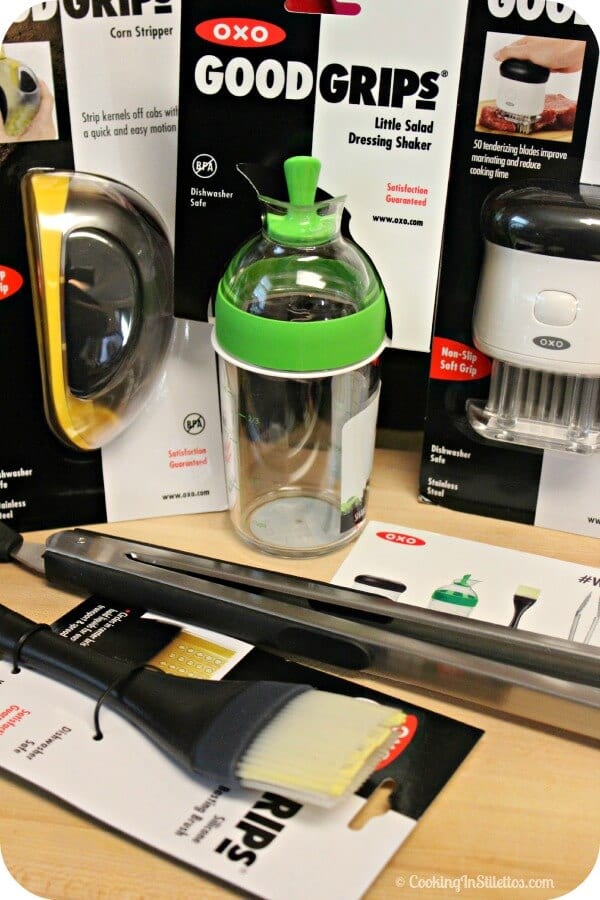 16″ Grilling Tongs, Silicone Basting Brush, Corn Stripper, Marinade/Dressing Shaker and a coveted Meat Tenderizer
Seriously – these tools are amazing – the brush – I can see me using it for grilling and baking uses – it holds the sauce so it doesn't get super drippy and cleans up beautifully.  The tongs are big girl tongs – no burning myself when I'm charring peppers on the stovetop over the gas burners or trying to get the meat off of the back of the grill.  I LOVE the corn stripper – no muss, no fuss.  The Marinade/Dressing shaker has this great flip pour spout so you can mix and then pour – sooo handy when I'm trying to pour a marinade in a plastic bag for chill duty.  Finally – the meat tenderizer – this bad boy is a MUST – a few pokes with the tenderizer's sharp edges and the marinade sinks in deeper, the meat gets tender and it actually helps cut down a bit on the marinade time.  These are tools that will have you grilling like a rockstar!
When I decided to break in my grill with the new OXO grill tools, I decided to make one of my favorites – Huli Huli Chicken.  Huli Huli Chicken has some teriyaki-esque flavors but what it really reminded me of is my friends' mom's chicken that I still can't seem to get the recipe for.  It's got soy, brown sugar, a bit of ketchup, some ginger, some garlic and a bit of cayenne for heat.  A bit of banging with the tenderizer cuts down on the marinade time and, once the chicken has soaked in the delicious flavor, it's off to a grill.  A bit of a sear, some basting with sauce, over, and over again forms this sweetly salty crust that covers a juicy chicken.  You might want to make a double batch for salad or sandwiches the next day.
This Huli Huli Chicken recipe is what any grill would want – and it's what you need to make this weekend!
On to the recipe:
Gather your ingredients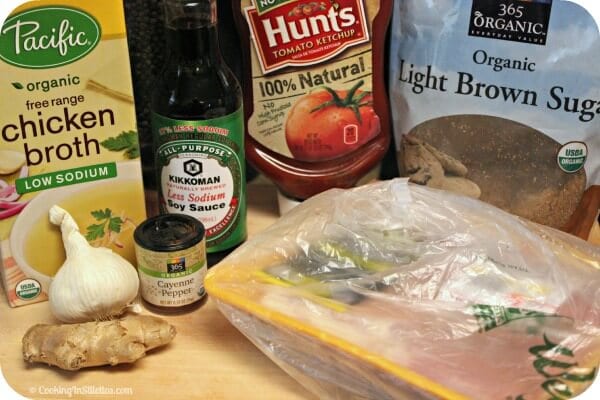 Let's brush with a bit of the marinade [My deck lighting is horrid – I need to follow my neighbor's cue and decorate a bit]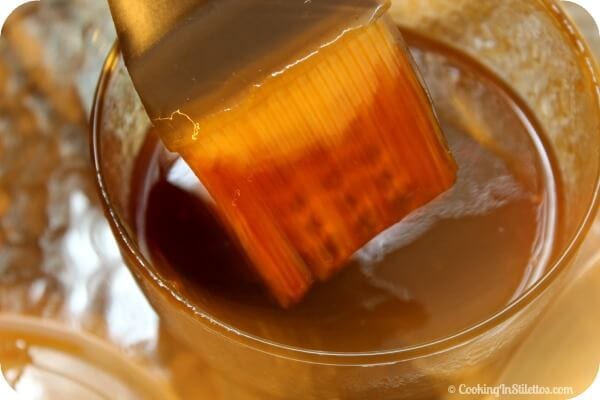 Look at that grilled loveliness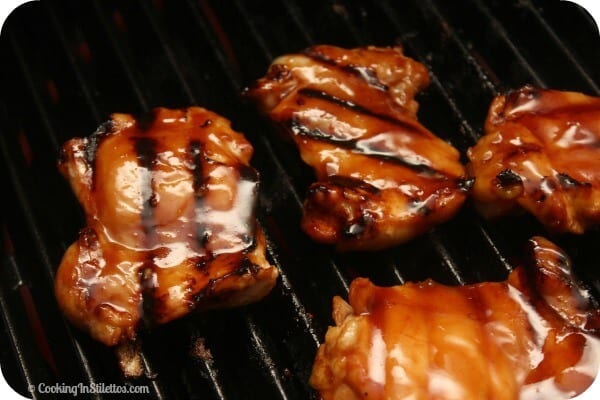 Served with a bit of mac salad and you have a seriously delicious meal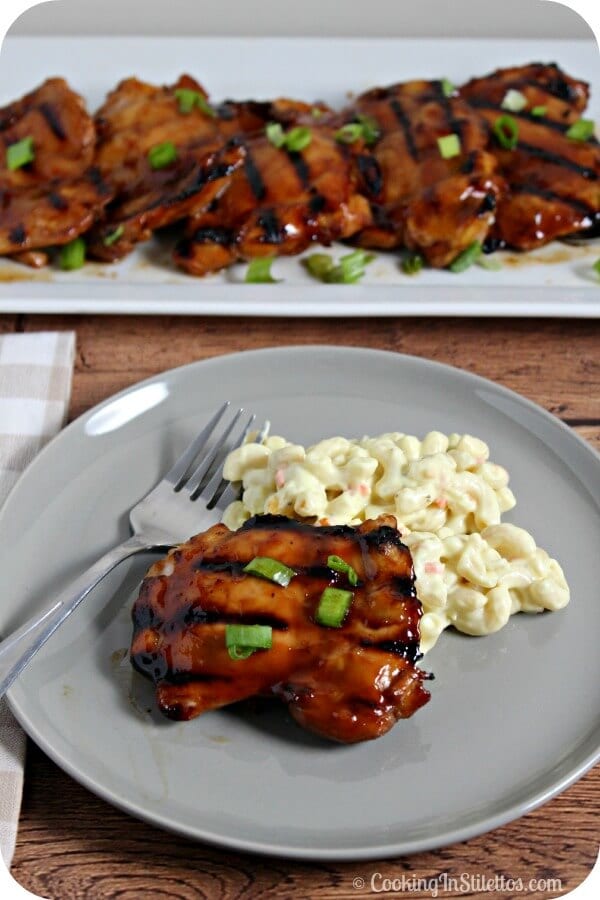 Now – who's grilling with me?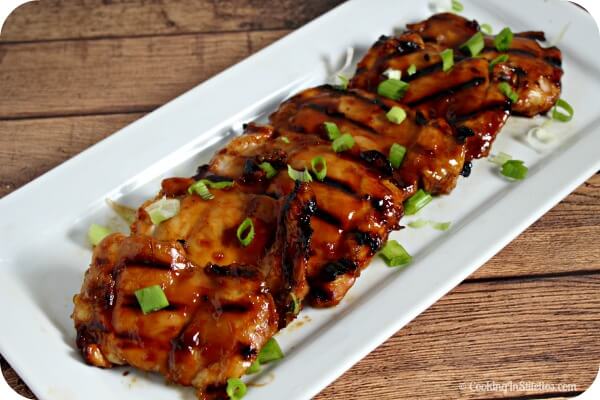 Recipe adapted from Taste of Home
Yields 4-6
Huli Huli Chicken
This Huli Huli Chicken is one of my favorite Polynesian dishes - similar to teriyaki chicken and all the charbroiled flavor of the grill. One bite will have you thinking of taking a trip to the Big Island.
5 hrPrep Time
20 minCook Time
5 hr, 20 Total Time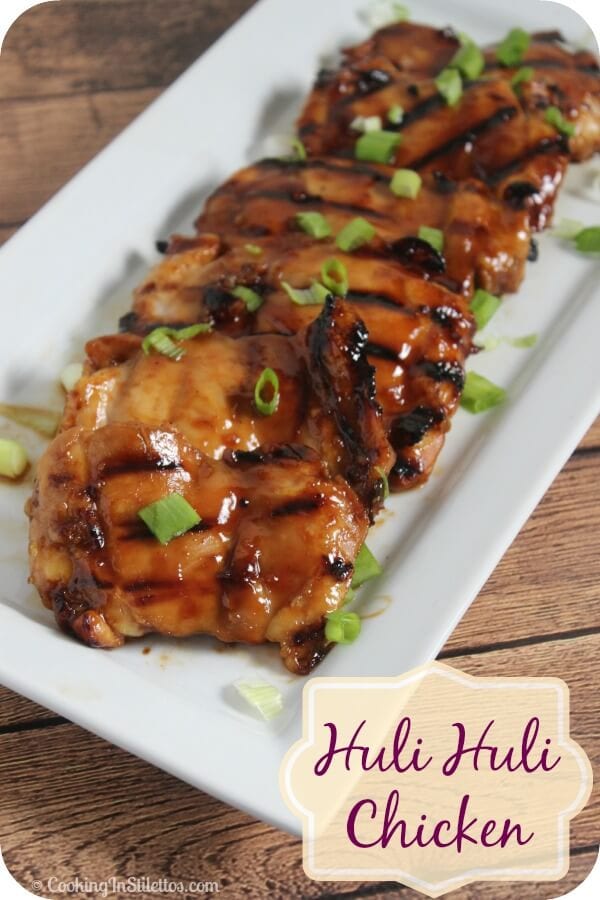 Ingredients
For the Marinade/Sauce:

1 cup of soy sauce
1 cup of ketchup
1 cup of brown sugar
1/2 cup of chicken broth
2 1/2 teaspoons of freshly minced ginger
2 - 3 cloves of garlic, minced or grated
1/4 teaspoon of cayenne pepper (or a bit less or more - depending on how you like it)

For the Chicken:

8 - 10 boneless, skinless chicken thighs (about 2 pounds or so)
Canola or olive oil (for the grill)
Sliced green onions for garnish
Instructions
In a large bowl, whisk together the soy sauce, ketchup, brown sugar, chicken broth, ginger, garlic, and cayenne pepper until everything comes together into a a rich deep amber sauce.
Reserve 1 1/2 - 2 cups of sauce for basting the chicken in a separate container and put it in the fridge.
I lightly tenderized the chicken thighs but if you don't have a tenderizer, don't sweat it. It does help the meat get more juicy tho.
Add the chicken thighs to a large plastic bag and pour over the remaining Huli Huli marinade. Seal the bag.
Squish the bag, making sure that all the chicken is covered with the sauce.
Put in the fridge and let marinate for at least 4 hours or overnight.
When you are getting ready to grill, remove the chicken 30 minutes prior and let come to room temperature.
Lightly oil the grates with a bit of oil on a paper towel, using some long tongs
Preheat the grill to medium - medium high heat.
Remove the chicken from the marinade and place on the grill.
Grill the chicken thighs on one side for about 7 minutes or so until it releases easily.
Flip and baste the chicken with the reserved marinade/sauce.
Let cook for about 6 minutes, flip and baste again - cooking for a couple minutes.
Do one more round of basting/flipping - so that the sauce forms a bit of a crust.
Garnish with the sliced green onions and enjoy!
7.8.1.2
232
https://cookinginstilettos.com/huli-huli-chicken/
Disclosure:  OXO provided the above referenced grill tools for me to play with.  Opinions are 100% my own – and you know I would never recommend something I didn't love.  There are also affiliate links contained within this post.