For a holiday sweet treat, this rich and creamy Chocolate Swirled Peppermint Crunch Semifreddo is the perfect make-ahead dessert
Disclosure: I was sent the OXO products showcased in this post to assist with this recipe. As always, my opinion and adoration for OXO is all my own.
For the holidays, I am a firm believer on making things ahead. So many holiday dishes can be made ahead from my favorite cranberry relish to dessert and today's recipe is one you are going to love. We will be spending the holidays at my family's cottage so a bit of preplanning is a must. This Chocolate Swirled Peppermint Crunch Semifreddo will be the perfect sweet dessert to end the holiday meal reminiscent of a favorite holiday ice cream cake from childhood.
OXO is a brand I trust and use on the regular – both in my kitchen in Philly and at my family cottage in Connecticut.   OXO sent me their Glass 1.6 Qt Loaf Baking Dish and Glass 9″ Pie Plate along with some of their favorite essential pastry tools including their SteeL Pie Server, Double Pastry Wheel and 1″ Pastry Brush with the challenge – whisk up a perfect make-ahead recipe for the holidays that can go from freezer to oven or vice versa.  I accepted the challenge and put these tools to the test.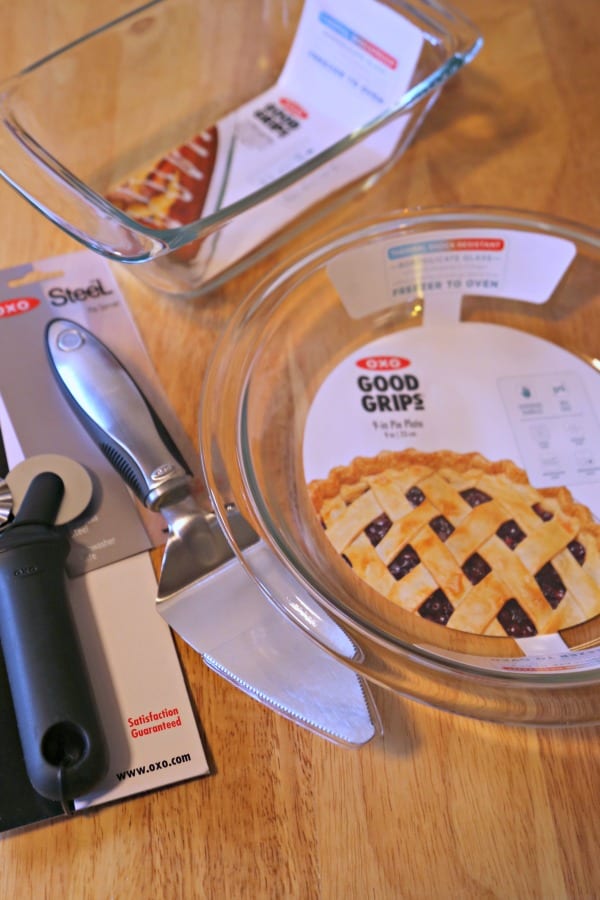 What I love about OXO products is not only that they can go from freezer to oven with no issues, but they also have these wide rims perfect for gripping with the oven mitts.  The tools always are quality and last forever!  The SteeL Pie Server is my favorite and looks so chic on the holiday buffet. Any of these OXO products are perfect to give and receive this holiday season.
When thinking of my perfect make-ahead dessert, I remembered that Giada did a semifreddo recipe that seemed like a chic twist on a classic ice cream cake. Egg yolks are whisked with sugar and cream with a bit of vanilla – what's not to love? I figured I'd play on the classic combo of peppermints and chocolate and went with a chocolate biscotti crust and added a touch of peppermint extract and peppermint candies for crunch.   You only need a hint of peppermint extract as it's a bit strong. Add a bit of chocolate sauce swirled throughout the peppermint custard and your guests will be swooning at every bite.
When I was making the recipe at the cottage, I realized I did not have a glass bowl to whisk the egg yolks in over simmering water as I'm still putting together the kitchen here. No worries – I used the OXO 9″pie plate and it worked perfectly as I knew it could handle the heat followed by a quick ice bath to cool the custard down. Who knew one could MacGyver a double boiler. The hardest part will be waiting for for this semifreddo to firm up so we could enjoy a slice.
This holiday, make this Chocolate Swirled Peppermint Semifreddo – just make sure to save a slice for yourself because I promise that there will be no leftovers!
On to the recipe:
Gather your ingredients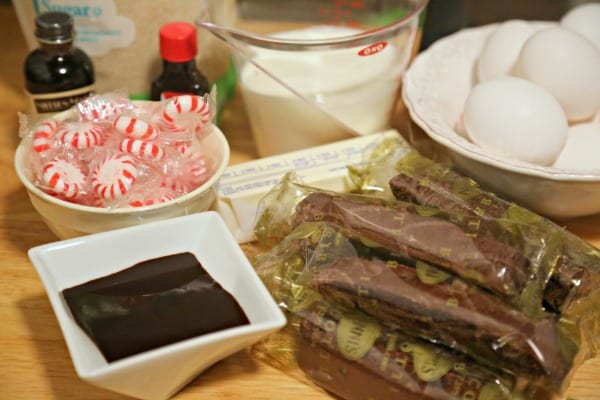 First, let's bake the chocolate biscotti crust in the OXO Loaf Pan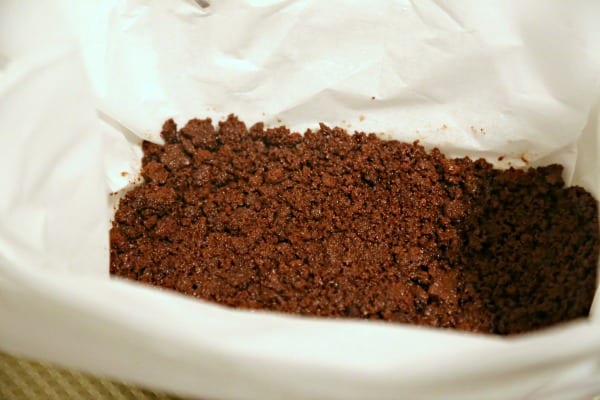 Look at these custard ribbons (and my MacGyver'd Double Boiler using the OXO Pie Plate)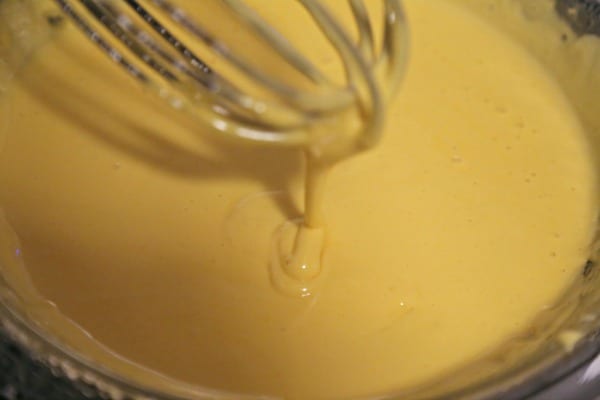 Folding in the peppermint candy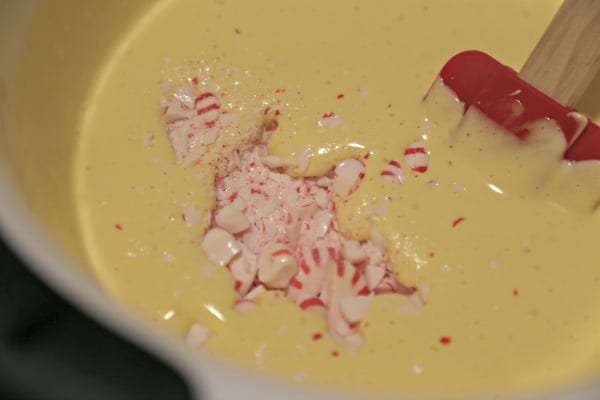 Swirling in the chocolate and some more peppermint crunch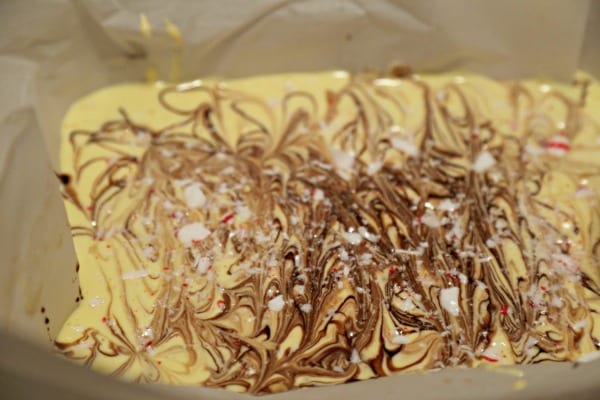 Now – this, my friends, is the perfect holiday make-ahead dessert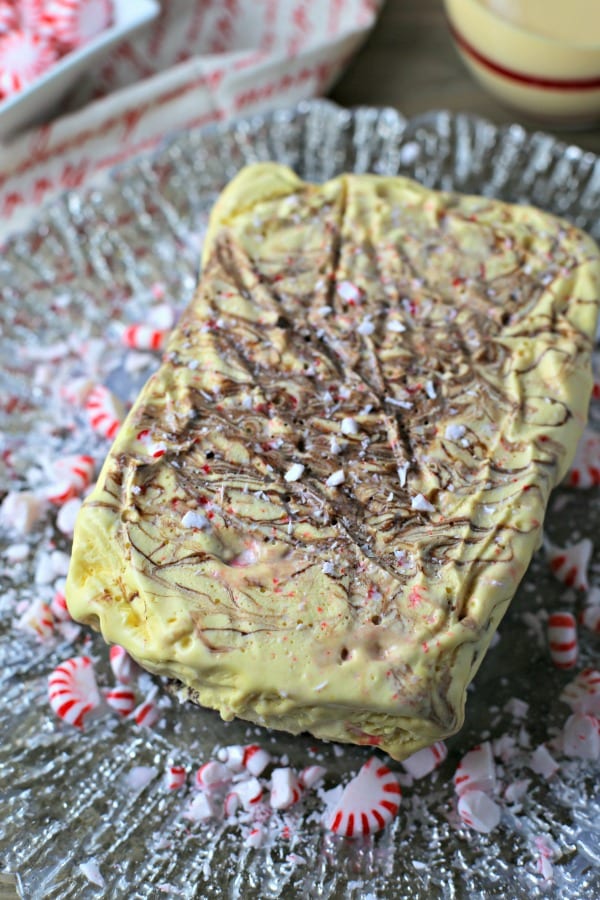 Shall I cut you a slice?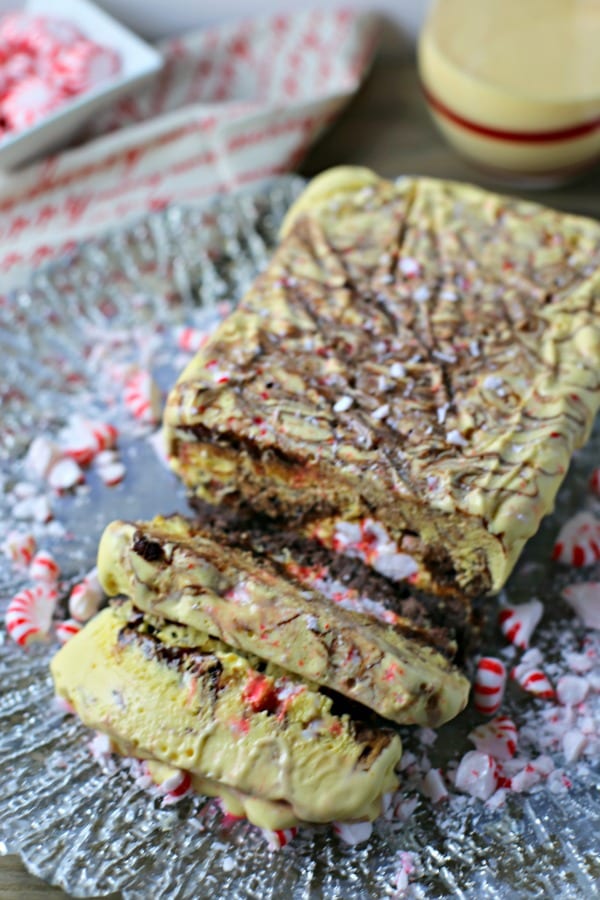 Aly M. Cleary
Yields 10
Chocolate Swirled Peppermint Crunch Semifreddo – A Perfect Make-Ahead Dessert
This rich and creamy Chocolate Swirled Peppermint Crunch Semifreddo is the perfect make-ahead holiday dessert
8 hr, 10 Prep Time
30 minCook Time
8 hr, 40 Total Time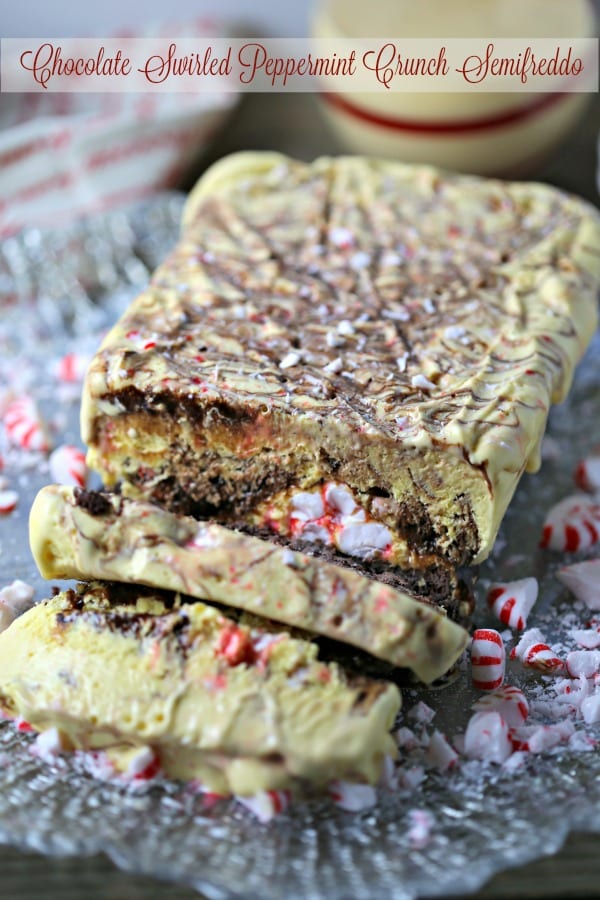 Ingredients
••••••••••••For the Crust:••••••••••••••••••
6 chocolate biscotti, crushed
1/2 stick of unsalted butter, melted
•••••••••••For the Semifreddo filling:••••••••
8 egg yolks
1/2 cup of cane sugar plus 2 tablespoons, divided
1/8 teaspoon of kosher salt
1 teaspoon of vanilla extract
1/3 teaspoon of peppermint extract
1 cup of heavy cream
1/2 cup of chocolate sauce
2/3 cup of crushed peppermint candies
Instructions
To make the crust:
Heat the oven to 350 degrees F.
Line a loaf pan with parchment paper, taking care to have paper overnhanging on all sides for easy removal.
Mix the crushed chocolate biscotti with the melted butter and press into the loaf pan to form a crust.
Bake for 10 minutes or so.
Let cool on a wire rack for 30 minutes while you make the filling.
To make the filling:
Prepare an ice bath and set aside.
In a glass heatproof bowl (or as I used my OXO glass pie plate), whisk the egg yolks with 1/2 cup of cane sugar and salt until the sugar and salt are dissolved.
Add the vanilla and peppermint extracts and whisk the egg yolk mixture in the glass bowl over a pan of simmering water, making sure to not have the bottom of the pan touching the water.
Whisk until the mixture doubles in size and has thickened significantly. When the temperature hits 160 degrees F., remove from the heat and place the bowl into an ice bath to cool.
In a large mixing bowl, using an electric hand mixer, whisk the heavy cream and 2 tablespoons of cane sugar into soft peaks.
Fold the peppermint custard into the whipped cream mixture.
Fold in the peppermint candies and pour the custard mixture onto the cooled chocolate crust.
Drizzle the chocolate sauce over the top of the semifreddo and, using a toothpick, swirl the chocolate throughout the mixture.
Lightly cover the top of the semifreddo with cling film and freeze for at least 8 hours or overnight.
Unmold onto a serving platter, garnish with some more crushed peppermint candies and serve.
Enjoy!
7.8.1.2
29
https://cookinginstilettos.com/chocolate-swirled-peppermint-crunch-semifreddo-recipe/