I have a confession – my wallet has me on a timeout.  Earlier in the month, I visited the windy city of Chicago for BlogHerFood.  In true conference fashion, there was much laughter, great food (like – Frontera Grill and their baja queso fundido, Giordano's Chicago pizza, and Al's Italian beef), and, of course, a bit of shopping.  I think my gal Kim was ready to slap me with my sassy red stiletto boots after my wallet did a little damage on the Magnificent Mile.  Needless to say, I came home with some cute finds and a slight case of buyer's remorse which only increased when a couple extra boxes from my shopping jaunt arrived at the house shortly thereafter.
When it came time to plot out my Thanksgiving menu this week, I went to the pantry and realized I had never stocked up on my favorite Apple Orange Cranberry Relish from a certain store that I tend to spend a good portion of my stiletto fund at.  Yes, I know, I have made cranberry sauce before, like my Spiced Cranberry Cherry Chutney, but there was something about the flavors of this one that I wanted to go with my menu.  My wallet apparently had enough and staged a protest, essentially saying  "For the love of all things culinary, MAKE. IT. YOURSELF!"
This past year, I have played with the recipe for my version, inspired by this cranberry relish, sans the boiling of orange rind and over-complicating the wheel because I have the patience of a gnat.  I also am not a fan of things that are too sweet. Well, success was achieved and, after this final round of testing, I have to say that I won't be stocking up on those $12 jars anymore.  Instead, I'll be stocking up on cranberries for the freezer because this cranberry sauce slathered on a turkey sandwich is absolute heaven.
Tart granny smith apple, sweet oranges, lots of cranberries and a hint of spice make for the ultimate Homemade Cranberry Sauce with Orange and Apple.  Even better is that this sauce can be made ahead – less for you to worry about on the holiday.  Just a few ingredients, a hint of sweetness and spice and voila – cranberry sauce done – no jarred/canned sauce needed.
Make a batch of this delicious Homemade Cranberry Sauce with Orange And Apple this holiday season and when one of your guests ask where you bought it (because there always has to be that *one* guest), look at them with that look that will make them rethink their comment and say "Oh no – I just whipped this up."
On to the recipe:
Gather your ingredients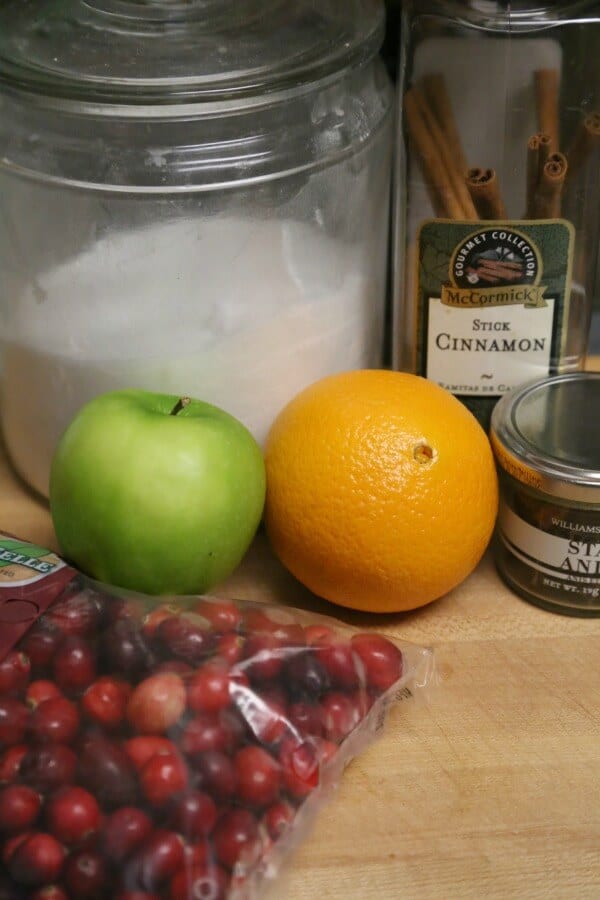 Look at all of that gorgeous fruit!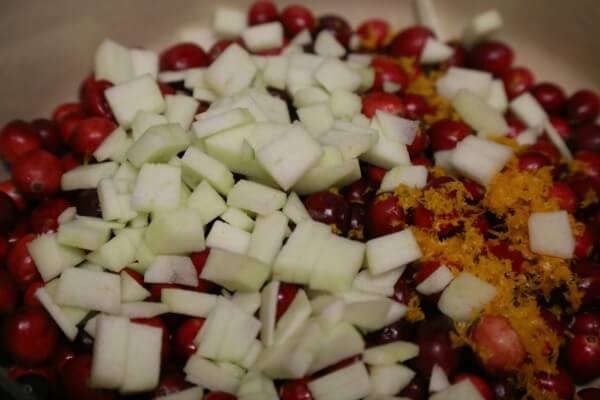 Just a hint of spice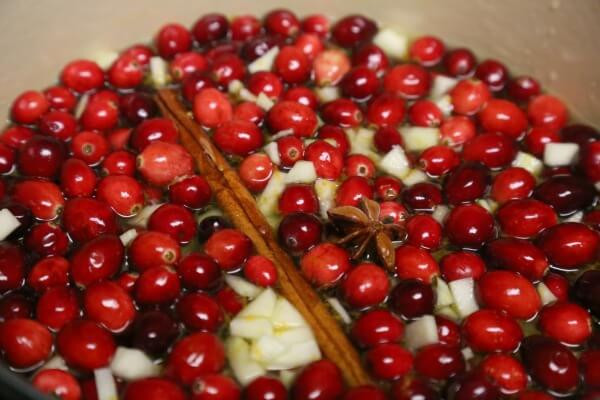 Bring it all to a bubble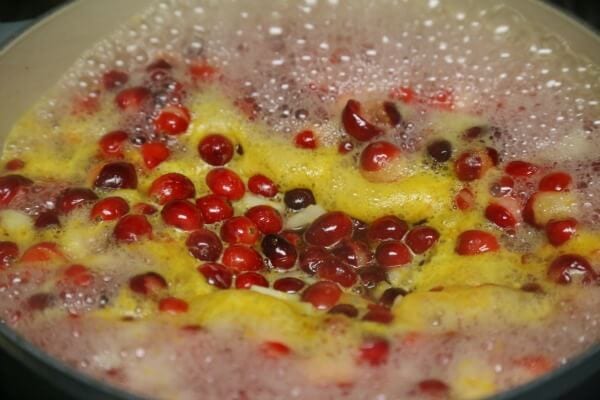 Best ever cranberry sauce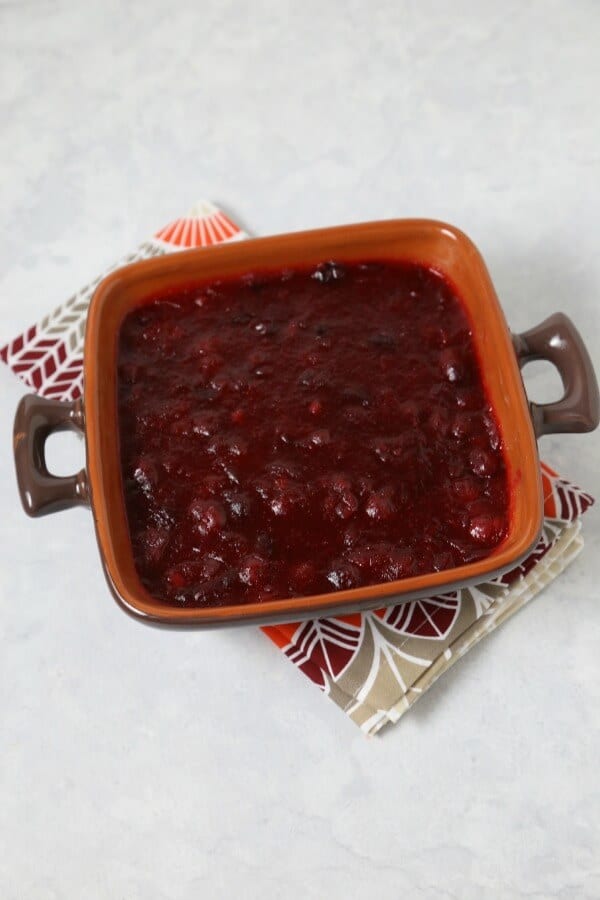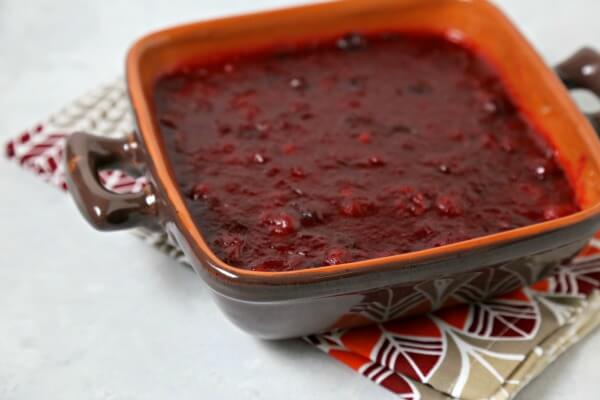 Inspired by Williams-Sonom
Yields 4
Homemade Cranberry Sauce with Orange and Apple
This Homemade Cranberry Sauce with Orange and Apple couldn't be easier to whip up and perfect for serving all year long. Just a few ingredients and a ton of flavor!
5 minPrep Time
25 minCook Time
30 minTotal Time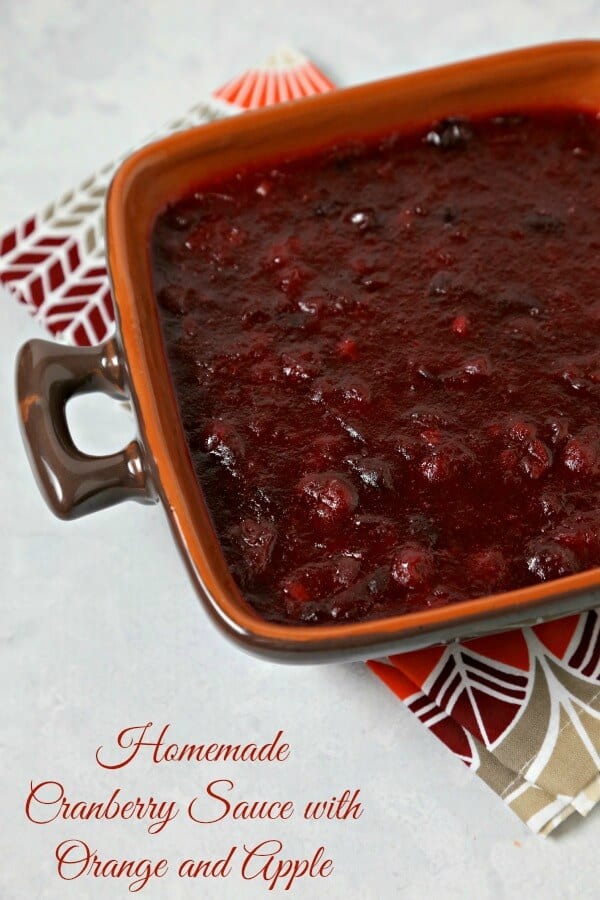 Ingredients
1 12-ounce bag of fresh or frozen cranberries, rinsed
Zest and juice of 1large orange
1 tart granny smith apple, peeled, cored and diced
1 cup of sugar
1 large cinnamon stick or two small cinnamon sticks
1 star anise
Instructions
In a heavy bottomed dutch oven or saucepan, add the cranberries, orange zest, orange juice, and diced apple.
Follow that with the granulated sugar. Stir to combine
Add the cinnamon sticks and star anise and bring to a boil over medium high heat, stirring occasionally.
Reduce the heat to a simmer and partially cover the pan, simmering for about 15 minutes, until the cranberries have burst and the sauce has thickened.
Transfer to a bowl and let cool.
Enjoy!
7.8.1.2
115
https://cookinginstilettos.com/homemade-cranberry-sauce-with-orange-and-apple/