Mocha Muffins are a delicious way to start the day.  Dark chocolate and strong coffee are baked into the perfect grab and go breakfast bite and fabulous to enjoy with your favorite cup of java!
This post has been sponsored by Single Edition Media for KitchenAid.
Coffee and I have been BFFs ever since I can remember.  Whether it was stealing sips of coffee from my dad's steaming mug of coffee or my mother's tall glass of iced java, I knew from early on that coffee was my thing.  My adoration of coffee goes beyond the mug as well as I often love incorporating it into recipes.  Whether it is sweet and using coffee to add a bit of kick to a chocolate recipe or taking it on a savory route with perhaps a coffee rub on a fabulous burger, coffee is versatile.
Can I make coffee?  I have to say that the jury might agree that I am much better than when I first started on my culinary journey.  I no longer make cop coffee thanks to SL teaching me how to brew the perfect cup.  I have had a single cup brewer for the longest and finally decided the time has come to upgrade to a quality coffee brewer.  As I trust their products, I knew I had to look at KitchenAid's line of craft coffee brewers.  What I love about KitchenAid is their appliances are made to last.  Trust me when I say I am tough on my kitchen tools so I wanted a coffee maker that can take some heavy use but still would look gorgeous in the kitchen.
I have been obsessing over this gorgeous KitchenAid Pour Over Coffee Brewer since I first laid eyes on it while doing some holiday shopping.  I love that I can use my favorite coffee beans – whether it's a rich Kona coffee or perhaps some of my favorite coffees from the Italian Market.  This coffee brewer is gorgeous, comes in a variety of shades (I'm a silver gal but the red version is equally stunning) and instead of the standard drip brewer, this brewer heats the water to the perfect temperature, steeps the coffee and brews the perfect cup.  How easy is that?As there are some fabulous sales going on, this Pour Over Coffee Brewer might be headed home with me this week!  Like all KitchenAid products, this lovely is built to last and would look lovely in the kitchen, don't you think?
All of this coffee thinking had me inspired to go into the kitchen to whip up something that would be perfect with a cup of coffee and after playing with a few recipes, I finally stumbled upon a delicious breakfast idea – Mocha Muffins.  We're talking strong coffee, rich chocolate, a hint of vanilla and a sprinkling of sugar all whipped up into a luscious muffin.  It's like your favorite cup of coffee in muffin form.  What's not to love?
These muffins couldn't be easier to make.  You can use your favorite strong coffee or even a little espresso in the batter.  I find that it adds a deeper flavor than just instant coffee granules.  Also – to finish these lovelies, a sprinkling of  turbinado sugar over the top adds a crunchy sweet finish to these muffins.
Grab one of these Mocha Muffins along with with a cup of coffee brewed to perfection thanks to KitchenAid's craft coffee makers and you have the perfect breakfast bite!
On to the recipe:
Gather your ingredients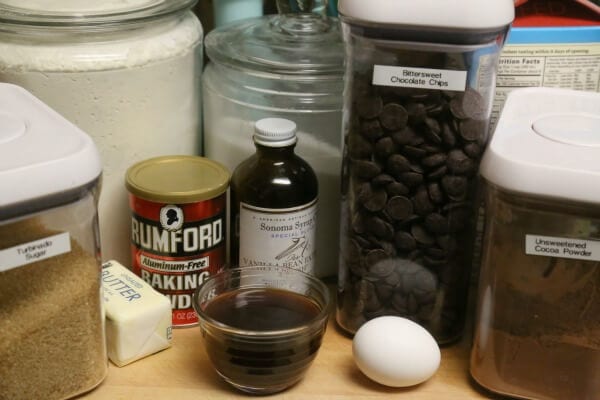 The most important ingredient – the coffee!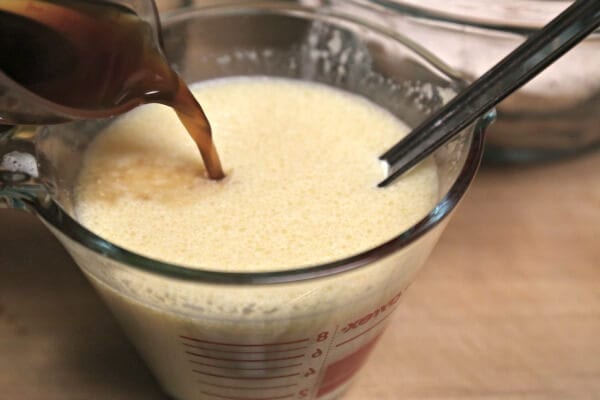 And, of course, the other vital ingredient – chocolate!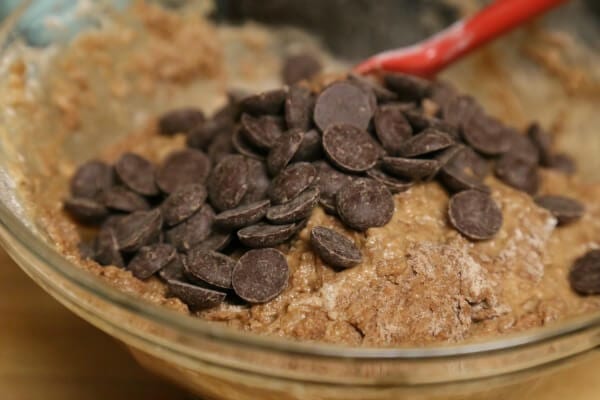 Dusted with a sprinkling of turbinado sugar & ready to bake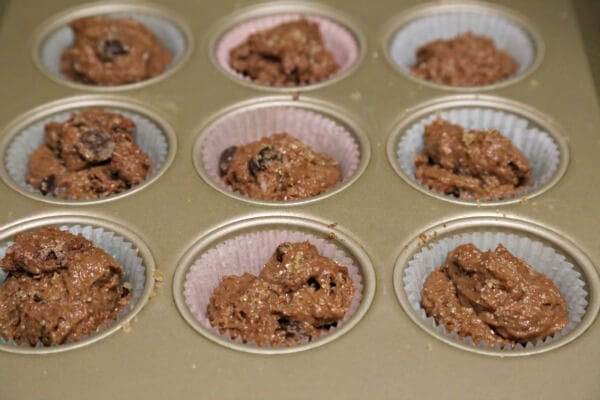 Now – don't these look delicious?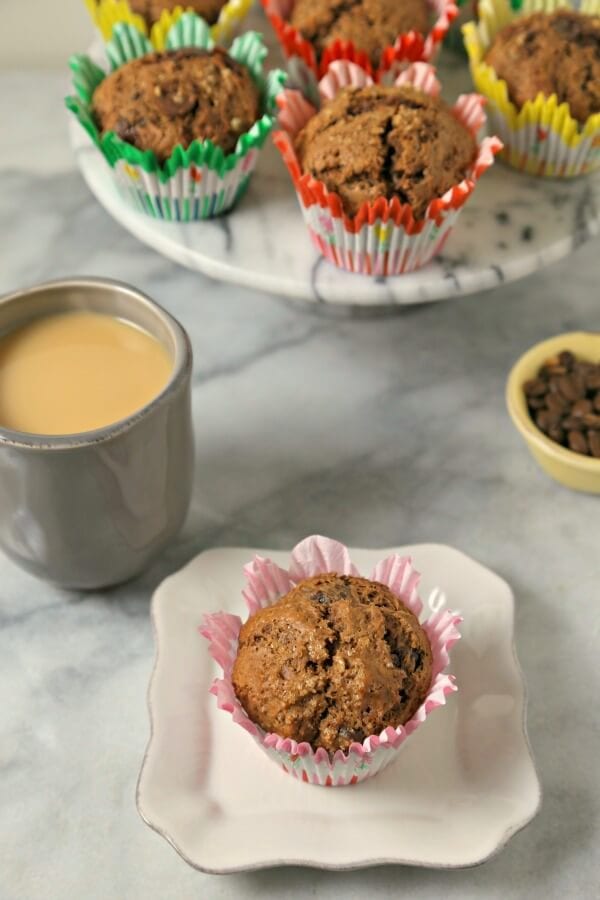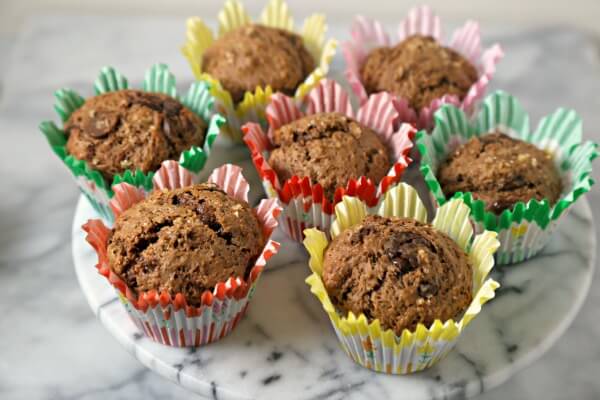 Adapted from Cooking Light
Yields 12

Mocha Muffins

These Mocha Muffins are like your favorite cup of coffee in muffin form. Rich dark chocolate and strong coffee meld with vanilla, sugar and cocoa for the perfect fluffy muffin that needs to be on your breakfast table!

10 minPrep Time

17 minCook Time

27 minTotal Time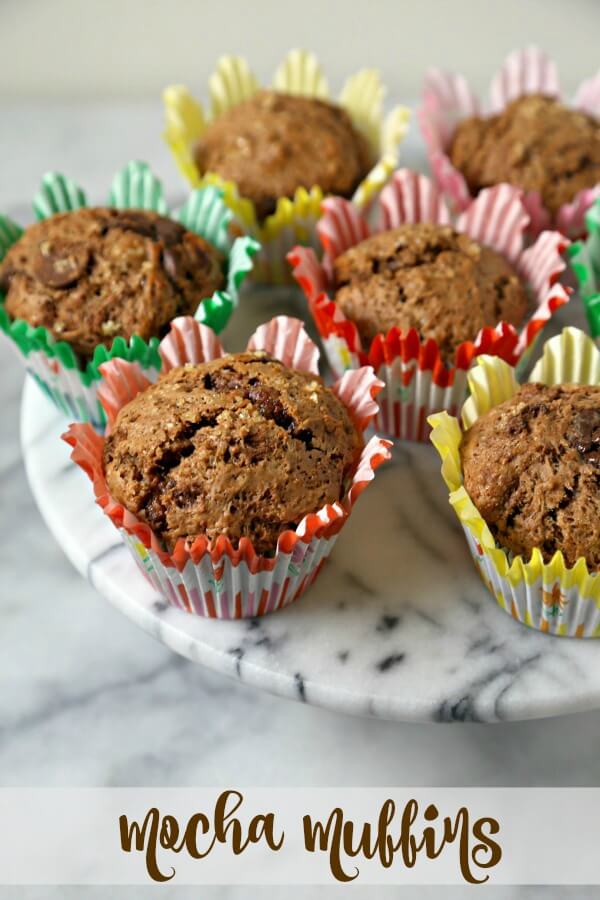 Ingredients
3/4 cup of milk
5 tablespoons of butter, melted and cooled
3 tablespoons of brewed strong coffee (or espresso), cooled
2 teaspoons of pure vanilla extract
1 egg, beaten
2 cups of flour
1/4 cup of unsweetened cocoa powder
2/3 cup of sugar
2 teaspoons of baking powder
1/4 teaspoon of salt
3/4 cup of bittersweet chocolate chips
3 tablespoons of turbinado sugar
Instructions
Heat the oven to 400 degrees F.
Line a 12-cup muffin tin with paper liners and lightly spray with nonstick baking spray.
In a small bowl, whisk together the milk, butter, coffee, vanilla extract and egg until everything is combined.
In a large bowl, sift together the flour, cocoa, sugar, baking powder and salt.
Make a well in the center and pour in the wet ingredients.
Fold everything together taking care to not overmix the batter.
Fold in the bittersweet chocolate chips.
Using a large scoop, scoop the batter into the lined muffin cups and sprinkle each muffin with a bit of the turbinado sugar.
Bake for 14 - 17 minutes, until a toothpick inserted in the center comes out clean.
Cool in the pan for 5 minutes and then remove to a wire rack and col completely.
Enjoy!
7.8.1.2

112

https://cookinginstilettos.com/mocha-muffins/

For more information on KitchenAid, their line of Craft Coffee Brewers, product discounts and more, check out their website and follow them on Facebook, Twitter, Pinterest and Instagram.