This Easy Three Cheese Lasagna Soup is packed with lasagna flavor and ready in about 30 minutes – perfect for a quick weeknight dinner!
This post has been sponsored by New World Pasta Company, makers of San Giorgio® Pasta.  My opinion and love for the brand and this initiative is my own.  This post may contain affiliate links to products I trust and adore in my kitchen.  Thank you for supporting Cooking In Stilettos.
The holiday season is here with everyone hustling and bustling, trying to get everything ready for holiday celebrations. However, there are those that will not be having much of a holiday. I saw on the news that the local food banks here in Philly need help as their shelves are getting bare, not only for the holidays but also to stock up for the cold winter months ahead.  It is a dire situation.
San Giorgio® Pasta has a fantastic initiative that will help many in need this season – #PastaForGood.  Through Pasta for Good, New World Pasta Company, the maker of San Giorgio® Pasta, will be donating 25,000 boxes of pasta to non-profit organizations that are serving those in need throughout Pennsylvania, Maryland and Washington, D.C.  5,000 boxes of pasta are going to be donated to each food bank they are helping including one of my favorites, Philabundance here in Philadelphia.  Besides Philabundance, this initiative is also helping Maryland Food Bank  in Baltimore, Central Pennsylvania Food Bank  in Harrisburg, Greater Pittsburgh Community Food Bank and Capital Area Food Bank  in Washington, D.C.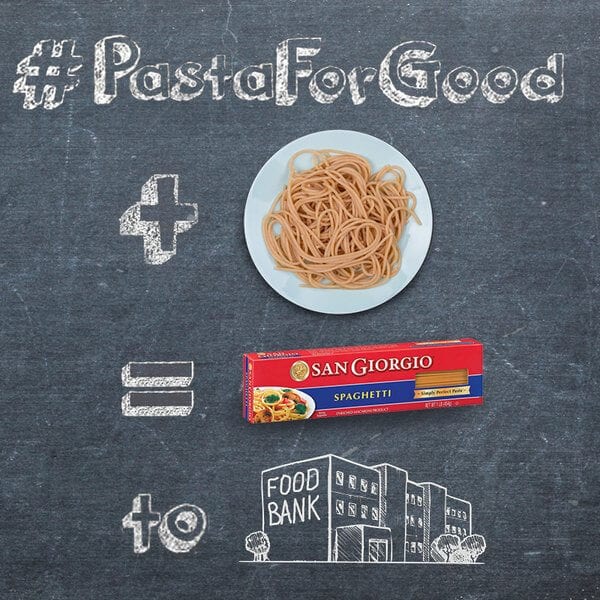 How can you help?
From now through January 15, 2016, take a photo of your favorite pasta mealtime moment – either dining out and about, at home or with friends – and share it on San Giorgio® Pasta's Facebook page using the hashtag #PastaForGood. For every pasta mealtime moment posted to their Facebook page with that hashtag, New World Pasta Company will donate one pasta box to a local food bank. Now that's a mealtime moment that you can feel good about.
I wanted to share one of my favorite recipes with you that would make a perfect mealtime moment. San Giorgio® Pasta has this lasagna-esque pasta that I adore – Mafalda – which is the perfect pasta for this comforting Three Cheese Lasagna Soup.  This dish comes together in about 30 minutes and served with some crusty bread and a simple side salad, this lasagna soup will be one of those quick go-to recipes for easy weeknight dinners. One thing I love is dolloping the steaming bowl of soup with cheesy whipped ricotta that melts into the soup which adds this creamy flavor, much like the layers of lasagna when they meld and get all toasty in the oven.
For your pasta mealtime moment, why not make this easy Three Cheese Lasagna Soup. and share a picture of it on San Giorgio® Pasta's Facebook page. Your family and friends will love this dish and everyone will feel great about the families they are helping this season!
On to the recipe:
Gather your ingredients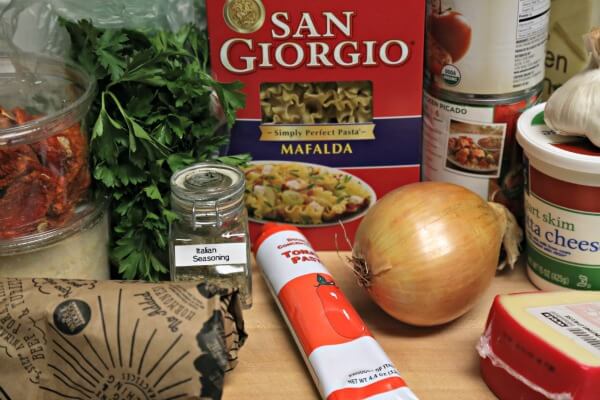 Adding some sweet sundried tomatoes to the bubbling soup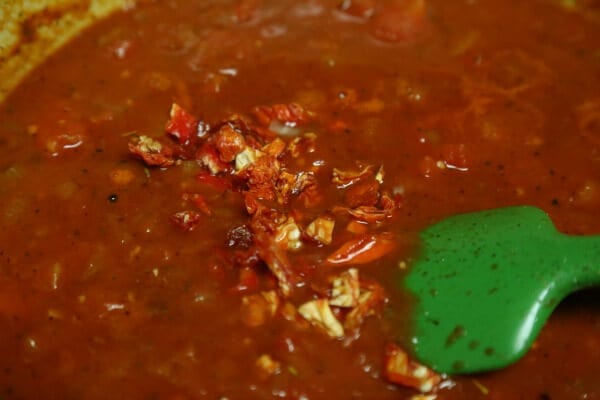 One of my favorite fun pastas – San Giorgio® Pasta's Maflada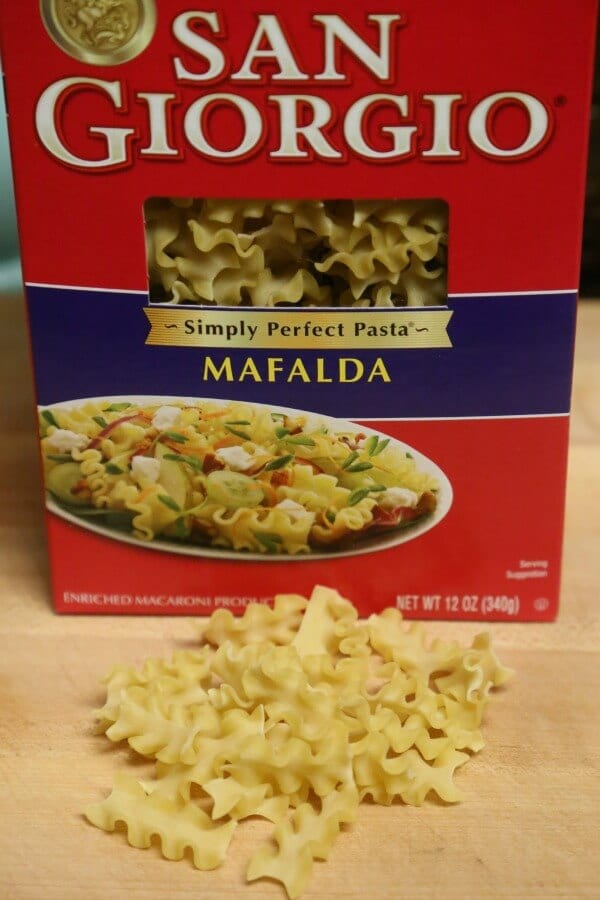 Let's add the Mafalda pasta to the soup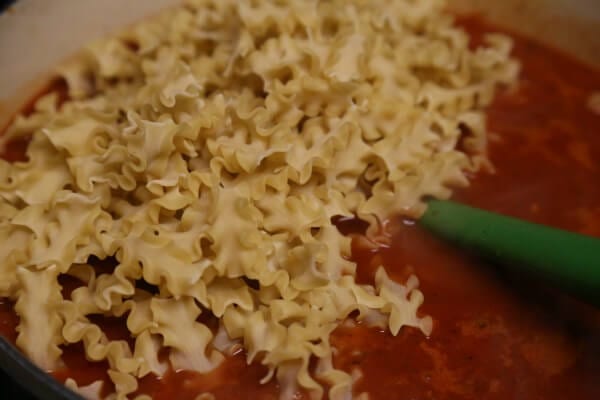 Now – doesn't this look comforting?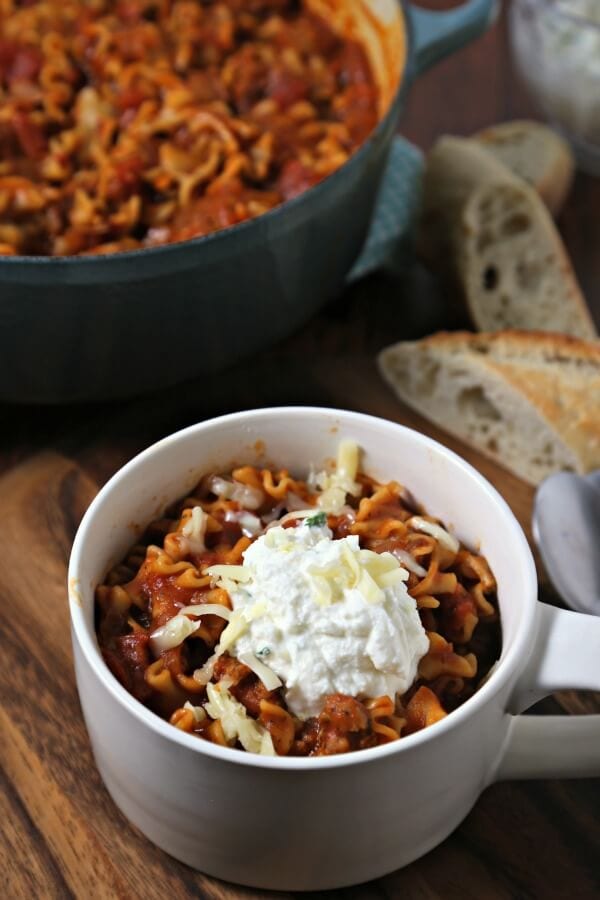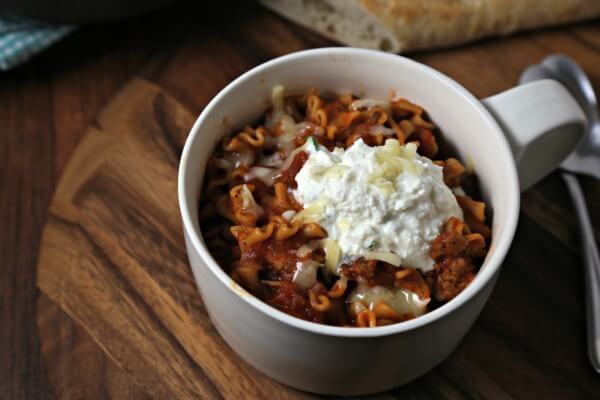 Aly M. Cleary
Yields 4
Sharing A Pasta Mealtime Moment With Easy Three Cheese Lasagna Soup #PastaForGood
This Three Cheese Lasagna Soup is packed with flavor and comes together in 30 minutes. Italian sausage, spices and tomatoes are simmered with pasta and layered with lots of cheese.
5 minPrep Time
25 minCook Time
30 minTotal Time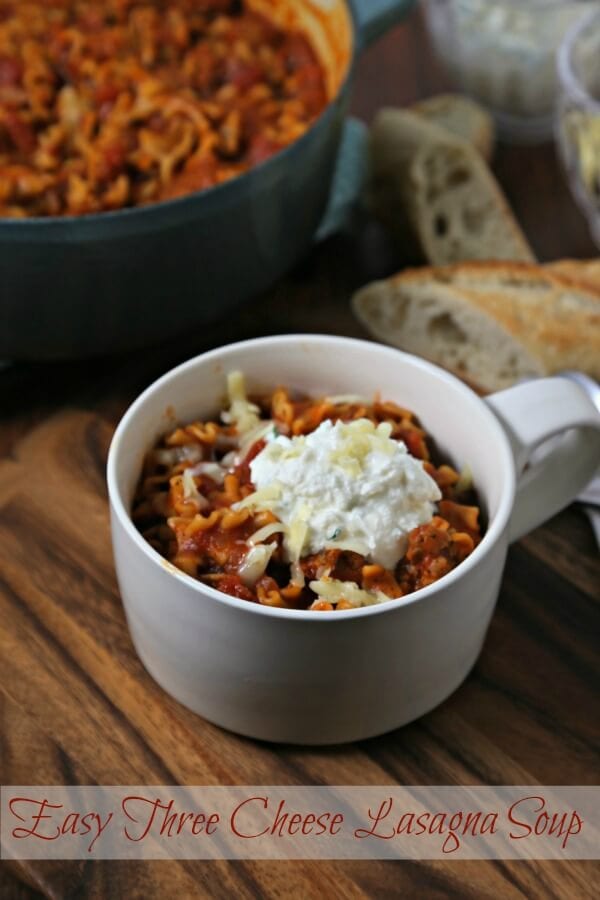 Ingredients
1 teaspoon of olive oil
3 links of mild Italian sausage, casings removed
1 medium onion, diced
2 cloves of garlic, minced
3 tablespoons of tomato paste
2 teaspoons of Italian seasoning
1/4 teaspoon of freshly grated black pepper
1/4 teaspoon of crushed red pepper flakes (optional)
1 15-ounce can of tomato sauce
1 15-ounce can of diced tomatoes
2 cups of low sodium chicken stock
1/4 cup of diced sundried tomatoes
1/3 cup of grated Parmesan cheese, divided
2 1/2 cups of San Giorgio® Mafalda pasta
3/4 cup of ricotta cheese
2 tablespoons of milk
1 tablespoon of flat leaf Italian parsley, minced
3 ounces of Fontina cheese, cubed and a little extra grated for garnish
Instructions
In a 3 1/2 quart Dutch oven or soup pot, add the olive oil and heat over medium high heat. Add the Italian sausage to the oil and break it up into smaller pieces and brown the sausage for about 4 – 5 minutes.
Remove the browned sausage to a paper lined plate and drain any oil, leaving about 1 tablespoon or so.
Add the diced onion to the oil and sauté until translucent – about 3 minutes. Add the minced garlic, tomato paste, Italian seasoning, freshly grated black pepper and crushed red pepper flakes (if using) and sauté for another minute or two until the tomato paste turns a rusty red color.
Add the tomato sauce to the pan, scraping up any brown bits from the bottom of the pan. Add the diced tomatoes, chicken stock, sundried tomatoes and 1/4 cup of the parmesan cheese to the pan and stir to combine. Reduce the heat to a simmer. Taste for seasoning and add salt if needed. With the Parmesan being so salty, I found that I didn't need any additional salt.
Return the browned sausage to the pan and add the Mafalda pasta. Nestle the pasta under the simmering sauce and simmer for about 10 minutes, covered. The pasta should be tender
In a bowl, whisk together the ricotta cheese, the remaining Parmesan cheese, milk and minced parsley so that everything is combined. Set aside.
To each bowl, add some of the cubed Fontina cheese and ladle the lasagna soup over the cheese so it melts.
Top each bowl with some of the cheesy whipped ricotta cheese and some shredded fontina cheese and enjoy!
7.8.1.2
35
https://cookinginstilettos.com/easy-three-cheese-lasagna-soup/