Welcome to the second annual Brunch Week hosted by Terri of Love and Confections and Susan of The Girl In The Little Red Kitchen! Join us May 5th through 10th while we celebrate the deliciousness of brunch and to prepare for Mother's Day and summer brunching season. We have 32 bloggers bringing you their best brunch game, from cocktails to eggs benedict to donuts, there is something for everyone this week. Our amazing sponsors have donated some great prizes for a gigantic giveaway, please visit them all for more information.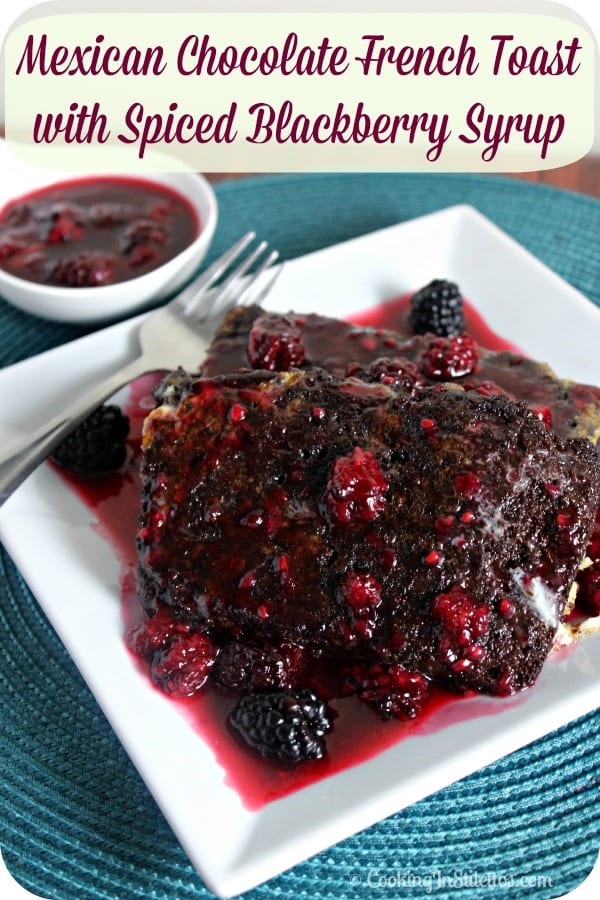 When I got the skinny that Brunch Week was happening again, my mind started wandering – what to make, decadent or healthy – cocktail infused – so many choices!! When I heard it was kicking off on one of my fave holidays, Cinco de Mayo, well, there was NO question then what I was going to make – something utterly decadent, rich and inviting with a bit of bite – my Mexican Chocolate French Toast with Spiced Blackberry Syrup.
Now, I am not going to lie to you and tell you it can be whipped up zippy quick – this recipe takes planning. It is a process but when you assemble everything, your family and friends are going to be oohhhhing and ahhhhing and loving every rich chocolatey bite drenched in a sweetly tart and warmly spiced syrup.  It was inspired by the Chocolate French Toast at a NYC mainstay  – Norma's and I played with a divine Mexican Loaf Cake recipe from a new cookbook that I love – Exotic Table.  I love anything Mexican chocolate and to incorporate that into brunch  – it's that good.
Let me hush and give you want you really came here for – the recipe on how to make this Mexican Chocolate French Toast – thank me later – enjoy the accolades when you serve it.
On to the recipe:
Gather your ingredients for the Mexican Chocolate Loaf Cake, then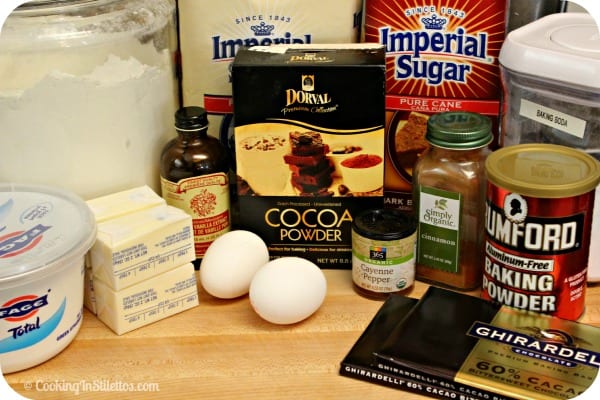 Make the Mexican Chocolate Loaf Cake, then….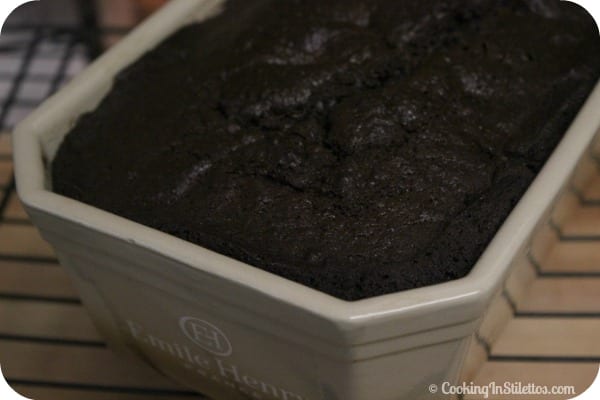 Gather your ingredients for the Mexican Chocolate French Toast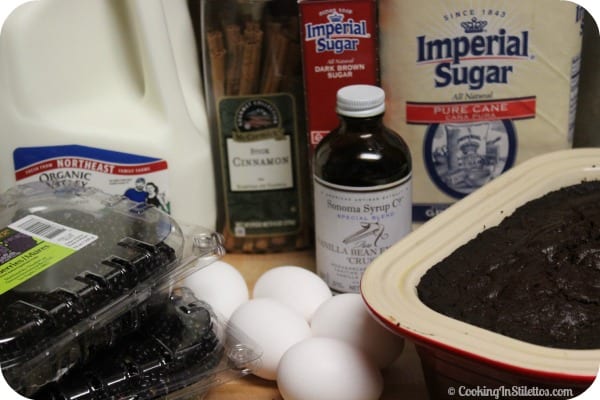 Let's bring the blackberry syrup to a bubble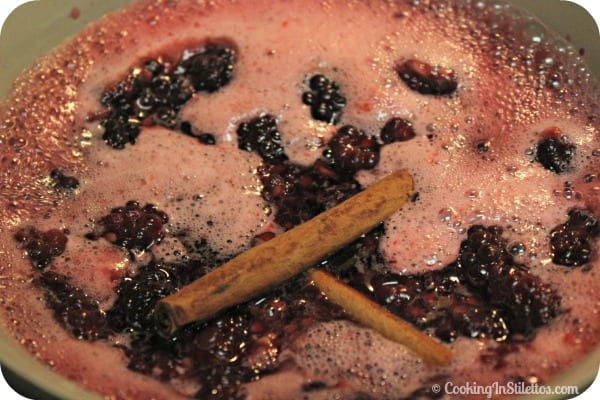 And whisk in the cornstarch to thicken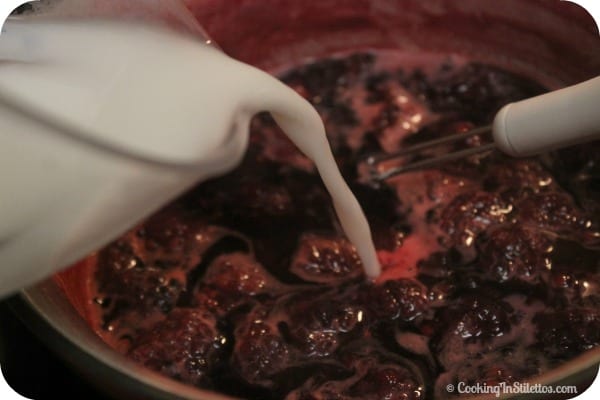 Time to make the french toast – look at that rich eggy goodness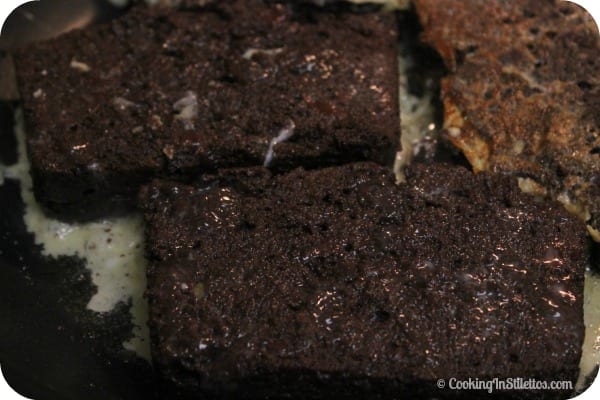 Now – tell me this doesn't look deliciously sinful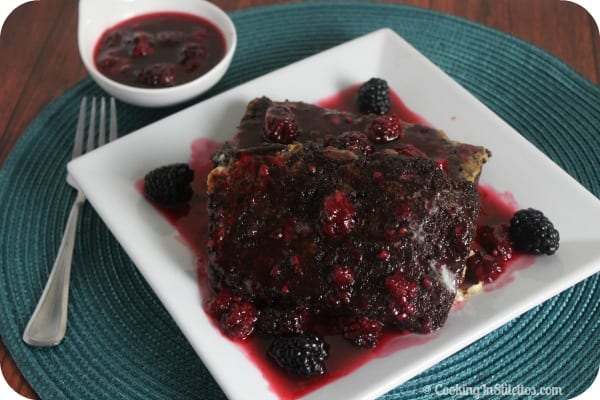 Mexican Chocolate French Toast With Spiced Blackberry Syrup To Kick Off #Brunchweek
---
Inspired by Norma's Restaurant; Mexican Chocolate Loaf Cake Recipe adapted from Aliya Leekong, Exotic Table
Yields 6-8
Who says you can't have cake for breakfast? This Mexican Chocolate French Toast has moist mexican chocolate loaf dipped in a rich egg custard and then toasted in a bit of butter. To add to the sinfulness, it is then drenched in a spiced blackberry syrup - you know you are going to want this for breakfast!
30 minPrep Time
1 hr, 30 Cook Time
2 hrTotal Time
Ingredients
For the Mexican Chocolate Loaf Cake:

1 1/3 cups of all purpose flour
3/4 cup of Dutch process cocoa
2 teaspoons of ground cinnamon
1/8 to 1/4 teaspoon of cayenne pepper (depending on your preferred heat level)
1/2 teaspoon of baking soda
3/4 teaspoon of baking powder
1/2 teaspoon of kosher salt
2 sticks of unsalted butter, softened
1 cup of dark brown sugar
1 cup of Greek yogurt (at room temperature)
2 teaspoons of vanilla extract
2 eggs
8 ounces of dark bittersweet chocolate, chopped finely

For the Spiced Blackberry Syrup:

2 pints of blackberries, divided
1 cup of granulated sugar
2 1/2 cups of water, divided
1 large cinnamon stick, broken in half or two half sticks of cinnamon
Pinch of salt
2 tablespoons of cornstarch
1/2 teaspoon of vanilla extract

For the Mexican Chocolate French Toast:

1 loaf of Mexican Chocolate Loaf Cake, slicked somewhat thickly
5 eggs
3/4 cup of milk
1/2 teaspoon of vanilla extract
1/2 teaspoon of dark brown sugar
2 – 3 tablespoons of butter
Fresh blackberries for garnish
Directions
To make the Mexican Chocolate Loaf Cake:

Preheat the oven to 350 degrees F.
Lightly spray a loaf pan with non-stick spray (or butter and flour) and set aside.
In a large bowl, sift together the flour, cocoa, cinnamon, cayenne, baking soda, baking powder and salt. Whisk until everything's combined. Set aside.
In a bowl of an electric mixer (or using a handheld mixer), cream together the eggs and sugar until light and fluffy.
Add the yogurt and mix thoroughly.
Add the eggs one by one, followed by the vanilla extract. If things look like they are about to separate, do not panic – whisk together with a spatula because sometimes the butter suspends itself in the yogurt mixture.
Add one third of the flour mixture followed by one third of the chocolate. Repeat and beat until everything is combined.
Bake for 60 – 70 minutes, until a toothpick inserted in the center comes out clean.
Cool on a baking rack.
When completely cool, prepare for making the French toast (sometimes it's better to make it the night before and hide it so no one will snack away).

To make the Spiced Blackberry Syrup:

Reserve 1/2 cup of blackberries and set aside.
In a heavy bottomed saucepan, add the berries, sugar and 2 cups of the water. Lightly mash some of the berries to help them break down.
To that, add the cinnamon sticks and a pinch of salt.
Bring to a boil and then reduce to a simmer.
Let simmer for 25 minutes or so.
Whisk together 1/2 cup of water with 2 tablespoons of cornstarch.
Whisk into the syrup, add the vanilla extract and the reserved 1/2 cup of blackberries and allow to thicken – about 5 – 10 minutes more.
Keep warm while you make the French toast.

To make the Mexican Chocolate French Toast:

Preheat the oven to about 250 degrees, F.
In a large baking dish, whisk together the eggs, milk, vanilla, and dark brown sugar until everything is combined thoroughly.
Lightly soak the Mexican chocolate loaf cake in the batter.
Preheat a non-stick skillet over medium high heat and add a small pat of butter. Coat the pan with the butter and add the egg soaked Mexican chocolate loaf cake to the pan.
Brown on both sides and remove to a baking sheet. Keep warm in the oven until ready to serve.
When ready to serve, drizzle the spiced blackberry syrup over the French toast and enjoy!
7.6.4
936
https://cookinginstilettos.com/mexican-chocolate-french-toast-with-spiced-blackberry-syrup/
All images and content are © Cooking In Stilettos. Please do not republish without contacting us first. Thank you.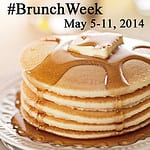 Here is all of the deliciousness to kick off BrunchWeek – take a peek at all of this!
Beverages:
Brunch Eggs:
Main Brunch Dishes:
Brunch Breads and Sides:
Brunch Fruit and Vegetables:
Brunch Desserts:
SO – now that you've seen what everyone brought to the *virtual* table – have you entered yet? Click HERE to scope out the Brunch Week prizes and enter!
A huge thank you to all our amazing #BrunchWeek sponsors. Please follow these lovely folks on their social media sites:
Bob's Red Mill – Facebook, Twitter, Pinterest, Instagram
Whole Foods Market Orlando Faceboook, Twitter, Pinterest, Instagram,
Stemilt – Facebook, Twitter, Pinterest, Blog
Baloian Farms – Facebook
Woot Froot – Facebook, Twitter, Pinterest
Vidalia Onion – Facebook, Twitter, Pinterest
Grimmway Farms – Facebook, Twitter, Instagram, Pinterest
Bonne Maman – Pinterest
Disclosure: Many thanks to Imperial Sugar and OXO – while I was not compensated for this recipe, I did receive some of their product to play in the kitchen with. As you know, I don't use anything or recommend anything I don't personally adore.
Did you enjoy this post?
| | |
| --- | --- |
| Share the love | Get free updates |