When I was in Barnes & Noble not too long ago, there was a book on a shelf that caught my eye – Exotic Table: Flavors, inspiration, and recipes from around the world–to your kitchen
.  I had heard good things about the book but wasn't sure if I was ready to buy it just yet – I had some other ones I was looking at and playing with in the kitchen.  Then, as I wandered around, I thought "I can just LOOK at the book and see what the recipes are, right?"  Flipping through the pages of Exotic Table
, I made note of some recipes I wanted to try and then it opened to this glorious Mexican Chocolate Loaf Cake.  Now – you know I adore Mexican chocolate – from my favorite Mexican Hot Chocolate to my tried and true Mexican Chocolate Cookies and Mexican Chocolate Pudding and don't forget that Spiked Mexican Chocolate Mousse I made for a chocolate themed gal's night menu.  So – when I saw that cake, I knew that I was a goner – that cookbook was in my hot little hand, I marched my stilettos to the register and to my kitchen it went. 
I used this lovely Loaf Cake in my Mexican Chocolate French Toast with Spiced Blackberry Syrup  but what if you don't want something so rich and decadent – perhaps just a sliver of cake with your morning coffee?  You can make a loaf of this lovely – or double the recipe and give it for gifts or freeze some for later.  The cinnamon and cayenne meld well with the rich chocolate and a light dusting of powdered sugar is the perfect garnish.
I promise you – one bite of this cake and you will be obsessed.  As the cookbook warned, you will find ways to add a nibble of this Mexican Chocolate Loaf Cake to breakfast, as a snack, or as dessert.  It's that good!
On to the recipe:
Gather your ingredients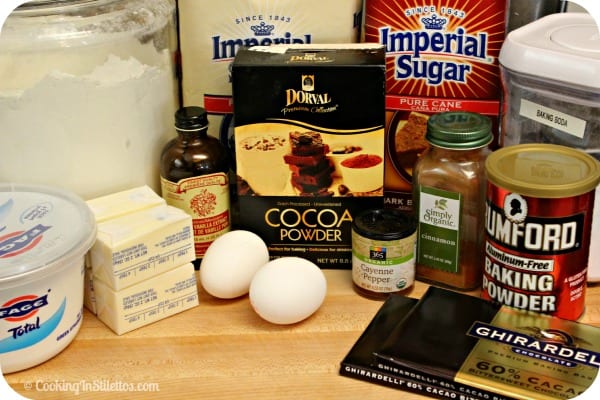 Sift together the flour, cocoa and spices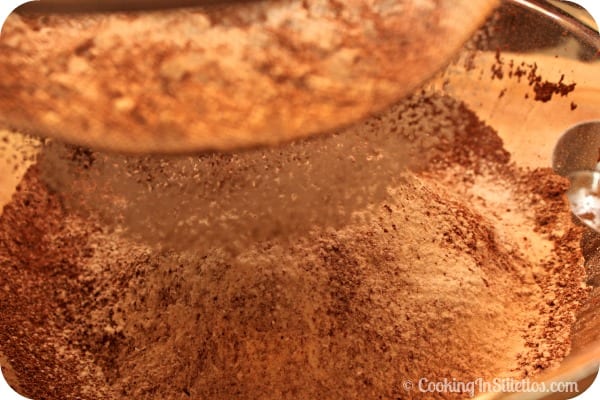 Give it another whisk just to make sure it's fully combined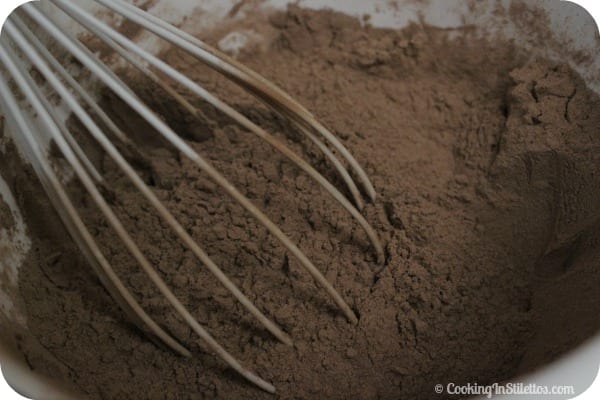 Resist the urge to snack on the chocolate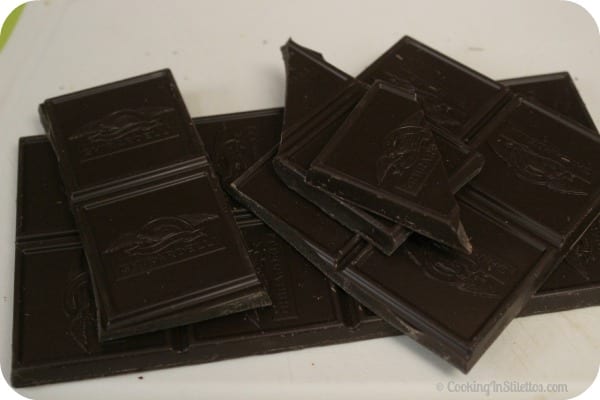 Before Baking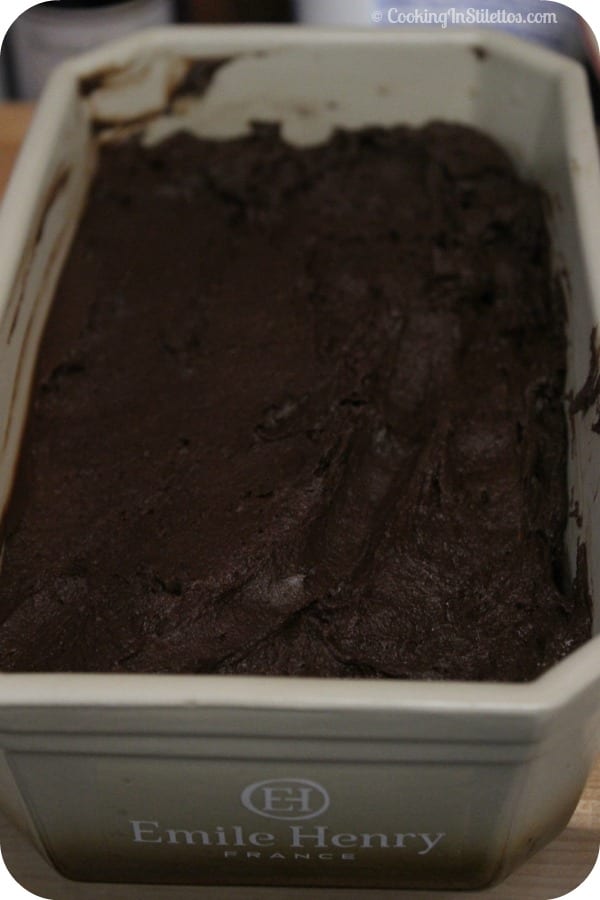 And time to cool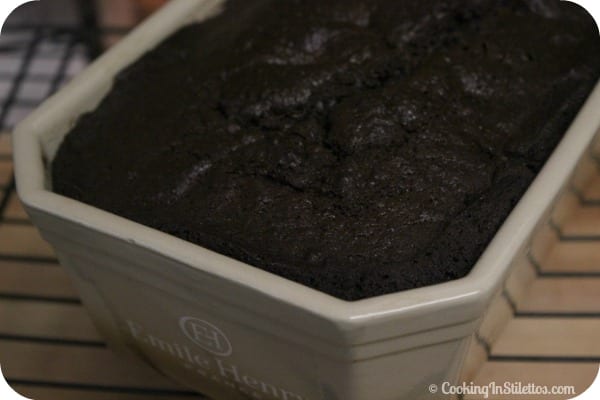 Now – don't you want a slice?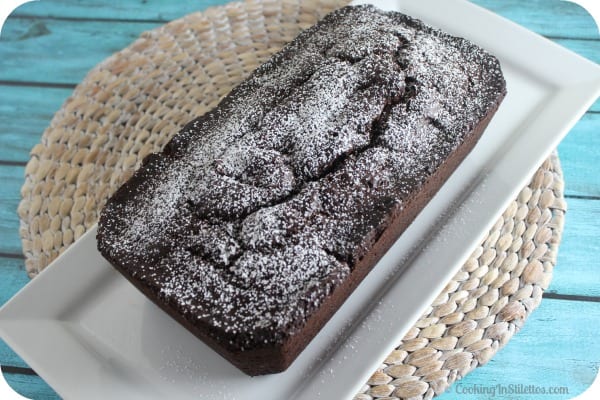 Aliya LeeKong
Yields 6-8
Mexican Chocolate Loaf Cake
A deeply dark and moist chocolate loaf cake spiced with cinnamon and spice - a slice of this lovely cake is perfect for dessert or even for breakfast!
30 minPrep Time
1 hrCook Time
1 hr, 30 Total Time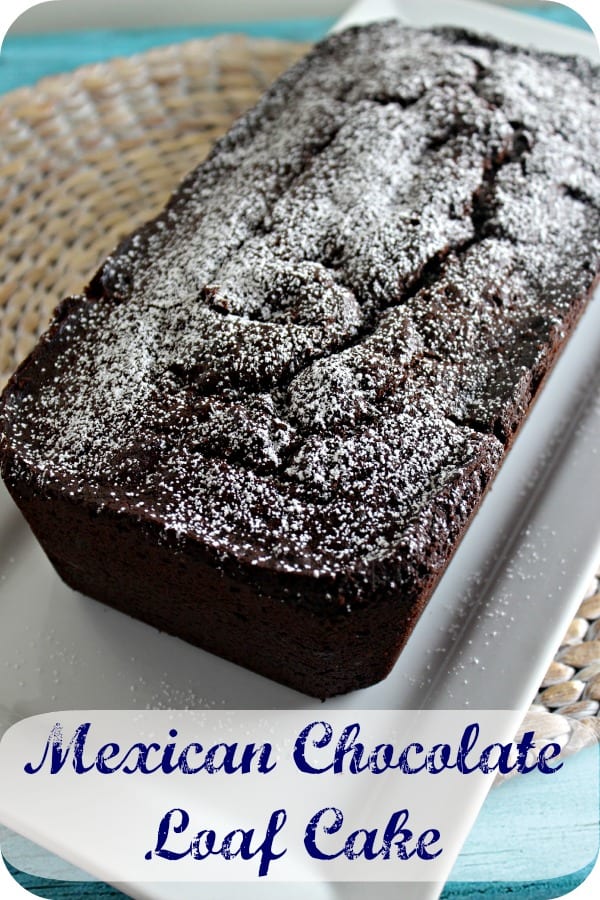 Ingredients
1 1/3 cups of all purpose flour
3/4 cup of Dutch process cocoa
2 teaspoons of ground cinnamon
1/8 to 1/4 teaspoon of cayenne pepper (depending on your preferred heat level)
1/2 teaspoon of baking soda
3/4 teaspoon of baking powder
1/2 teaspoon of kosher salt
2 sticks of unsalted butter, softened
1 cup of dark brown sugar
1 cup of Greek yogurt (room temperature)
2 teaspoons of vanilla extract
2 eggs
8 ounces of dark bittersweet chocolate, finely chopped (I used a mix of 60 & 70%)
Powdered sugar (for garnish)
Instructions
Preheat the oven to 350 degrees F.
Lightly spray a loaf pan with non-stick spray (or butter and flour) and set aside.
In a large bowl, sift together the flour, cocoa, cinnamon, cayenne, baking soda, baking powder and salt. Whisk until everything's combined. Set aside.
In a bowl of an electric mixer (or using a handheld mixer), cream together the eggs and sugar until light and fluffy.
Add the yogurt and mix thoroughly.
Add the eggs one by one, followed by the vanilla extract. If things look like they are about to separate, do not panic – whisk together with a spatula because sometimes the butter suspends itself in the yogurt mixture.
Add one third of the flour mixture followed by one third of the chocolate. Repeat and beat until everything is combined.
Bake for 60 – 70 minutes, until a toothpick inserted in the center comes out clean.
Cool on a baking rack.
Lightly dust with powdered sugar and enjoy!
7.8.1.2
248
https://cookinginstilettos.com/mexican-chocolate-loaf-cake/