Orange Cranberry Chocolate Chip Cookies are always a hit of the cookie swap. Chocolate chips, sweetly tart cranberries and orange are woven into a delicious cookie dough for a fun take on a classic cookie recipe.
When I first started on my culinary journey with the determination that I can and will learn to bake (other than my infamous Rum Soaked Chocolate Chip Cookies), I once decided that I would channel my inner Martha and go on a baking spree that made my friends happy and gave me some new recipes to play with.
During that inner Martha moment is when I discovered these Orange Cranberry Chocolate Chip Cookies.  I make this recipe  every year and it is the first to go from the cookie plate.  Friends and family ask for this more than Bacon Bark and that amazes me because Bacon Bark is the bomb.  If I could I would have sent Bacon Bark to everyone on my Cookie Swap List.  However, since this is the Great Food Blogger Cookie Swap, I don't think sending Bacon Bark fits the requirements.
This recipe is from one of the first blogs I ever discovered – Erin Cooks!   So – when thinking of what to send to 3 amazing bloggers, I decided to go back to my roots – to a blog that showed me how awesome the food blogging community could be.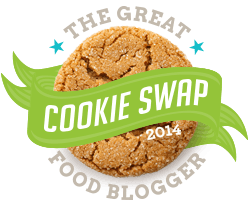 Now – here's how The Great Food Blogger Cookie Swap works – every year we get to send a dozen of our favorite cookies to 3 other bloggers.  And then we get 3 dozen different cookies from all over the country.  And – added bonus – we're raising money for Cookies for Kids' Cancer – one of my favorite charities!  Julie from The Little Kitchen and Lindsay of Love & Olive Oil run this amazing event every year and it's something to look forward to.
I sent 3 dozen of my Orange Cranberry Chocolate Chip Cookies to Teri of The Freshman Cook, Ace of The Toasted Sprinkle and Susan of A Less Processed Life  via Rudolph Express and, on my doorstep I found lovelies from Stacie of Divine Miss Mommy, Jessica of My Baking Heart and Renee of Tortillas and Honey.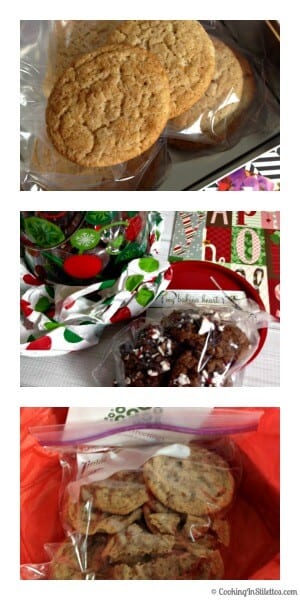 So – this year's Great Food Blogger Cookie Swap was a very tasty success – I discovered new blogs, new flavors and we banded together as a community to raise funds for a cause near and dear to many of us.  That – my friends – is a sweet win win indeed!
On to the recipe:
Gather your ingredients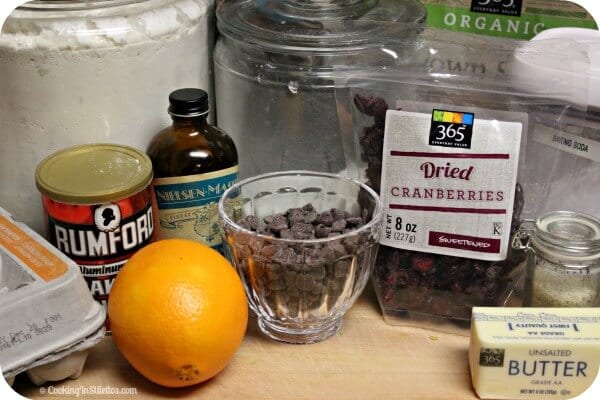 Let's sift together the dry ingredients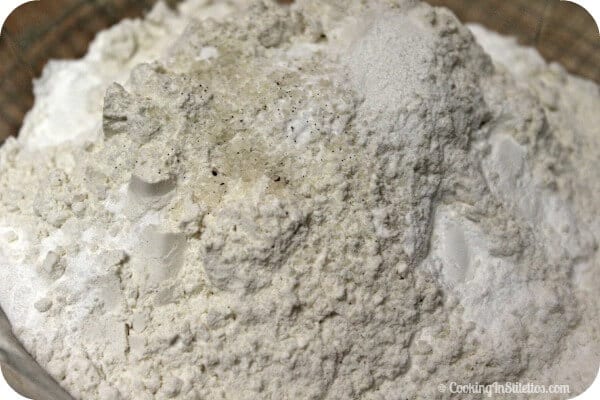 Look at how beautiful this cookie dough is –  studded with orange zest, cranberries and chocolate chips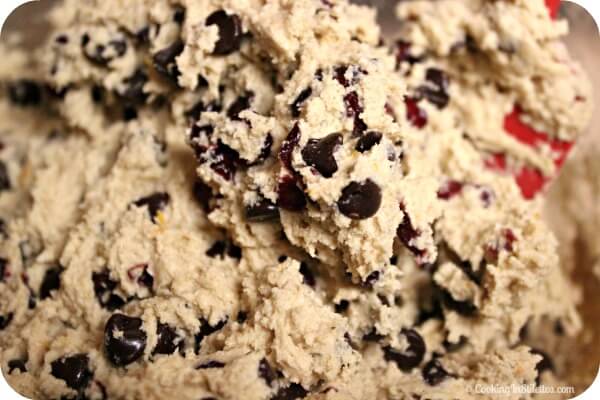 Before and after baking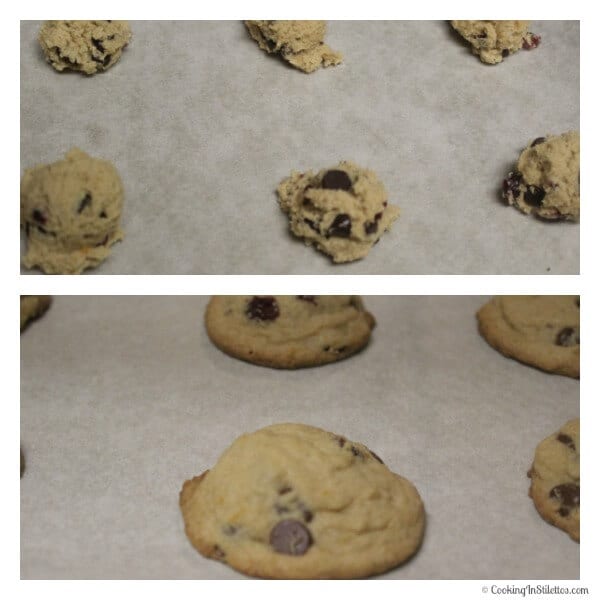 I suggest you make a double batch – you might not want to share these delicious nibbles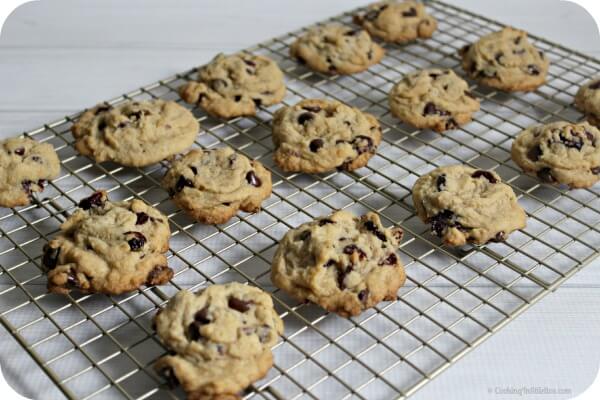 Adapted from Erin Cooks!
Yields 12
Orange Cranberry Chocolate Chip Cookies
Cranberry and Orange add the perfect bright note to the chocolate chip cookie. I promise - these cookies will have your cookie plate cleaned in no time!
30 minPrep Time
12 minCook Time
42 minTotal Time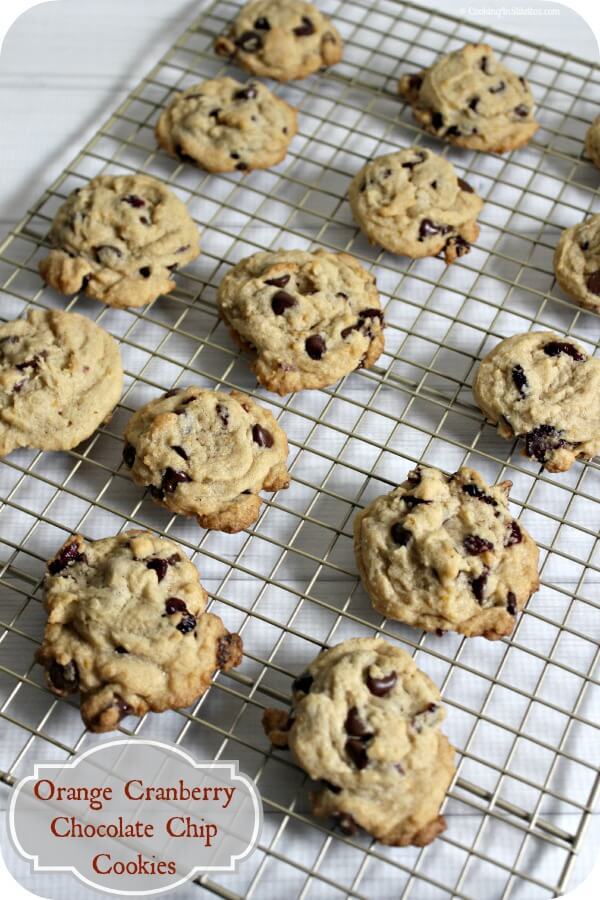 Ingredients
2 cups of all purpose flour
1 1/2 teaspoon of baking powder
1/4 teaspoon of baking soda
1/2 teaspoon of salt (I used Susan's Vanilla Salt)
12 tablespoons of butter, softened
1/2 cup of brown sugar, packed
1/2 cup of granulated sugar
1 large egg
1 teaspoon of vanilla extract
Zest of one large orange (about 3 teaspoons)
1 1/4 cup of dried cranberries
1 1/4 cup of chocolate chips
Instructions
Preheat the oven to 350 degrees F.
Line baking sheets with parchment paper (I had 3 in rotation for these as I made smaller cookies)
In a bowl, whisk together the flour, baking powder, baking soda and salt. Set aside.
In the bowl of an electric mixer, cream together the butter, brown sugar and granulated sugar until light and fluffy.
With the mixer on low, add the egg and vanilla extract and mix until everything is fully incorporated.
Remove the paddle from the mixer and, using a spatula, fold in the orange zest, cranberries and chocolate chips.
Using a small cookie scoop (or a tablespoon), drop small rounded balls onto the parchment lined cookie sheet.
Bake for 9 to 12 minutes, until the edges are browned.
Let cool for 5 - 10 minutes on the baking sheet and then remove to a wire rack.
Enjoy!
7.8.1.2
189
https://cookinginstilettos.com/orange-cranberry-chocolate-chip-cookies-fbcookieswap/