With the holidays around the corner, there has to be an ultimate cookie recipe perfect for the cookie plate right?
The Blogger C.L.U.E. Society is a group of amazingly talented bloggers and once a month, we hunt through their blogs, play with their recipes and find out as much as we can to make the ultimate recipe that fits our theme of the month.  This month's mission – peruse From Cupcakes to Caviar and find the perfect recipe that reminds me of something my grandmother would make.  Janet, the recipe guru behind the blog, is an amazing cook and baker so when I was looking for recipes that would remind me of something my grandmom adored, I knew exactly which one was perfect to play with – her Ginger Snaps recipe.



Growing up I remember having the two dinner dilemma for the holiday.  We'd go to my grandmom's in the morning and that evening we'd head to my Bampa's.  One thing I always looked forward to was my grandmom's homemade cookies that she kept in a tin on the back credenza by the window.  Even now, thinking back to those times, I can remember seeing that tin beckoning, right next to her ever present pecan pie.  So – while the adults would discuss all things politics, I'd be munching away on one of my grandmom's delicious homemade cookies.
Janet's recipe for Ginger Snaps brought me right back to those times.  The warm holiday spices, the rich deep molasses and coated with a bit of sweet cinnamon sugar, these cookies were scrumptious.  When you are making cookies for the holidays, why not give these Ginger Snaps a try.  I promise these Ginger Snaps will be a holiday must for the cookie plate (or tin).  And yes, I'll be sending some of these delicious bites to my grandmom just in time for the holidays.
On to the recipe:
Gather your ingredients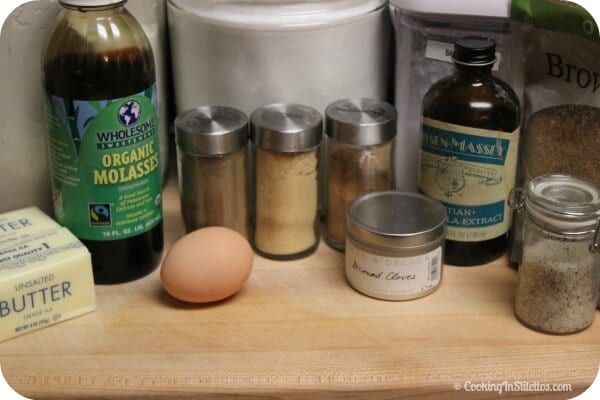 Look at all that spice action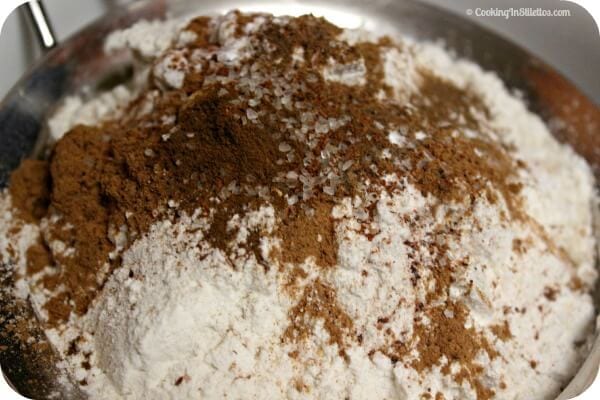 Dough is ready to rest and take a chill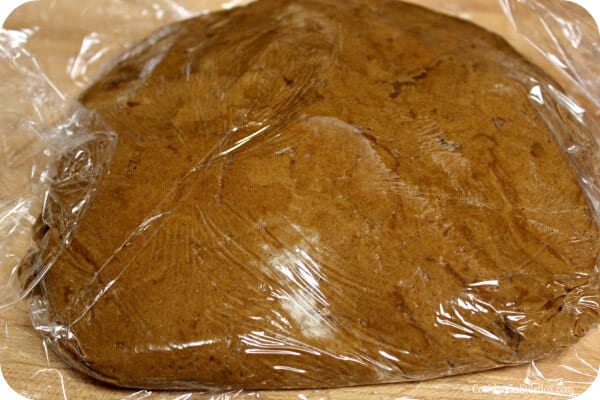 Rolling In The Cinnamon Sugar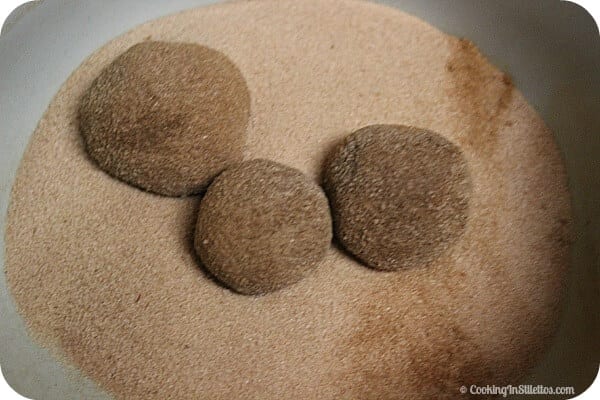 Before and after the oven "sauna"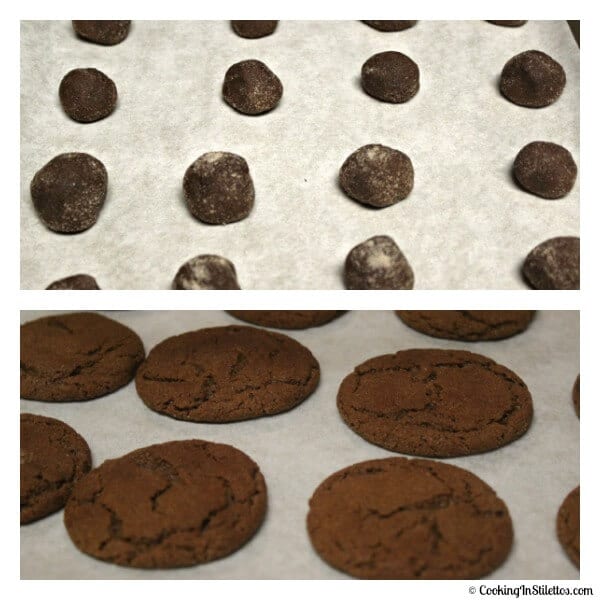 Don't these cookies look perfect for your holiday table?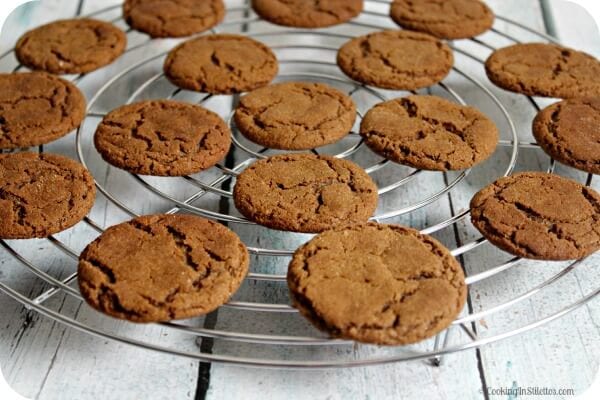 Want one?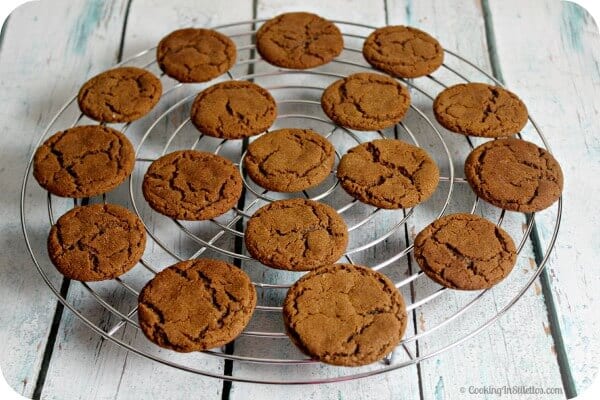 Adapted from Cupcakes to Caviar
Yields 3
Ginger Snaps
These sweetly spiced Ginger Snaps are perfect for your holiday table - warm holiday spices meld with sugar and a bit of dark molasses and are the best ever ginger snaps - I dare you to try just one!
1 hr, 30 Prep Time
12 minCook Time
1 hr, 42 Total Time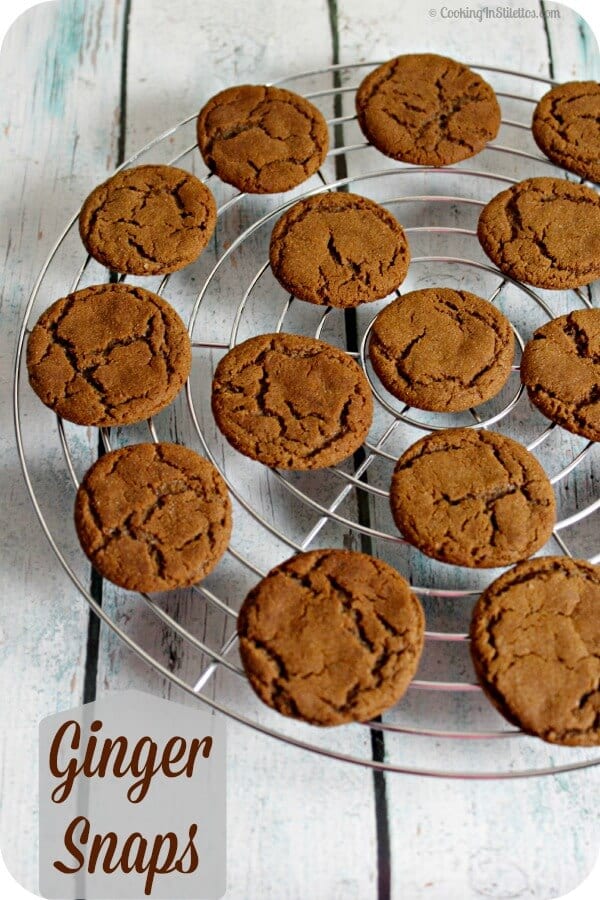 Ingredients
1/2 cup of granulated sugar
1/2 cup of light brown sugar
3/4 cup of unsalted butter, softened
1/4 cup of molasses
1 egg at room temperature
1/2 teaspoon of vanilla extract
2 1/4 cups of all purpose flour
2 teaspoons of baking soda
1 teaspoon of cinnamon
1/2 teaspoon of ginger
1/4 teaspoon of ground cloves
1/4 teaspoon of ground allspice
1/2 teaspoon of salt (I love using The Little Red Kitchen's Vanilla Salt)
For the topping:
1/4 cup of granulated sugar
1 teaspoon of ground cinnamon
1/4 teaspoon of freshly ground nutmeg
Instructions
In the bowl of an electric mixer, cream together the brown sugar, granulated sugar and butter until everything is light and fluffy.
On slow speed, beat in one egg.
Add the molasses and vanilla extract and mix until combined.
In a large bowl, sift together the flour, baking soda, cinnamon, ginger, cloves, allspice, nutmeg and salt.
Slowly incorporate the dry ingredients into the butter mixture until everything is just mixed.
Form the dough into a disk and wrap with plastic wrap.
Chill in the refrigerator for about an hour or so until everything is chilled thoroughly.
Preheat the oven to 350 degrees F.
In a small bowl, mix together the remaining cinnamon and sugar.
Remove the dough and unwrap. Using a small cookie scoop, scoop some of the dough and form into 1 inch balls or so.
Toss the dough balls in the cinnamon sugar mixture until coated and place on a parchment lined cookie sheet. The dough will rise and then spread so give it some room.
Bake for about 12 minutes or so, until the cookies are puffed and cracked.
Remove the pan to cool for 5 minutes or so and then remove the cookies to a wire rack to cool.
Enjoy!
7.8.1.2
190
https://cookinginstilettos.com/ginger-snaps/
Many many thanks to Janet for her amazing recipe.  The taste memory hit home and these cookies will be a new family tradition.  Make sure to check out her site and add it to your must read daily list.  Her recipes are stellar and I promise they will be a favorite with your family and friends.
Check out what some of our Blogger C.L.U.E. Society Members brought to the party today…