Pot Pies were always in my house growing up and, when I first started cooking, I did what I learned from growing up – I bought them and just heated them up. When I started cooking, you could NOT get me to even ATTEMPT to make a pie, let alone a chicken pot pie. Want to know why – because making a crust scares the stilettos off of me.
I recently saw a Chicken Cheddar Pot Pie recipe that was perfect so I took the plunge. I had every intention of attempting to make the crust – but then fear took over (see above) and I went to my backup that I bought – just in case – my fave Pillsbury Pie Crust. I also played with the recipe a bit, including mushrooms in the mix.
Gather the Ingredients
Don't judge…
This could be perfect just on its own
Ahhhh – cheddar cheese
Pre-Crust
Fresh out of the oven
 The end result – I know, food styling needs some work but the flavor was out of this world.
Tried and True: Chicken Cheddar Pot Pie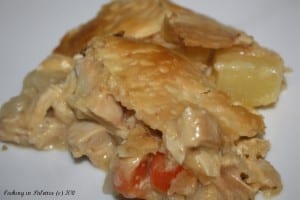 Ingredients
For the Crust:

1 cup all-purpose flour
1/2 teaspoon salt
5 tablespoons cold butter, cubed
3 tablespoons cold water
(OR - you could do like me and buy one already made!)

For the Filling:

1-1/2 cups chicken broth
2 cups peeled cubed potatoes
1 cup sliced carrots
1/2 cup sliced celery
1/2 cup chopped onion
1/2 cup sliced mushrooms
1/4 cup all-purpose flour
1-1/2 cups milk
2 cups (8 ounces) shredded sharp cheddar cheese
4 cups cubed cooked chicken
1/4 teaspoon poultry seasoning
1/4 teaspoon of Aleppo pepper (or a pinch of cayenne pepper)
Salt and pepper to taste
Instructions
For the Crust (if you aren't using store-bought crusts)

In a small bowl, combine flour and salt.
Cut butter in flour until mixture resembles coarse crumbs.
Gradually add the water, mixing gently with a fork.
Gather into a ball.
Cover with plastic wrap and chill at least 30 minutes

For the Filling:

Preheat oven to 425 degrees.
In a dutch oven, bring the chicken broth to a boil.
Add the onions, potatoes, carrots and celery, reduce heat and simmer for 10 to 15 minutes until the vegetables are tender.
In a small bowl, combine the flour and milk and stir into the broth mixture.
Cook and stir over medium heat until it's thickened and bubbly.
Stir in chicken, mushrooms, poultry seasoning, Aleppo pepper (or cayenne), salt, and pepper and stir to combine.
Add the cheese and heat until the cheese melts.
Spoon into a 10 inch casserole and set aside. (I had enough for one casserole and a baby one)
On a lightly floured surface, roll out the chilled crust to fit the top of the casserole, trimming the edges as necessary.
Place on the casserole over the filling and seal the edges.
Make several slits in the center of the crust for the steam to escape.
Bake for 40 minutes or until golden brown.
7.8.1.2
378
https://cookinginstilettos.com/tried-and-true-chicken-cheddar-pot-pie/