Not only is Fall my favorite fashion season, but it's also my favorite season for cooking and entertaining. I am a sucker for all things butternut squash, pumpkin, short ribs, stews, and other various comfort dishes.
This weekend, I decided to play with one of Giada de Laurentiis' recipes for Beef and Butternut Squash Stew. I added some red pepper flakes for a bit of heat which played nicely with sweetness from the squash.  Another change I made is to omit the Marsala wine as I never seem to have that on hand. After cooking "Sous Pug" friendly meals for a while, I've learned that a swift substitution of beef broth works out well.  Finally, one frugal tip – if you see "Poultry Blend" in the store when you are going to buy fresh herbs, grab it.  It often has the rosemary and thyme along with some sage.  Such a great idea to combine the three!  Plus, you are paying $2.99 for three herbs, not $2.99 for each package, right?
This stew will be a fall/winter favorite and will be in the tried and true file.
What's your favorite dish to make for fall?
Beef and Butternut Squash Stew
---
Aly M. Cleary | Inspired by Giada de Laurentiis
Yields 8
This comforting Beef and Butternut Squash Stew is perfect to take the chill of a cold winter's evening with the flavors of the season with a hint of spice.
30 minPrep Time
1 hr, 30 Cook Time
2 hrTotal Time
Ingredients
3 tablespoons olive oil
1 large onion, peeled and chopped
2 cloves garlic, minced
1 tablespoon minced fresh rosemary
1 tablespoon chopped fresh thyme
2 pounds stew beef, cut into 2-inch cubes
1/2 teaspoon salt, plus more to taste
1/2 teaspoon freshly ground black pepper, plus more to taste
2 tablespoons all-purpose flour
1 pound butternut squash, trimmed and cut into 2-inch cubes
1/4 cup chopped sun-dried tomatoes
1/4 - 1/2 teaspoon red pepper flakes (optional)
4 cups beef broth, divided
2 tablespoons fresh chopped flat-leaf parsley
Directions
In a dutch oven, heat 3 tablespoons of olive oil over medium heat.
Add the onions, garlic, rosemary, and thyme and sauté until the onions are tender, about 2 minutes.
In a separate bowl, toss the beef with the salt, pepper and flour.
Turn up the heat to med-high and add the beef to the pot.
Cook until the beef is browned and golden around the edges, about 5 minutes.
Add 1 cup of the beef stock, using a wooden spoon to scrape all the brown bits off of the bottom of the pan.
Add the butternut squash, sun-dried tomatoes, and red pepper flakes and stir to combine.
Add the remainder of the beef broth, just enough to just cover the beef and squash.
Bring the stew to a boil over high heat, then reduce the heat to low and simmer, covered, for 1 hour.
Let simmer for another 1/2 hour uncovered to thicken and reduce slightly.
Season the stew with additional salt and pepper to taste.
Sprinkle with the chopped parsley and serve.
Enjoy!
7.6.7
755
https://cookinginstilettos.com/beef-and-butternut-squash-stew/
All images and content are © Cooking In Stilettos. Please do not republish without contacting us first. Thank you.
Gather the Ingredients

I think a game of "Bobbing for Squash" might be a bit inappropriate
The Cauldron is bubbling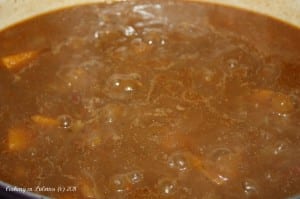 The end result – comfort food that balances spicy and sweet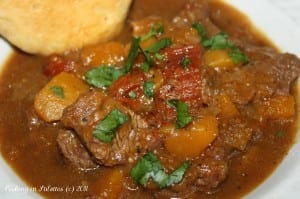 Did you enjoy this post?
| | |
| --- | --- |
| Share the love | Get free updates |