Today's recipe is one you are going to love – either for Sunday supper or entertaining a crowd – Pasta with Braised Short Ribs.
I have a confession – I have a thing for short ribs.
When the weather gets that slight chill, I find reasons to make short ribs – whether they are braised slowly in the oven , with a touch of Guinness or the trusty slow cooker.  I love short ribs simmered in chili, in tequila braised short rib sliders, simmered with cinnamon, made into burgers with horseradish cream sauce, or even setting my kitchen slightly ablaze with my favorite short rib enchiladas.  You could say it's bordering on an obsession but I am perfectly okay with that.
When looking for a chic pasta dish one night for dinner, I turned to one of my old classic tried and true recipes and decided to play melding a few things I have learned from my short rib adventures over the years.  I have to tell you – this Pasta with Braised Short Ribs is definitely at the top of my favorite short rib recipe list.
I found some gorgeous boneless short ribs at the market and couldn't resist taking them home.  The recipe calls for short ribs, either on or off the bone – the choice is up to you.  The rich meaty sauce comes together easily thanks to a quick whir of the immersion blender which turns it into a luscious tomato sauce that clings to the twirly ridged cavatappi pasta.
One bite of this Pasta with Braised Short Ribs will have your family praising your culinary skills.  This is a recipe you will find yourself making often!
On to the recipe:
Gather your ingredients
Look at these boneless short ribs
Time to simmer these short ribs
Let's break out the immersion blender for a silky smooth sauce
Now – look at this
Don't you want this for dinner tonight?
Aly M. Cleary
Yields 6-8
Pasta with Braised Short Ribs – A Chic Twist On A Classic
This comforting Pasta with Braised Short Ribs is a twist on a favorite. Rich meaty braised short ribs are tossed with pasta in a luscious tomato sauce – what's not to love?
20 minPrep Time
3 hrCook Time
3 hr, 20 Total Time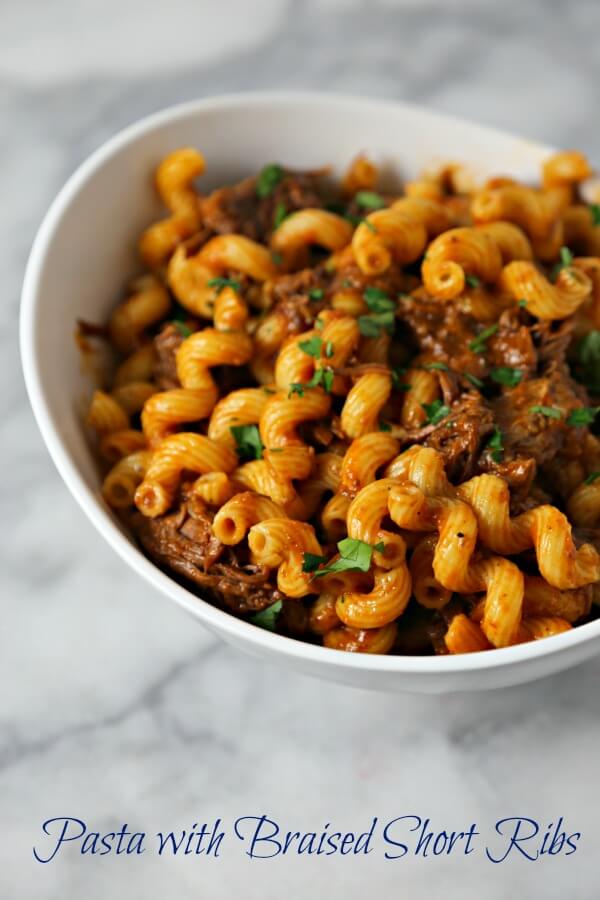 Ingredients
3 pounds beef short ribs (I used boneless short ribs but feel free to use bone-in)
1 teaspoon of kosher salt
1/2 teaspoon of freshly ground black pepper
3 tablespoons of all-purpose flour
1/4 cup olive oil
2 small yellow onions, diced
2 cloves garlic, minced
2 tablespoons of tomato paste
1 15-ounce can of diced tomatoes (I loved the one with rosemary and oregano)
3 tablespoons spicy brown mustard
1/8 – 1/4 teaspoon of crushed red pepper flakes
3 cups of beef broth
1 pound of cavatappi pasta
1/4 cup freshly grated Pecorino Romano
1/4 cup chopped fresh flat-leaf parsley
Instructions
FOR THE SHORT RIBS:

Heat the oven to 350 degrees F.
In a large Dutch oven or oven-proof pot, heat the olive oil over medium high heat.
In a large plastic bag or a plate, whisk together the flour, kosher salt and freshly cracked black pepper.
Dredge the short ribs lightly in the flour mixture. Add the short ribs to the oil in the Dutch oven and sear on all sides until they are nicely browned.
Remove the short ribs to a plate and set aside.
Add the onions to the Dutch oven and sauté until translucent. Add the minced garlic and tomato paste and sauté for another minute or so, until the tomato paste turns more of a rust color.
Add the can of diced tomatoes, spicy brown mustard, crushed red pepper flakes and beef broth, taking care to scrape up any brown bits on the bottom of the pan.
Return the browned short ribs to the pot, cover the pan and place in the oven.
Cook for about 2 1/2 hours until the ribs are fork tender.
Remove the ribs from the pan and let them rest for a minute while you start the pasta.

FOR THE PASTA:

Add a large pot of water to the stove and bring to a boil.
Salt the water generously and add the cavatappi pasta.
Boil for about 7 minutes or so until the pasta is al dente.
Drain the pasta, reserving a cup of the starchy pasta liquid.

TO ASSEMBLE:

Skim any fat from the top of the sauce and discard.
Using an immersion blender (or a regular blender, taking care to do in batches), blend the sauce until smooth and keep warm over low heat.
Discard the short rib bones (if there are any) and shred the short ribs into small pieces.
Return the shredded meat to the sauce and season the sauce if needed.
Add the drained pasta to the meat and the sauce, tossing together. If the sauce needs thinning out, add a bit of the reserved pasta water.
Sprinkle with the Pecorino Romano cheese and the chopped parsley and serve.
Enjoy!
7.8.1.2
134
https://cookinginstilettos.com/pasta-with-braised-short-ribs/