This rich flourless Chocolate Cloud Cake is a stunning dessert dolloped with pillows of whipped cream.  This showstopper is a heavenly dessert indeed!
Disclosure: This post may contain affiliate links to products I adore and trust in my kitchen.  Thank you for supporting Cooking In Stilettos.
This Chocolate Cloud Cake is a chocolate lover's dream.  Rich flourless chocolate cake is dolloped with pillows of heavenly whipped cream and I guarantee, one bite will make your guests swoon.
With the holidays coming up, I've been testing some dessert options in the kitchen.  Don't get me wrong, I love the traditional holiday pies, like pumpkin and apple, but I wanted to see if I can whip up something for the chocolate aficionado and there has been one recipe that has been simmering in my subconscious, Nigella Lawson's Chocolate Cloud Cake.
Much like my pie crust fear, flourless chocolate cakes that tend to cave into themselves scare the stilettos off of me.  I'm always afraid of doing things wrong.   Prior attempts of this recipe had a bit of a Goldilocks issue – not too cool, way too cool, egg whites too whipped – you name it.  Unmolding this lovely was a bit of touch and go but once it was settled on the plate, I was able to breath a sigh of relief.  I made some minor changes to her original recipe but the final version is one that had my guests asking for me to make this again.
Another thing I loved about this recipe – I already had all of the ingredients in my pantry. I used my favorite spiced rum in the batter but feel free to sub with your favorite spirit of choice if you so wish.  I'm sure it would be excellent with bourbon and a salted caramel drizzle, a bit of chambord with some raspberries on top or, perhaps, a touch of Baileys or Kahlua – the options are endless.  Channel your inner executive pastry chef and make this sweet confection for the holidays.
Yes, it's a bit cracked and ragged so, if your guests make a comment, tell them it's rustic.  Personally, I loved the shards of chocolate cake that appeared to hold the mounds of whipped cream at bay.  Personally, I think that food is to be enjoyed and shared and this is one cake I would insist on sharing.   One bite of this rum laced confection and I knew this was a holiday must make.
If you want, try this recipe before the holiday madness starts and I guarantee your friends and family will be begging you for it again and again.  This Chocolate Cloud Cake is the perfect flourless chocolate cake recipe.
 On to the recipe:
Gather the ingredients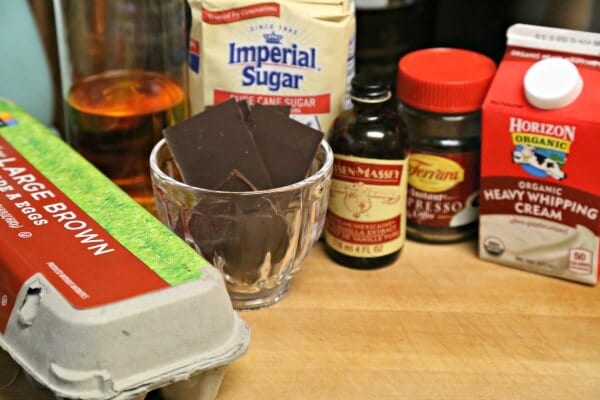 Adding a bit of espresso luv to the chocolate batter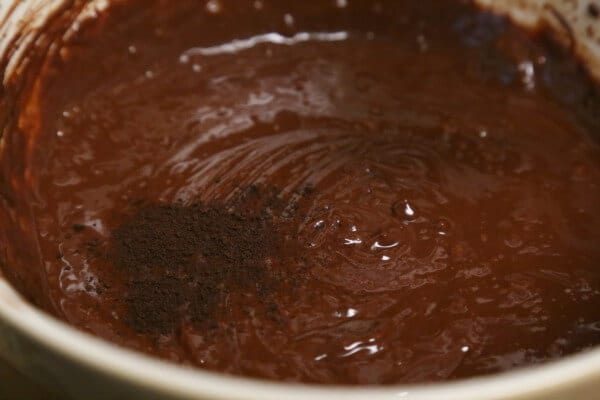 Followed by some gloriously shiny meringue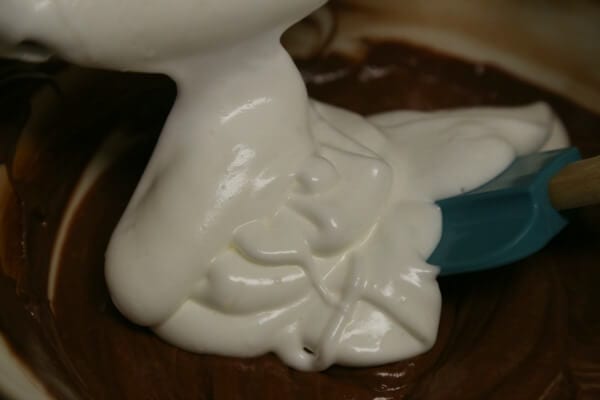 Look at this fluffy batter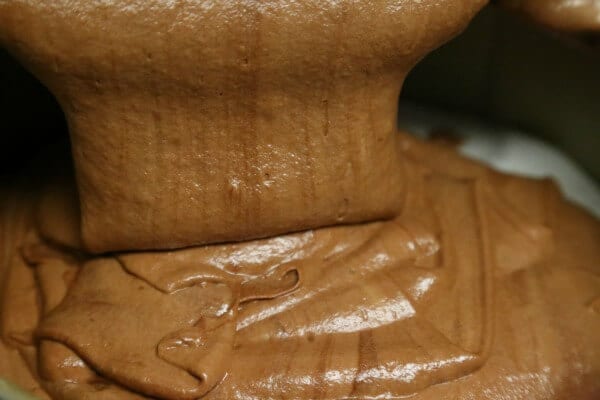 And, just like that, it sinks.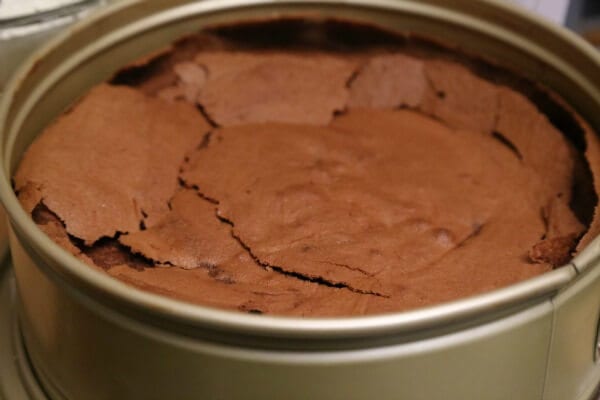 Thank heavens for fluffy vanilla whipped cream, this rich Chocolate Cloud Cake is ready for the table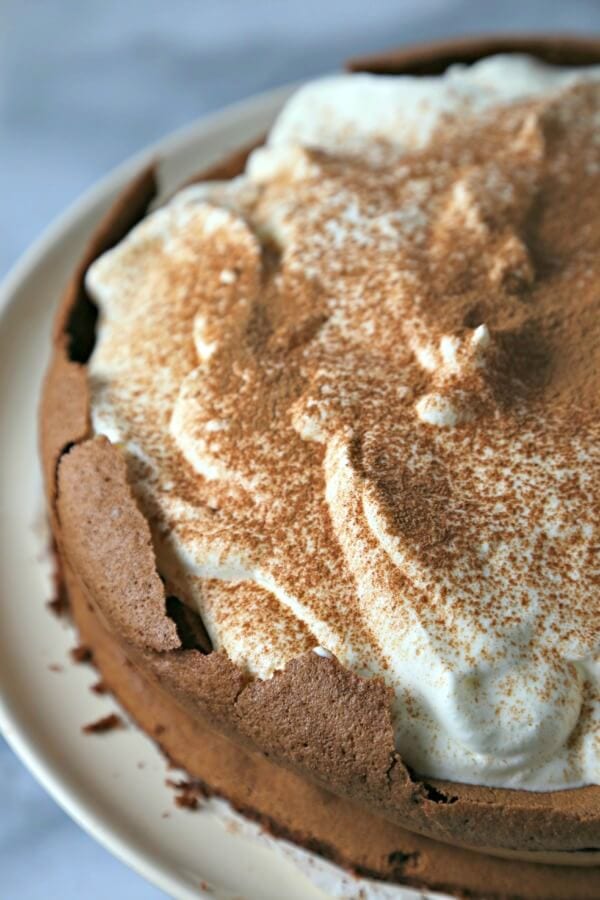 Shall I cut you a slice?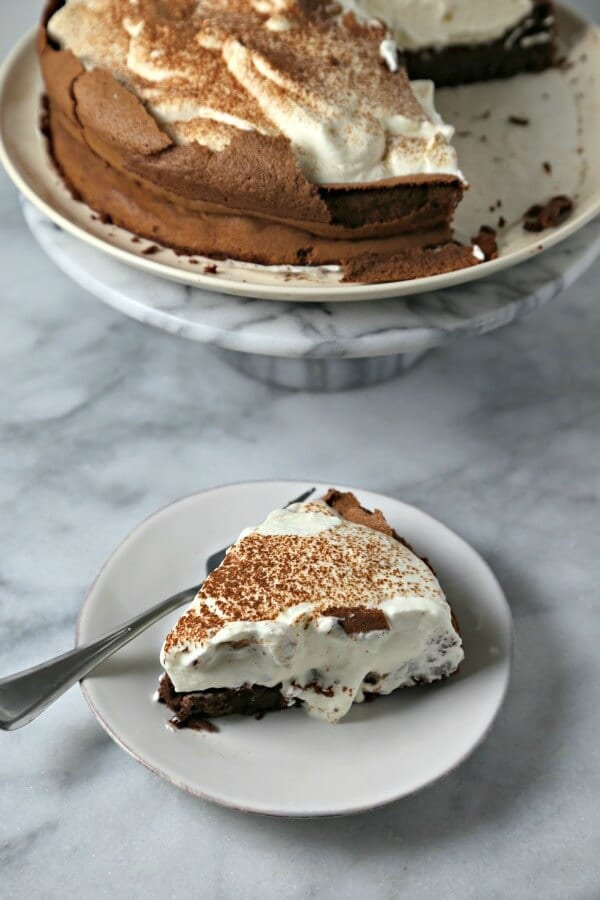 A bit rustic but oh so delicious!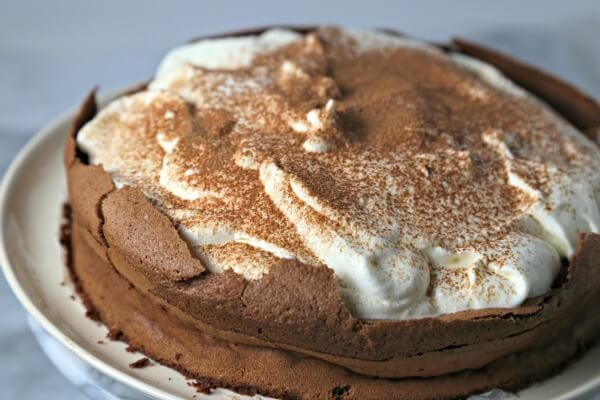 Aly M. Cleary | Adapted from Nigella Lawson
Yields 8
Chocolate Cloud Cake
This Chocolate Cloud Cake is the perfect flourless chocolate cake recipe. Moist rich chocolate cake is surrounded by light as a cloud whipped cream and flavored with a touch of rum.
45 minPrep Time
40 minCook Time
1 hr, 25 Total Time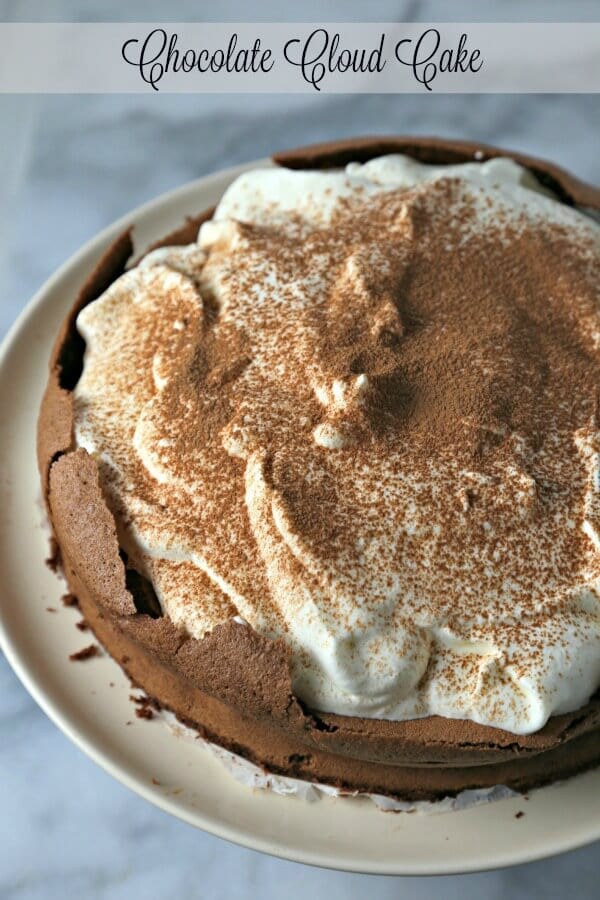 Ingredients
FOR THE FLOURLESS CHOCOLATE CAKE:

10 ounces of dark chocolate, chopped
1/2 cup of butter (1 stick), room temperature
6 large eggs, divided
1/2 cup of sugar, divided
2 tablespoons of spiced rum
1 teaspoon of vanilla extract
1/2 teaspoon of instant espresso
1/8 teaspoon of salt

FOR THE LIGHT AS A CLOUD WHIPPED CREAM:

2 cups of heavy cream
1 tablespoon of confectioner's sugar
1 teaspoon of vanilla extract
1/2 teaspoon of unsweetened cocoa powder
Instructions
TO MAKE THE FLOURLESS CHOCOLATE CAKE:

Line a 9-inch springform pan with parchment paper and set aside.
Heat the oven to 350 degrees F.
Either using a double boiler or in a small bowl in the microwave, melt the chocolate and butter. If you are using the microwave, stir in 20-30 second intervals, taking care to remove from the microwave before it is fully melted and then stir until everything is melted. Let cool slightly.
Separate 4 eggs, adding the 4 egg whites to the bowl of a stand mixer and add the yolks to a large bowl.
To the large bowl with the 4 egg yolks, add the remaining two eggs.
Mix the egg yolk mixture with a hand mixer until everything is fully combined. Add 1/4 cup of sugar to the mixture and mix until it starts to turn a pale yellow.
Slowly add the cooled melted chocolate to the egg mixture while using the mixture so that the eggs do not curdle.
To the chocolate egg yolk mixture, add the rum, vanilla extract, instant espresso and a pinch of salt. Mix thoroughly.
Using the stand mixer with a whisk attachment, whisk on medium the egg whites until they are foamy.
Slowly add the remaining 1/4 cup of sugar to the egg whites while whisking until they are glossy and are at medium peak.
Fold in a 1/4 of the glossy egg white mixture into the chocolate mixture to lighten everything up.
Continue by folding the remainder of the egg whites into the chocolate, taking care not to deflate the batter.
Pour the chocolate batter into the prepared baking pan.
Bake for 35 to 40 minutes, until the cake has risen and cracked in the center. Lightly test the batter with a toothpick to make sure that there is no batter sticking to the cake tester.
Let the cake cool in the pan on a wire rack but don't be alarmed. It will cave into itself a bit as it cools. The whipped cream will cover all
When you are ready to serve, prepare the whipped cream

TO MAKE THE LIGHT AS A CLOUD WHIPPED CREAM:

Using either a stand mixer with a whisk attachment or an electric mixer, whisk the heavy cream until it starts to hold a soft peak.
Add the vanilla and confectioner's sugar to the cream and whisk until the cream starts to hold a firmer peak – but not too stiff.

TO ASSEMBLE THE CHOCOLATE CLOUD CAKE:

Gently unmold the cake from the cake pan and remove to a cake stand or platter.
Dollop the whipped cream into the center crater of the cake and lightly dust with cocoa powder.
Serve immediately and enjoy!
7.8.1.2
129
https://cookinginstilettos.com/chocolate-cloud-cake/