I was looking at the calendar and realized that Cinco de Mayo is only a couple weeks away. Cinco de Mayo, at least for me, often means fabulous recipes and some serious margarita action so when I was asked to start planning a Girls' Night, well – how could I not step up to the challenge.
I tend to throw soirees with a signature cocktail and, for this year's Cinco de Mayo soiree, it's going to be all about the Sauza-Rita – one of the easiest cocktails I have ever made and it packs a nice punch. Of course, there will be the usual open bar at the house but I think I might have to make a double batch of it.
As I do before every soiree, I've learned to test the recipes thoroughly before the actual event, making sure there are no surprises. I do as much prep a couple days leading up to the event to make it easier on myself, allowing myself to be a guest at my own party. On the cocktail front, I try to not add ice to the cocktail servers or pitchers because it might water it down. I keep ice handy so guests can add ice to their cocktails if desired if they want their cocktails "on the rocks". Instead, the beverage servers keep the cocktails cold with an ice insert and all is well. I love the idea of serving everything buffet style on the counter & table and friends can grab a plate, serve themselves and enjoy. I also will be making an extra batch of the Mexican Brownies and Cookies and packaging them in small cellophane bags as a bit of a sweet treat for guests to enjoy at home.
All and all, this Girls' Night for Cinco de Mayo will be one of those easy breezy soirees that have minimum headaches and allow you to be a guest at your own party. Now – off to find the perfect stilettos for the soiree!
Gather the Ingredients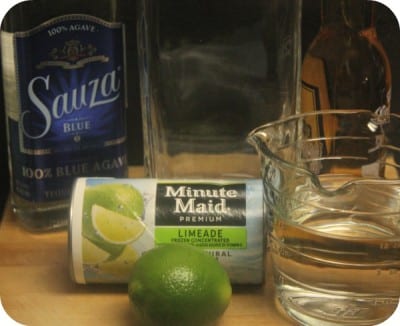 Easiest Cocktail Ever – Start with the Limeade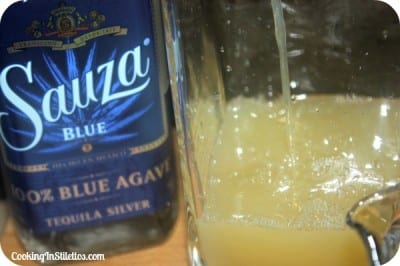 Followed by some beer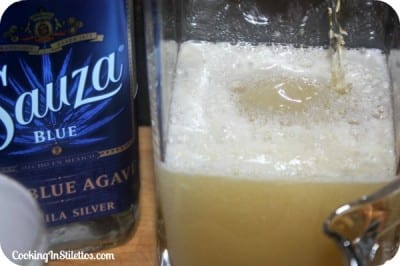 Yes – that's a cup and a half of Sauza® Tequila – it makes a lot of cocktails – don't worry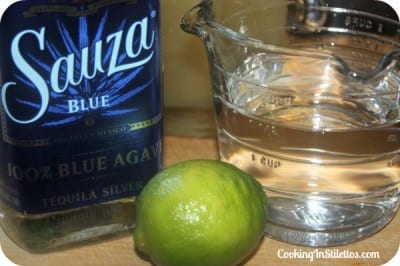 Rim the glass with salt and a bit of lime zest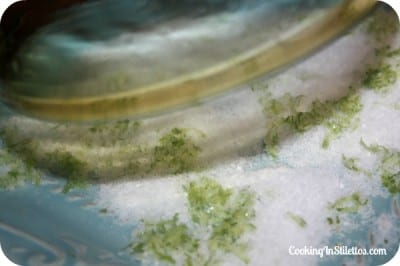 Viola – a Sauza-Rita!
Cinco De Mayo Girls' Night With Sauza-Rita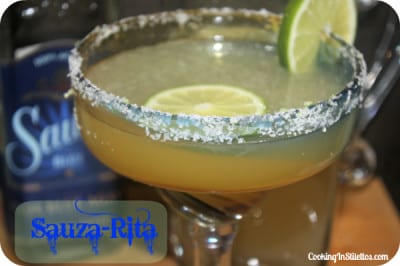 Ingredients
12 oz of Limeade concentrate, defrosted
1 bottle of a light beer
1 1/2 cups of Sauza Blue Tequila
1 1/2 cups of water
Ice (if desired)
Zest and juice of one lime
Salt for rimming the glass
Limes for serving.
Instructions
In a wide dish, add some salt and the lime zest. Mix and set aside.
In a pitcher over ice (if desired), add the limeade concentrate, beer, Sauza Blue tequila, water and the juice of the zested lime. Mix.
If you are like me and don't prefer the ice to water down the cocktail, you can put in the fridge for a bit to chill while you rim the glasses.
Rub the edge of the glasses with a slice of lime, dip into the lime salt mixture and set aside.
When ready to serve, pour the Sauza-Ritas into the rimmed glasses, garnish with a thin slice of lime and enjoy!
7.8.1.2
348
https://cookinginstilettos.com/cinco-de-mayo-girls-night-with-sauza-rita/