This Oven Baked Chicken is slathered with a flavorful Kona Coffee Barbecue Sauce – just perfect for dinner tonight!

Thank you ACME Markets for sponsoring this post. Check out the new Signature family of brands from ACME Markets, with more than 4,000 Signature products available and a 100% money-back guarantee.
When recipe inspiration hits, I have learned to roll with the punches. Some of the best inspiration I get is from looking at new food products at the local stores and on a recent grocery excursion, I had a lightbulb moment that resulted in a recipe that I know you all will love this spring and summer – an Oven Baked Chicken with Kona Coffee Barbecue Sauce!
Recently, while shopping at my local ACME, I noticed their line of Signature products. ACME's Signature line has everything from the pantry staples like ketchup, mustard, pasta, olive oil and canned veggies to frozen veggies, ice cream and even marinades, simmer sauces and slow cooker sauces that you might pay 3 times the price at one of those fancy high end kitchen stores. The Signature line has more than 4,000 items – from coffee to juice, soup to cereal, fresh produce to fried chicken and prepared foods and, of course, home products perfect for your spring and summer entertaining! Added bonus, all of the Signature products have a 100% money back guarantee and the prices are fantastic.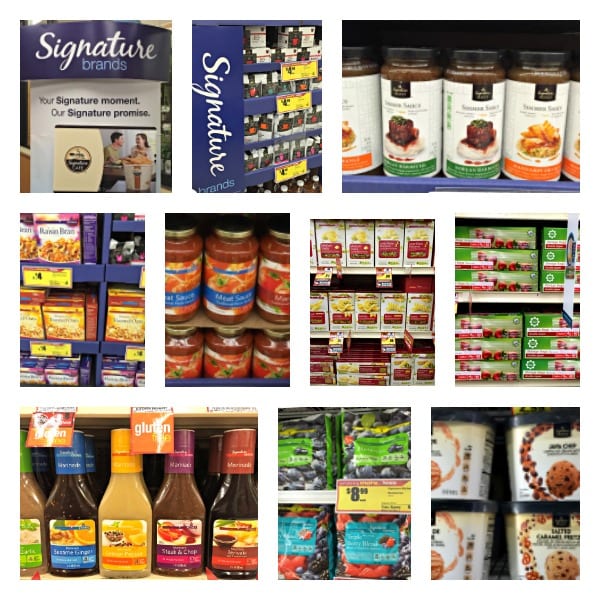 Signature products are exclusive to the Albertson Companies family of stores. I buy my Signature products at my local ACME here in Philadelphia. You can also find Signature Products at all Albertsons Companies grocery stores, including Albertsons, Safeway, Jewel-Osco, Vons, Pavilions, Randalls, Tom Thumb, Shaws, Star Market, United Express, United and Carrs/Safeway.
Spotting the Signature SELECT Simmer Korean BBQ sauce, I was inspired. I would make my favorite oven baked chicken and simmer it in a Kona Coffee Barbecue Sauce. I had a package of their Signature SELECT Kona Coffee along with their Signature Kitchens Honey so I just needed a few more things. I picked up the Signature Kitchens Ketchup (which, by the way, has no High Fructose Corn Syrup – love that), along with the Signature Kitchens Tomato Paste. A few other items went into my cart and I was on my way, inspired to bring my chicken recipe to life.
This Kona Coffee Barbecue Sauce is amazing! It's sweet, smoky with a bit of spice and a complex flavor thanks to the strong Kona coffee. I went with the ancho chile powder in lieu of the typical cayenne because I love the fruity notes of that spice. Also, the ground ginger lends a bit of a warming heat that plays nicely with the flavors. This is one of those barbecue sauces that I will keep on hand for entertaining. Just picture it on chicken, pork, beef, fish – heck, I'm even thinking of doing a Aloha style pizza with that delicious barbecue sauce slathered all over it. As it has been raining a bit, I didn't want to play with my electric grill so I went with an oven baked chicken but you know I'll have this sauce at the ready when I do break out the grill tongs.
When you want a different spin for dinner, make this Oven Baked Chicken with Kona Coffee Barbecue Sauce and watch your family and friends sing your praises!
On to the recipe:
Some of the amazing Signature products that ACME sent for me to play with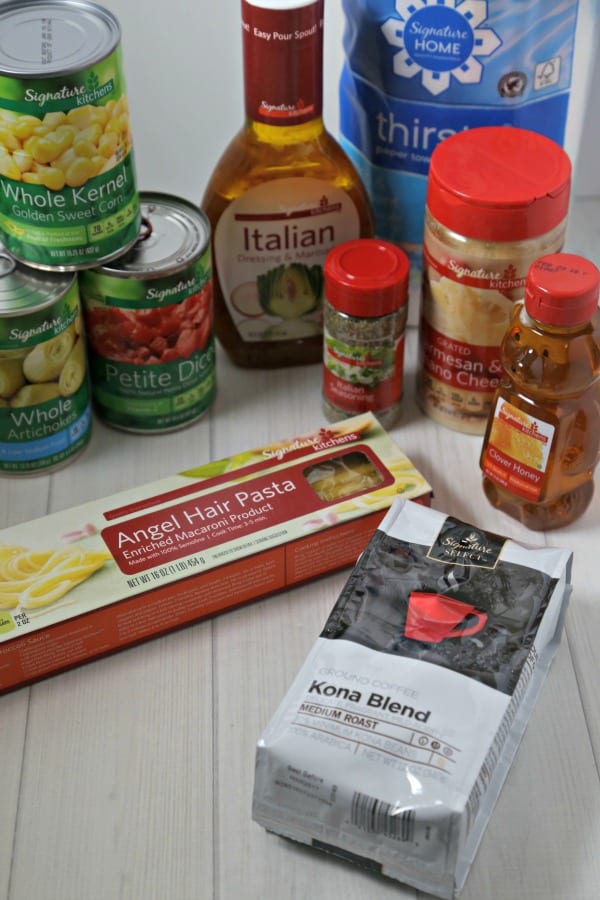 Gather your ingredients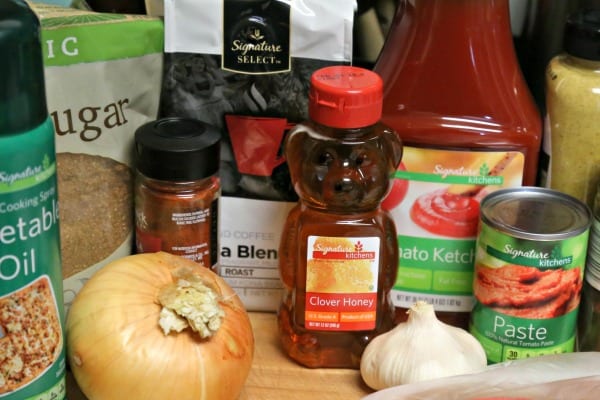 The key ingredient – Kona Coffee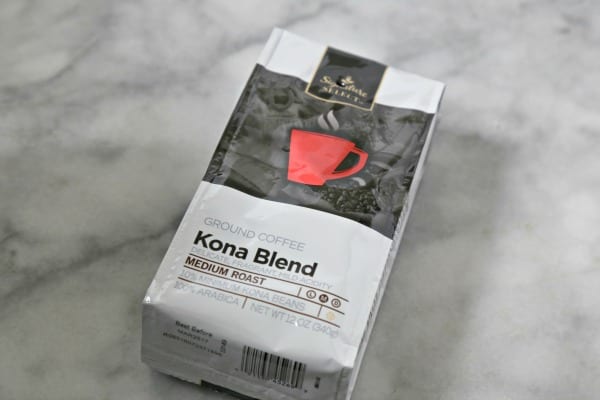 Every good barbecue sauce starts with onions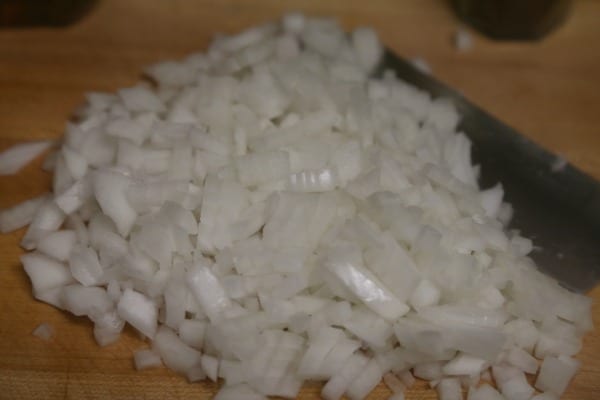 Adding the Kona Coffee to the sauce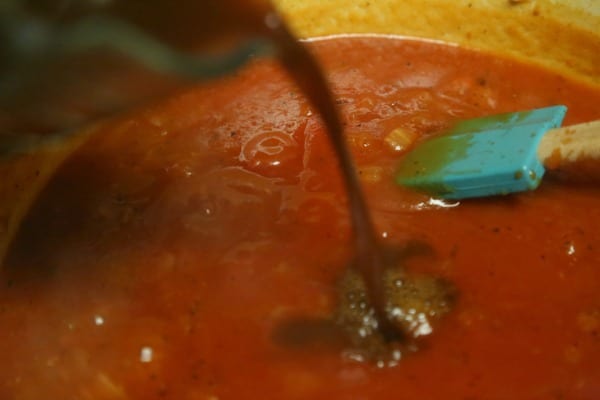 Blending the sauce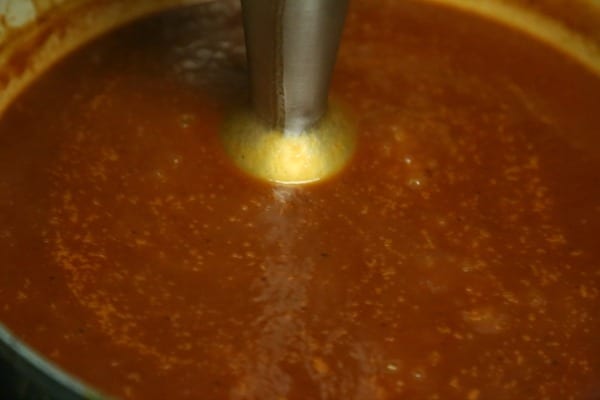 You are going to want to make extra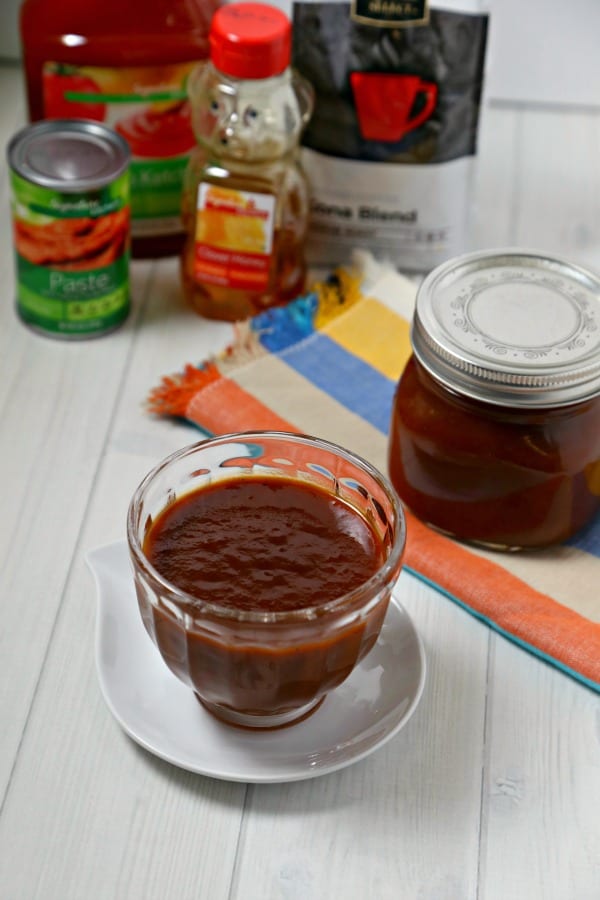 Look at this rich brick red Kona Coffee Barbecue Sauce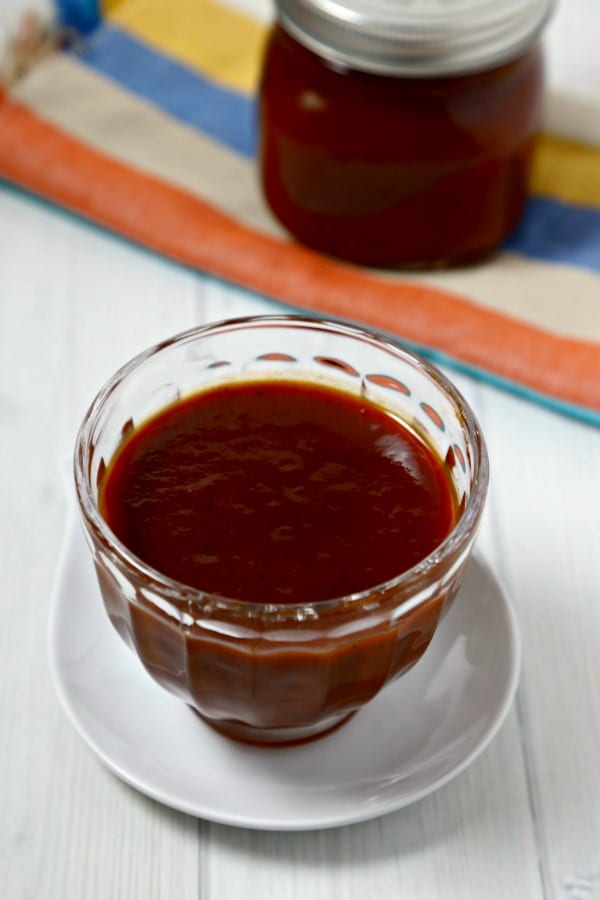 Adding the sauce to the chicken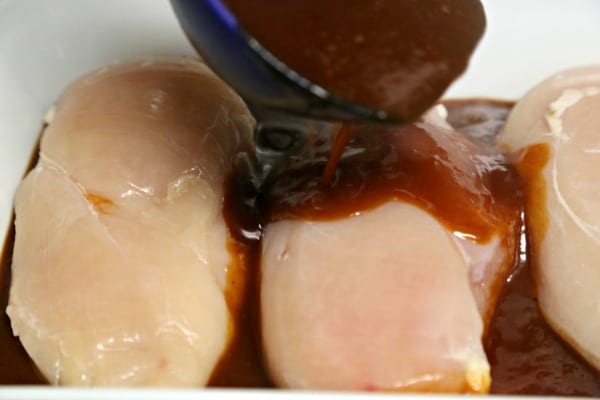 This Oven Baked Chicken with Kona Coffee Barbecue Sauce is what's for dinner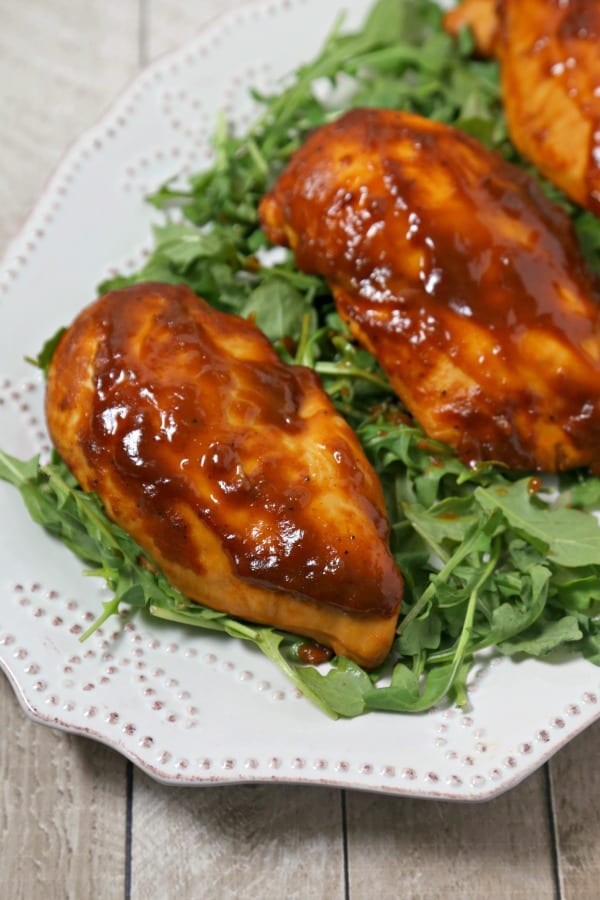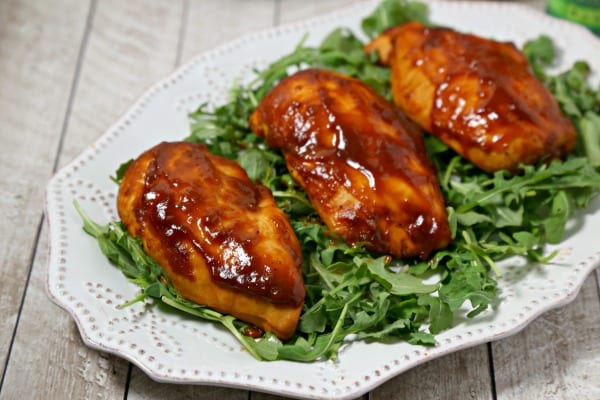 Oven Baked Chicken with Kona Coffee Barbecue Sauce
---
Aly M. Cleary
Yields 4
This Oven Baked Chicken with Kona Coffee Barbecue Sauce will be a family favorite. Chicken is baked to perfection in a made from scratch flavorful Kona Coffee Barbecue Sauce - what's not to love!
30 minPrep Time
65 minCook Time
1 hr, 35 Total Time
Ingredients
For the Kona Coffee Barbecue Sauce:

1 tablespoon of olive oil
1 medium Vidalia onion, diced
2 cloves of garlic, minced
1 teaspoon of smoked paprika
1/4 teaspoon of ancho chile powder
1/4 teaspoon of ground ginger
1/2 teaspoon of freshly ground pepper
3/4 teaspoon of kosher salt
1 1/2 cups of brewed Signature Selects Kona Coffee, cooled
1 1/2 cups of Signature Kitchen Ketchup
2 tablespoons of Signature Kitchen Tomato Paste
1/3 cup of Worcestershire sauce
1/2 cup of apple cider vinegar
1/2 cup of Signature Kitchen honey
1/3 cup of brown sugar
2 tablespoons of Dijon mustard

For the chicken:

4 boneless skinless chicken breasts
2 cups of Kona Coffee Barbecue Sauce
Directions
To make the Kona Coffee Barbecue Sauce:

In a medium dutch oven or saucepan, add the olive oil and heat over medium heat.
Add the onion and sauté until the onions are translucent, about 5 minutes.
Add the minced garlic and sauté for another minute.
Add the smoked paprika, ancho chile powder, ground ginger, pepper and salt to the onion mixture and toast the spices for a minute or so.
Add the Kona Coffee, ketchup, tomato paste, Worcestershire sauce, apple cider vinegar, honey, brown sugar and Dijon mustard.
Whisk to combine and bring to a boil. Reduce to a simmer and let simmer on the stove for about 20 minutes or until the mixture has thickened a bit.
Remove to jars and let cool.

To make the chicken:

Heat the oven to 350 degrees F.
To a 9 x 13" baking pan, lightly sprayed with vegetable oil, add about a cup of the Kona Coffee Barbecue Sauce to the base of the pan and spread to the corners.
Gently lay the chicken breasts on top,
Pour the remaining sauce over the chicken and cover with aluminum foil.
Bake for about 30 – 35 minutes.
Remove the foil and bake for another 15 minutes.
Baste with a bit more sauce and enjoy!
7.6.8
1086
https://cookinginstilettos.com/oven-baked-chicken-kona-coffee-barbecue-sauce/
All images and content are © Cooking In Stilettos. Please do not republish without contacting us first. Thank you.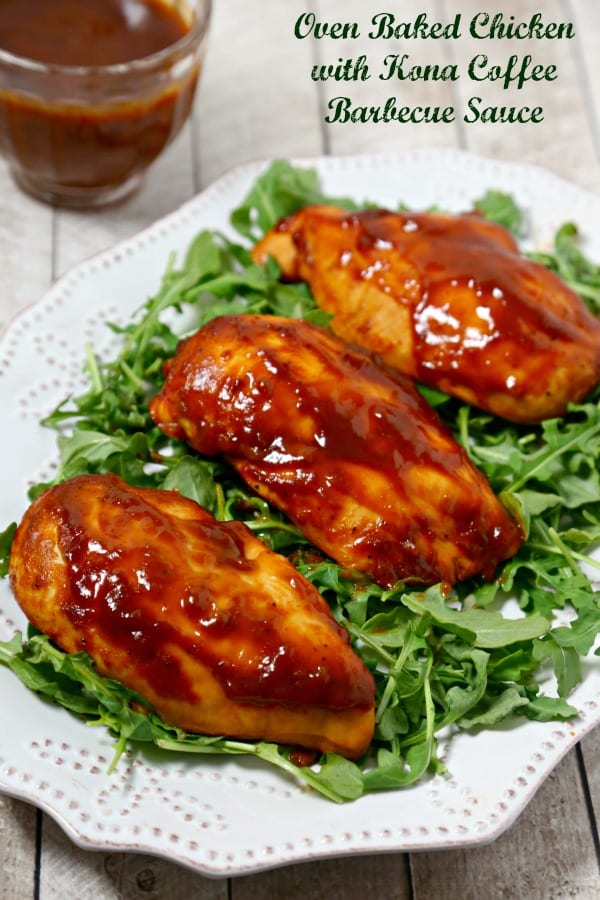 Why not join the conversation and share your Signature stories and recipes on social media. Just use the hashtag #MySignatureMoments. Added bonus – you can enter to win a gift card from the Albertsons companies so you can create your own Signature moment and Signature recipe. I can't wait to see what you create!
I was selected for this opportunity as a member of Clever Girls and the content and opinions expressed here are all my own.
Did you enjoy this post?
| | |
| --- | --- |
| Share the love | Get free updates |