One of my favorite parts of the holiday meals are the leftovers.  To me, there is nothing like a fab turkey or ham sandwich with a bit of cranberry relish to accent it.  I have a fave store-bought Cranberry Orange Apple relish that I keep stocked in the pantry for those sandwich "emergencies" but, in my opinion, there is nothing like making your own.  I love the savory note that chutney has and this Spiced Cherry Cranberry Chutney is a first pick contender for the holiday table.
This Spiced Cherry Cranberry Chutney melds sweet cherries and tart cranberries with a touch of apple, some brown sugar, and warm spices.   The best thing is this chutney can be made with pantry ingredients you might already have on hand. I  know in the fall/winter, I always tend to stockpile cranberries and dark sweet cherries in the freezer.  Add a bit of  fresh apple and onion and you are golden.  Once everything has cooked down, one bite of this  will have you forgetting about the store bought version of the typical cranberry sauce ever again.
Make this Spiced Cherry Cranberry Chutney for your next soiree but take my advice – hide a small jar of this lovely chutney in the fridge for those late night sandwich emergencies.
On to the recipe:
Gather your ingredients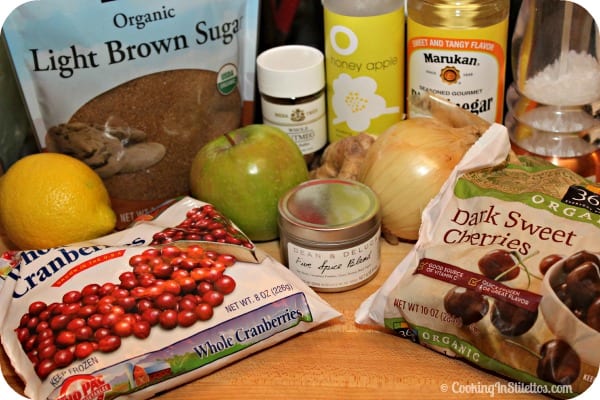 Don't knock the frozen – it works perfectly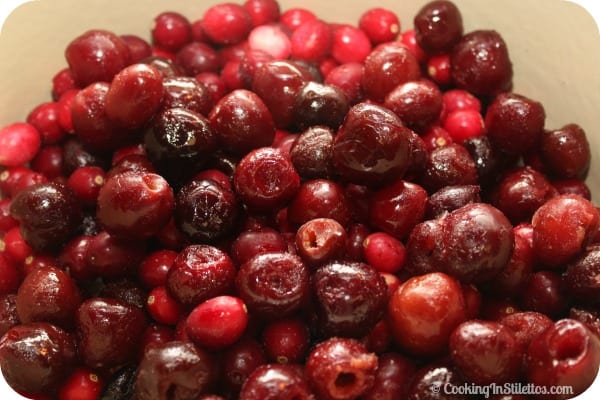 The perfect accompaniment – with ham, turkey and even better on a sandwich!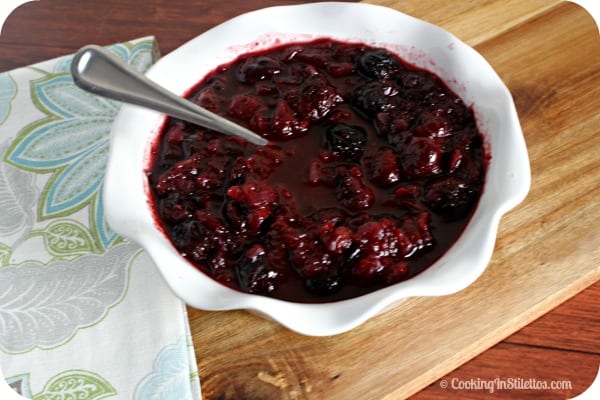 Aly M. Cleary
Yields 6
Spiced Cherry Cranberry Chutney
This Spiced Cherry Cranberry Chutney will be a hit at your holiday table. Even better are the leftovers slathered on a delicious turkey sandwich. What's not to love!
10 minPrep Time
35 minCook Time
45 minTotal Time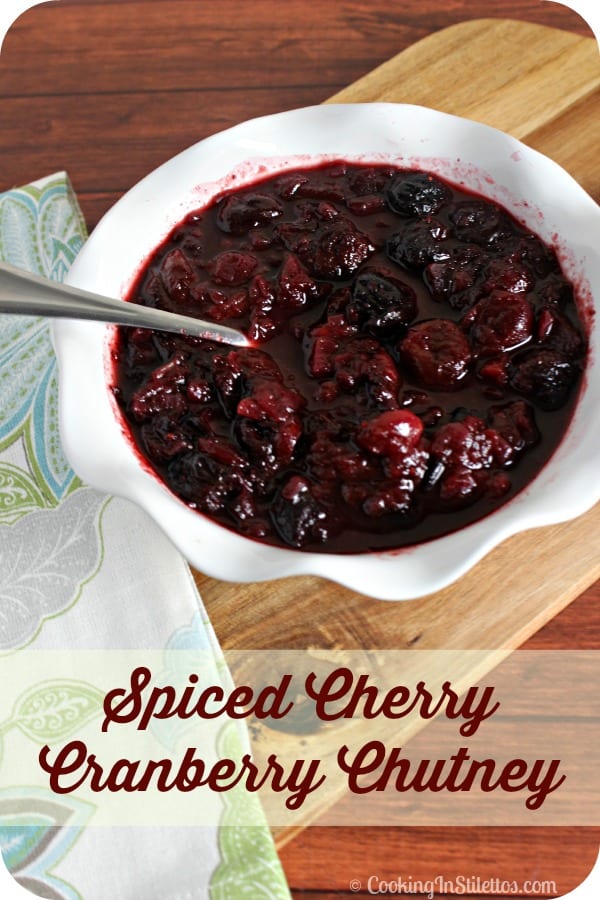 Ingredients
1 tablespoon of unsalted butter
1 medium sweet onion, diced
Pinch of salt
1/2 - 3/4 cup of brown sugar (depending on how sweet you like it)
1 teaspoon of Chinese five-spice powder
1/8 teaspoon of grated nutmeg
1 12-ounce bag fresh or frozen cranberries (if frozen, defrosted)
1 10-ounce bag of frozen cherries, defrosted
1 granny smith apple, peeled, cored and diced
Zest of one lemon
1/2 teaspoon of grated fresh ginger
1/2 cup of apple cider vinegar (I used my favorite honey apple cider vinegar )
1 tablespoon of rice wine vinegar
1/3 cup of water
Instructions
Melt the butter in a medium heavy bottomed saucepan or dutch oven over medium heat.
Add the onions and a pinch of salt to the melted butter and sauté until soft and translucent, about 6 – 7 minutes.
Add the brown sugar, Chinese five-spice powder and nutmeg. Sauté for a few minutes until the spices bloom and the sugar has dissolved.
Add the cranberries, cherries, diced apple, lemon zest and grated ginger. Stir and add the apple cider vinegar, rice wine vinegar and water to the fruit mixture.
Bring the mixture to a boil and reduce the heat to medium and simmer, stirring occasionally, until most of the berries have popped, the fruit is tender and the mixture has thickened – about 20 - 25 minutes.
Let the mixture cool for a bit and enjoy!
7.8.1.2
210
https://cookinginstilettos.com/spiced-cherry-cranberry-chutney-not-just-for-the-holidays/